Political commentator Nicholas J. Fuentes has been banned from Twitter two days after the Anti-Defamation League (ADL) and Southern Poverty Law Center (SPLC) published reports about him.
The first of these reports was published by the SPLC on July 7 and revealed that the SPLC had been flagging Fuentes' tweets to Twitter since January 5. According to this report, Twitter refused to censor Fuentes but offered to enroll the SPLC's "Hatewatch" blog in its "Partner Support Portal" on January 11.
A day later, the ADL published its July 8 report which branded Fuentes a "white supremacist leader" and claimed that Fuentes had used his social media platforms to "make numerous antisemitic and racist comments," promote "election fraud narratives," and encourage his followers to participate in nationwide "Stop the Steal" protests.
On July 9, Fuentes' Twitter account was suspended.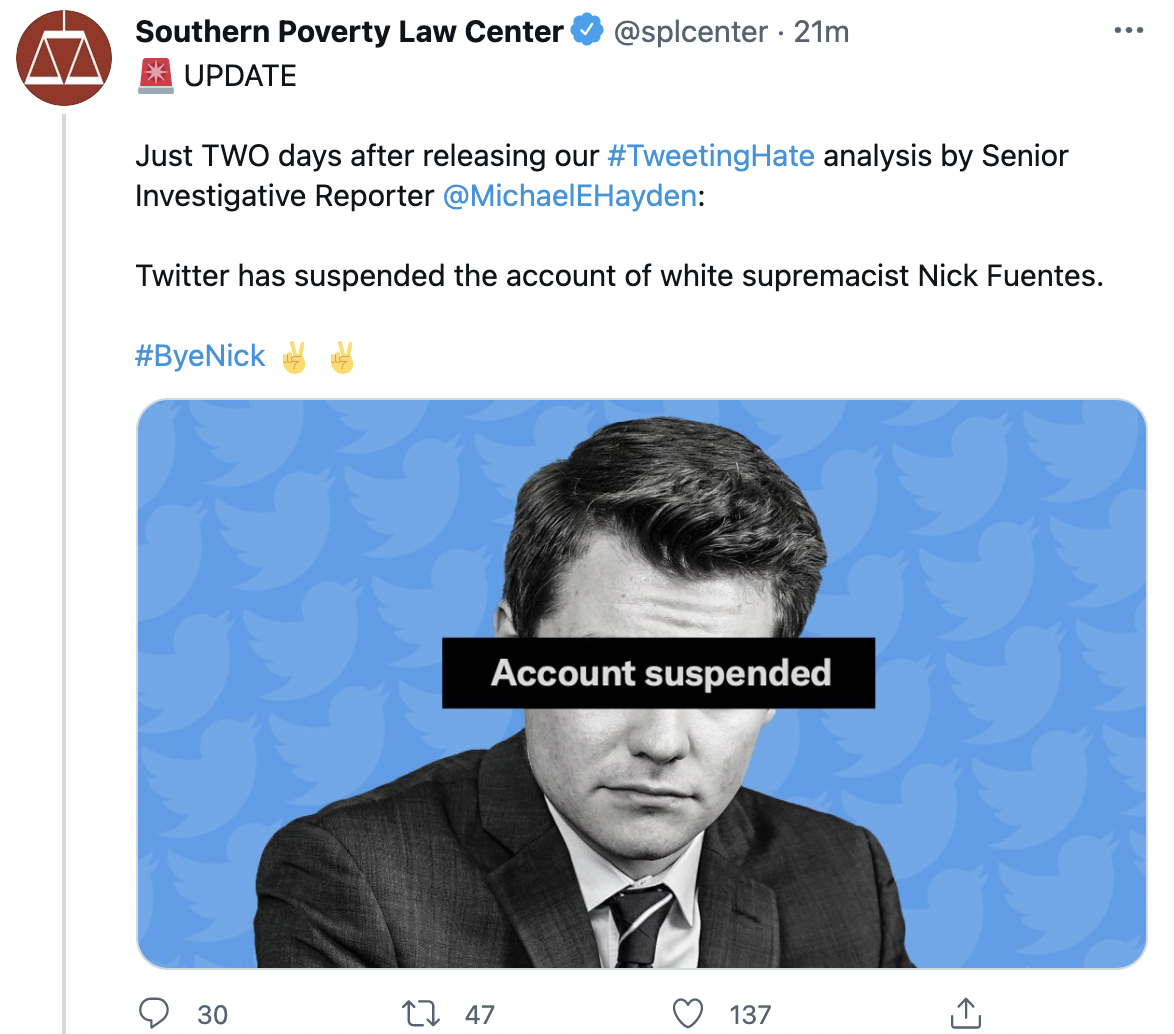 "ADL put out a hit piece and Nick Fuentes was banned right after it dropped," journalist Cassandra Fairbanks tweeted. "That is fucking insane. Like him or not — do you really want the far-left ADL controlling who can speak online?"
Kyle Hooten, a former member of the Trump Presidential Administration where he served as a speechwriter for the Secretary of the Department of Commerce, noted: "This happens pretty regularly. The ADL or SPLC will hit somebody and their target will get banned from social media shortly after.
Conservative writer, speaker, and author Matt Walsh described Fuentes' suspension as "insane."
"Fuentes didn't break Twitter's rules," Walsh continued. "They banned him now because an activist group told them to. That's a huge problem, especially when they only do this kind of thing in one direction."
Not only has Twitter banned Fuentes days after the SPLC and ADL published reports on him but the SPLC also appears to have enrolled in Twitter's priority program (the Partner Support Portal) that allows members to make more direct censorship requests to Twitter.
A recent lawsuit that contained documents from this Partner Support Portal revealed that in some instances, Twitter removes tweets within a day of them being flagged by partners.