UK Home Secretary Priti Patel has approved the extradition of Wikileaks founder and journalist Julian Assange to the US. Assange has 14 days to appeal the decision and he will.
Wikileaks is a whistleblowing website that publishes classified materials obtained from anonymous sources. Assange is wanted by the US because in 2010 and 2011 he published classified documents about the Afghanistan and Iraq wars, exposing alleged US war crimes. The US claims that the leaked documents endangered lives and violated the law.
Julian Assange's wife Stella Morris, claimed that the US "plotted his assassination" in her tweet:
"Home Secretary Priti Patel has approved sending Julian #Assange to the country that plotted his assassination. Shout louder. Lobby harder. Don't stop until he is free!"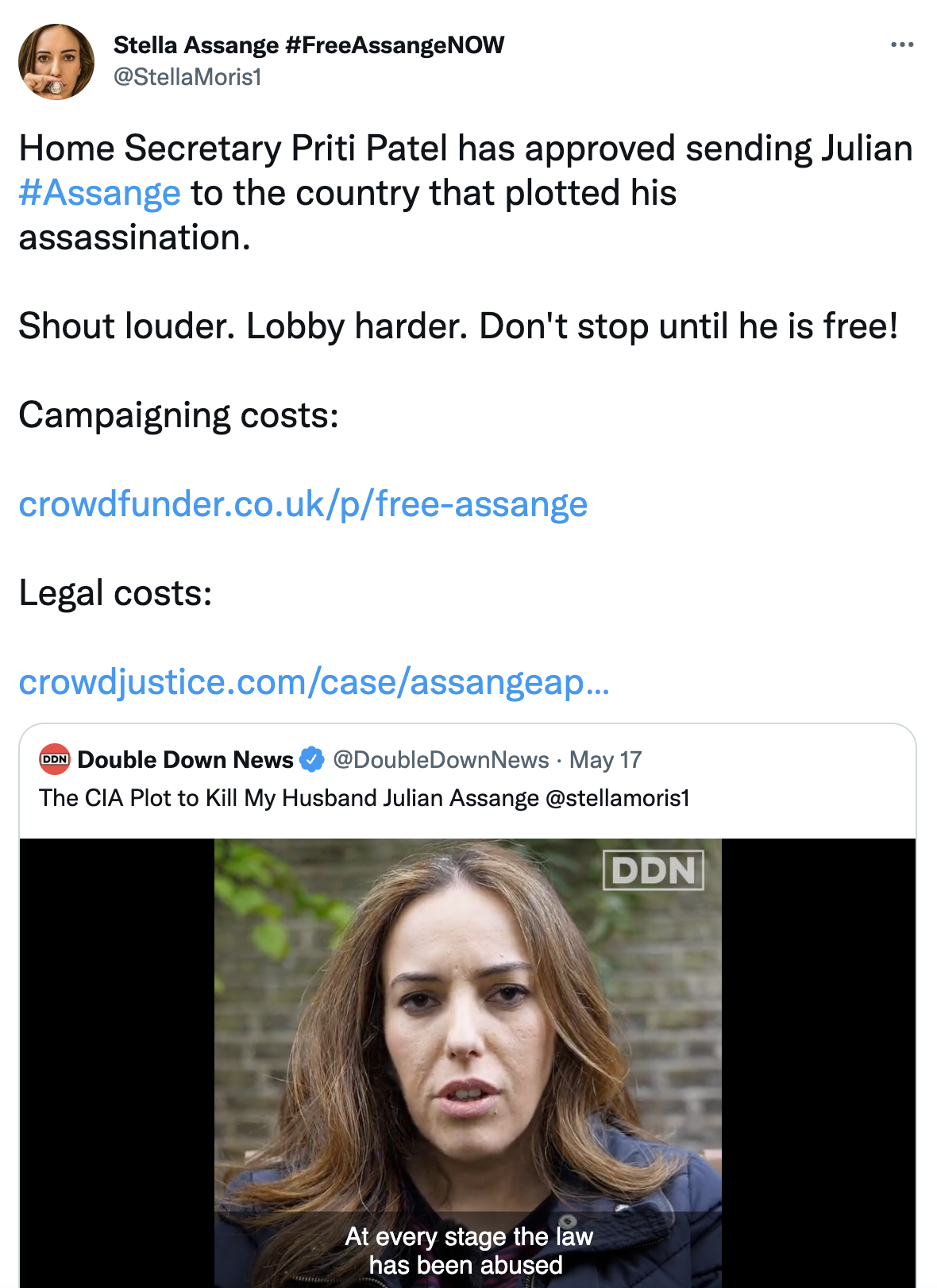 According to a report citing former officials, The Guardian had previously alleged that CIA officials had debated abducting and even assassinating Assange.
In the social media post, @StellaMoris1 also linked fundraising outlets to provide financial aid surrounding the extradition.
Assange previously argued that he would not be treated fairly and his life would be in danger if he was taken to a US prison. However, London courts ruled that the extradition request from the US was lawful and that Assange would be treated well in US prisons.
Officials in the Home Office said that the Home Secretary was legally obligated to sign the extradition request because he is not facing the death penalty and his case does not satisfy the other limited categories required to refuse an extradition request.
The Home Office said that the Extradition Act 2003 obligates the Home Secretary to sign an extradition request if there are "no grounds to prohibit the order being made."
"The UK courts have not found that it would be oppressive, unjust or an abuse of process to extradite Mr. Assange," the Home Office added.
Wikileaks confirmed it would be appealing the Home Secretary's decision. If they do not get a hearing in the UK they have the option to petition the European Court of Human Rights. However, the European court ruled in favor of the extradition many years ago.
Assange was hiding in the Ecuadorian Embassy in London until 2019. He was arrested by British authorities after Ecuador withdrew his asylum status. While in jail, the US filed 17 charges against him under the Espionage Act.
Amnesty International believes if Assange is extradited he would be "at great risk" and the extradition would send "a chilling message to journalists."
"Diplomatic assurances provided by the US that Assange will not be kept in solitary confinement cannot be taken on face value given previous history," the human rights group added.