An internal email exchanged between the UK's Media Monitoring Unit and politicians and civil servants sheds light on the fact that the UK government is monitoring social media platforms for online conversations suggesting the reported new strain of coronavirus in the UK is made up as an excuse to further lockdown.
It is worth noting that the MMU is a part of the UK government's Cabinet Office and is responsible for informing the government's daily press strategy. The emails, while seeming neutral, reveal what the UK government anticipates. Among the various challenges the UK government is facing communication-wise, the desire to tackle anti-vaccine sentiment and what it calls conspiracy theories among the population is near the top of its agenda.
Consider an email sent on December 20 which reports on the social media reactions about the "mutant" strain of coronavirus. The email also contains the MMU's observations after it went through the Facebook responses of The Independent's story about the new strain of coronavirus. "Many are unconcerned by the new variant, however some are more skeptical, claiming the concurrence of a new variant with the approval of a vaccine was suspicious timing. Some suggest the new variant may be artificial," reads an excerpt from the email.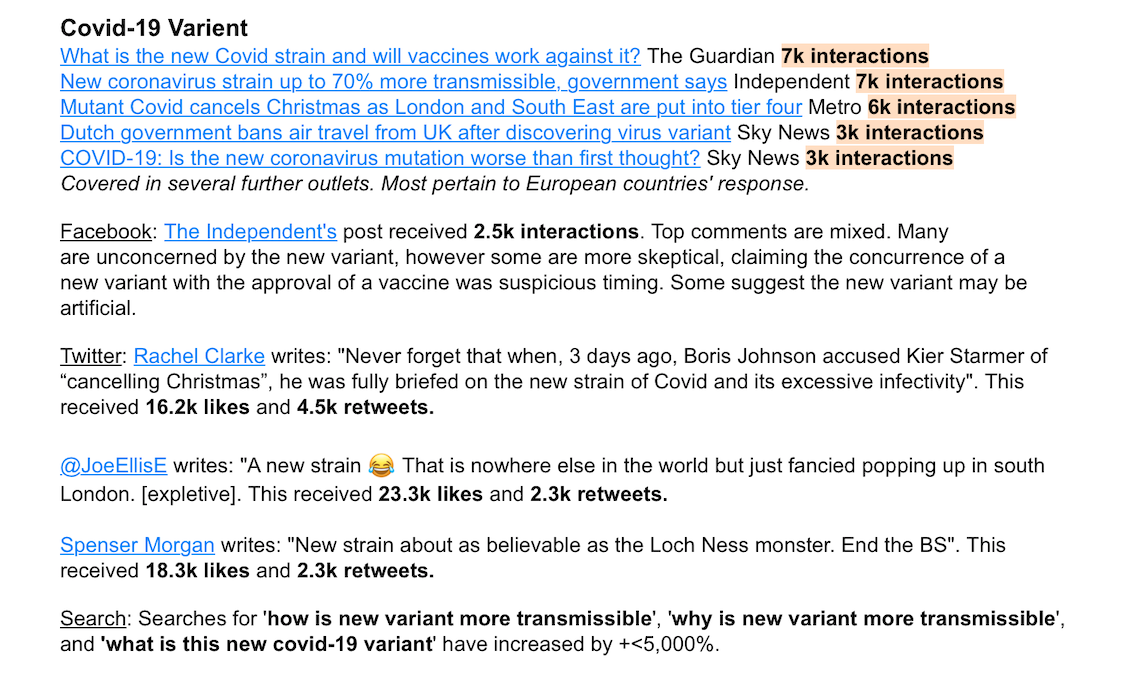 The email also summarizes the reactions of people on social media after the new lockdown and stricter measures were implemented across London and South East UK. Prime Minister Boris Johnson announced a "Tier 4" lockdown over the weekend, giving the reason that a supposed new strain of coronavirus was discovered.
Several European countries even went to the extent of shutting down their borders with the UK.
Owing to what it says is the spread of the new strain of virus, the UK government is enforcing a strict ban on any mixing during Christmas in the Tier 4 areas of the country and is placing a limit on socialization across the other parts of the country. The email reports that commentators on social media are predicting that "some members of the public will break Tier 4 rules over the Christmas period."
In the latest email sent on December 21, the MMU reported that the government was being criticized as several European countries weren't allowing travelers from the UK. Several social media comments also outlined that the general public were concerned about the impact of such border closures on their day-to-day lives.