On Sunday, England cricket star Ollie Robinson became another high profile victim of cancel culture when the England and Wales Cricket Board (ECB) suspended him from all international cricket after eight-year-old tweets that he posted when he was a teenager resurfaced on the day of his England debut.
Robinson swiftly apologized for the old tweets by saying: "I deeply regret my actions and am ashamed of making such remarks."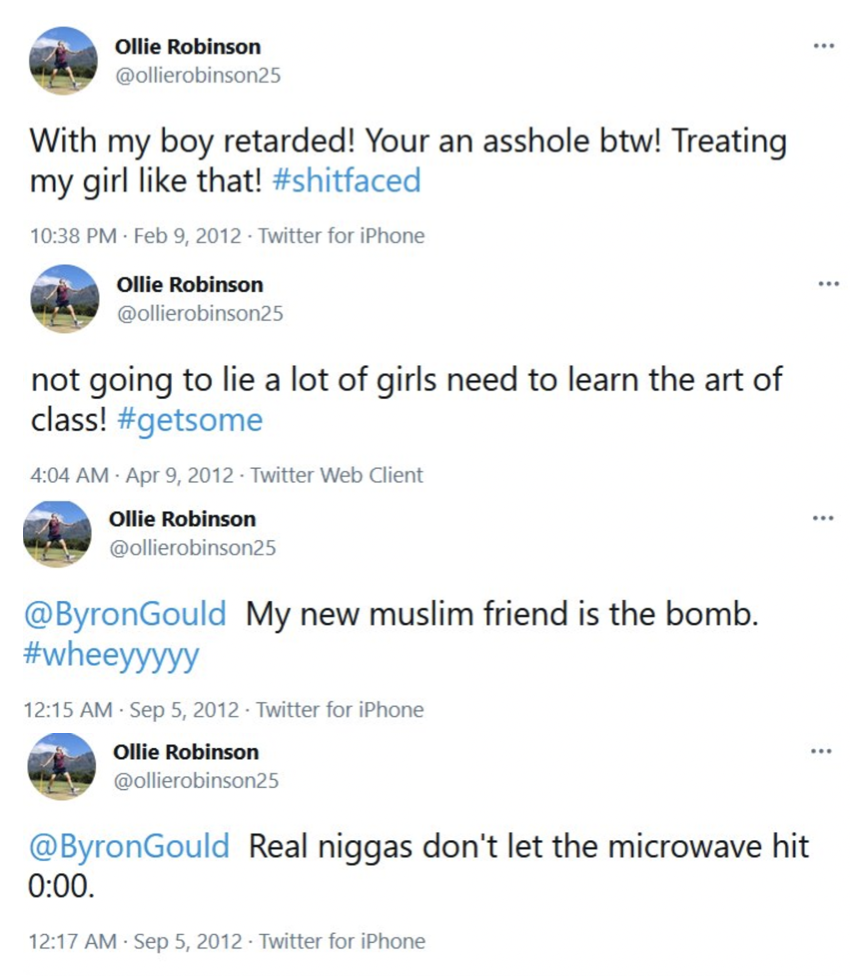 But as with many others who have been canceled before him, the apology and the age of the tweets weren't enough to prevent him from being canceled.
UK Culture Secretary Oliver Dowden responded by speaking out against the ECB's harsh punishment and tweeting:
"Ollie Robinson's tweets were offensive and wrong.

They are also a decade old and written by a teenager. The teenager is now a man and has rightly apologised. The ECB has gone over the top by suspending him and should think again."
UK Prime Minister Boris Johnson's official spokesperson also shared the PM's support of Dowden and Robinson by saying:
"The Prime Minister is supportive of the comments from Oliver Dowden that he made via a tweet this morning.

As Oliver Dowden set out, these were comments made more than a decade ago, written by someone as a teenager and for which they have rightly apologised."
Yet while Dowden and Johnson's statements are railing against someone being canceled for posting "offensive" tweets, a bill that Dowden is pushing would likely require Big Tech platforms to censor tweets that others deem to be offensive.
The Online Safety Bill, which was published as draft legislation last month and is being spearheaded by Dowden, will block social media websites in the UK or force them to pay hefty fines if they fail to remove "legal but harmful content."
The scope of this so-called legal but harmful content includes anything where "the provider of the service has reasonable grounds to believe that the nature of the content is such that there is a material risk of the content having, or indirectly having, a significant adverse physical or psychological impact on an adult of ordinary sensibilities."
And The Online Safety Bill is based on a previously published ? Online Harms White Paper that urged regulators to create a code of practice that would force social media companies to take action against "offensive material."
This is the latest of several examples of high-ranking UK government officials condemning cancel culture or encroachments on free speech in their public statements but then continuing to crack down on speech via the laws and policies that they push.
Last year, UK Home Secretary Priti Patel threw her support behind British political commentator Darren Grimes after he was investigated by the police over comments made by a guest on his podcast.
"It's important the law protects freedom of speech," Patel tweeted at the time.
But when it comes to private speech, Patel has no qualms about putting restrictions in place and recently threatened to fine Facebook if it allows private messaging.
Ironically, while Patel and other UK lawmakers attempt to crack down on the end-to-end encryption that enables private messaging, many use it themselves to avoid transparency.