On Monday, Ukraine's vice prime minister Mykhailo Fedorov asked Domain Name System (DNS) oversight organization ICANN to remove Russian domains from the internet. Fedorov argued that Russian domains were being used to spread propaganda and misinformation about the Russia-Ukraine war.
In an email to ICANN's CEO Goran Marby, Fedorov specifically requested the removal of domains associated with the Russian Federation, including ".ru", ".рф", ".su."
"All of these measures will help users seek for reliable information in alternative domain zones, preventing propaganda and disinformation," Fedorov's email says.
We obtained a copy of the email for you here.
"Leaders, governments and organizations all over the world are in favor of introducing sanctions towards the Russian Federation since they aim at putting the aggression towards Ukraine and other countries to an end. I ask you kindly to seriously consider such measures and implement them as quickly as possible. Help to save the lives of people in our country."
Federov's request, if granted, would have resulted in the removal of approximately five million domains and would have severely harmed Russians' online communication.
The request was posted on an ICANN mailing list.
RIPE NCC chairman Christian Kaufman wrote: "It is crucial that the RIPE NCC remains neutral and does not take positions with regard to domestic political disputes, international conflicts or war."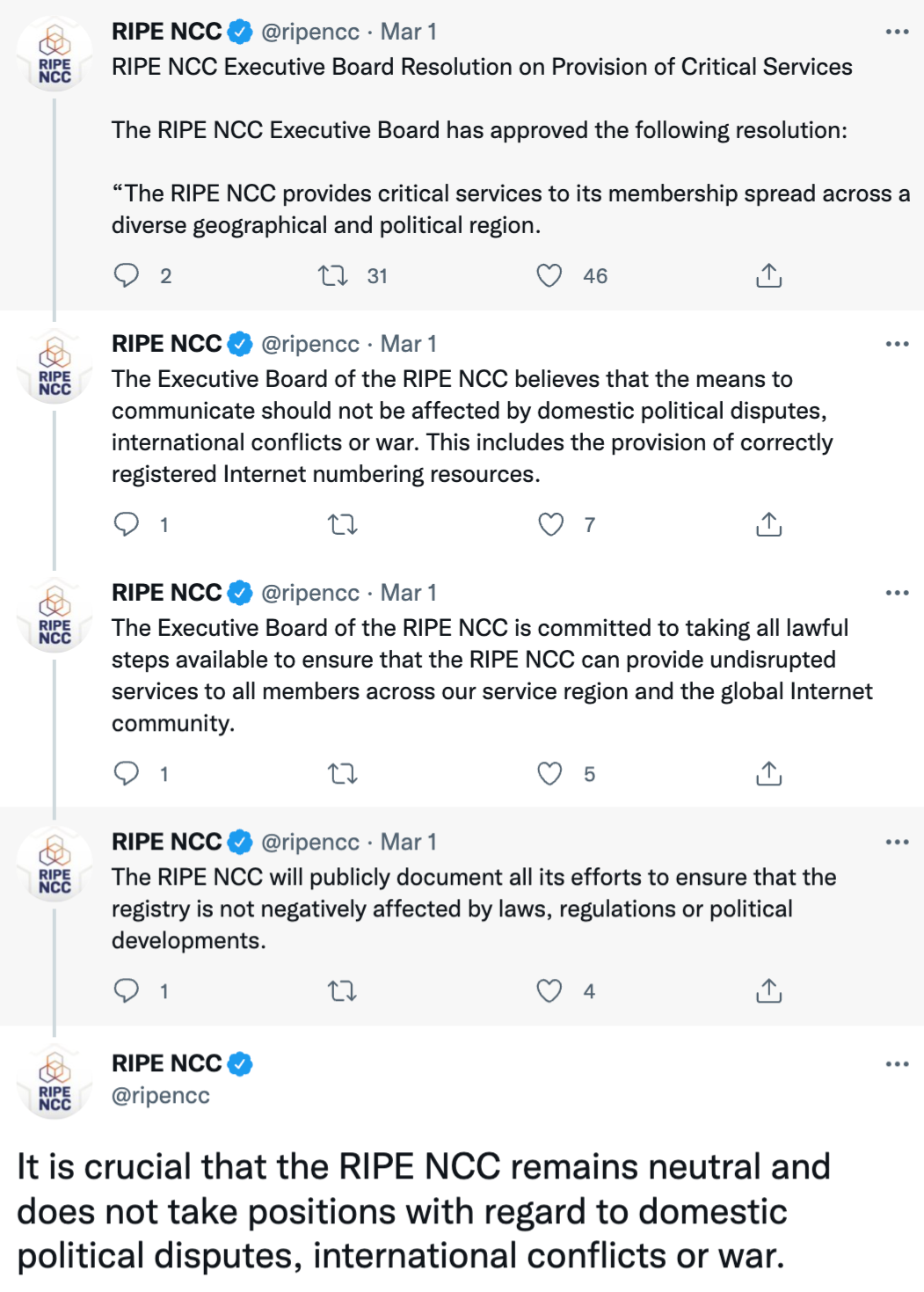 However, Top Level Domain Holdings CEO Antony Van Couvering criticized ICANN for refusing Fedorov's request.
"Neutrality as a response to murder is not neutral," he wrote. "What is the use of 'civil society' organizations if they won't even speak up in support [to] protect civil society, much less do anything about it?
"Even politicians have woken up. Even the German government has woken up. Even the Swiss government has woken up! Meanwhile some people at ICANN are content to repeat empty phrases about not getting involved because it doesn't help civil society in their country. So much for 'one world, one internet.'"
Meanwhile, On Monday, domain name registrar Namecheap announced that it would no longer provide its services to Russian users.