Both the European Union and the United Nations have criticized Twitter's decision to temporarily suspend some journalists that Twitter alleges linked to information showing the whereabouts of Elon Musk's private jet in real-time.
Reporters from large outlets such as New York Times and CNN were among those who were suspended.
The UN took to the social media platform to say that press freedom is "not a toy."
The UN's under-secretary general for global communications, Melissa Fleming, said she was "deeply disturbed" by journalists being "arbitrarily" locked out of the platform.
"Media freedom is not a toy," Fleming said. "A free press is the cornerstone of democratic societies and a key tool in the fight against harmful disinformation."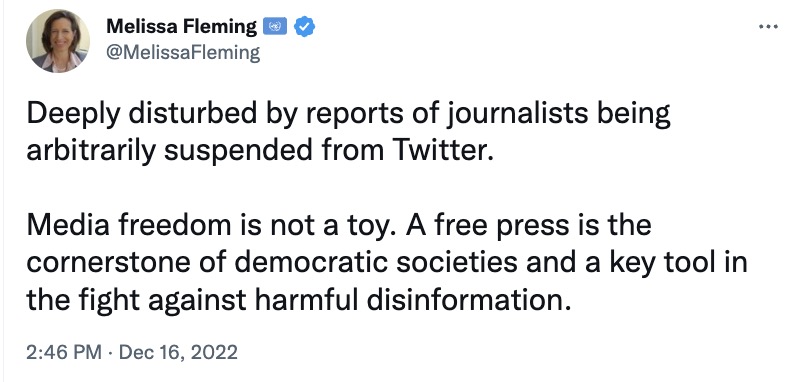 EU commissioner Vera Jourova has threatened Twitter with sanctions under Europe's newly introduced Digital Services Act which she said requires "the respect of media freedom and fundamental rights."
"Elon Musk should be aware of that. There are red lines. And sanctions, soon," Jourova said.
Elon Musk has said, "criticizing me all day long is totally fine, but doxxing my real-time location and endangering my family is not."
Musk's argument appears to be that the information posted by the @ElonJet flight tracker account was not using public information and was bypassing privacy protections.