In her second confirmation hearing, Vanita Gupta, President Biden's pick for the position of Associate Attorney General, was quizzed by Senator Ted Cruz on her position on freedom of speech online.
Gupta has previously expressed that she does not believe in "unchallenged freedom of all speech."
Cruz had some follow up questions from the first hearing, where he focused on her record. She was the head of the DoJ's Civil Rights Division during the Obama administration.
In the hearing, Cruz started by asking Gupta, who, whether more censorship by big tech platforms would "be a good direction in this country."
The senator referred to a tweet Gupta posted in 2019 containing a post by The New Yorker that criticized Facebook CEO Mark Zuckerberg for his alleged belief in "unchallenged freedom of all speech." Gupta wrote that the post was "spot on" adding that the First Amendment is not a "floating right" as it comes with "responsibilities."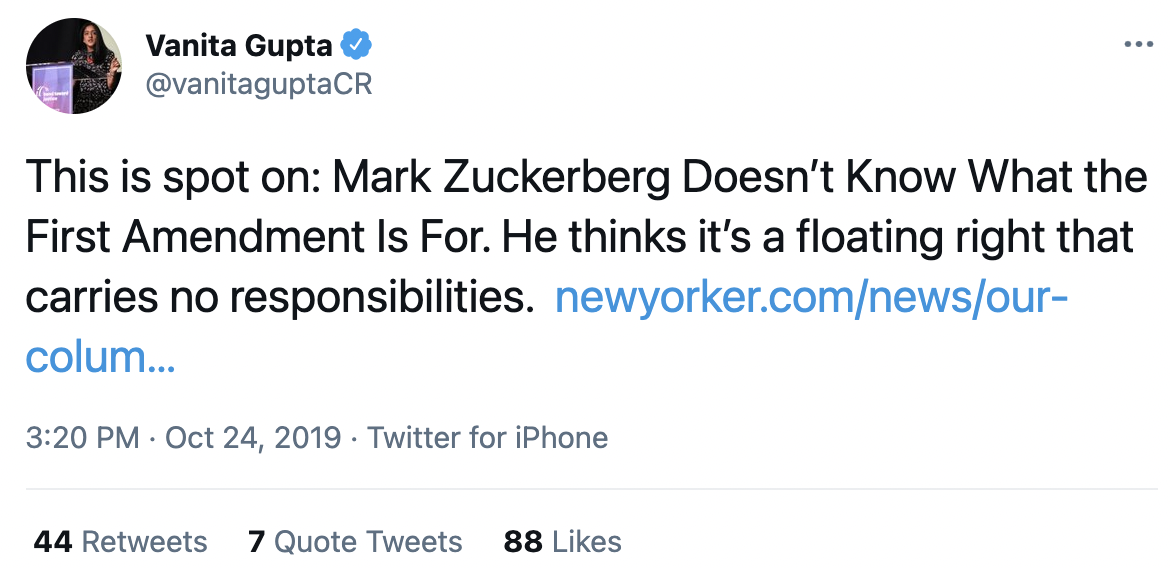 "Senator, I have fiercely defended freedom of speech. I've worked for an organization that has often been criticized for being so fierce in its defense of all free speech. I also believe that any type of viewpoint discrimination is an anathema to this country, it is unconstitutional plainly," Gupta responded.
Cruz then asked her if she has defended the speech of someone she does not agree with, pro-life advocates, and pro-second amendment advocates, alleging that she can only defend the free speech of people she agrees with politically.
She was not able to provide an example of a situation where she defended speech of someone she does not agree with, and asked for an opportunity to respond in writing.
Cruz also asked her whether "big tech is engaged in too much censorship or too little censorship."
"I'm not sure which side of the ledger you're talking about," Gupta responded. She added that social media platforms have community standards "they do not enforce leading to a lot of problems in our democracy."
Cruz concluded that she was saying that big tech should increase censorship, and accused her of wanting "Big Tech Silicon Valley billionaires with monopolies to enforce standards that just happen to coincide with the political views you have."