Vice President of the European Commission, Věra Jourová, said that she is "more and more uncomfortable on Twitter" because of what she said was the rise in Russian propaganda.
She added that Twitter was likely going to violate the upcoming censorship law, the Digital Services Act (DSA), once enforcement begins later this year, because of the "unregulated Russian aggressive propaganda."
The DSA requires platforms to remove "harmful" content or risk heavy fines.
Jourová said that the employees who were fired when Elon Musk took over last October meant staff responsible for content moderation were fired.
"We were already disappointed by the data they delivered in January and of course, we are also watching what they are doing with the capacities left," Jourová told reporters on Wednesday.
Earlier, she tweeted that she felt "Twitter is falling short of its commitments to the anti-disinformation code," a currently voluntary rulebook for online platforms that will become a firm benchmark when the DSA comes into force.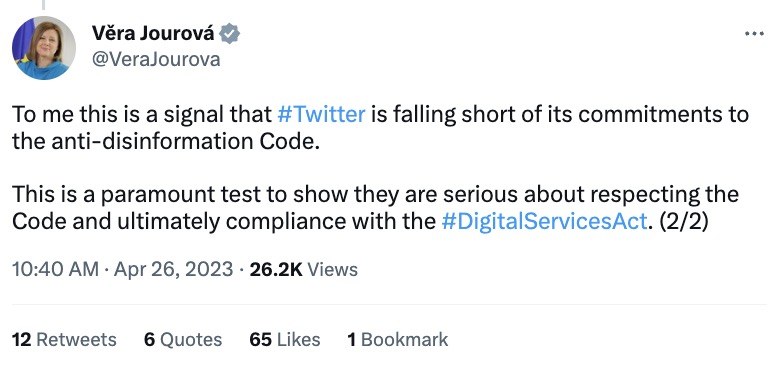 "I would compare the situation with driving on the highway.
"You drive on the highway and overstepping that speed, you get a penalty, and one day you might be deprived of your driving license."
She insisted that platforms should, "intensify their work against Russian propaganda."
"There is still space for dialog. And I would really do wish to explain to Mr. Musk our philosophy that we are protectors of freedom of speech, protectors of freedom of expression… But freedom of speech in the EU is not unlimited."