Game publisher Blizzard has taken a beloved game, Warcraft III, and ruined it; and now, the game's fans are dead-set on letting them know about it.
That's one way to sum up what has been going on around Warcraft III: Reforged over the last couple of days.
Over on Metacritic, this is now the lowest user-rated game of all time, with a score of 0.5, at the time of writing.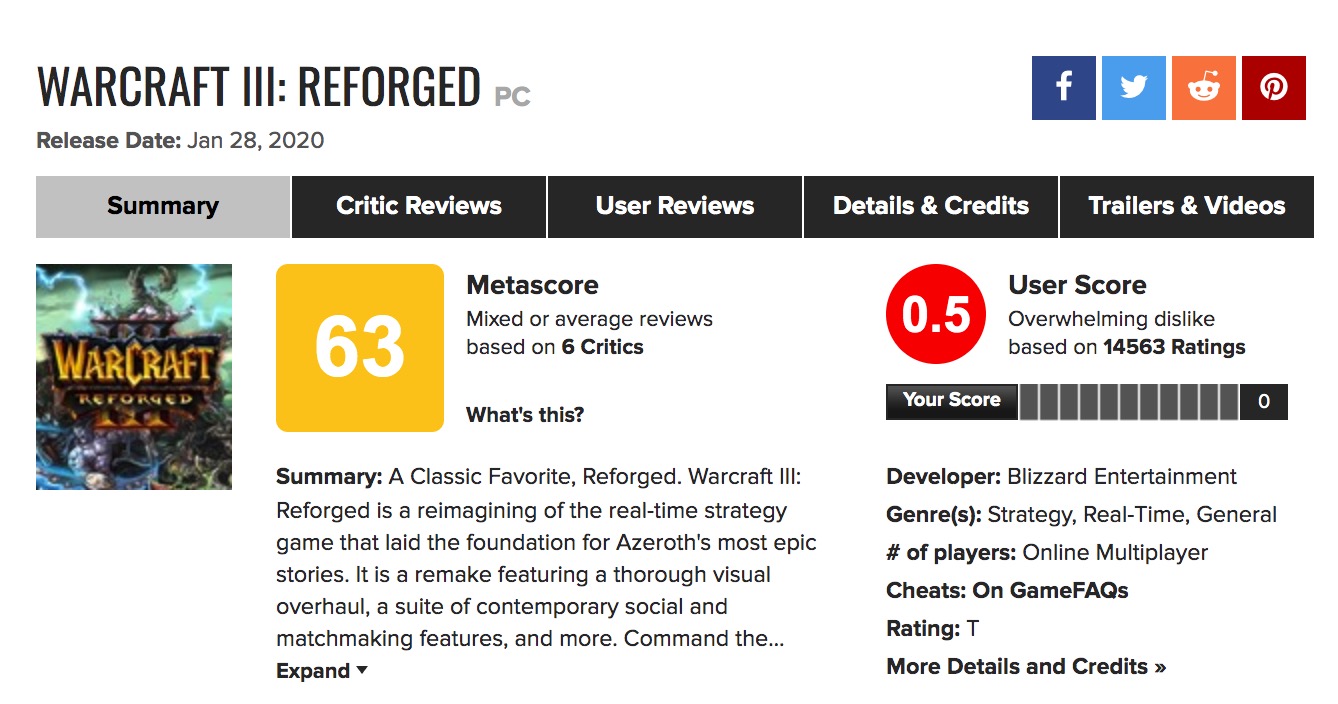 While the original Warcraft III is regarded by many as one of the best games of all time, those who might wish to revisit it are out of luck since Blizzard merged its infrastructure with the botched remaster, in many ways, retroactively ruining it, too.
The remaster is technically buggy. Blizzard failed to live up to many promises it made during the development period, there's a new, controversial policy on custom maps, and the publisher seems to have also toyed with the idea of refusing refunds on pre-orders and censorship by deleting negative posts on its forums.
YouTuber Yong Yea has looked at the Metacritic situation in a video entitled, "Internet turns on Blizzard, Warcraft Reforged now lowest user-rated high-profile game on Metacritic."
He explains that while there may be lower-rated games on the site, they are low profile releases with a small number of user reviews in the first place; but among the high profile games, Warcraft Reforged now represents the absolute bottom of the barrel, rated 0.6 on February 1, from 9,500 user reviews.
The decline has been steady: several days ago the game was rated 1.4 from some 1,400 users, while on January 31 the rating was 0.8 from about 7,000 users.
The anger of the fandom – who were eagerly expecting this release of just to be handed the biggest disappointment in recent years – is evident in another point that Yea makes.
Namely, users rallied to improve the rating of the previously bottom-placed high profile game, Ghost Busters for Xbox One – just to make sure Warcraft Reforged sank to where they believe it belongs.
Yea also observes that while the game may not actually be the worst of all time, as the current rating suggests – Blizzard should take heed of the amount of emotional reaction they managed to produce.
"It takes a special kind of disappointment to inspire an entire community to rate a game this low," the YouTuber said.