Administrators at the top-ranked Yale Law School pressured a student to apologize for a light-hearted email that some students took offense to. The administrators said his membership in the conservative Federalist Society made the email more "triggering."
According to a report from FIRE, a second-year law student at Yale, belonging to both the Federalist Society and Native American Law Student Association (NALSA) was being pressured by administrators to apologize for an email he sent to fellow students inviting them to an event.
The email read: "We will be christening our very own (soon to be) world-renowned NALSA Trap House … by throwing a Constitution Day Bash in collaboration with FedSoc. Planned attractions include Popeye's chicken, basic-bitch-American-themed snacks (like apple pie, etc.), a cocktail station assorted hard and soft beverages, and (most importantly) the opportunity to attend the NALSA Trap House's inaugural mixer!"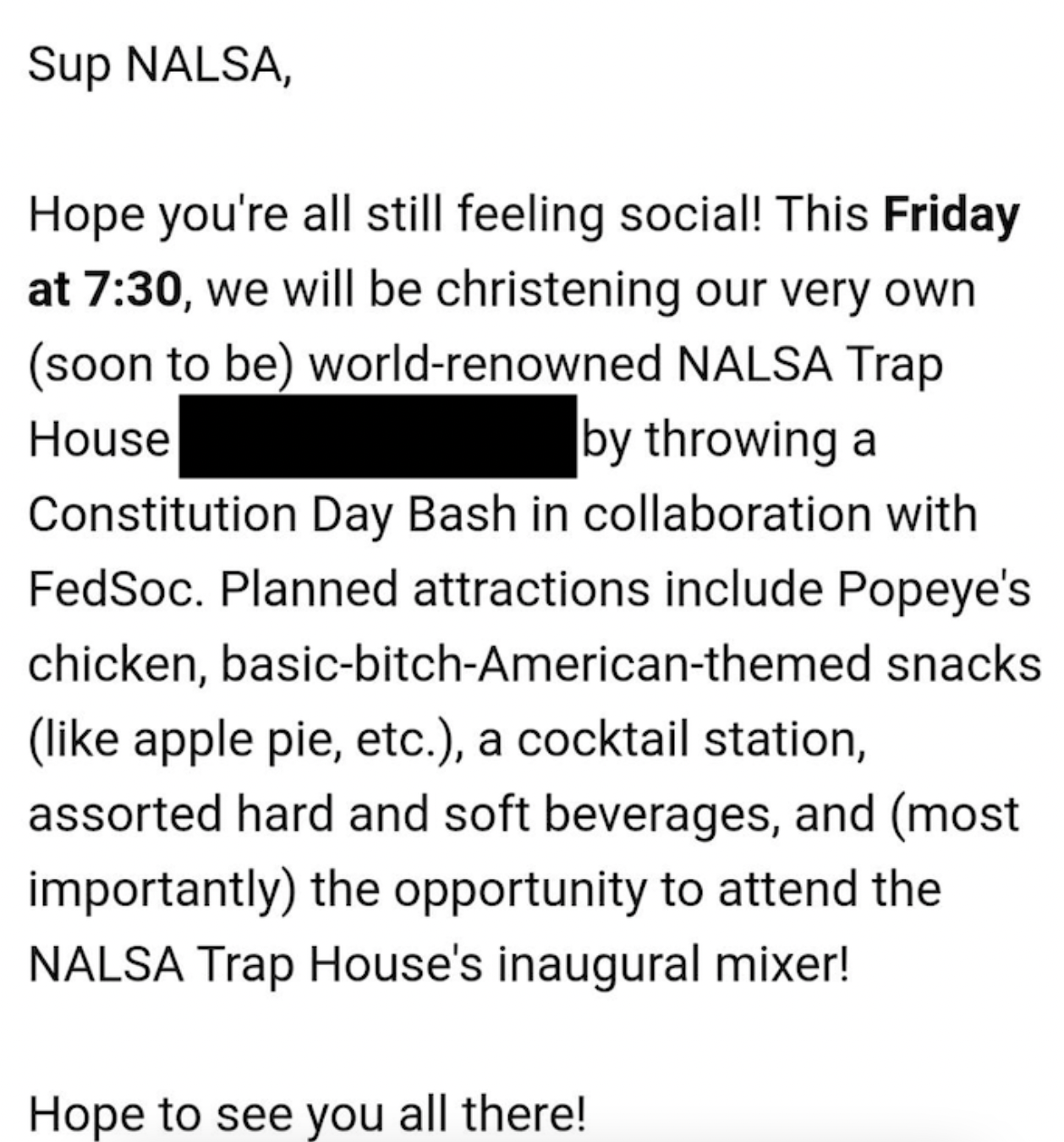 Minutes after sending out the email, it was screenshotted and shared on a forum for all second-year law students at the school. Some students somehow alleged that the phrase "trap house" implied a "black face" party.
"I guess celebrating whiteness wasn't enough," the president of the Black Law Students Association wrote in the forum. "Y'all had to upgrade to cosplay/black face."
As noted Urban Dictionary, the term "trap house" has somewhat had a change in meaning over the years:
"Originally used to describe a crack house in a shady neighborhood, the word has since been abused by high school students who like to pretend they're cool by drinking their mom's beer together and saying they're part of a 'traphouse.'"
The Black Law Students Association also took issue with The Federalist Society, which, according to it, "has historically supported anti-Black rhetoric."
12 hours after sending the email, the student, who insisted on anonymity to avoid retaliation but has since gone public, was summoned by the Office of Student Affairs, where he was told administrators had received at least nine complaints that his email was discriminatory and a form of harassment.
He provided a recording of the meeting, which took place on September 16, to The Washington Free Beacon. In the meeting, the diversity director Yaseen Eldik and associate dean Ellen Cosgrove told him that the word "trap" was associated with blackface, use of crack, hip hop. Eldik described them as "triggering associations" that were made worse by the reference to fried chicken, as it "is often used to undermine arguments that structural and systemic racism has contributed to racial health disparities in the U.S."
Eldik also said the student's membership to the Federalist Society "triggered" the other students.
"The email's association with FedSoc was very triggering for students who already feel like FedSoc belongs to political affiliations that are oppressive to certain communities," Eldik said. "That of course obviously includes the LGBTQIA community and black communities and immigrant communities."
The remarks from the administrator mean that the top-ranked law school considers membership to a conservative association an offense.
Throughout the meeting and other meetings that followed, the administrators hinted that the student would face consequences if he did not apologize. They even drafted an apology that he would send to his peers.
The student stood his ground and refused to apologize. Instead, he said he would prefer to discuss the issue with those who were offended.
According to FIRE, "…how Colbert intended the phrase is, at least for administrators at an institution that pledges to protect freedom of expression, beside the point. Even if Colbert was being deliberately provocative, his speech is still protected by Yale's explicit promises of free expression. But those policies were no obstacle to Yale administrators."