Former Congressman Dr. Ron Paul has been censored by YouTube again, this time for posting an episode of his political talk show titled "What's in it for Bill Gates – Does He Want To Rule The World?" which YouTube deemed to be "medical misinformation."
In the episode, Dr. Paul and his co-host Daniel McAdams, Executive Director of The Ron Paul Institute for Peace and Prosperity, discussed recent coronavirus statistics that had been released, the negative economic impacts of lockdowns, the way governors and police forces have used the coronavirus to exert power, the media's coronavirus fear mongering, and speculated on Bill Gates' motives amid the pandemic.
Specifically, they noted that Gates has "all the money he could possibly need," stated that Gates has "a demonstrated history and track record of believing very strongly that the world is overpopulated and that we need population control," and referenced news reports of Gates-backed vaccines causing polio outbreaks in Africa.
They also discussed Gates' push for "digital certificates" that show whether people have received a recent coronavirus test or the coronavirus vaccine and compared this push to the erosion of civil liberties under the Patriot Act.
YouTube's message to Paul referenced YouTube's COVID-19 vaccine misinformation policy which prohibits "claims about COVID-19 vaccinations that contradict expert consensus from local health authorities or the World Health Organization."
Paul has appealed YouTube's decision but warned that if the appeal is unsuccessful, the Liberty Report will be unable to post for a week.
"It's the first step toward canceling the Liberty Report entirely," Paul added "Help!"
In his appeal, Paul also noted that the Liberty Report is "simply a news analysis program" which reports the news and provides analysis.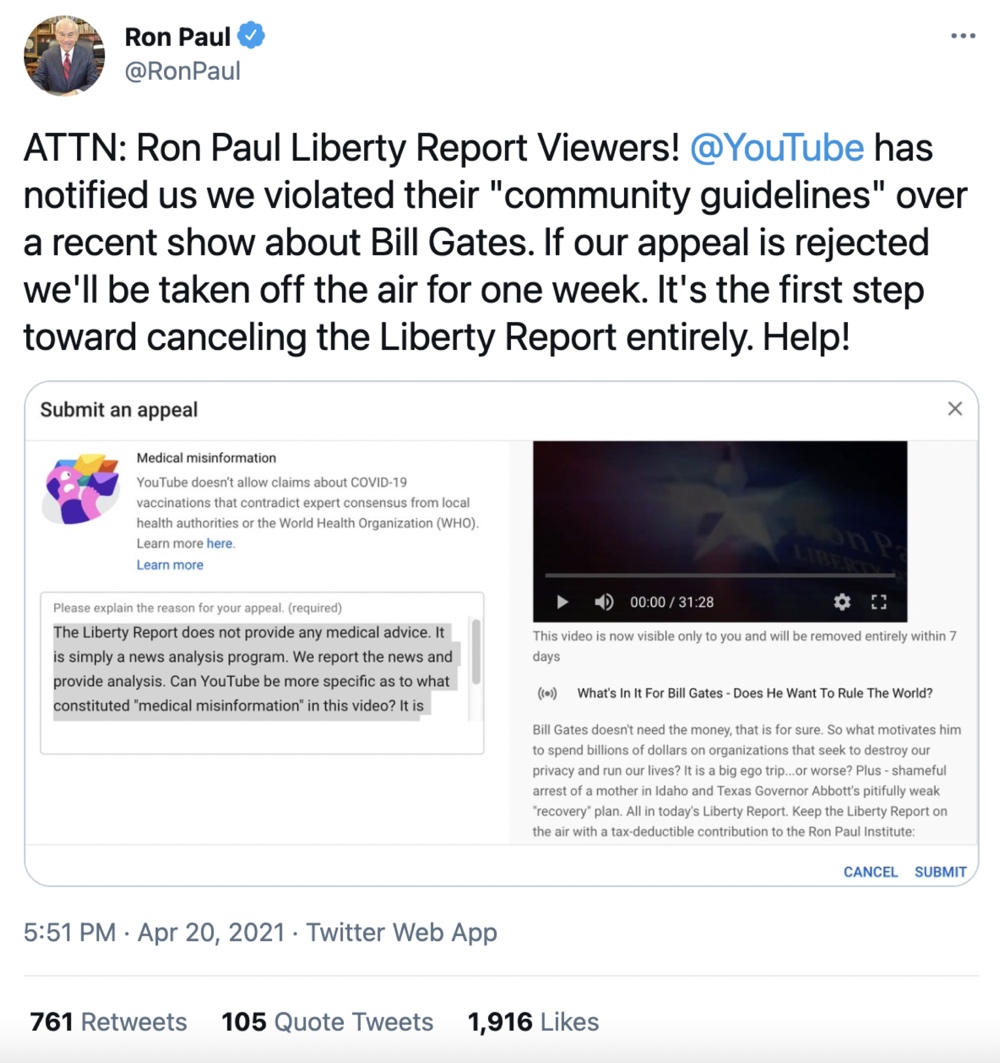 YouTube's censorship of this episode is the latest of several examples of the tech giant censoring Paul's show. Previously, it has censored episodes covering "Fire Fauci" chants at a Trump rally and coronavirus whistleblowers.
Facebook has also previously blocked Paul from posting to his page which has over 1.2 million followers.
It's also not the first time that content critical of Gates has been censored by the tech giants. Earlier this year, a major South African news outlet was censored by Twitter after it published an article about Gates.
Gates has regularly advocated for social media censorship and called for "smart solutions" that slow the spread of "misinformation."
Dr. Paul's censored video is still available on Odysee.