YouTube's "Community Outreach Team" has been emailing users to tell them that "members of the community were concerned about some of the comments you've posted on YouTube."
The emails, forwarded to Reclaim The Net by YouTube users, don't tell users which of their comments allegedly caused concern to members of the community and instead urges them to take a survey.
"After you take the survey, someone from our team may follow up to better understand your feedback," YouTube's email adds.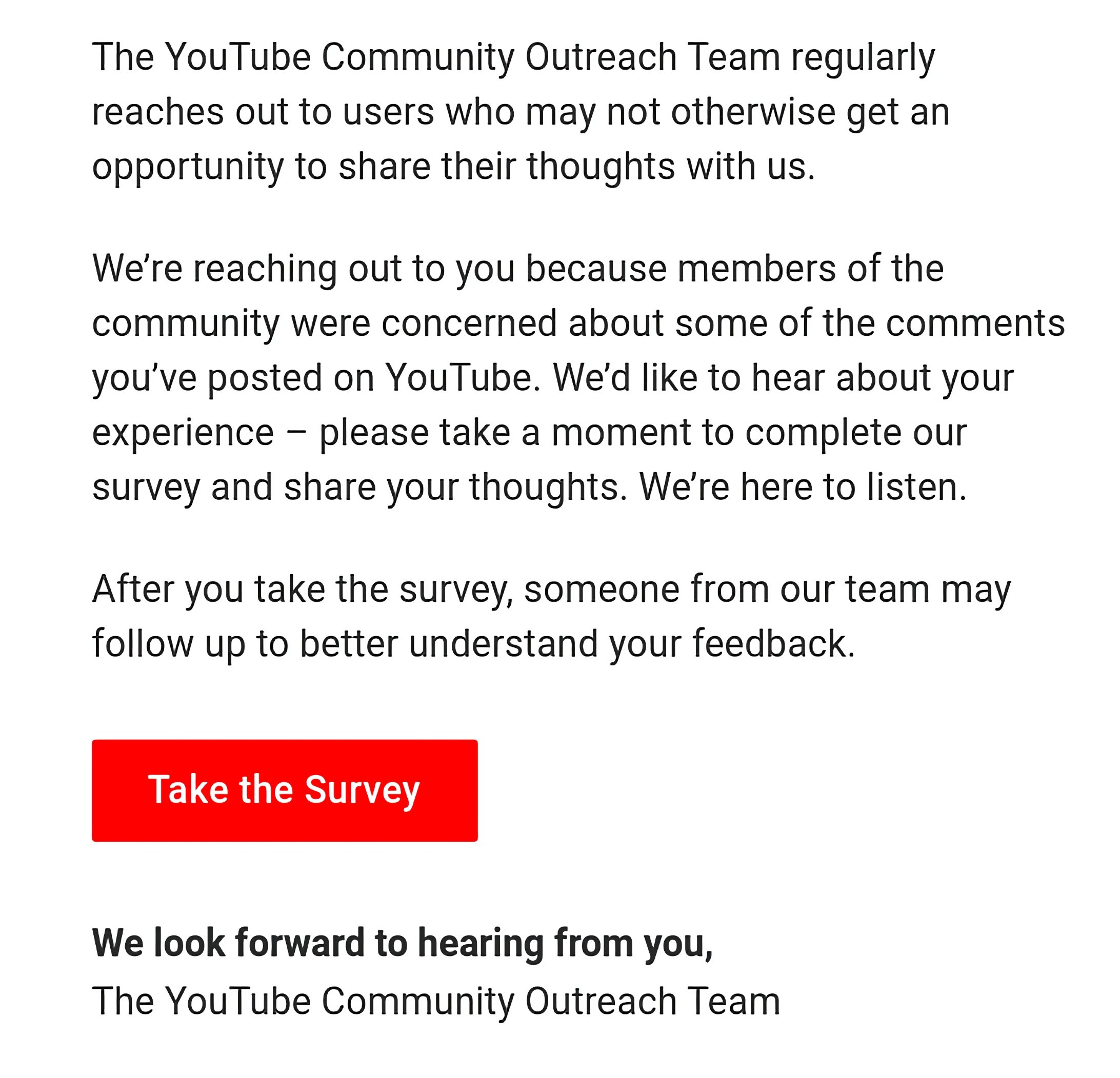 The one-page survey asks users to rate their sentiment toward the YouTube platform on a scale of "Extremely negative" to "Extremely positive." It also contains an optional field where users can share more information about their response and lets them choose whether they want to be contacted so the platform can "further understand" the feedback.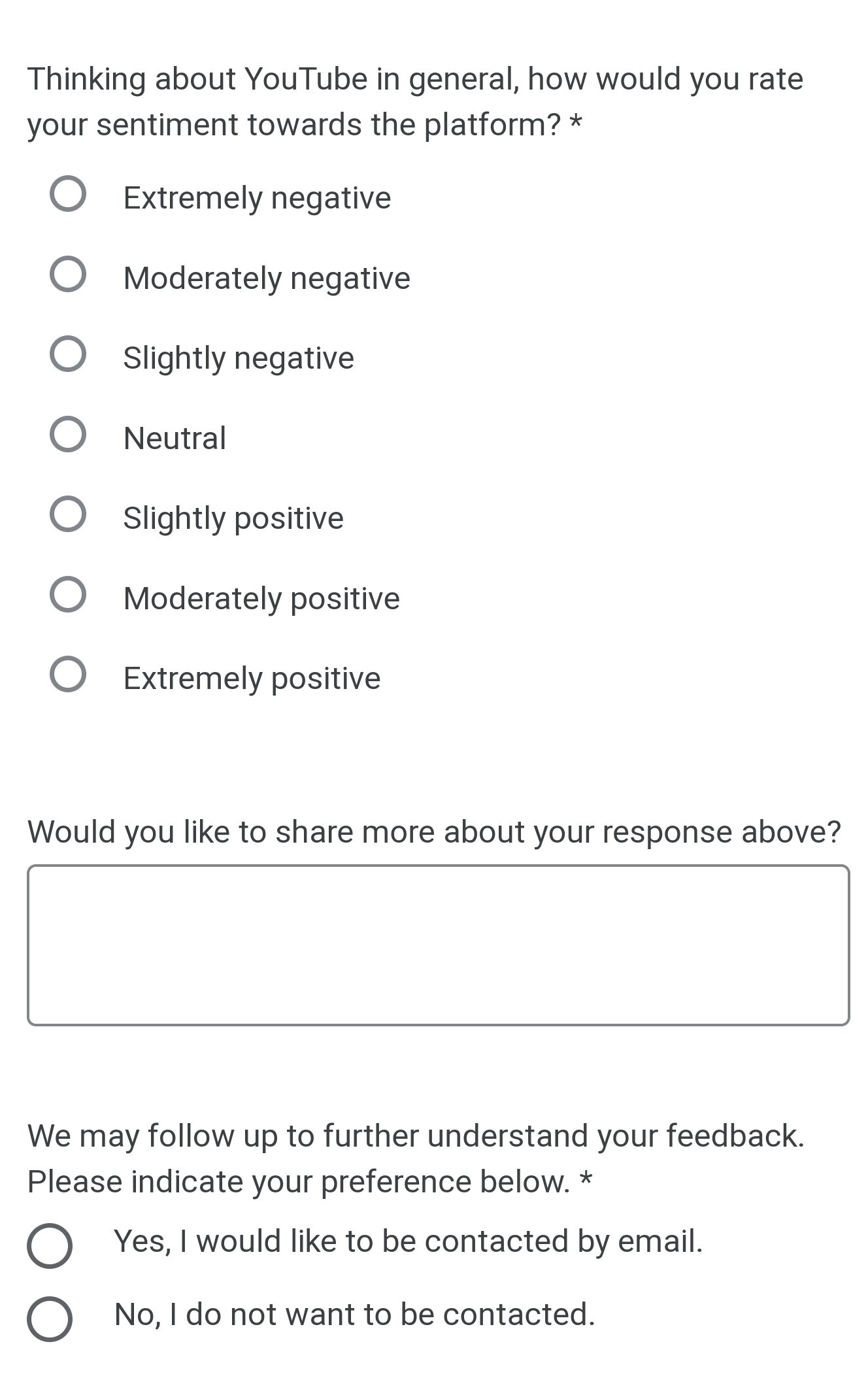 One user who received this email noted that the email doesn't tell them "what the problem is."
"Where is the context?" the user added. "Why are you harassing me without offering any examples?"
The user also noted that they completed the survey but the form doesn't work.
"All this looks like is harassment without offering any clarity or justification," the user continued. "If I've somehow broken youtube's rules I'd like to know so as I don't breach them again and I can correct my behavior, but as it stands now I gain absolutely nothing from the email."
Other users have also criticized YouTube for failing to disclose which of their comments are supposedly causing concern to the community and described the way YouTube sends these emails as "weird," "bizarre," and "some kind of veiled threat."
Several users who attempted to complete the survey have also noted that the form doesn't always work.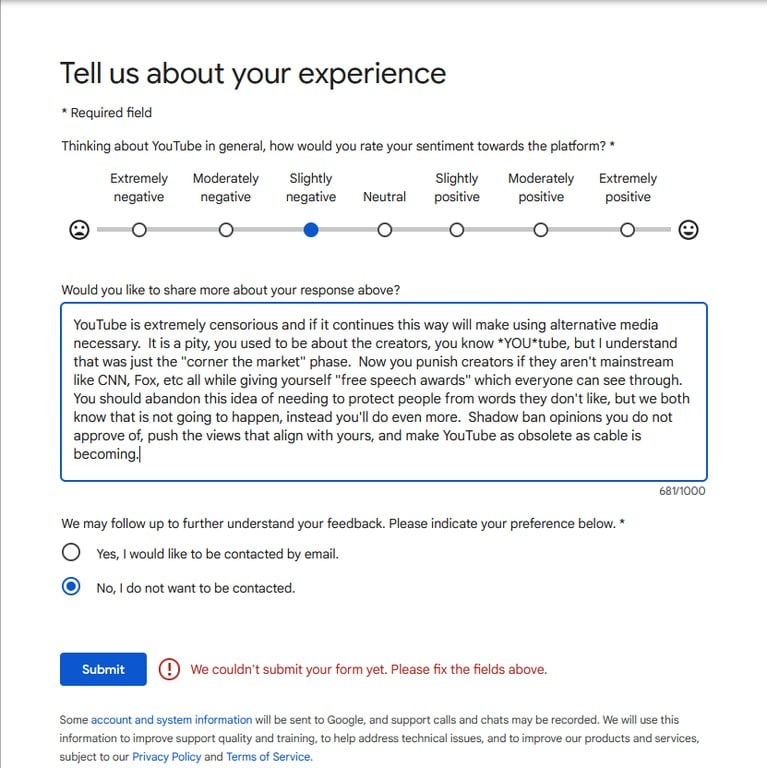 These ominous warnings are the latest of many YouTube crackdowns on user comments.
In December 2020, the tech giant announced that it would start warning users when their comments "may be offensive to others." These warnings appear when users attempt to leave comments that "may be considered offensive" and encourage them to edit the comment in order to be "respectful."
In February 2019, the platform said that comments left by viewers could result in creators' videos being demonetized.
YouTube's systems have also automatically deleted comments about "black lives matter violence" and comments that criticize the Chinese government and its propaganda pushers. YouTube subsequently claimed that these automatic comment deletions were an "error."
In addition to these warnings, YouTube has been scaling up its automated censorship of comments by introducing filters that automatically hold "potentially inappropriate and hurtful comments" for review and investing in technology that helps its systems "better detect and remove hateful comments by taking into account the topic of the video and the context of a comment."