Several YouTubers with more than a million collective subscribers have recently had their monetized videos suddenly flipped to "Limited" status, meaning that they're ineligible for most types of ads and unlikely to earn any ad revenue on their videos.
Unlike channel demonetization, where YouTube removes channels from the YouTube Partner Program and prevents them from monetizing their content via features such as ads, one-time Super Chat donations, and monthly YouTube channel membership donations, the channels affected by this recent issue are still part of YouTube's Partner Program.
This means the affected channels still have access to YouTube's monetization features but most or all of their videos aren't earning ad revenue because they've been placed in this Limited status.
The affected YouTube channels include, but are not limited to, TheQuartering, CreepShowArt, The Joey Saladino Show, Bowblax, Turkey Tom, Drunken Peasants, Nicholas DeOrio, and Nicholas DeOrio 2.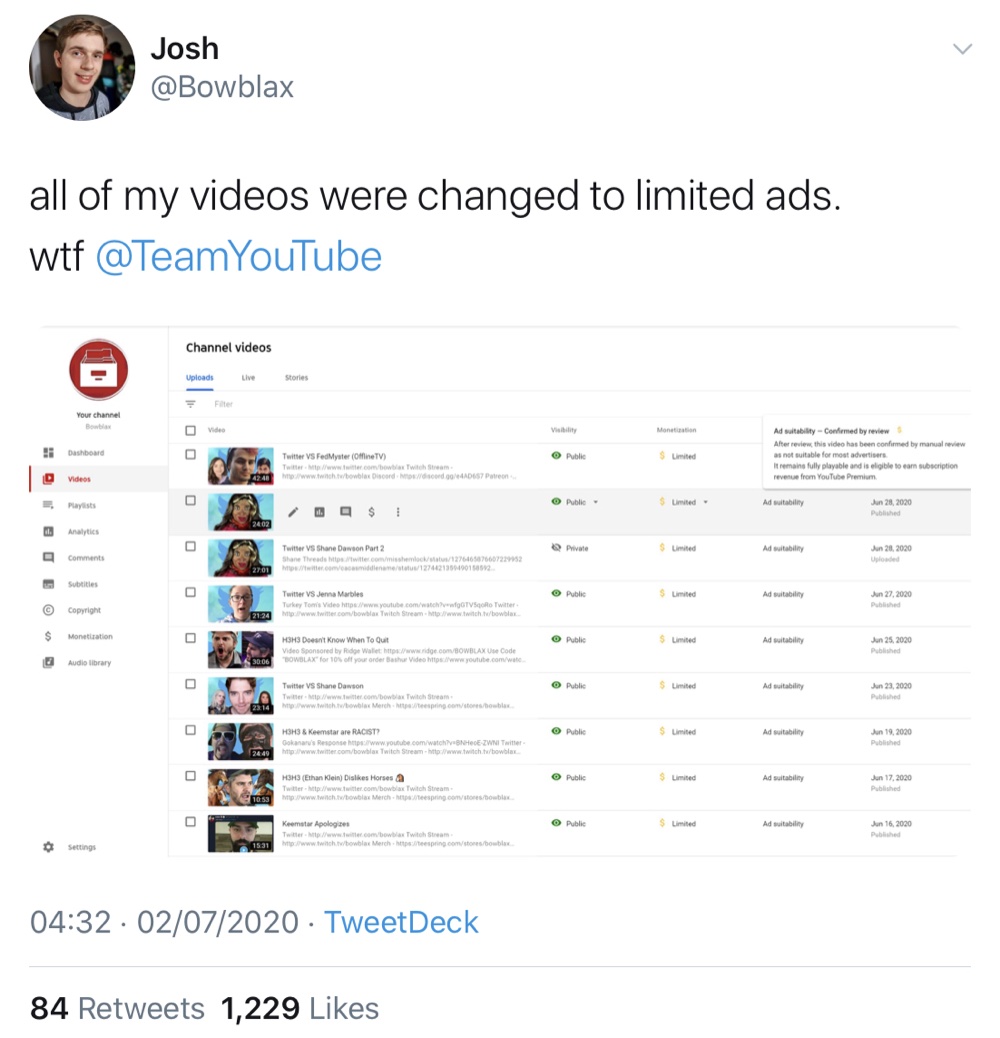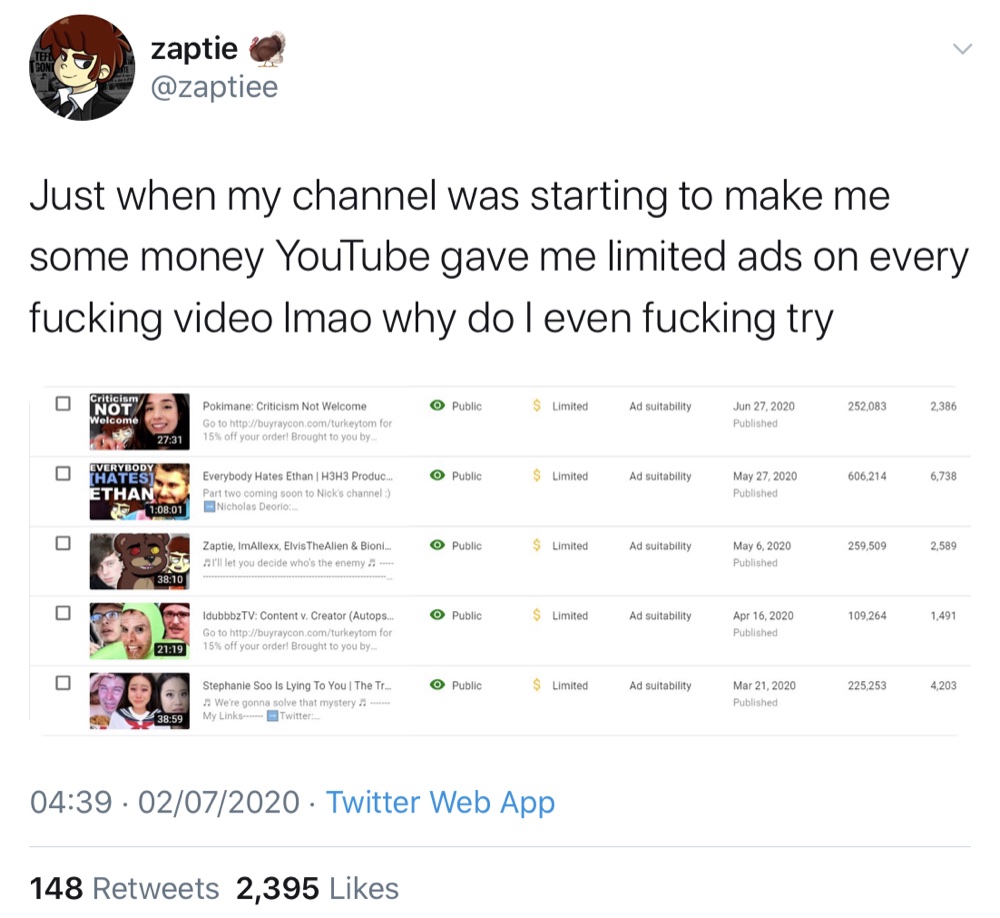 Several YouTubers have suggested that the issue is being caused by a bug related to YouTube's-Self Certification program which allows creators to rate their videos against YouTube's advertiser-friendly guidelines.
Jeremy from TheQuartering showed some of the incorrect feedback he's been getting from YouTube's human reviews on several of the videos he's self-rated. The feedback accuses him of using "blurred or censored nudity" and "strong profanity in the title, thumbnail or opening." But, despite YouTube's claims, the videos contain none of this material.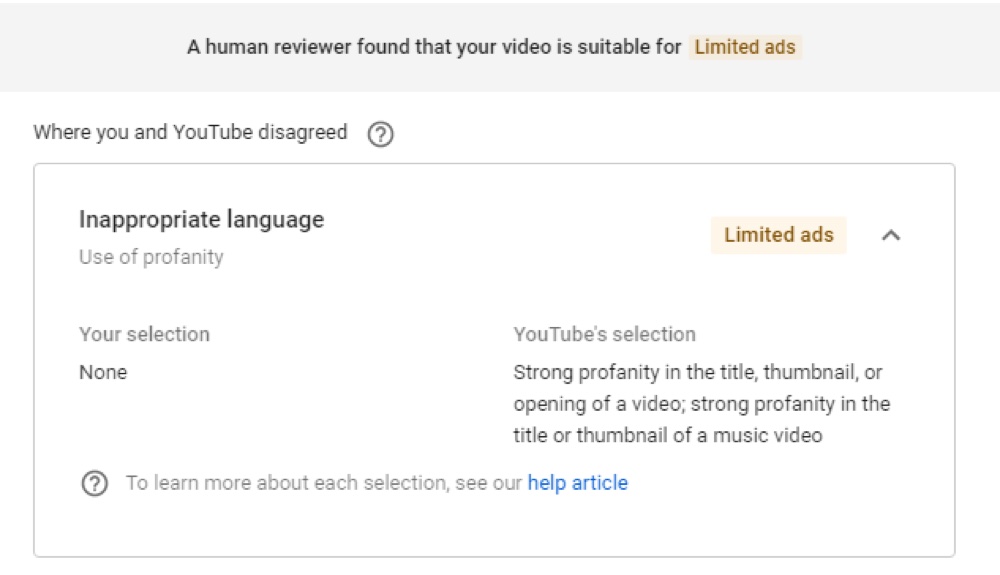 YouTube commentator John Swan noted that when Nicholas DeOrio attempts to upload any videos to his channel, which has been affected by this issue, they're instantly demonetized and it shows that each video had been confirmed by manual review, even though no YouTube employee was actually confirming the demonetization. When John Swan attempts to upload the same videos to his channel, which isn't affected by this issue, they're monetized – indicating that the issue is related to the channel rather than the content of the videos.
John Swan also discovered that YouTube live streams, which aren't part of YouTube's-Self Certification program, have an option to appeal the demonetization whereas regular uploads don't have this option – indicating that the problem has its roots in YouTube's-Self Certification program.
Multiple creators, including TheQuartering and Nicholas DeOrio, have also contacted YouTube about the issue but so far, YouTube support's replies haven't acknowledged that there's an issue and instead they have either tweeted that they'll provide an update soon, insisted that the human reviews are correct when the videos don't contain any of the content that was flagged by the human reviewer, or claimed that the videos have been removed when they haven't.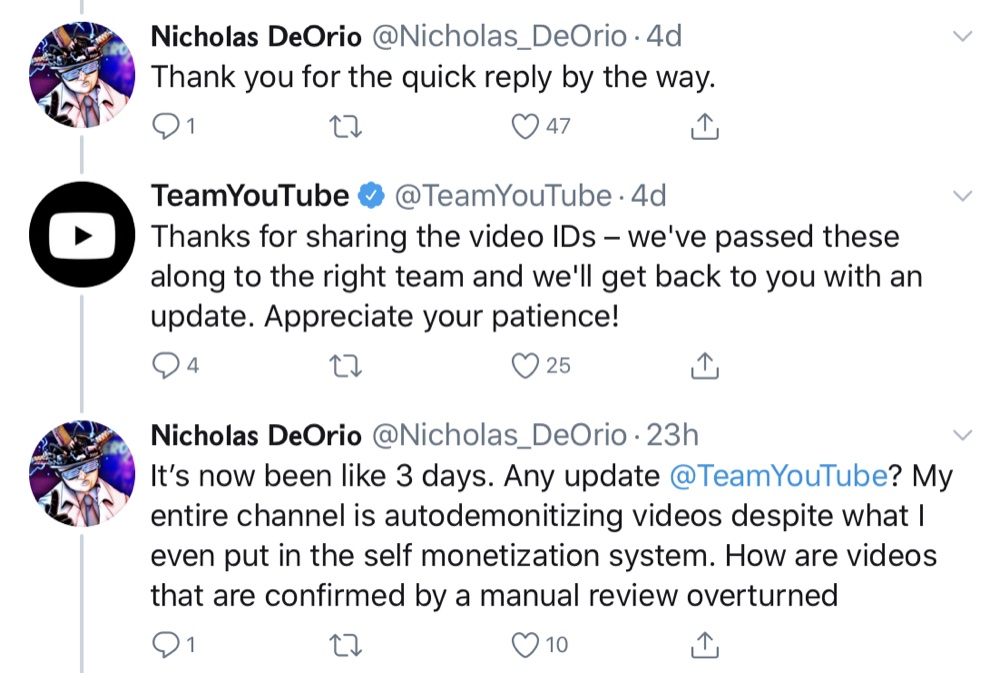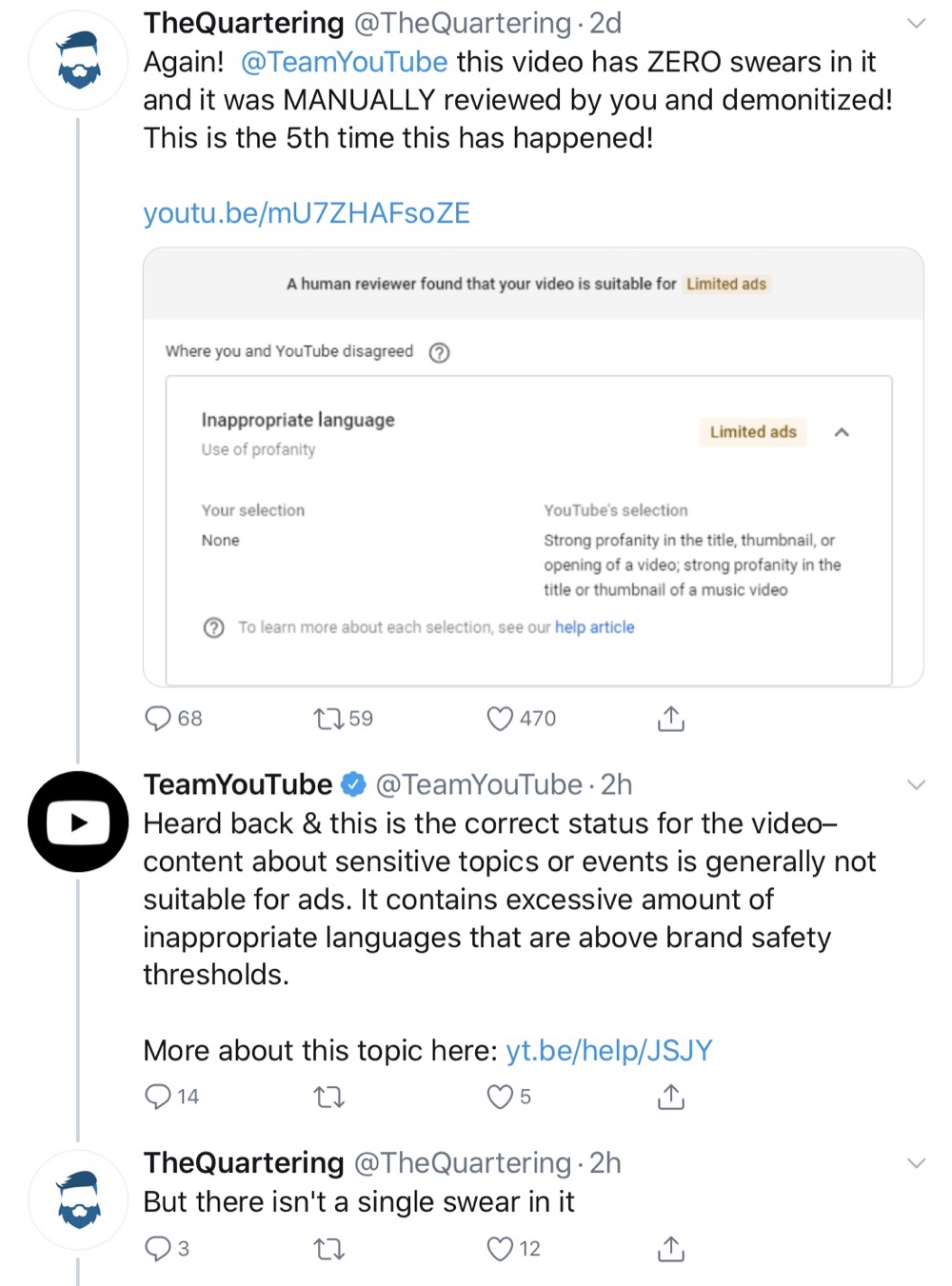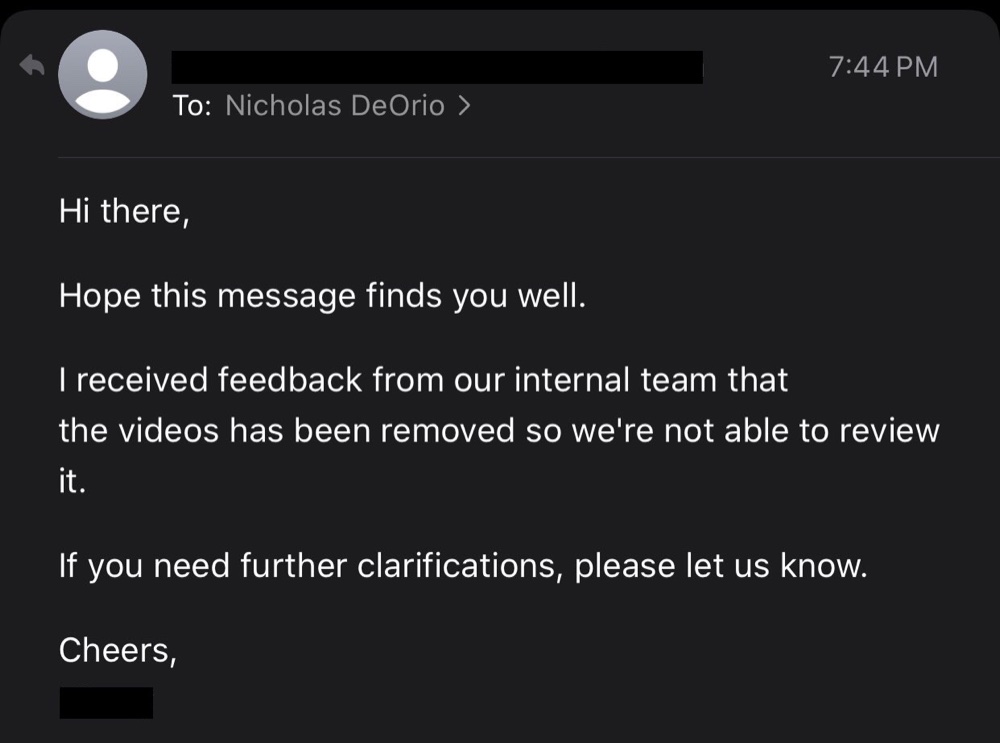 Related: ? Creators will have to move away from the ad supported business model to avoid censorship
The issue has been affecting some of these creators for days and, with several of the attempts to notify YouTube only being met with confusing responses, it's unclear how or when it will be resolved.
This lack of clarity is proving to be the most frustrating part of this sudden wave of demonetization for several creators because they're receiving no guidance on what they can do. Ad revenue on YouTube is many creators' only source of income.
While the cause of this wave of demonetization appears to be different to previous waves, it highlights the perils of ad-supported publishing which allows ad networks and advertisers to dictate when and if creators are allowed to monetize their work and they can change their mind in an instant.