Another community of creators on YouTube is starting to get a taste of the giant video platform's targeted crackdowns and censorship, and the latest one has a name: "The Crypto YouTube Carnage."
That's how one of those receiving a "harmful content" strike against a video from 2018, who goes by the name Ivan on Tech, dubbed it in a tweet announcing that he had been banned from uploading content on YouTube for a week.
Ivan, whose channel with 211,000 subscribers is dedicated to cryptocurrencies and the blockchain tech behind them, a well as financial and investment aspects of the decentralized currency scene, explored the predicament of others in more detail in a stream on YouTube on Monday asking the pertinent question: "Crypto YouTubers in Trouble?"
This YouTuber said that at least nine of the top crypto channels received strikes on Monday, and speaks about a growing sense of uncertainty among the platform's top talent about their future on YouTube where "each day could be the last" – and the need to be prepared to move to alternatives, which, he argues, need to provide visibility of content along with decentralized hosting.
As years' worth of videos started disappearing from several crypto YouTubers' channels, many began speculating about the giant's motivations. Some believe that YouTube is sensing a rise of new, blockchain platforms that can compete for creators both by offering them better "job security" and a higher cut of earnings.
Be that as it may, what's undeniable is that more and more crypto creators are now suffering on YouTube: the "carnage" started with Chris Dunn, who also received a strike and was banned from uploading on his channel with 211,000 subscribers for a week. In a tweet, he said YouTube informed him that he allegedly engaged in "harmful or dangerous content and sale of regulated goods."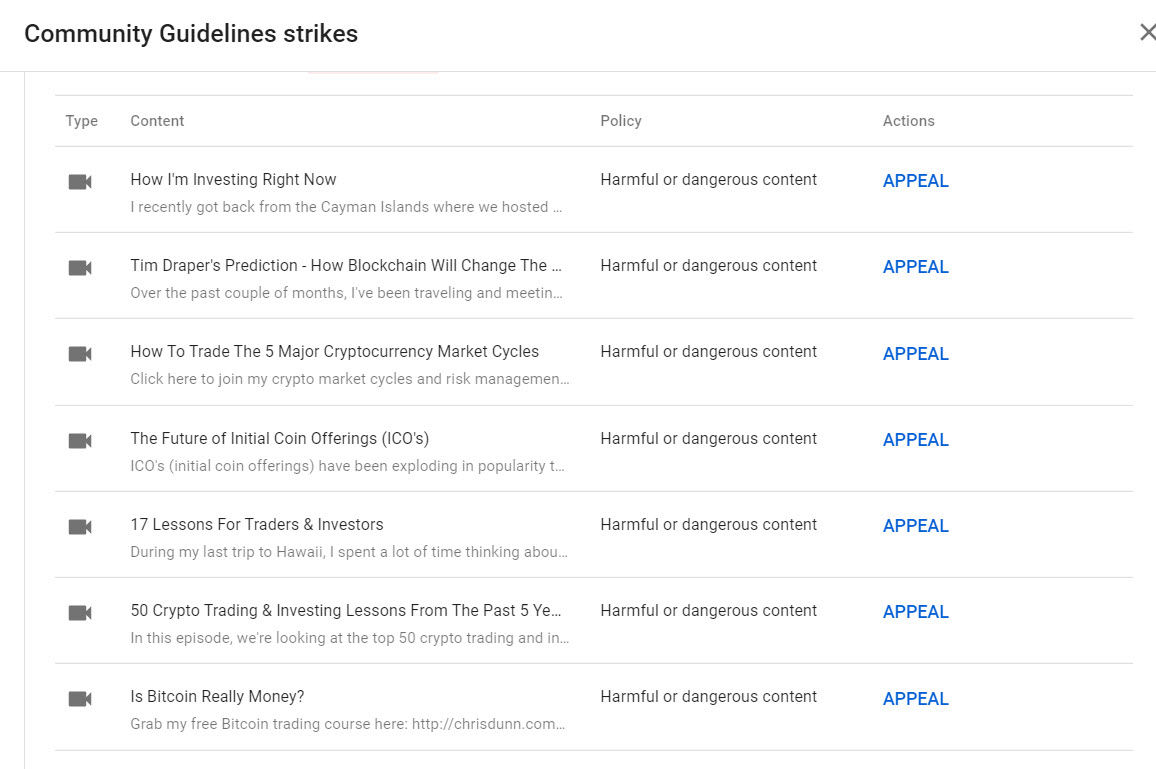 In another tweet Dunn says: "I should've put my videos on decentralized platforms a long time ago, but lesson learned! This is a clear example of why we need to decentralize the web!"
The Modern Investor, with over 152,000 subscribers said he was also hit with a 7-day ban and had his videos taken down, describing the situation as "coordinated attacks against the crypto YouTube community."
And as some in that community offering their opinion on Twitter suspected that Google may even be preparing to announce its own stablecoin – a cryptocurrency geared towards minimizing risks – others mentioned being banned on Facebook for criticizing that giant's own stablecoin, Libra, and the banks. But the overall feeling among those affected by the latest round of censorship on YouTube seems to be that of an increasingly unacceptable level of pressure in the form of censorship, demonetization, and platforming, and the need to look for alternatives.
It's not for nothing that the mood is dark: as Chico Crypto put it on Twitter, his channel is "under attack" from YouTube – even though his content did not violate any community guidelines. This "attack" follows the same pattern: videos are taken down, one strike issued, along with week-long ban on uploading.
Chico Crypto, whose YouTube channel has 67,000 subscribers, also said that he had evidence of users in a Telegram group claiming they were mass reporting his content. He also tagged YouTube in the hope of a reaction.
This YouTuber provides an example of what the platform considers to be "harmful and dangerous content": apparently, all it takes is a flippant question to "hot babes" if they ever heard of BitCoin.
Node Investor was among those hit in the purge of crypto content on YouTube, whose channel has over 54,000 subscribers. Here once again, older, specifically, 2-year-old videos are being taken down, possibly in some sort of a review process by the giant platform.
Joining this growing group of affected creators is BTC Sessions, who said that YouTube flagged an educational video uploaded to the channel with 31,000 subscribers three years ago as "harmful and dangerous." This removes the possibility that YouTube is going only after channels giving investment advice, because the target range is obviously much broader.
BTC Sessions also had alternatives on his mind, asking the community for any recommendations.
Hopefully, decentralized platforms will know how to capitalize on this moment and offer their services as viable alternatives.
But before that happens, YouTube is on a removal rampage. One of TidBITS website editor Josh Centers' videos criticizing cryptocurrency exchange Coinbase's verification process, and recommending alternatives saw this fate. This, too, was "harmful and dangerous" according to YouTube.
For the time being, the "carnage" list ends with Heidi (Crypto Tips), who operates a 55,000 subscriber-strong channel. She tweeted that her channel had been affected as well, and sarcastically referenced "the joys of working with centralized entities with suffocating agendas."
Update – December 31, 2019: YouTube has now restored most of the crypto videos that were taken down.