Ford Fischer, the co-founder and editor-in-chief of independent news outlet News2Share, has had constant problems with YouTube demonetizing and removing his coverage of protests, marches, rallies, and more. Now, three more of his videos have been removed and YouTube has given his channel a strike which prevents him from uploading for a week.
The first video that was removed showed the group "Official Street Preachers" insulting several people before being confronted by an Antifa activist and a supporter of President Trump.
YouTube took it down for containing "false claims that widespread fraud, errors, or glitches changed the outcome of the U.S. 2020 presidential election."

But the only related reference to the election in the video was one person who yelled: "I still believe that the election was stolen, but you sir, all of you, have been promoting the wrong form of Christianity."
You can review this video on Odysee here.
The second video that was removed showed a speech from Nick Fuentes, host of the political talk show America First, at the pro-Trump Million MAGA March in December. The footage was licensed by the BBC and used in the 2021 impeachment hearing.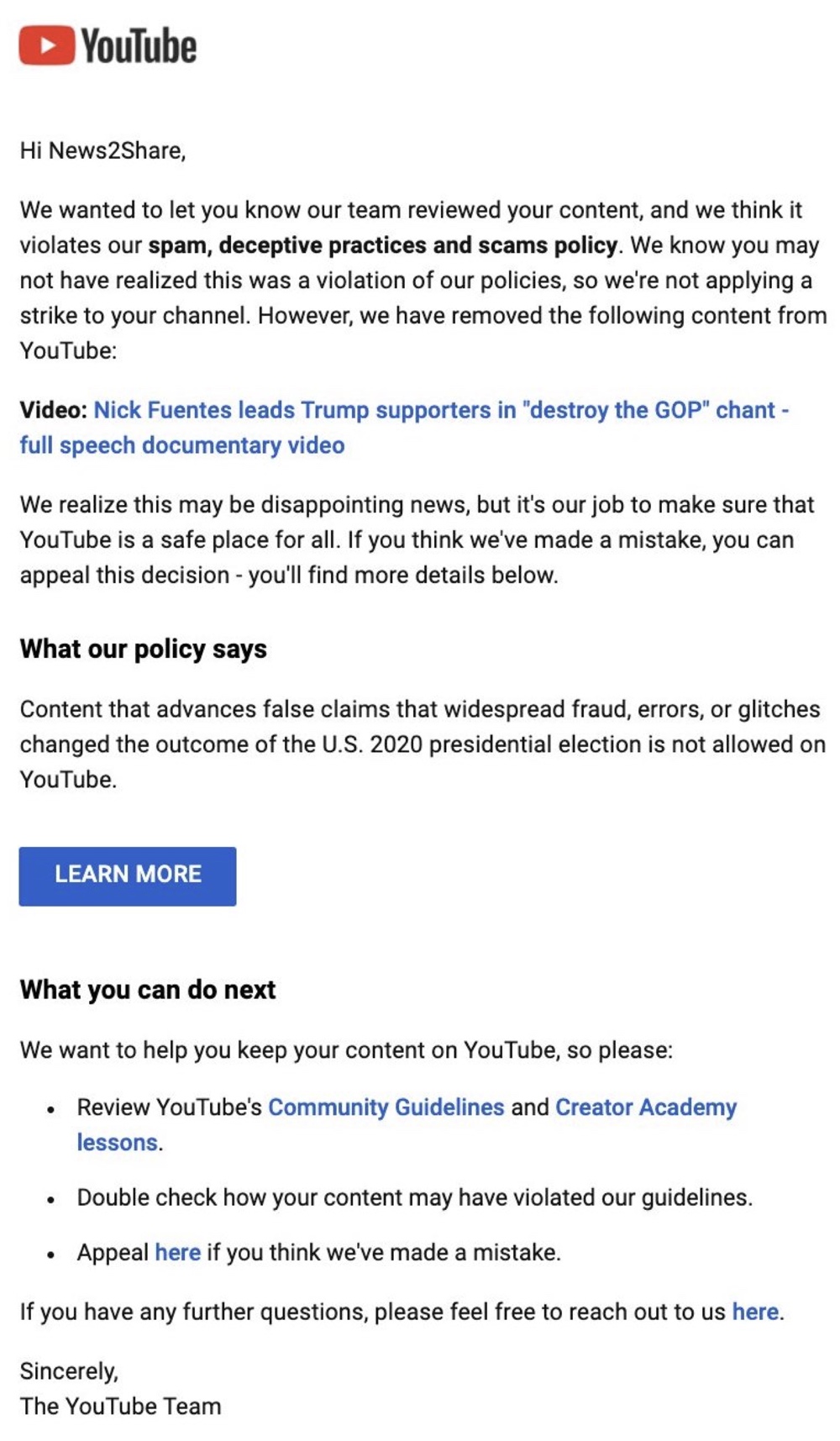 You can review this video on Odysee here.
The third video that was removed features on the ground footage of an anti-lockdown rally and was licensed by NowThis News.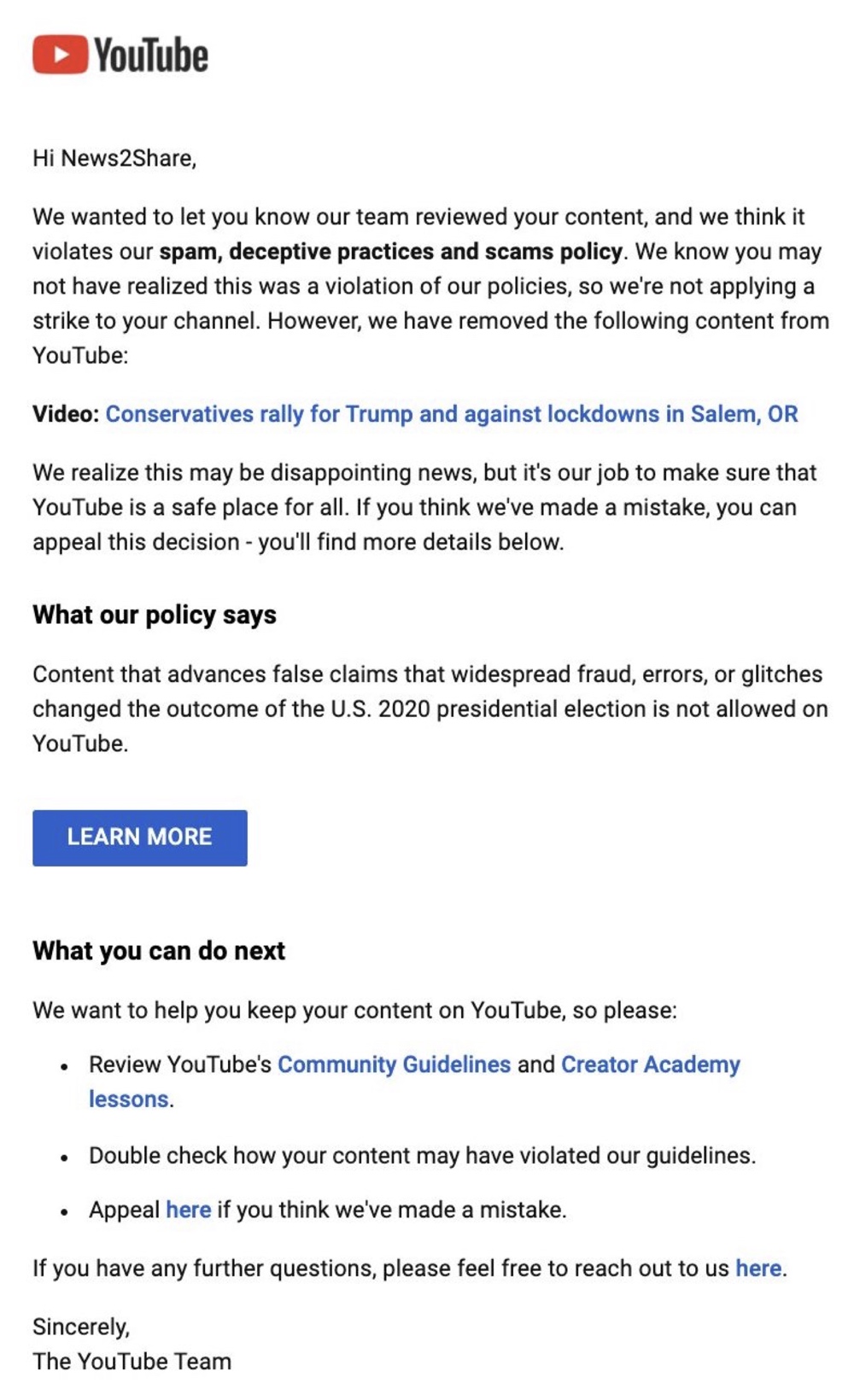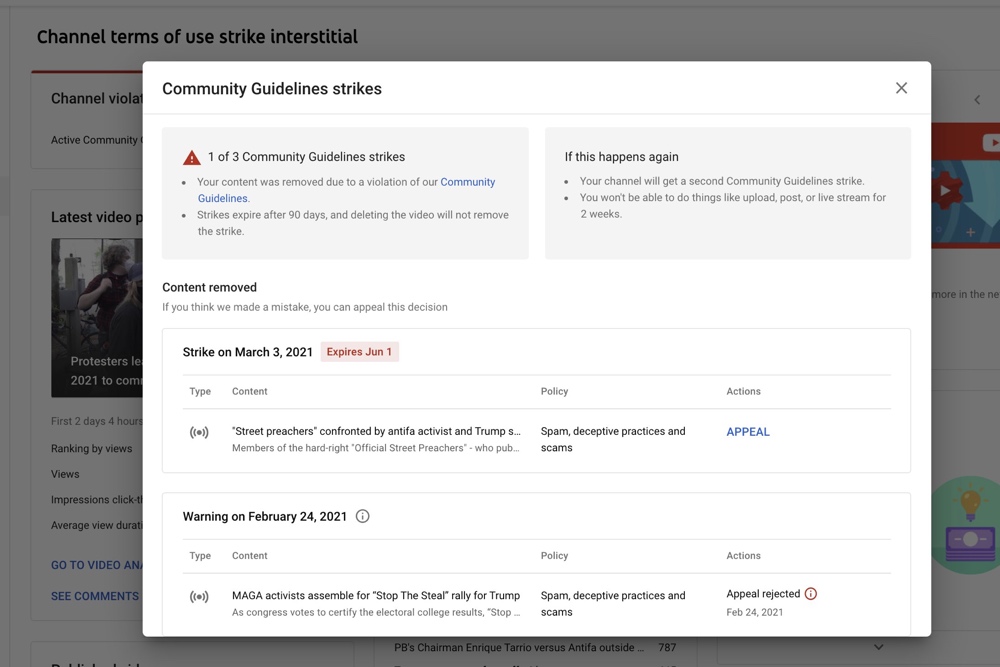 You can review the footage that was licensed to NowThis News here.
As with the first video, YouTube cited alleged false claims about widespread fraud, errors, or glitches changed the outcome of the 2020 US presidential election when removing the other videos.
"My content isn't misleading nor does it allege – it shows what happens," Fischer tweeted in response to the email.
He added that YouTube's policy of striking videos that allege widespread voter fraud or errors changed the outcome of the 2020 US presidential election was only meant to apply to videos that were uploaded on or after January 7 but the warning which made this strike possible was issued on a video that was uploaded on January 6.
"Their policy that includes strikes is only for January 7 and after, so this is wrong even by their own standards," Fischer wrote.
Fischer also noted that all the videos include an all-caps warning to specify that they contain raw footage of "a situation important to news and documentary understanding" but this didn't stop the tech giant from taking them down.
Fischer is urging his followers to tweet @TeamYouTube and tell it to lift the suspension on his account and "demand that YouTube work *with* content creators to find solutions rather than use punitive measures against their content creators acting in good faith."
Fischer also warned that he'll likely have to delete most of his YouTube uploads from December and January because of YouTube's far-reaching enforcement of this policy.
"Knowing that literally one sentence a Trump supporter said in a video not related to Trump can get a strike means it's all at risk," he tweeted. "This is censorship."
Not only do YouTube's sanctions on Fischer's account prevent him from uploading or live streaming for a week but it also puts him at risk of facing further sanctions if YouTube removes any more of his videos before this strike expires on June 1.
This is the latest of several instances where YouTube has sanctioned Fischer for allegedly violating its policies before admitting a mistake and walking back the decision.
In February, his channel was erroneously demonetized before YouTube reversed the decision and admitted to "over-enforcement." Fischer was also demonetized in July 2019 before YouTube eventually reversed the decision in January 2020.
YouTube's increasingly strict enforcement of raw footage or live coverage of newsworthy events is creating an environment of increased uncertainty for creators with the words of guests, speakers, or random passers-by now leaving them at risk of being demonetized or suspended.
Even if the decisions do eventually get reversed, creators sometimes have to wait months before their monetization or content is restored after an error has been made.
Many channels are responding to this uncertainty by cutting off guests and event attendees in an attempt to avoid YouTube sanctions.