Journalist Andy Ngo has been temporarily suspended from Twitter after responding to a tweet from Chelsea Clinton about transgender violence statistics.
In her tweet, Clinton quoted a tweet from the Human Rights Campaign Twitter account which said: "Today we honor those who we have lost to fatal violence— the majority of whom were Black transgender women."
She then added: "Since 2013, more than 150 trans people have been murdered in the U.S., the majority Black transgender women.
Ngo responded by saying:
"The US is one of the safest countries for trans people. The murder rate of trans victims is actually lower than that for cis population. Also, who is behind the murders? Mostly black men."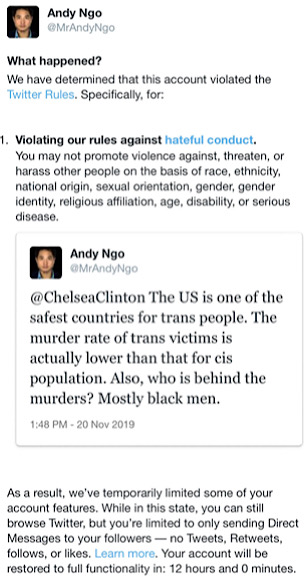 The statistics Ngo is referring to in his response come from the same Human Rights Campaign that Clinton quotes in her tweet.
Federalist writer Chad Felix Greene analyzed statistics from the Human Rights Campaign's Fatal Violence Against Transgender People in America reports between 2015 and 2019 and found that "the racial identity of the victim and the murderer seem entirely irrelevant to the murder motivation."
"After reviewing the 118 cases with all available information, four appear to have been directly anti-trans-motivated," Felix Greene wrote. "While 67 percent of the victims are indeed black, and the majority are trans women, as reported, the majority of their killers are black as well."
Regardless, Twitter flagged the tweet, told Ngo that it had violated the site's rules around "hateful conduct," and suspended his account for 12 hours.
Ngo responded to the suspension by saying: "Stating a verifiable empirical claim with no value judgement attached is determined to be 'hateful conduct' by Twitter. The platform most used by journalists to communicate and counter 'fake news' also actively punishes individuals for communicating truths when they are deemed politically inconvenient."