The 5th US Circuit Court of Appeals in New Orleans has granted a reprieve to the Biden administration in a case concerning its interactions with social media firms over contentious online speech and "misinformation."
The decision temporarily suspends a preliminary injunction that sought to ban censorship collusion with social media platforms in an order previously issued by US District Judge Terry Doughty.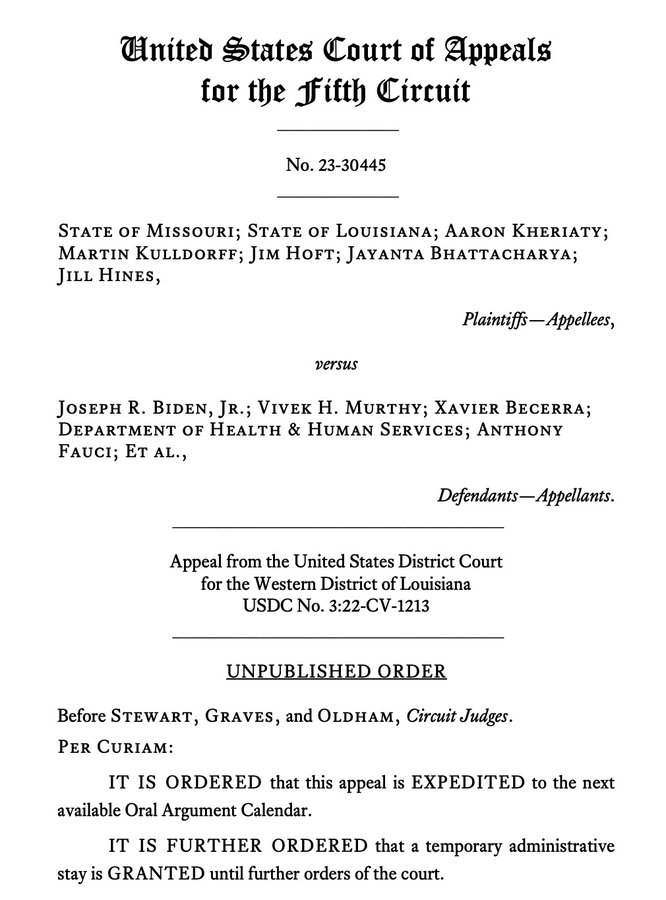 We obtained a copy of the order for you here.
On July 4th, Judge Doughty passed an injunction that effectively barred various government departments and administration officials from advocating or inciting the suppression or removal of online content considered to be constitutionally protected free speech.
The lawsuit that led to the injunction had been lodged the previous year, alleging that the Biden administration had effectively suppressed free speech through potential regulatory threats and pressure on companies to purge what it classified as "misinformation."
The dispute particularly centered around topics like COVID-19 vaccines and claims of election fraud.
The legal team representing the Biden administration swiftly sought a stay on the injunction, contending that it was both overly broad and vague.
They raised concerns over the potential implications of the order on the scope of discussions officials could have with social media firms and the content of public statements and that the injunction was preventing them from combating "misinformation."
Despite these arguments, Judge Doughty declined to suspend his order. In his written denial, he stated that the administration was essentially seeking a stay so it could continue infringing on the First Amendment, a viewpoint the government vehemently disputes.
The administration's lawyers petitioned the 5th Circuit Court to suspend the injunction, asserting a lack of evidence for any administrative threats. The stay on the injunction is in place at least until oral arguments on the appeal are heard.