Nvidia has announced that it's losing another major publisher from its GeForce Now cloud gaming service. This time, they've lost Bethesda Softworks, the parent company of Bethesda Game Studios.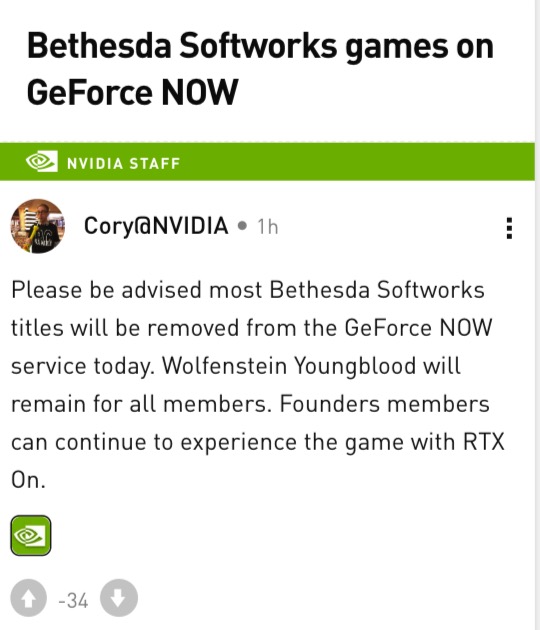 Bethesda is home to popular series such as The Elder Scrolls and Fallout.
There's one Bethesda game that's going to remain on the platform though – that's Wolfenstein: Youngblood.
However, Nvidia hasn't clarified why that game will remain on the service.

Just a week ago, GeForce Now customers lost access to all Activision Blizzard games when the publisher requested to be removed from the service. 
With Activision Blizzard, it was rumored that there was a disagreement about how Nvidia GeForce Now worked – as it allows players to play games that they've already purchased on platforms such as Steam.
This consumer-friendly decision by Nvidia means that customers don't have to purchase a separate copy of the game to use on that platform – as they do with Google Stadia – GeForce Now's streaming rival.
It's not yet known if the same issue is what's causing Bethesda to pull out of the service and block its customers from playing on NVidia GeForce Now.
In a statement, NVidia said, "As we approach a paid service, some publishers may choose to remove games before the trial period ends. Ultimately, they maintain control over their content and decide whether the game you purchase includes streaming on GeForce NOW. Meanwhile, others will bring games back as they continue to realize GeForce NOW's value (stay tuned for more on that)."