Award-winning chef Stephanie Izard has apologized after complaints that one of her Instagram food photos failed to provide "cultural context."
The Instagram photo was posted last Thursday and shows a bowl with beef that's topped with cilantro and mint. According to Eater Chicago, the post's original caption "only called it 'bibimbap' without any cultural context or sign of the dish's hallmarks including the crispy, charred rice from a stone pot produced by one of the dish's variants."
A small number of Instagram accused Izard of cultural appropriation and complained that the food photo bears little resemblance to the traditional Korean rice dish bibimbap.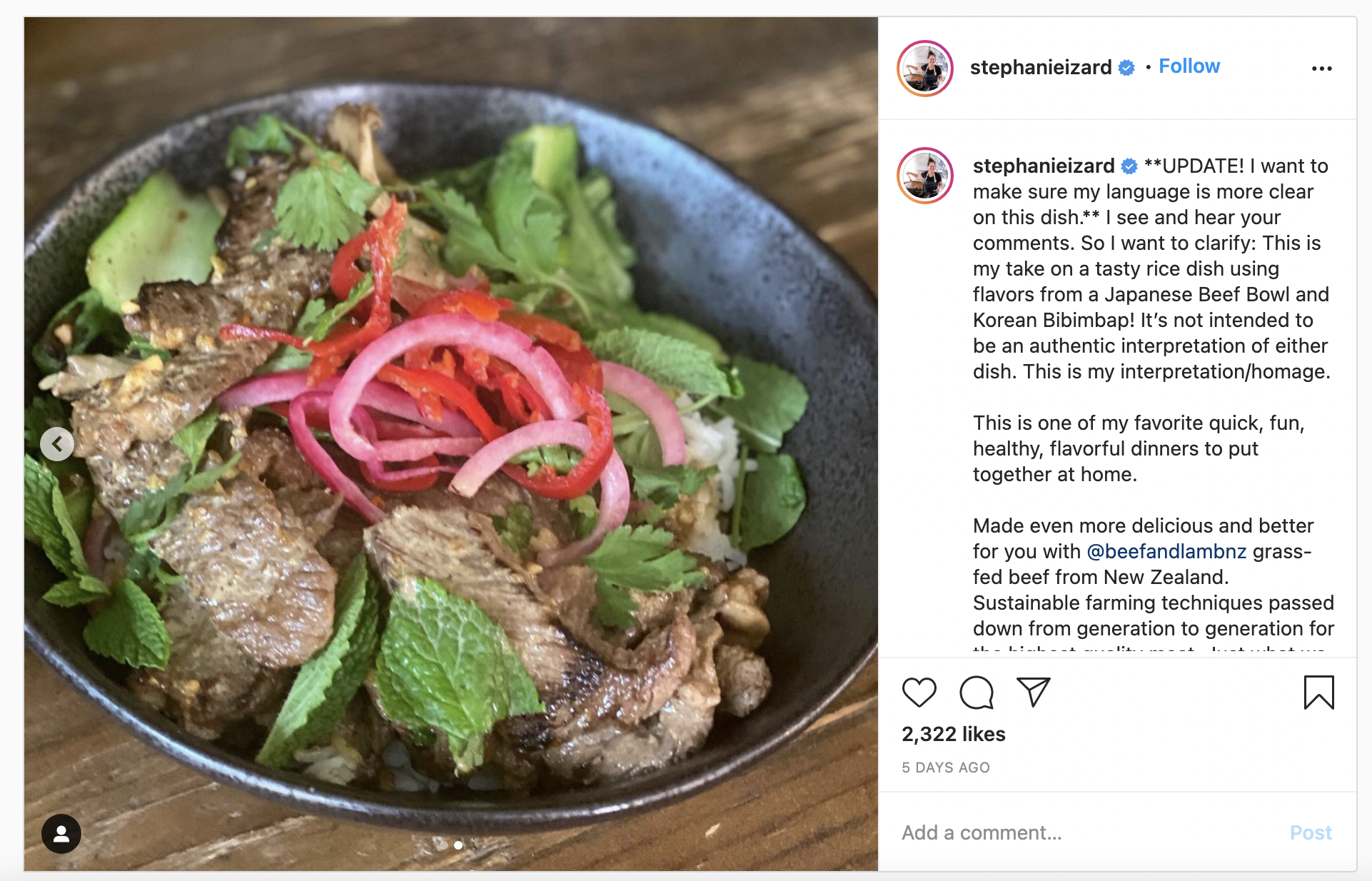 One of the most high profile critics of the photo was Won Kim, a chef at Korean Polish street food joint Kimski, who responded to Izard's post by writing: "Sure, everything gets a little remixed, but to take such a national dish and have it treated and mislabeled without so much as a single thought marginalizes a whole group of immigrants and everything we went through to get our cuisine recognized and appreciated."
Izard updated her Instagram post in response to the complaints and added the following clarification:
"UPDATE! I want to make sure my language is more clear on this dish. I see and hear your comments. So I want to clarify: This is my take on a tasty rice dish using flavors from a Japanese Beef Bowl and Korean Bibimbap! It's not intended to be an authentic interpretation of either dish. This is my interpretation/homage."
Yet even after adding the clarification to the post, some Instagram users continued to complain that Izard was stealing other people's culture and had failed to apologize.
On Friday, as the complaints continued, Izard apologized for describing the dish as Bibimbap and provided the following statement to Eater Chicago:
"This was a misstep on my part that spun out of control and I am sorry. When I was originally brainstorming recipe ideas for this project, I thought of Bibimbap as an inspiration and jotted the recipe idea down as that – from there the recipe went through many variations and channels and ended up very far from traditional [Bibimbap]. I should have made sure the name was changed before it went out to the public and I apologize that it wasn't. It has since been changed to 'Strip Steak Rice Bowl.' I am not a traditional chef and nearly all of my dishes are inspired by flavors from around the world that I love – this experience has helped me realize that I need to be very careful and thoughtful about how I refer to dishes and I will make sure to do so in the future."
The complaints about Izard's photo are the latest of several examples where organizations and public figures have apologized or removed content in response to accusations of cultural appropriation from a small but vocal group of online commenters.
In September, Australian YouTuber Sarah Stevenson was accused of cultural appropriation after giving her partner a yidaki (also known as a didgeridoo) as a Father's Day gift. And in April, UK nurses deleted their Twitter Maori tribute video after complaints of cultural appropriation.
While accusations of cultural appropriation are generally levied at individual posts, these types of complaints are having a wider impact on social media policies with image sharing social media site Pinterest announcing in October that it would be limiting recommendations for Halloween costumes that "appropriate cultures."