Two Christian organizations that operate in China officially are resorting to camouflaging references to Jesus Christ and the Bible by replacing them with initials – in order to maintain the presence of their stores on the internet.
The two Christian groups are trying to avoid internet censorship by replacing the word Christ with "JD," Jesus with "YS" and Bible with "SJ" on Tianfengshuyuan, their store on China's massive online platform WeChat.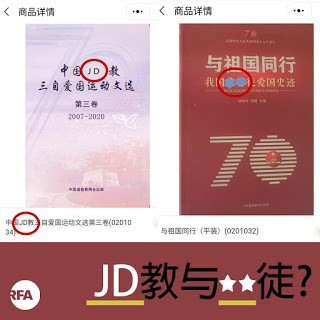 This information originally came from Hong Kong-based Chung Chi Seminary of Chinese University dean Fuzeng Xing, who shared it on Facebook.
The reason for the Christian Council of China and the Committee of the Three-Self Patriotic Movement of the Protestant Churches of China to change titles and descriptions of their books in this way could be to avoid censorship by keyword filtering, an important part of China's extensive and complex system of internet control.
Censorship and banning of Christian content both on and offline is not by any means without precedent in China; in 2018, a large number of online stores catering to religious audiences shut down when all major bookstores in China removed the Holy Bible from their offer in order to comply with "values of socialism." The decision to remove the holy book of Christians at the time included sellers like WeChat, but also Amazon China.
Just last month, the Christian Concern reported, Chen Yu, the owner of a Christian bookstore was ordered to pay close to $30,000 and was sent to prison for seven years for running "illegal business operations" – in this case, selling officially unapproved religious books he was importing from abroad, including Taiwan and the US.
Offline publishers and printing shops are also facing pressure, according to the report – while noticing that religious issues are turned into political ones, resulting in the only "faith" that an be practiced freely being that of the Communist Party, as one store manager told Bitter Winter, a group dedicated to monitoring violations of freedom of religion in China.