A court in Ontario has delivered a ruling against celebrated psychologist and author, Jordan Peterson. The court upheld the prior decision by the College of Psychologists of Ontario (CPO) demanding Peterson attend a program aimed at cultivating professionalism within his public statements.
We obtained a copy of the ruling for you here.
Peterson is a revered fixture at the University of Toronto Psychology Department, holding an emeritus professor title. His stance and public pronouncements have earned him the title of rebel among many, sparking conversations on free speech and its application in Canada. Surprisingly, against this backdrop, an institution charged with the responsibility of nipping such dialogues in the bud – the courts – seemingly stoked the fires further.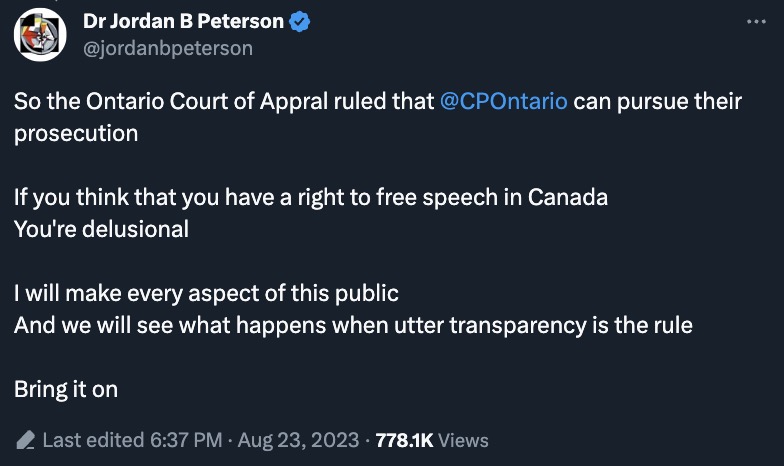 Reacting to the Ontario Court of Appeal's verdict, Peterson stated on platform X, "So the Ontario Court of Appeal ruled that the CPO can pursue their prosecution. If you think that you have a right to free speech in Canada. You're delusional."
He further vowed to make public every dimension of their prosecution, throwing the gauntlet to the powers-be with a firm "Bring it on."
The CPO's primary bone of contention with Peterson's statements relates to comments aimed towards a plus-sized model, politicians on different ends of the spectrum, and transgendered actor Elliot Page. The college asserts that these statements fall within the ambit of professional misconduct and are harmful to the profession's reputation. Noncompliance could potentially lead to Peterson losing his license to practise in Ontario.
Peterson's rebuttal to this was blunt. In January, he argued that his critics had weaponized the CPO's disciplinary process based on their political biases. He characterized the disciplinary process as akin to undergoing a stint in a "re-education camp."
Seeking judicial review in June, Peterson's legal counsel contended that his political statements were separate from his professional purview. They argued the CPO hadn't adequately considered Peterson's free speech rights and that his public statements had been quoted out of context.
However, the Ontario Divisional Court dismissed these claims, asserting that the college's verdict correlates with the mandate to supervise the profession in defense of the public's interest, without infringing on Peterson's freedom of expression rights.