Author and clinical psychologist Dr. Jordan Peterson has revealed that the College of Psychologists of Ontario, a regulatory body that licenses practicing clinical psychologists, has demanded that he undergo "social media communications retraining" or face an in-person tribunal and suspension of his license.
Peterson claimed that the regulatory body issued this demand because he retweeted Conservative Party of Canada leader Pierre Poilievre, criticized Canadian Prime Minister Justin Trudeau and his political allies, criticized climate change models, objected to "surgery on gender dysphoric minors," and warned Canadians it was "wrong for social service workers and police to threaten to apprehend the children of the Trucker Convoy protestors."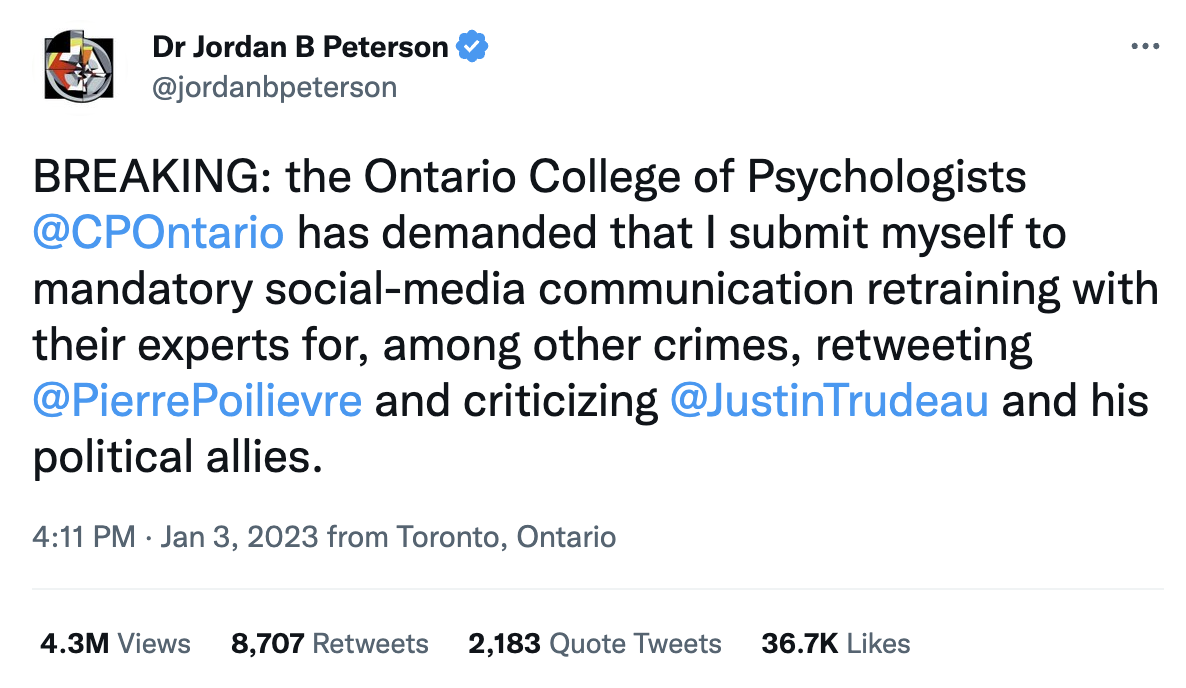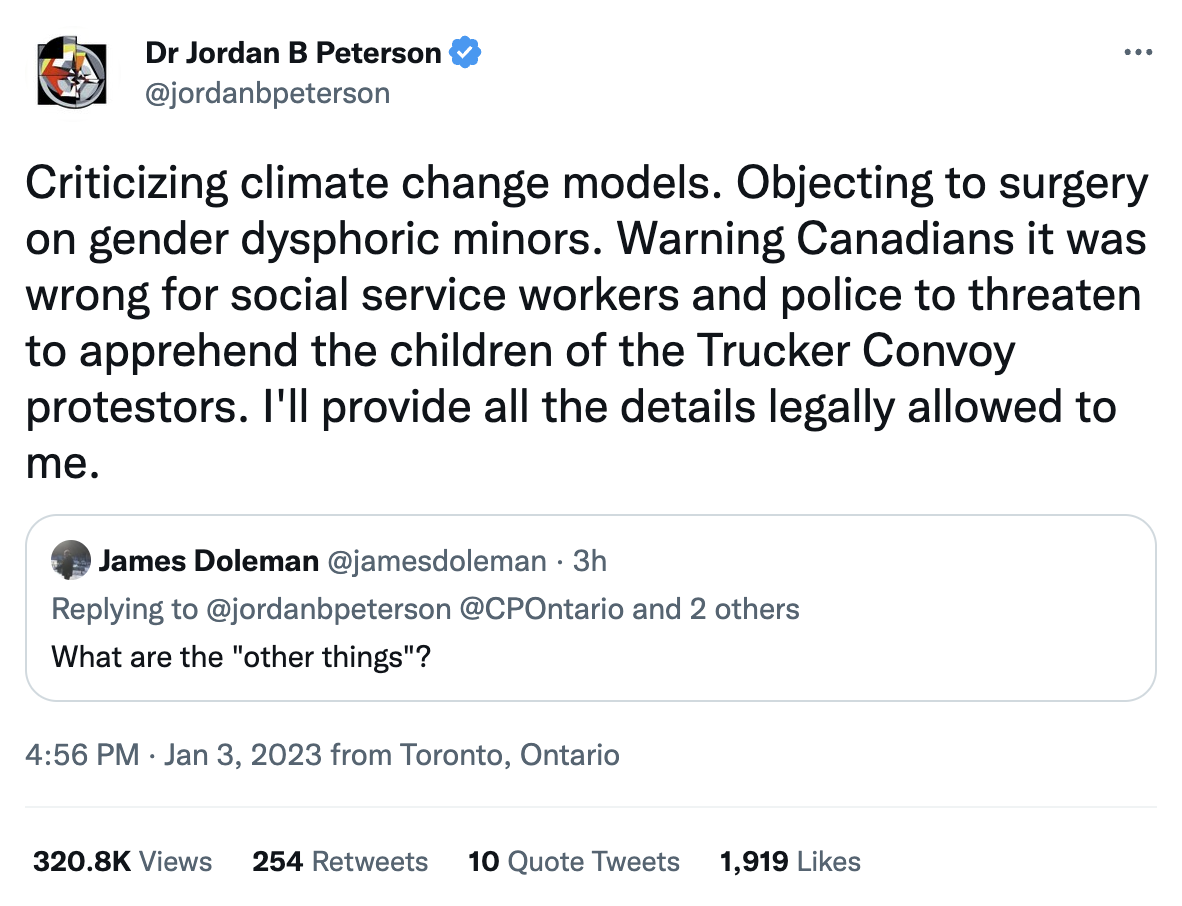 Peterson added that this "re-education" order from the College of Psychologists of Ontario was based on complaints about his public statements on Twitter and The Joe Rogan Experience (JRE) podcast.
According to Peterson, there were only around a dozen complaints in total which had been made over a four-year period and many of the complainants "falsely claimed that they were or had been clients of mine."
"None of the complainants involved in the current action were clients of mine, past or present, or were even acquainted with any of my clients)," Peterson tweeted.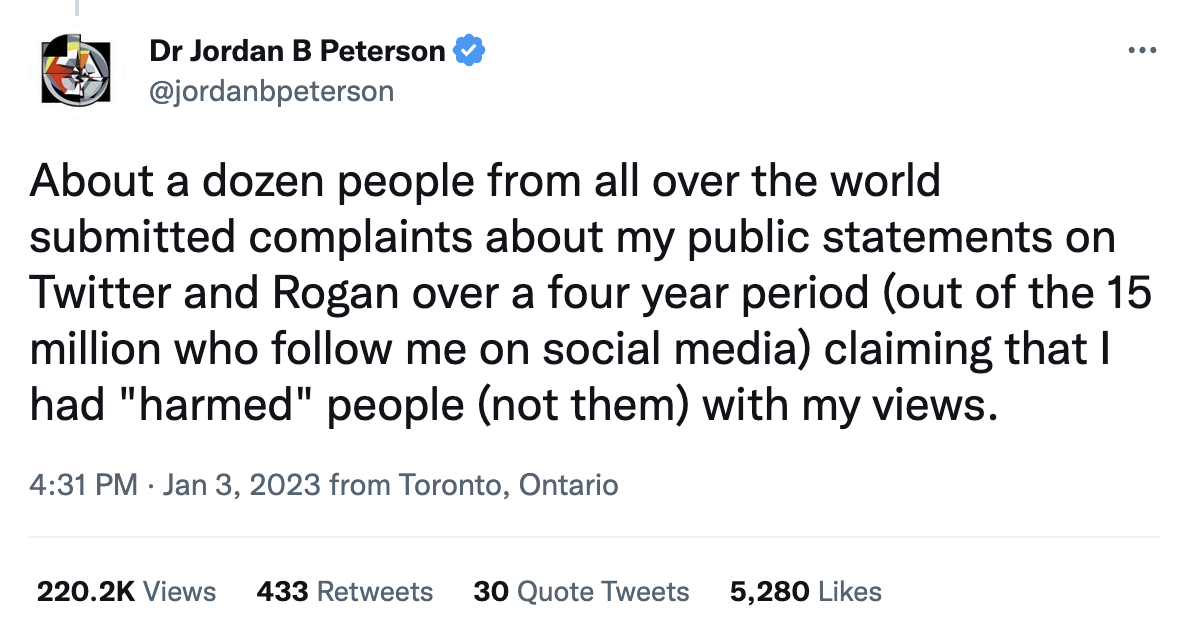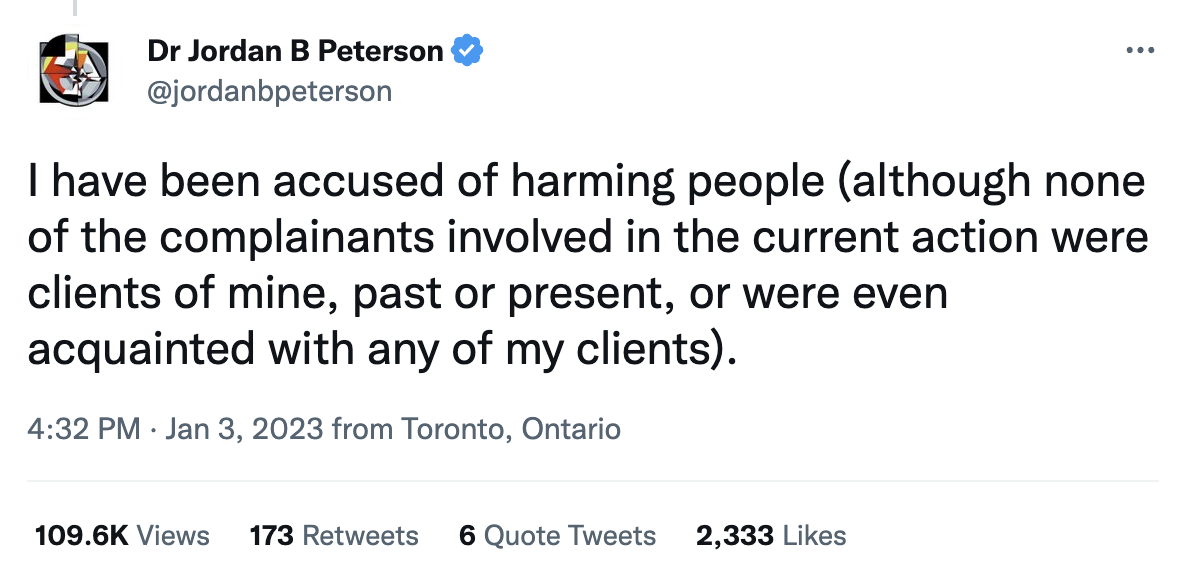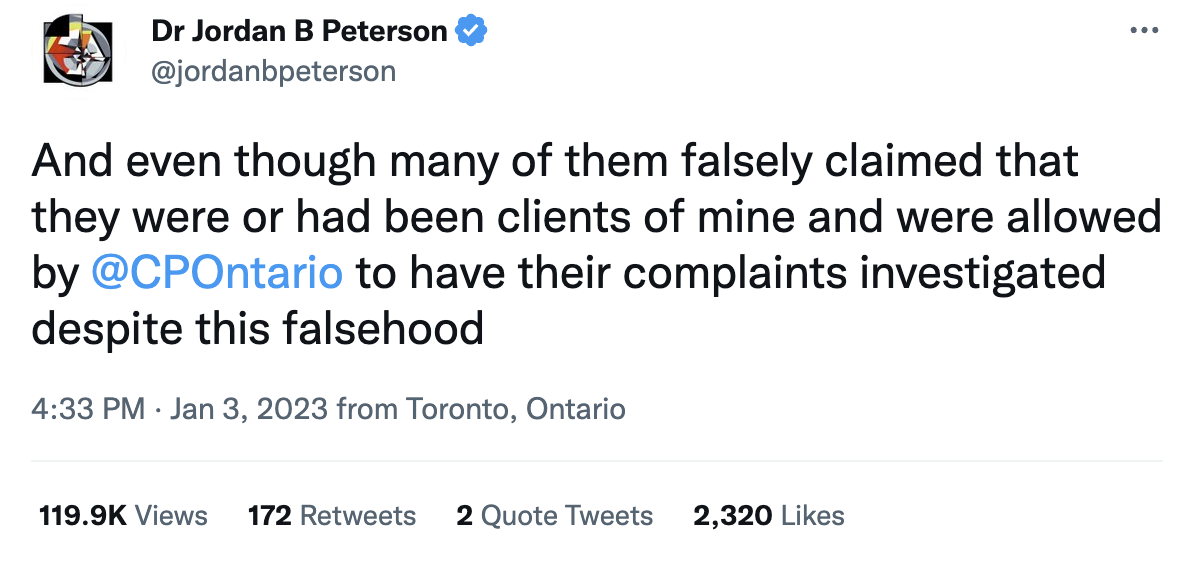 "We are now in a situation in Canada under @JustinTrudeau where practicing professionals can have their livelihoods and public reputations threatened in a very serious manner for agreeing with the Official Opposition and criticizing major government figures," Peterson added. "If I comply the terms of my re-education and my punishment will be announced publicly. I have already had the second most serious category of punishment levied against me and have been deemed at high risk to 're-offend.'"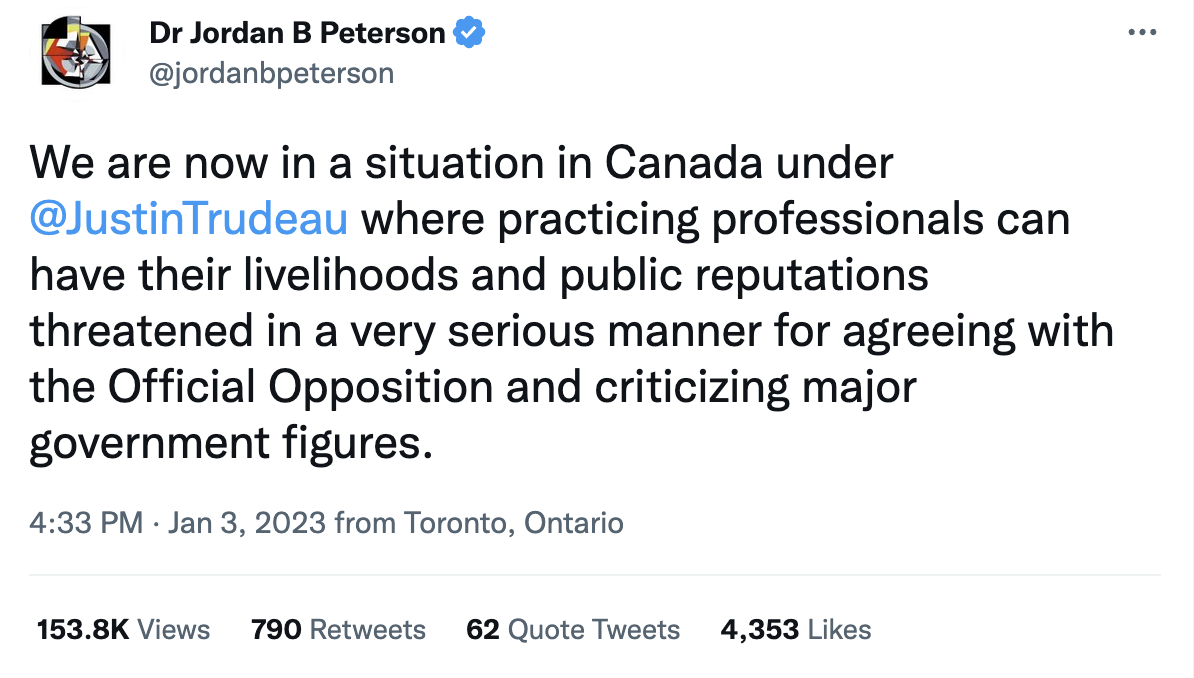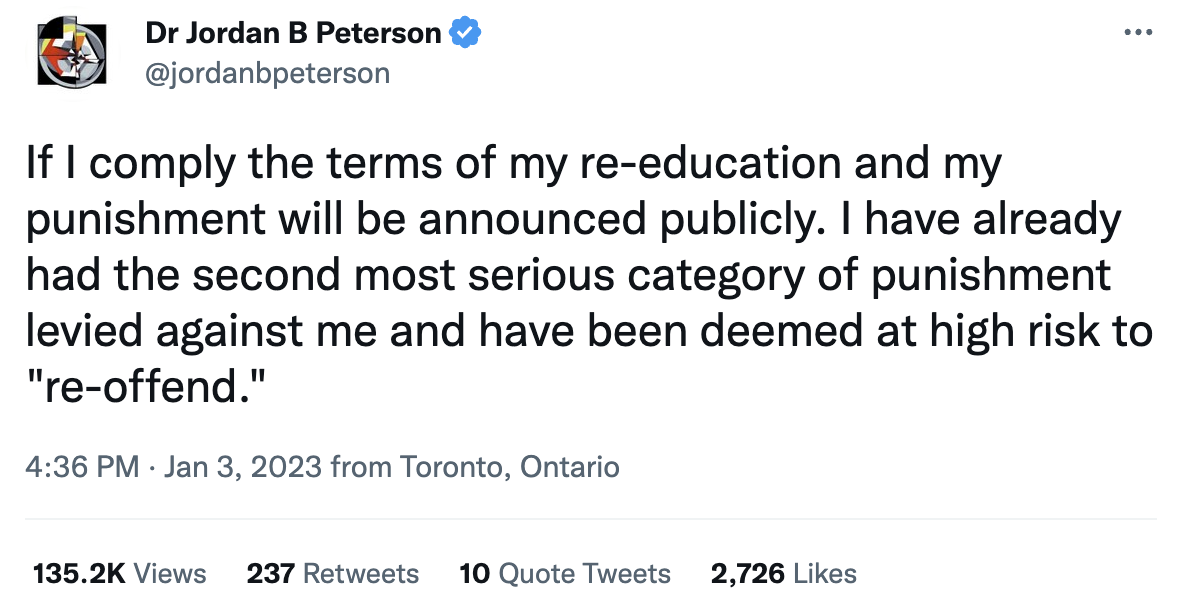 Peterson claimed that these types of ultimatums from regulatory agencies are becoming "more widespread" because "SJW [social justice warrior types] have weaponized the domain of professional misconduct complaints and the Colleges themselves have become bastions of woke sensibility [sic]."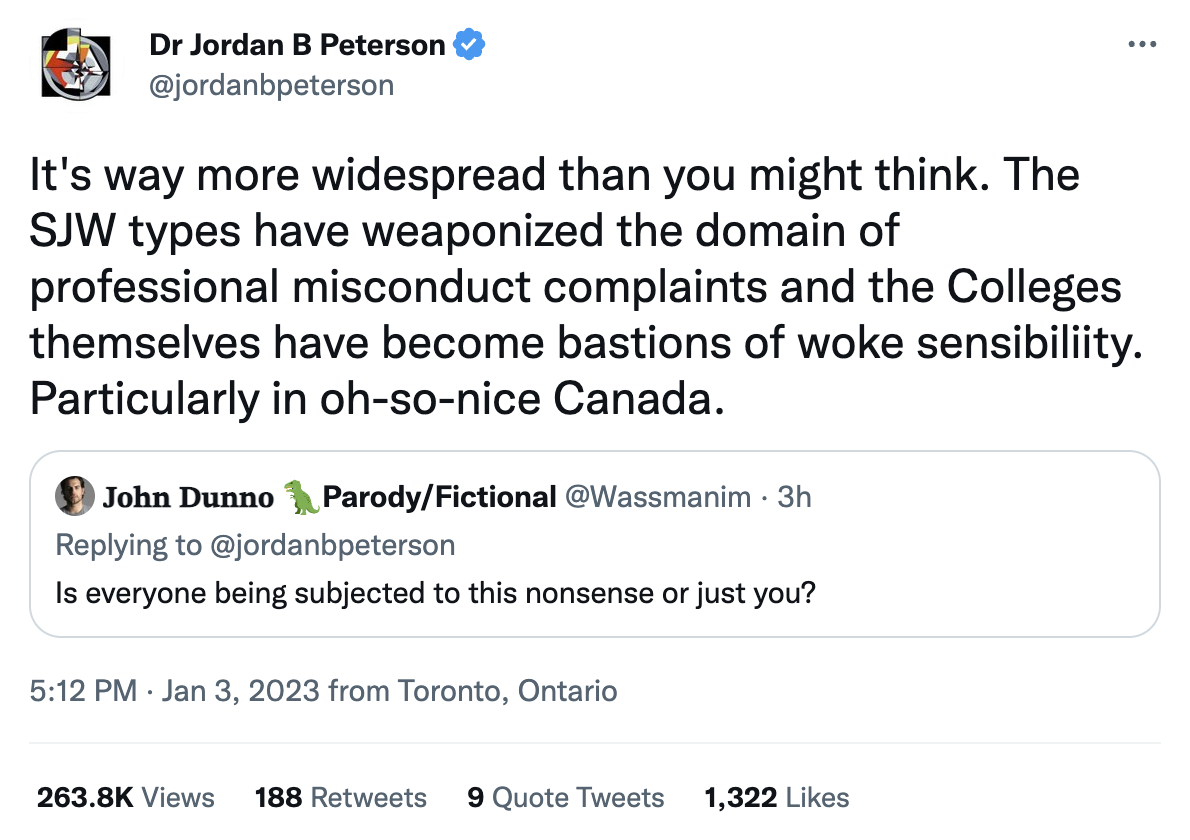 Additionally, Peterson asserted that Canadian regulatory agencies' use of similar tactics in fields such as law and healthcare is intimidating practitioners and making the advice they give "dangerously unreliable":
"Canadians: your physicians, lawyers, psychologists and other professionals are now so intimidated by their commissar overlords that they fear to tell you the truth. This means that your care and legal counsel has been rendered dangerously unreliable."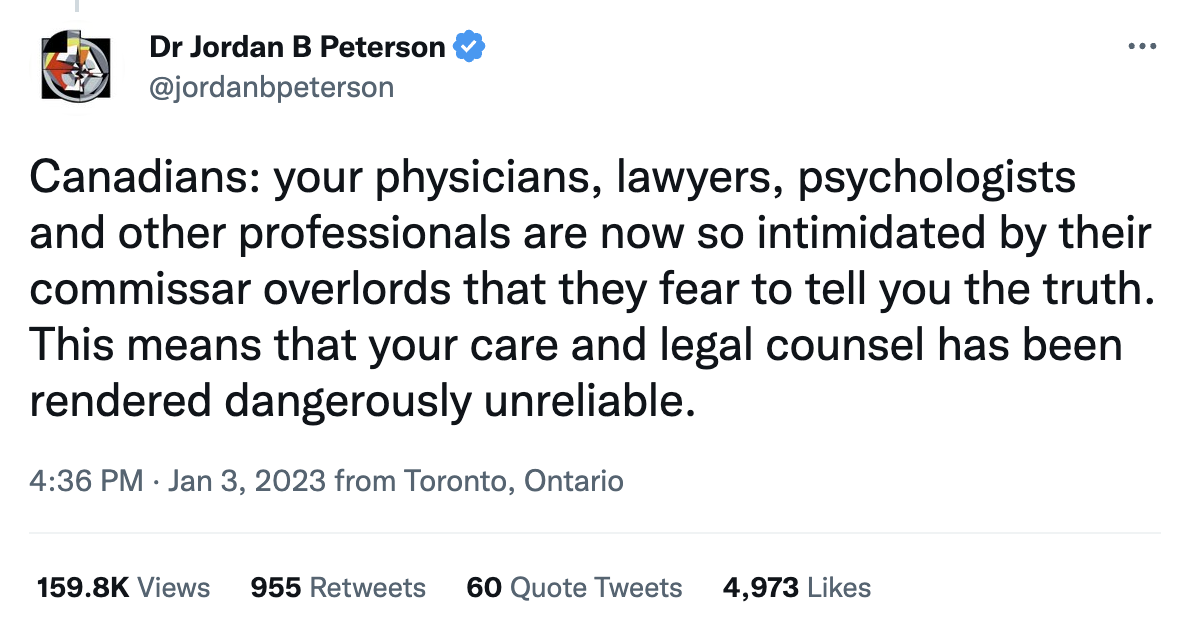 This isn't the first time the College of Psychologists of Ontario has taken action against Peterson over tweets he made publicly on his personal social media accounts.
Last year, Peterson was investigated by the regulatory body after someone complained about a tweet where he wrote "You're free to leave at any point" in response to McGill University medicine professor Roger Palfree's concerns about overpopulation. Peterson said the complaint that triggered this investigation didn't come from Palfree, the person he was responding to.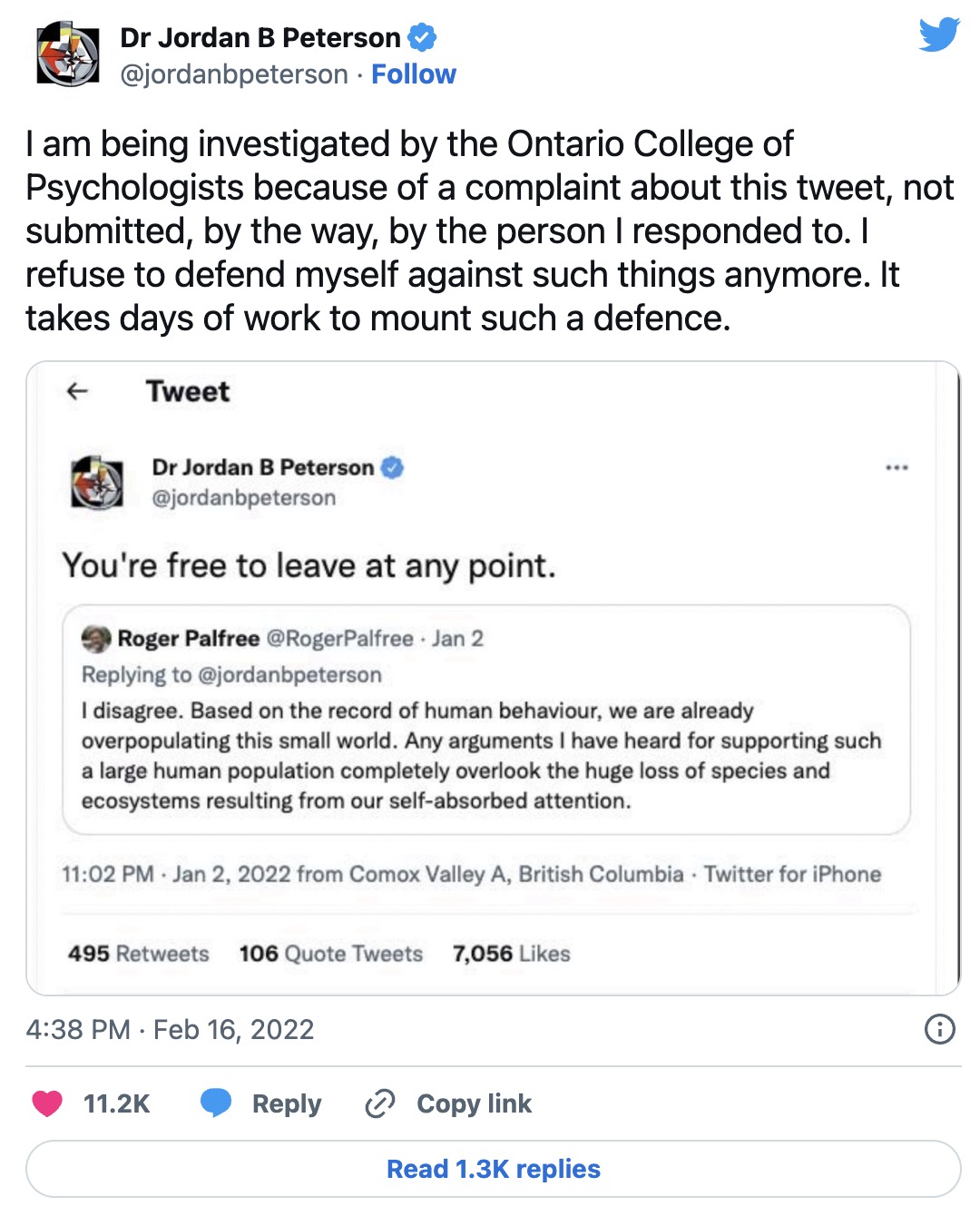 Peterson's experience reflects the increased attempts to sanction the speech of licensed professionals in Canada. The Canadian province of British Columbia (BC) recently passed a law that can result in doctors being jailed for up to two years if they're deemed to have spread certain types of "false or misleading information."