Twitter's new owner and CEO, Elon Musk, has made his first statements on account reinstatements and content moderation since taking over the social media platform.
When responding to a tweet asking whether psychologist Dr. Jordan Peterson would have his Twitter account reinstated, Musk said: "Anyone suspended for minor & dubious reasons will be freed from Twitter jail."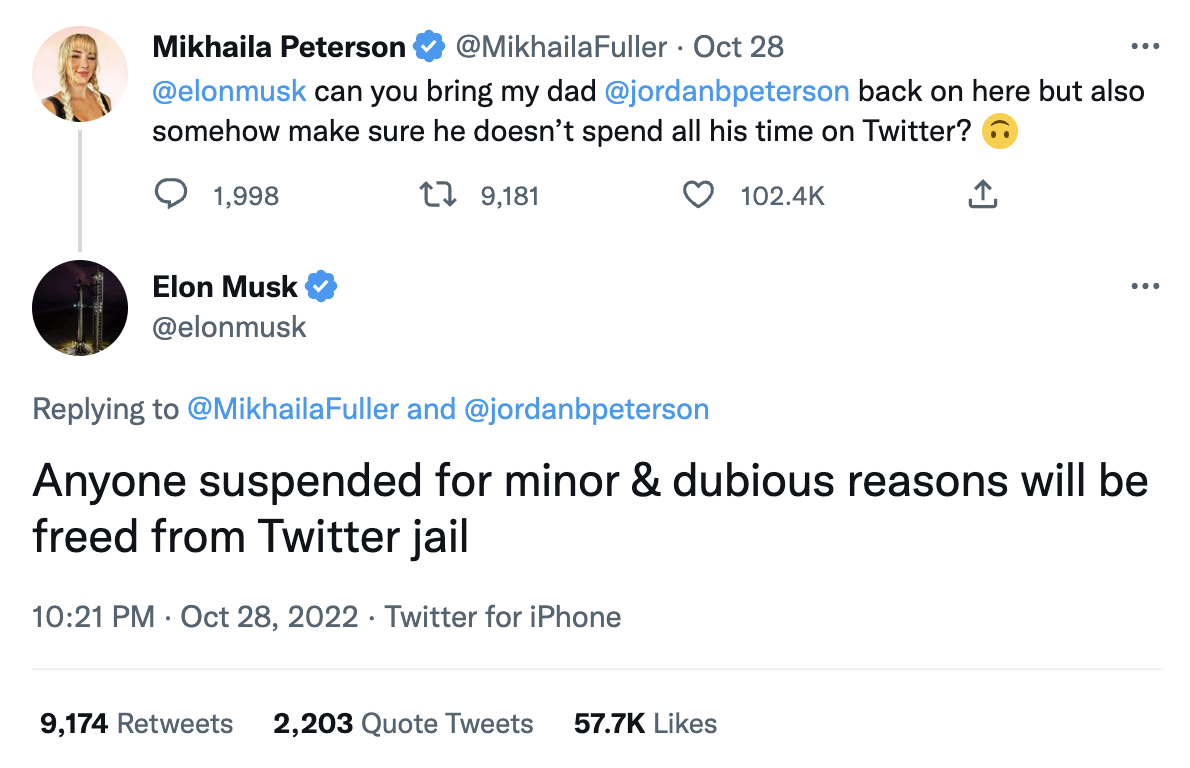 In a separate tweet, the new Twitter owner said that "no major content decisions or account reinstatements will happen" until a new "content moderation council" is formed. Musk added that the council will be formed with "widely diverse viewpoints" but didn't provide a timeline for when it will convene or the factors that will be considered when deciding whether to reinstate accounts or how to moderate content.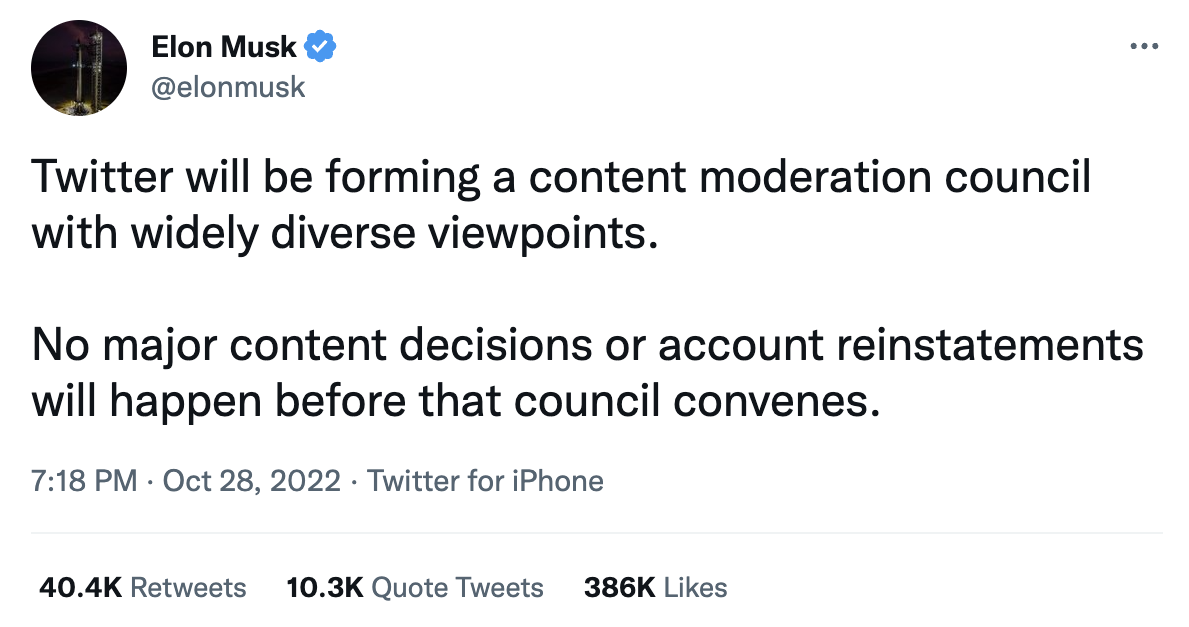 Musk also tweeted that he would be "digging in" to shadowbanning — a controversial practice that involves censoring users' posts in a way that's not apparent to the user.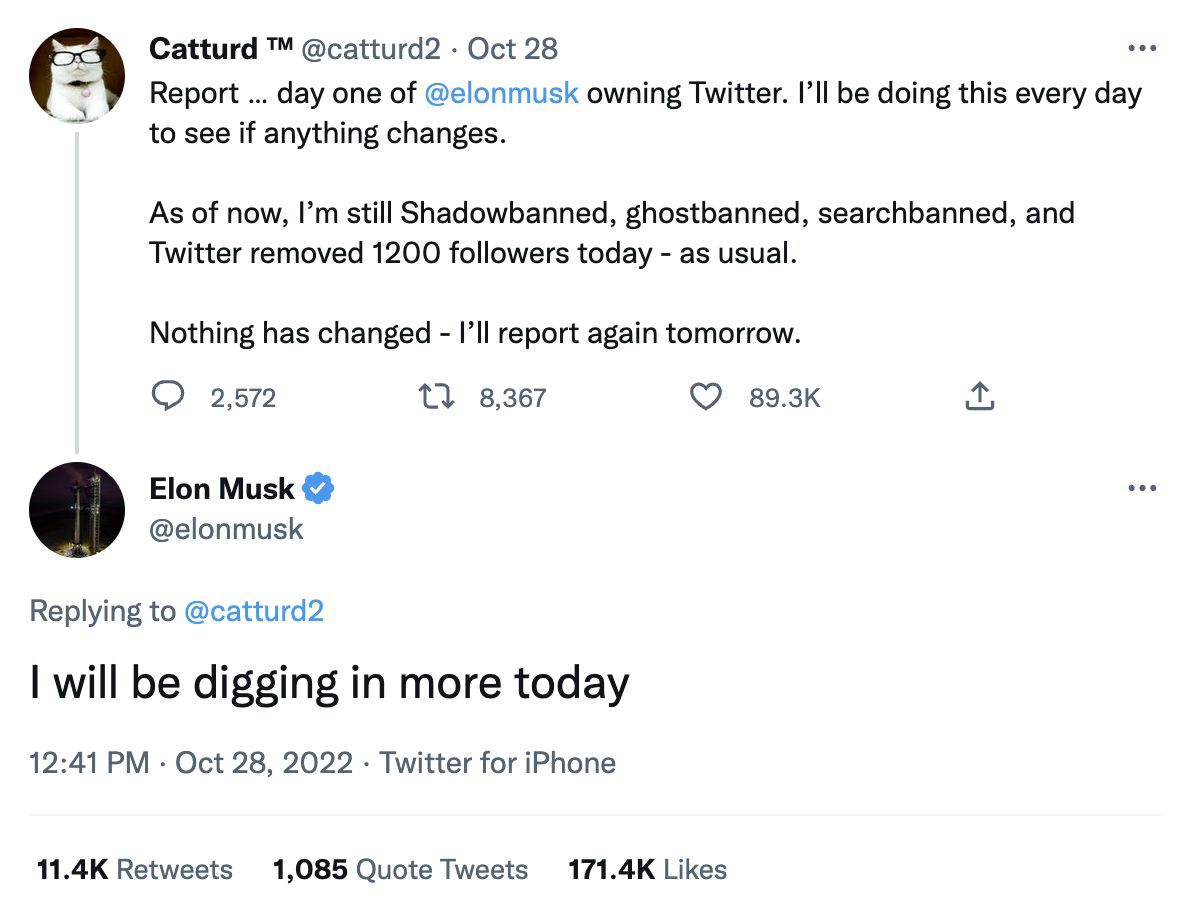 Twitter officially made shadowbanning part of its terms of service in 2020 and several high-profile users have had their accounts suppressed as a result of this contentious practice.
In addition to these direct comments on content moderation, Musk hinted that some of Twitter's previous strict censorship rules would be relaxed by tweeting: "Comedy is now legal on Twitter."
Furthermore, Musk responded to a tweet about Bill C-11 — a Canadian online censorship bill that favors mainstream media outlets over independent creators.
Bill C-11 is so unpopular that even pro-censorship YouTube has criticized the bill and Canadian YouTubers are considering leaving the country if it passes. When asked whether he'd "help fight back" against Bill C-11, Musk said this was the first thing he'd heard about it.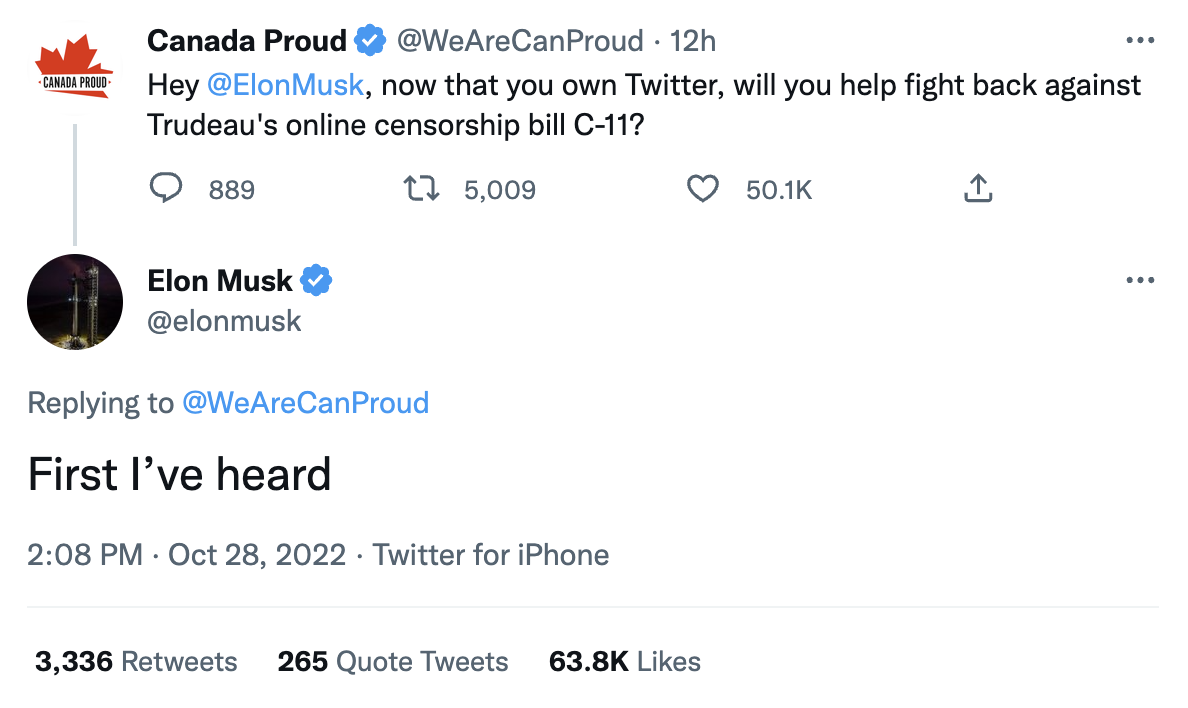 While Musk shared some of his content moderation plans, he clarified that his team has "not yet made any changes to Twitter's content moderation policies."
Outside of his tweets, Musk signaled his disdain for the censorship that occurred under Twitter's previous leadership team by firing former Twitter CEO Parag Agrawal and Twitter's Legal, Policy and Trust & Safety Lead, Vijaya Gadde, shortly after taking over.
Agrawal previously rejected free speech in favor of "healthy public conversation" and wished the company had censored QAnon sooner. Gadde reportedly played a key role in banning Trump from the platform and censoring the New York Post's bombshell Hunter Biden laptop story.
In the months leading up to his Twitter purchase, Musk vowed to make free speech changes to the platform and criticized several of the censorship decisions made under the previous leadership team. Specifically, he described the censorship of Hunter Biden's laptop story as "incredibly inappropriate" and said Twitter was "going way too far in squashing dissenting opinions" when it censored Dr. Jordan Peterson.