Newly-obtained emails have revealed how US federal agencies encouraged Facebook to use Centers for Disease Control and Prevention (CDC) data to push "hyper-localized" alerts to its users and recommended that it push a "focused message" on COVID topics such as travel and masking.
The emails were obtained by Informed Consent Action Network (ICAN), a group that investigates medical procedures and educates the public of their right to "informed consent," and show communications between Payton Iheme, Facebook's US Public Policy head, Irum Zaidi, a top aide to then-White House Coronavirus Task Force Coordinator Deborah Birx, and Amira Boland, a career staffer in the federal government's Office of Management and Budget (OMB).
In a November 2020 email, Boland requested that Facebook use the county-level CDC data set to push "hyper-localized stats/ alerts based on where users are located" and even suggested specific "local weather alerts" style messaging such as "COVID is spreading faster in Franklin County."
Boland also provided a specific list of groups to Facebook that we "need to act."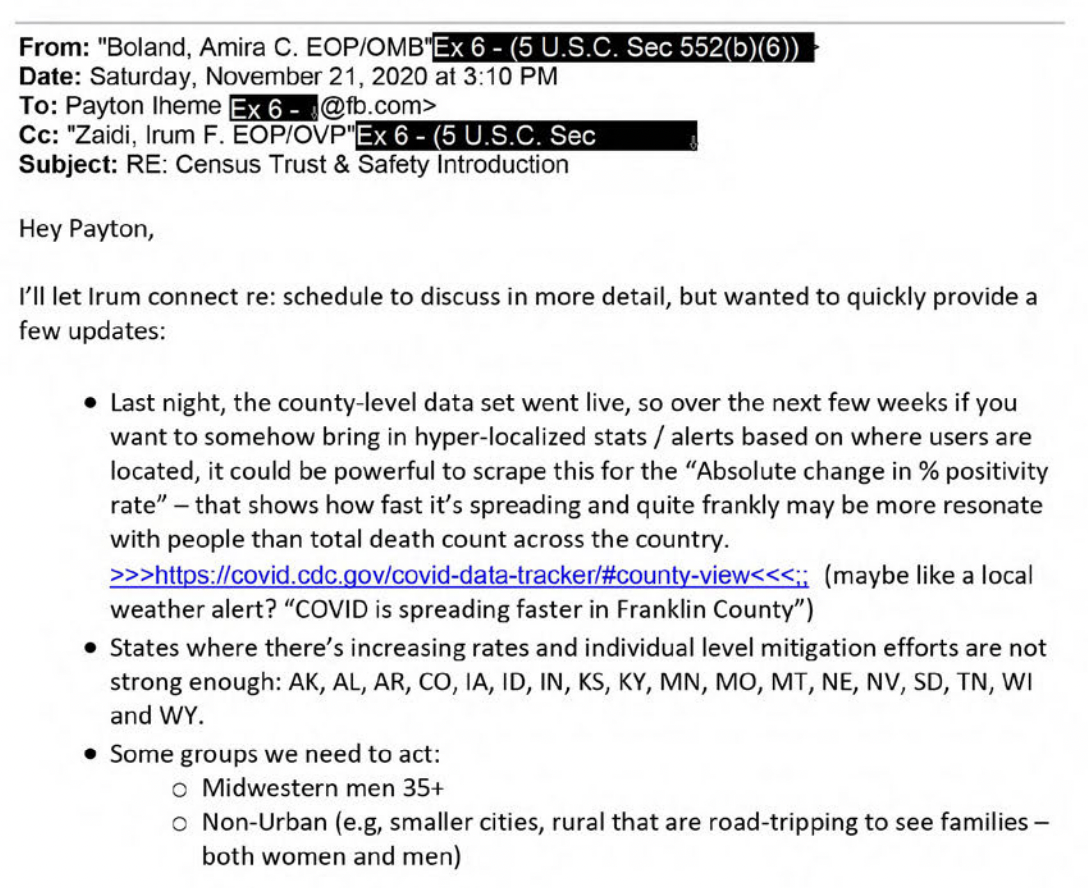 Additionally, Boland sent Facebook a "focused message for the next week (and generally over the holiday season)" from the US Department of Health and Human Services (HHS) and urged Facebook to push specific HHS talking points. These talking points contained specific recommendations on travel, virtual gatherings, and mask-wearing and encouraged Facebook to push "messages of duty" such as "For your family, for your country" to "young individuals and men."
"Anything you can do to highlight actions people can be empowered with (e.g., 'Rethink travel, gather virtually, wear a mask') rather than just saying something like 'learn more about COVID-19' would be great," Boland wrote. "(As in, if you had those actions link to guidance (rather than more generic 'learn more' when you flag something as related to COVID19), since most won't click through, and the guidance is too long for most to read)…Messages of duty e.g., 'For your family, for your country' seem to be most resonate to young individuals and men. A summary of behavioral insights for comms is attached."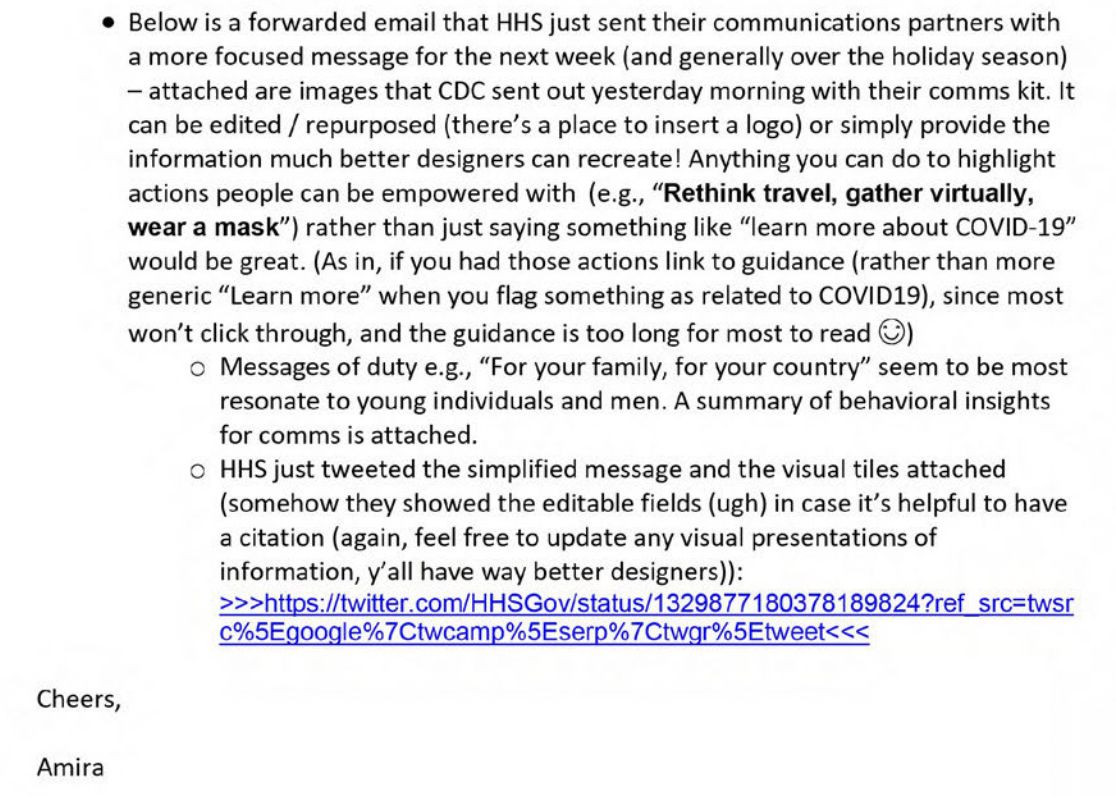 The forwarded email from the HHS contained COVID talking points related to Thanksgiving such as "This Thanksgiving, think about celebrating in person with only the people in your household to ensure you have the safest holiday you can " and "Remember-travel increases your risk of getting and spreading COVID-19."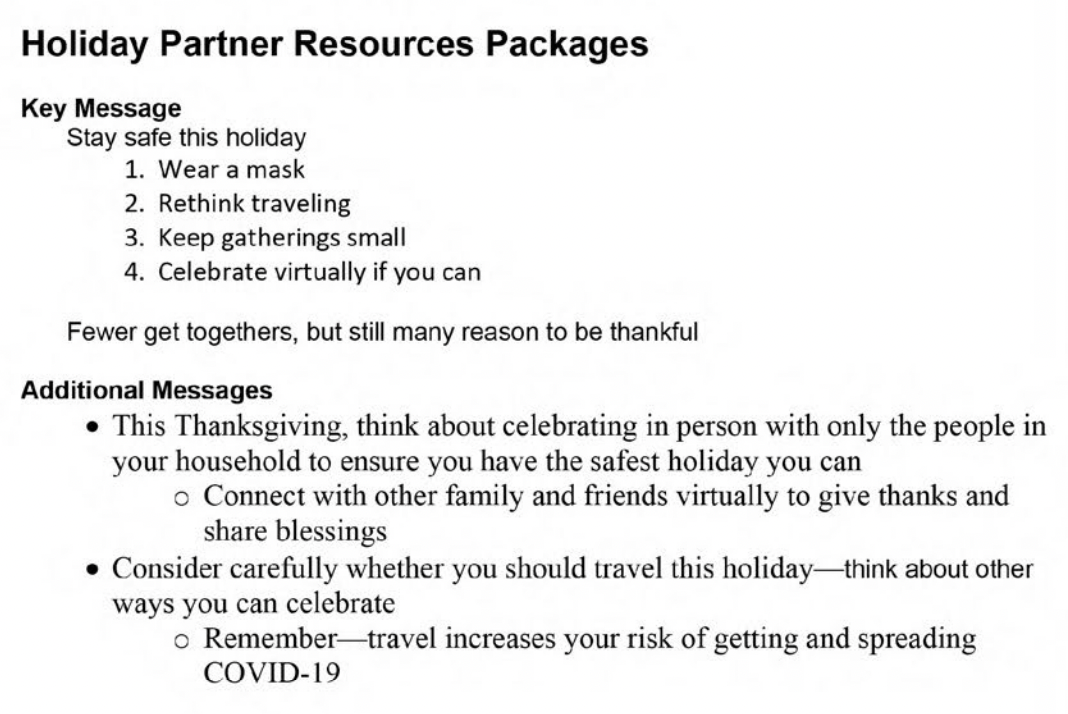 This November 2020 email from Boland was sent to Facebook seven months before it partnered with the Pfizer-backed CDC Foundation to fund social media tactics to increase "vaccine uptake."
In the same month that this email was sent, Facebook was encouraging its users to take the coronavirus vaccine as part of a "charm offensive for Joe Biden" and had teamed up with the UK government to censor vaccine-skeptic content online. It had also announced plans to use user data to analyze and predict worldwide coronavirus cases.
This revelation that federal government agencies in the US were privately imploring Facebook to push CDC data and talking points is one of many examples of the federal government pushing Big Tech companies to promote its talking points and censor dissenting views.
Most recently, the Biden administration praised Spotify's COVID misinformation labels but said "there's more that can be done." Previously, the administration has admitted that it flags misinformation for Facebook to censor, met with Facebook to discuss misinformation, and applied pressure to Big Tech platforms by threatening to hold them "accountable for the harms that they cause."
Other emails and reports have also exposed how Facebook provided free advertising worth $3.5 million to the CDC.
Additionally, Facebook often implements censorship policies based on the guidance of health authorities such as the CDC.
The issue of the federal government leaning on Big Tech companies to censor has been the subject of several recent lawsuitsthat argue this censorship violates the First Amendment because the companies qualify as "state actors" when censoring on behalf of the government but so far, none have proved successful.