Powerful energy companies in the US have been responding to criticism on social media by reaching out to employers of those who criticize them, demanding the editing or removal of posts. Because of their monopolistic power, in some cases, employers and the critics themselves have had to oblige.
Autumn Johnson works at Western Resource Advocates (WRA), a nonprofit that focuses on the conservation of the environment in the Southwest, Gizmodo reported.
A few weeks ago, she began criticizing the Salt River Project (SRP), one of the largest utility companies in Arizona, because of its recent decision to build an additional 16 gas units in one of its stations. The new gas units would increase production by 820 megawatts of fossil fuel-based power to the grid.
The plan has been criticized by environmentalists.
Johnson pushed back against the decision through Twitter.
Speaking to Gizmodo's environmental publication Earther, Johnson said someone at SRP contacted her employer about her tweets. She was told that the energy company was upset about her tweets. Her employer added that her tweets were "potentially in conflict" with its social media policy and was "advised to tone it down."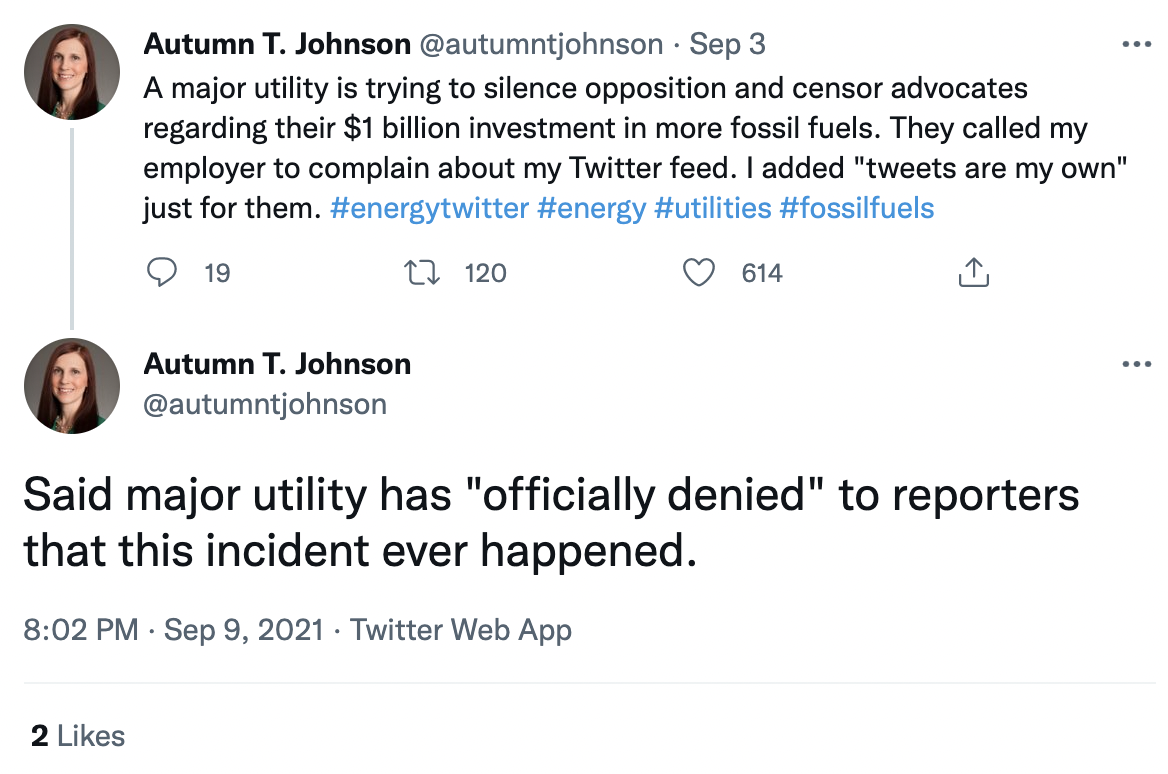 Earther says it was able to confirm that someone at SRP flagged Johnson's tweets on behalf of WRA. But the energy company denied, saying that it was "not aware of any complaints made to an employer," and that it "respects individuals' rights to free speech," and is open to public criticism. WRA said it investigated the issue and found that Johnson's tweets were inaccurate.
Johnson's experience, according to Earther, is not unique and underscores how utility companies, which are major players in decisions on energy policies, are also "some of the most sensitive players in the energy space, prone to shutting down valid criticisms or concerns about their policies and decisions – especially ones posted on social media."
Keith Kueny from Portland, Oregon faced a similar situation, the report alleges. As a ratepayer advocate, his job is advocating for the rights of low-income customers. He took to Twitter to criticize Mid-State Electric, a private non-profit utility company, for shutting off low-income households for unpaid bills as little as 37 cents during winter and amid the lockdowns.
Kueny shared an article about the powers of utility companies, describing them as the "moral rot of capitalism." Mid-State Electric and an industry group called Oregon Rural Electric Cooperative sent a letter to his employer saying he was difficult to work with and he should be fired.
He did keep his job, but he had to delete the tweet.
Johnson expressed similar sentiments, saying: "If utilities can get away with stuff like this, it emboldens them to try and silence and intimidate other people. I don't think that's acceptable."

Defend free speech and individual liberty online.
Push back against big tech and media gatekeepers…