In case you were wondering, there is are supposed to be values and transparency represented by the European (EU) Commission. And the commissioner entrusted with this task befitting the titans, is one Věra Jourová.
Jourová's had happy news to share on X, a platform she loves to threaten.
"Many thought this was mission impossible. But we have it: a proposal to protect media freedom in the European Union. After today's vote, let's get a final deal to protect journalists and our democracies," the Czech bureaucrat seconded to Brussels posted on October 3.
A day later, Hungarian Prime Minister Viktor Orban, once again showed he was in no mood to "take any prisoners" concerning EU politics, fraught as it is with way too much discord these days.
This is how Orban wrote in response to Jourová's enthusiastic post:
"Another anti-freedom proposal from Brussels: establishing total control over the media. We Central Europeans have seen such things in the past. They called it the Kominform and the Reichspressekammer. Never again! #MediaFreedomAct."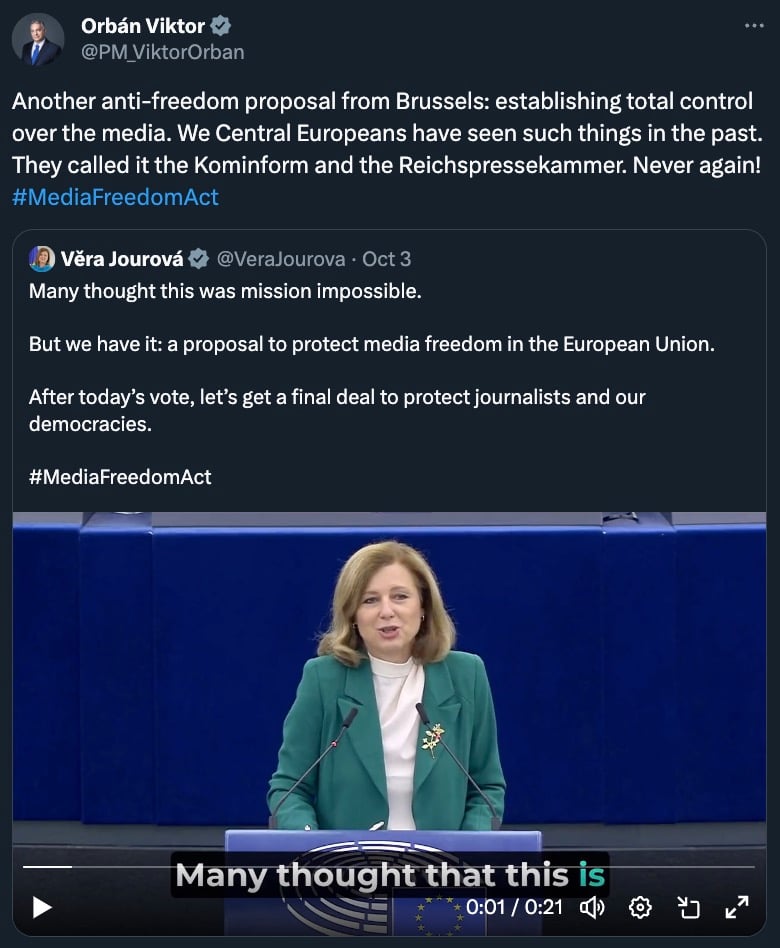 But what is it, that various "form factor" EU officials/representatives are now viciously, and publicly disagreeing about?
European (i.e., EU) Media Freedom Act, is described by the bloc as "an independent media pillar of democracy and an important part of the economy, helping to shape public opinion and hold those in power to account."
A democracy – apparently hell-bent on "shaping public opinion" its own way. Well there's one red (Orwellian) flag.
And the EU continues to wave if wildly in its own description of the bill.
"The proposed act seeks to protect journalists from having to disclose their sources and from the use of spyware against them. It also sets requirements for audience measurement systems and transparent allocation of state advertising. Media content would be better protected against online content removal, and a new European board for media services would be established."
But translated into human language, the EU Media Freedom Act makes it legal to install spyware on journalists' devices – if the EU deems circumstances to be right.
Hence Orban not hesitating to liken this with "Kominform," or, indeed – "Reichspressekammer."