Two "Charlie Hebdo" journalists had their Instagram accounts temporarily suspended for sharing a photo of Prophet Muhammad cartoons. Charlie Hebdo is a satirical French magazine that focuses its content on religious and political leaders.
In 2015, the Charlie Hebdo offices were attacked by two Islamist gunmen after the paper published cartoons of Prophet Muhammad. The gunmen, armed with assault rifles, killed 12 people at the outlet and injured many others.
The court hearing of the case started last week. In memory of those who were killed during the attack, Charlie Hebdo republished the cartoons.
Two Charlie Hebdo journalists, Laura Daussy and Corrine Rey shared a photo on their Instagram accounts, showing that soon after posting the images their accounts were temporarily suspended.
On Twitter, Daussy said:
"My Instagram account has been deactivated. The last photo I posted was the front page of Charlie Hebdo."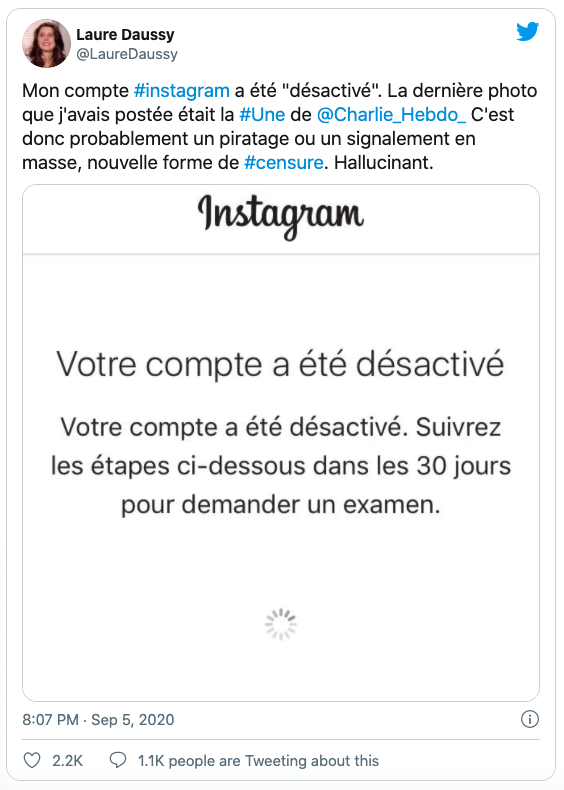 Daussy acknowledged that sharing the photo was the most likely reason for the suspension but she also touted mass reporting, which she described as a new method of censorship.
Her colleague, Corrine Rey, also tweeted about her Instagram account getting suspended. She wrote that, like Laura Daussy, "my Instagram account was deactivated following the broadcast of the cover with the cartoons of Muhammad." Rey, also known as Coco, described the suspensions as "simply scandalous."