Joe Rogan's podcast with Twitter CEO Jack Dorsey has become one of his most disliked videos ever. Rogan failed to grill Dorsey on the issues of social media censorship and Twitter's double standards when banning people from its platform and the listeners weren't happy. But after Rogan announced that Dorsey will be returning for a second podcast and promised to look into the high profile examples of double standards when it comes to social media censorship, it looks like we may be finally getting the podcast we all wanted the first time around.
Here are eight questions Joe Rogan must ask Jack Dorsey on their next podcast to make it a hit.
1. Why Was Alex Jones Banned From Twitter?

To be fair to Rogan, he did ask Dorsey this question on the first podcast and we all know the answer. Alex Jones was banned from Twitter for confronting CNN's Oliver Darcy after CNN successfully lobbied many social media companies to have Jones and his Infowars properties deplatformed.
Unfortunately, Dorsey dodged the question. He said he didn't know why Jones was banned and Rogan didn't press him on it.
By pressing Dorsey for the answer on the second podcast, it will put a spotlight on Twitter's inconsistencies when deciding who to ban and this should open up a deeper conversation on the topic.
2. Why Was Candace Owens Temporarily Suspended From Twitter?

Candace Owens, a conservative commentator, got in trouble for tweeting out New York Times editorial-board member Sarah Jeong's infamous racist tweets with one key difference – she changed the word "white" to "Jewish." Jeong's tweets were deemed fine by Twitter but Owens received a temporary suspension. Twitter did later restore Owens' account and said it was an error but never did clarify how this error happened in such a specific way.
It would be great to see Rogan get the details from Dorsey on how these errors happen and discuss how they can be avoided going forward.
3. Why Was Laura Loomer Banned From Twitter?

Like a lot of entries on this list, we know why the independent journalist Laura Loomer was banned from Twitter. She criticized the politician Ilhan Omar for her support of pro-Sharia policies. The reason Twitter gave for her ban was hateful conduct.
The problem is that it's not clear why this qualifies as hateful conduct but many other similar tweets do not. For example, Nation of Islam leader Louis Farrakhan's tweet comparing Jews to termites seems pretty hateful but did not receive any pushback from Twitter.
Asking Dorsey this question would start a conversation about what is and isn't acceptable in relation to hateful conduct on Twitter and hopefully, help to establish some consistent guidelines going forward.
4. Why Was Owen Benjamin Banned From Twitter?

When the comedian Owen Benjamin was permanently banned from Twitter, the reasons for his ban were never made clear. While many people suspect that Benjamin was banned for his tweets about the Stoneman Douglas High School student David Hogg, we want to hear confirmation of this from the Twitter CEO.
If Dorsey does confirm that Benjamin was banned for his tweets about Hogg, it will further highlight the double standard Twitter has when banning users.
Many people suggest that negative tweets about Hogg are ban-worthy because they're an example of bullying children. However, if this is true, why was Peter Fonda allowed to remain on the platform after this threatening tweeting aimed at Donald Trump's son, Barron Trump. This would be a great follow up question for Dorsey.
5. Why Was Roger Stone Banned From Twitter?

The political consultant Roger Stone was guilty of something that thousands of other Twitter users are also guilty of – insulting a group of CNN journalists. Sure his comments were quite rude but Twitter is full of rude comments. Twitter does have a policy on abusive behavior which Stone may have violated but if this was actively enforced against all Twitter users, there wouldn't be very many users left.
If Rogan asks Dorsey this question, it should give some clarification on exactly where the line is when it comes to insulting language. If Dorsey can't give that clarification, it will again show that there's a clear double standard when Twitter decides who to ban.
6. Why Haven't These People Been Banned From Twitter?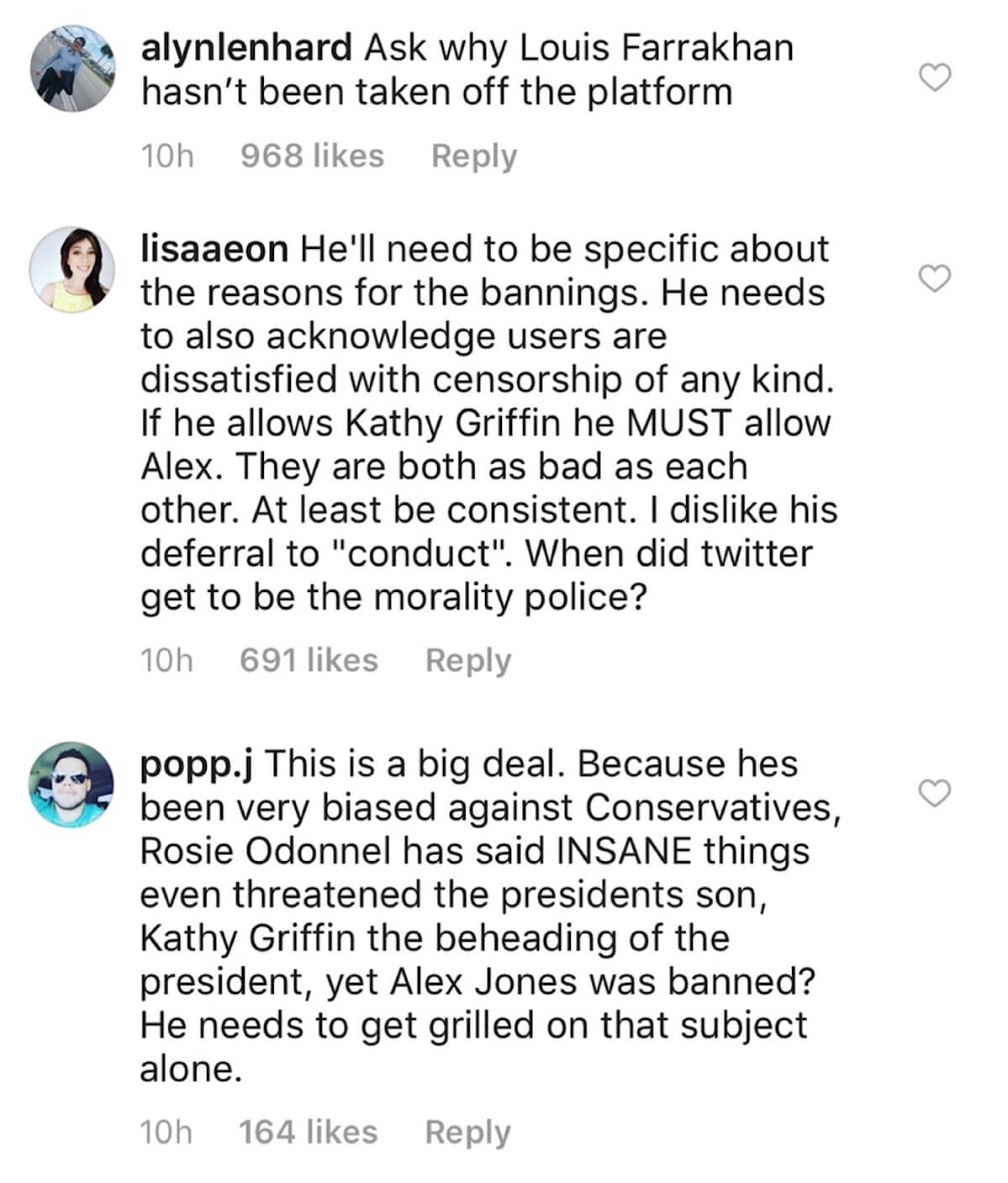 There are countless examples of Twitter users who appear to have tweeted far worse things than the five people listed above yet still remain on the platform. However, when Rogan asked his Instagram followers to share some examples, the top replies cited Louis Farrakhan (who as mentioned above, compared Jews to termites in a tweet), Kathy Griffin (who has tweeted many questionable things including a call for children to be doxed), Chelsea Handler (who also has many questionable tweets including this extremely crude tweet about U.S. Senator Lindsey Graham), and Rosie O'Donnell (who has previously speculated whether Barron Trump is autistic on Twitter ).
The point isn't to get these users banned but when compared with the previous questions, it's a perfect showcase of the double standard and should make the problems of censorship and double standards on Twitter crystal clear. Ideally, it should build a case for banned users being able to return to the platform.
7. If Everyone Has a Right to Use Social Media, How Can You Ban Users?
By asking the previous questions, Rogan would be able to lay the foundation for this important question. The previous questions may open Dorsey up to the idea that Twitter has a double standard when banning users and that the rules around what is acceptable are very unclear. This may cause him to question the validity of permanently banning users.
On the first podcast with Rogan, Dorsey said he believes everyone has a right to use social media. This belief combined with the question, "if everyone has a right to use social media, how can you ban users?" may actually change Dorsey's perspective on the topic.
8. Are You Willing to Offer Twitter Users a Road to Redemption?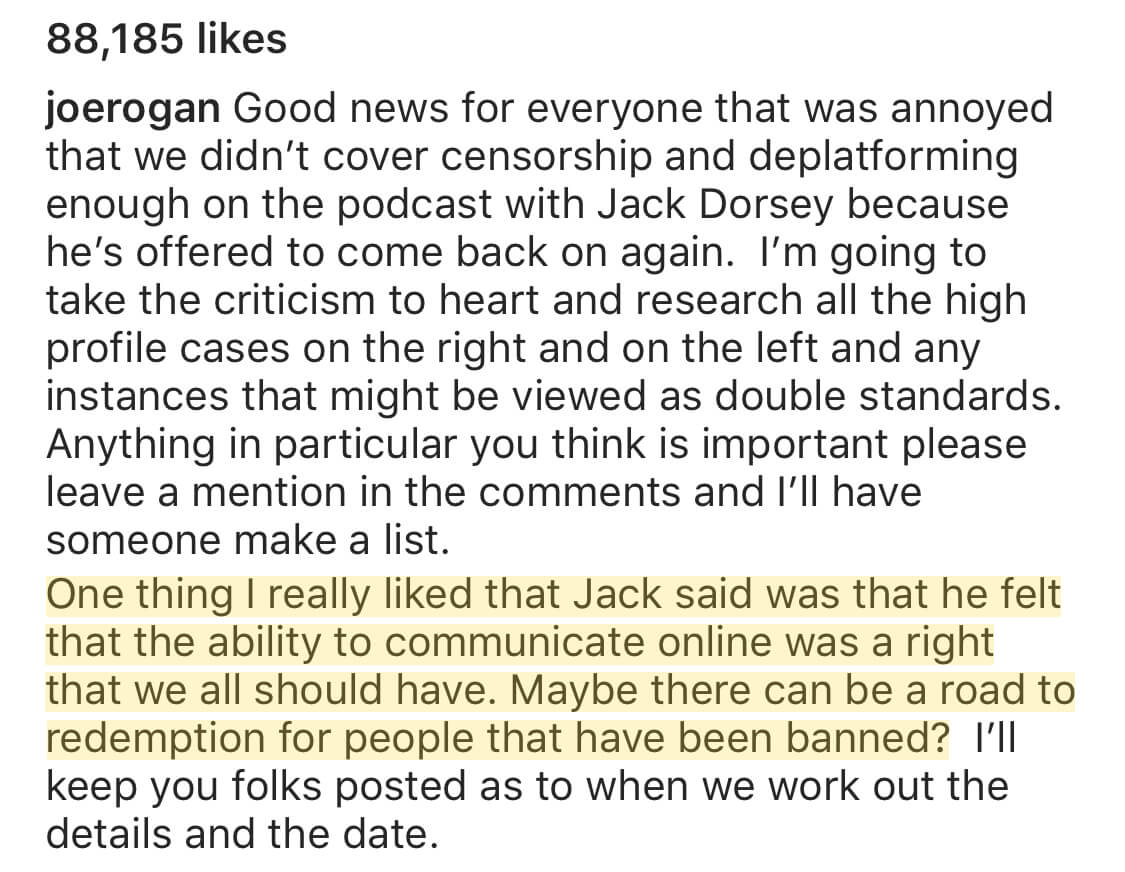 If the previous question lands, it could open the door to one of Rogan's best suggestions – a road to redemption for banned Twitter users. If Dorsey is open to this, it would be a very interesting discussion.
There are lots of ways this road to redemption could work but a good starting point would be some form of amnesty that lets banned users return to the platform. This combined with the establishment of clear and consistent policies that govern this road to redemption, more consistent policies about what is acceptable on Twitter, and fair enforcement of these policies would all be great discussion points for the second podcast.