On Sunday, while discussing the Silicon Valley Bank collapse in an emergency conference call led by Senate President Chuck Schumer, Senator Mark Kelly (D-AZ) reportedly inquired about the possibility of censoring social media posts to avoid a bank run.
This information was reported by Republican House members who were also present on the call and heard by representatives of the Federal Reserve, Treasury Department, and the Federal Deposit and Insurance Corporation (FDIC).
"Just got off of a zoom meeting with Fed, Treasury, FDIC, House, and Senate," Kentucky Congressman Thomas Massie tweeted. "A Democrat Senator essentially asked whether there was a program in place to censor information on social media that could lead to a run on the banks."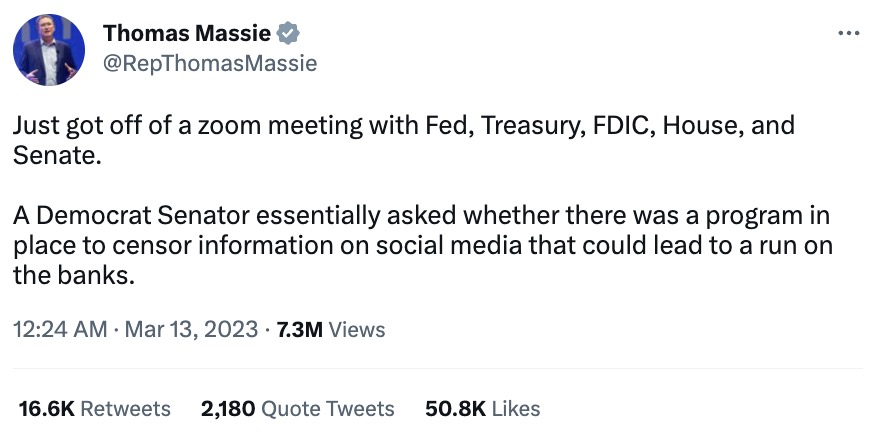 Rep. Lauren Boebert also tweeted, "On a briefing with Biden Under Secretary of the Treasury Nellie Liang regarding the SVB [Silicon Valley Bank] BAILOUT they are working towards and a member asked if they were reaching out to Facebook and Twitter to monitor misinformation and 'bad actors.'"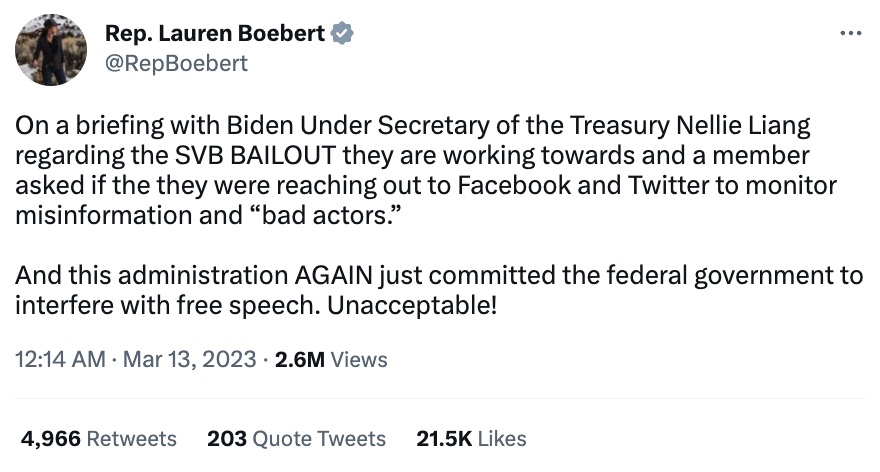 While the Representatives didn't name any names, Rep. Dan Bishop, Chairman of the Subcommittee on Oversight, Investigations, confirmed to Public that it was indeed Arizona's Senator Kelly that made the remarks.
The suggestion follows years of investigation about politicians making online censorship suggestions, all supposedly for the "greater good." From Covid to questions about election integrity, several Democratic politicians have repeatedly been caught calling for censorship, ignoring the First Amendment they swore an oath to.
During a recent hearing about how politicians and intelligence agencies have increasingly called for Twitter censorship, Democratic senators mocked journalists for releasing the Twitter Files, showing the extent to which censorship demands of Twitter were used in an attempt to massage public opinion.
Regulators have shut down Silicon Valley Bank (SVB), the 16th largest bank in the US, and taken over customer deposits. The bank's failure is the largest of a US bank since 2008.
The bank, a key lender to the tech and health industry, was struggling to raise money to mitigate a loss from the sale of assets that were affected by high interest rates.
The issues resulted in a sudden rush of customer withdrawals and fears about the banking sector.
Regulators said they had to take action to "protect insured depositors." They added that SVB faced "inadequate liquidity and insolvency."