During an explosive Select Subcommittee on the Weaponization of the Federal Government hearing on the "Twitter Files," internal documents that shine a light on Big Tech's censorship collusion with Twitter, several Democrats attacked independent journalists Matt Taibbi and Michael Shellenberger by referring to them as "so-called journalists" and attempted to get them to reveal their sources.
Taibbi and Shellenberger have published several batches of Twitter Files and were invited to testify by Republicans. Their Twitter Files releases have revealed that former Twitter exec Vijaya Gadde played a major role in the censorship of the Hunter Biden laptop story, the Federal Bureau of Investigation (FBI) and other government departments flagged tweets for censorship, staffers for several members of Congress asking Twitter to censor posts, and more.
But several Democrats were hostile to the witnesses during their questioning.
As the hearing began, Rep. Stacey Plaskett (D-VI) tweeted that the witnesses "pose a direct threat to anyone who opposes them" and described their presence as "unacceptable."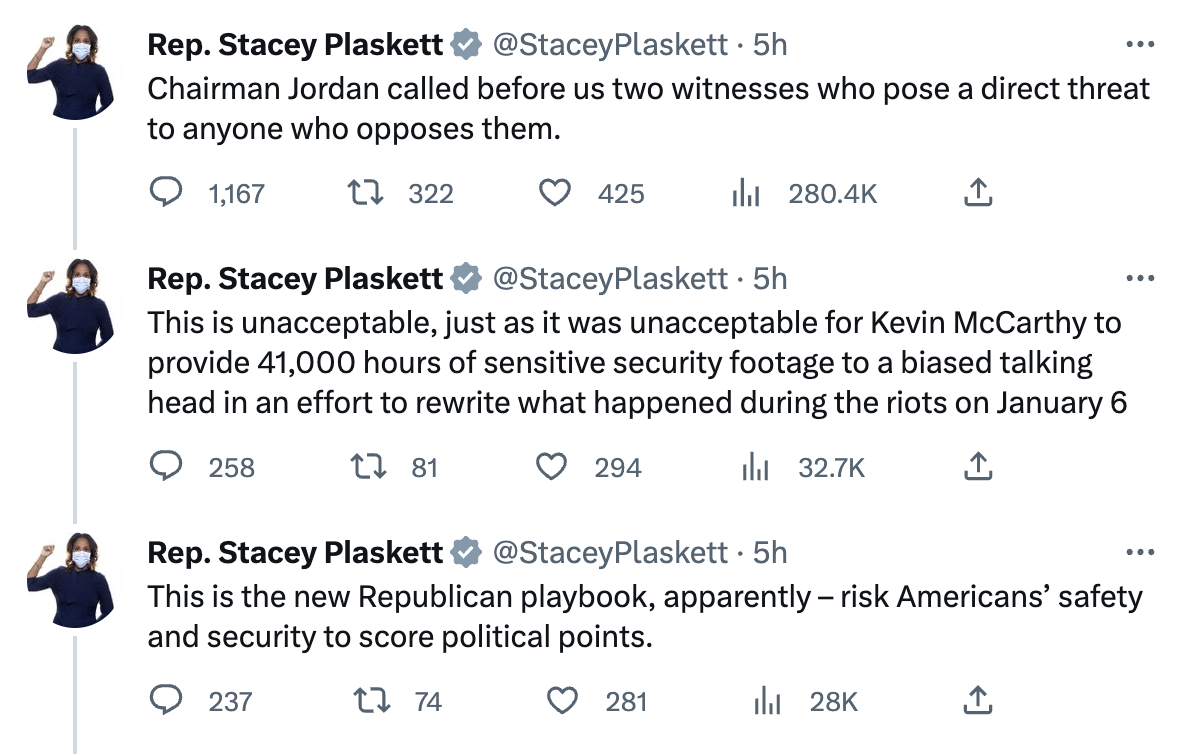 And during her opening statement, she repeated these assertions.
Plaskett also referred to them as "so-called journalists." However, Taibbi pushed back and told her, "I'm not a so-called journalist. I've won the National Magazine Award, the I.F. Stone Award for independent journalism, and I've written 10 books, including four New York Times…bestsellers."
Additionally, Plaskett attempted to get Taibbi to reveal his sources but he refused.
Like Plaskett, Rep. Sylvia Garcia (D-TX) pressed Taibbi to reveal his sources but he again rebuffed the attempt.
"I'm a journalist," Taibbi said. "I don't reveal my sources."
After Garcia's questioning, Rep. Jim Jordan (R-OH) called Plaskett out for attempting to get Taibbi to reveal his sources and she denied that's what she was trying to do.
Garcia also asked Shellenberger questions about journalist Bari Weiss, who has previously worked on some Twitter Files releases, and questioned whether Shellenberger, Taibbi, and Weiss were "in this as a threesome."
Additionally, Garcia mentioned the newsletter platform Substack, which both Shellenberger and Taibbi use to host their newsletter, and admitted, "I don't quite understand what Substack is."
Rep. Debbie Wasserman Schultz (D-FL) suggested that Taibbi had profited from the Twitter Files and cut him off when he asserted that the money he'd reinvested any money he made by hiring more staff. She then claimed that the attention and money Taibbi had received from the Twiter Files creates "problems with accuracy and credibility" and that "social media companies are not biased against conservatives."
When they weren't being attacked by Democrats, Taibbi and Shellenberger discussed some of the censorship they had uncovered during their reporting on the Twitter Files.
During questioning from Rep. Matt Gaetz (R-FL), both journalists discussed the Federal Trade Commission (FTC) demanding information on Twitter Files journalists. Shellenberger described the FTC's demands as "chilling" while Taibbi said he was "upset" by it.
When questioned by Rep. Kat Cammack (R-FL) about Twitter's secret blacklisting of Dr. Jay Bhattacharya and other doctors who challenged the Centers for Disease Control and Prevention's (CDC's) Covid narrative, Shellenberger described it as "East Germany, Stasi kind of behavior."
And in response to questions from Rep. Mike Johnson (R-LA) about Big Tech-government collusion, Taibbi said it was "the most grave story I've ever worked on" while Shellenberger said he "never thought in this country that freedom of speech would be threatened in this way."
You can get a summary of Taibbi and Shellenberger's opening statements here.
You can watch the entire hearing here.