Twitter owner Elon Musk has revealed that under the previous management regime, former Twitter Legal, Policy and Trust & Safety Lead, Vijaya Gadde, played a key role in censoring the infamous Hunter Biden laptop story in October 2020.
Not only did Gadde play a pivotal role in censoring a story alleging that Joe Biden and his son Hunter engaged in a corruption scandal just weeks before the election that saw Joe Biden ascend to the presidency, but after Biden became President, his administration appointed her to an advisory role on a committee that helped shape the Department of Homeland Security's (DHS's) "misinformation and disinformation" work that same year in December 2021.
The DHS's misinformation and disinformation work has faced growing scrutiny and public backlash throughout 2022. Most notably, its "Disinformation Governance Board," which was introduced in April 2022, was paused one month later, and officially shut down in August 2022 after raising First Amendment concerns and being threatened with legal action.
The Hunter Biden laptop story was one of the top stories of the 2020 election cycle and was heavily suppressed by Twitter weeks before the presidential election. Twitter blocked links to the story, locked accounts that attempted to share the article, and even censored memes and tweets that criticized the censorship.
This week, Musk shared documents about Twitter's censorship of the story with journalist Matt Taibbi who posted highlights on Twitter.
Taibbi tweeted that the decision to censor the story was "made at the highest levels of the company but without the knowledge of [then-]CEO Jack Dorsey." Instead, Gadde played "a key role" in the censorship. Taibbi shared a document showing Gadde discussing the warning label that would be applied to the story when Twitter censored it.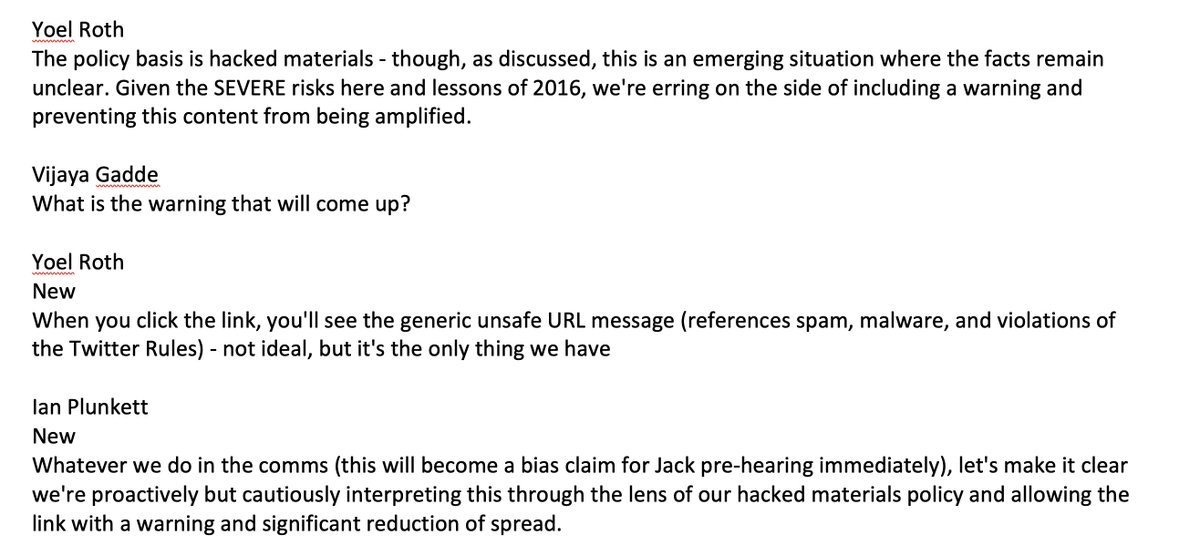 On the day that Twitter censored the story, Democratic Congressman Ro Khanna emailed Gadde to let her know that the decision was "generating huge backlash" on Capitol Hill and that the censorship "seems a violation of the 1st Amendment principles." He also suggested that by censoring the story, Twitter had made it "become a bigger deal than it would have been."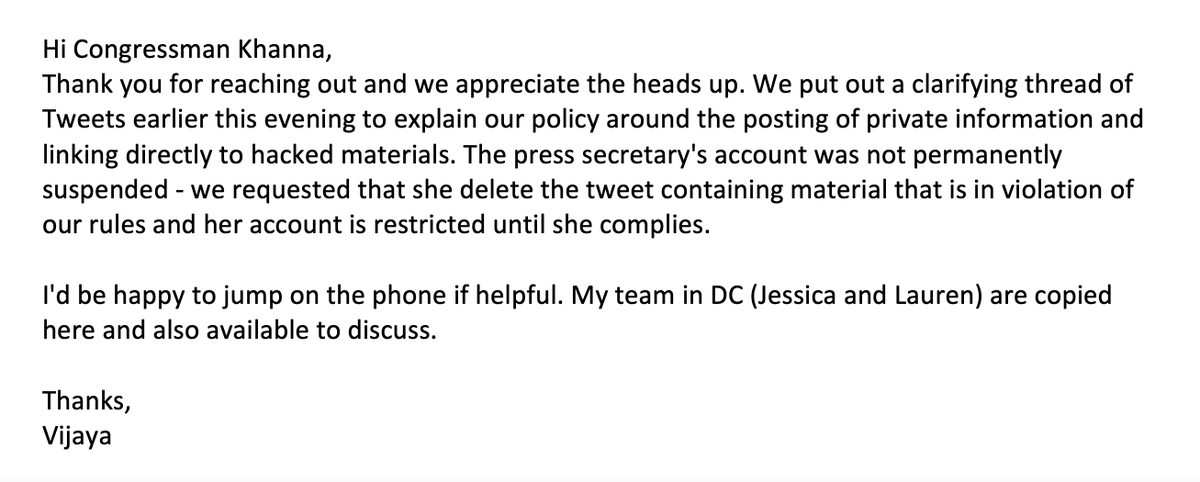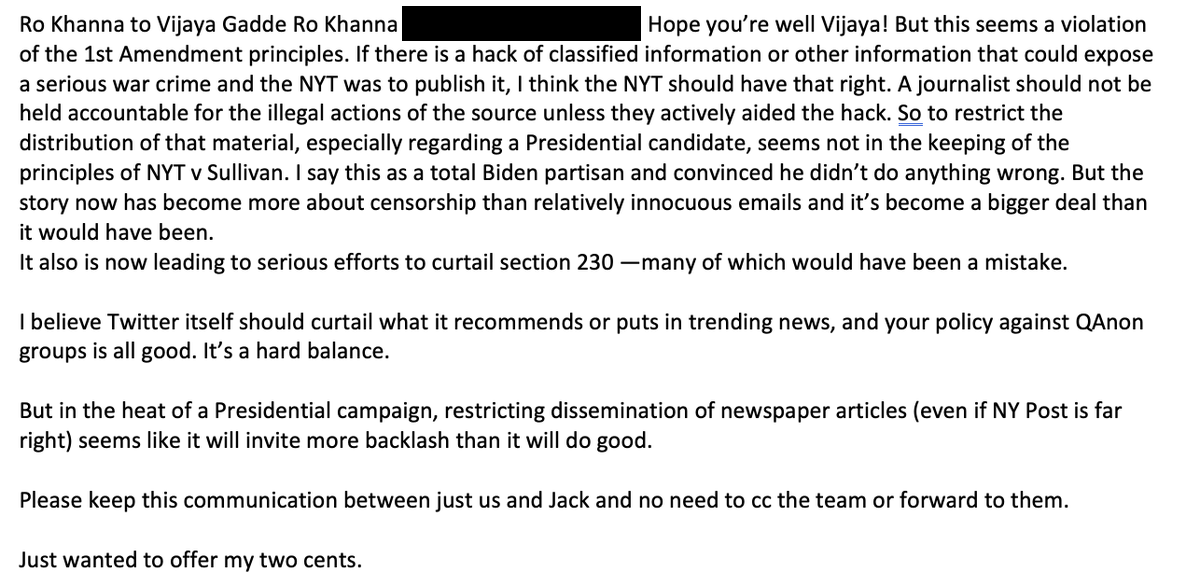 Dorsey also forwarded Gadde a copy of an article by Taibbi that blasted Twitter for censoring the story.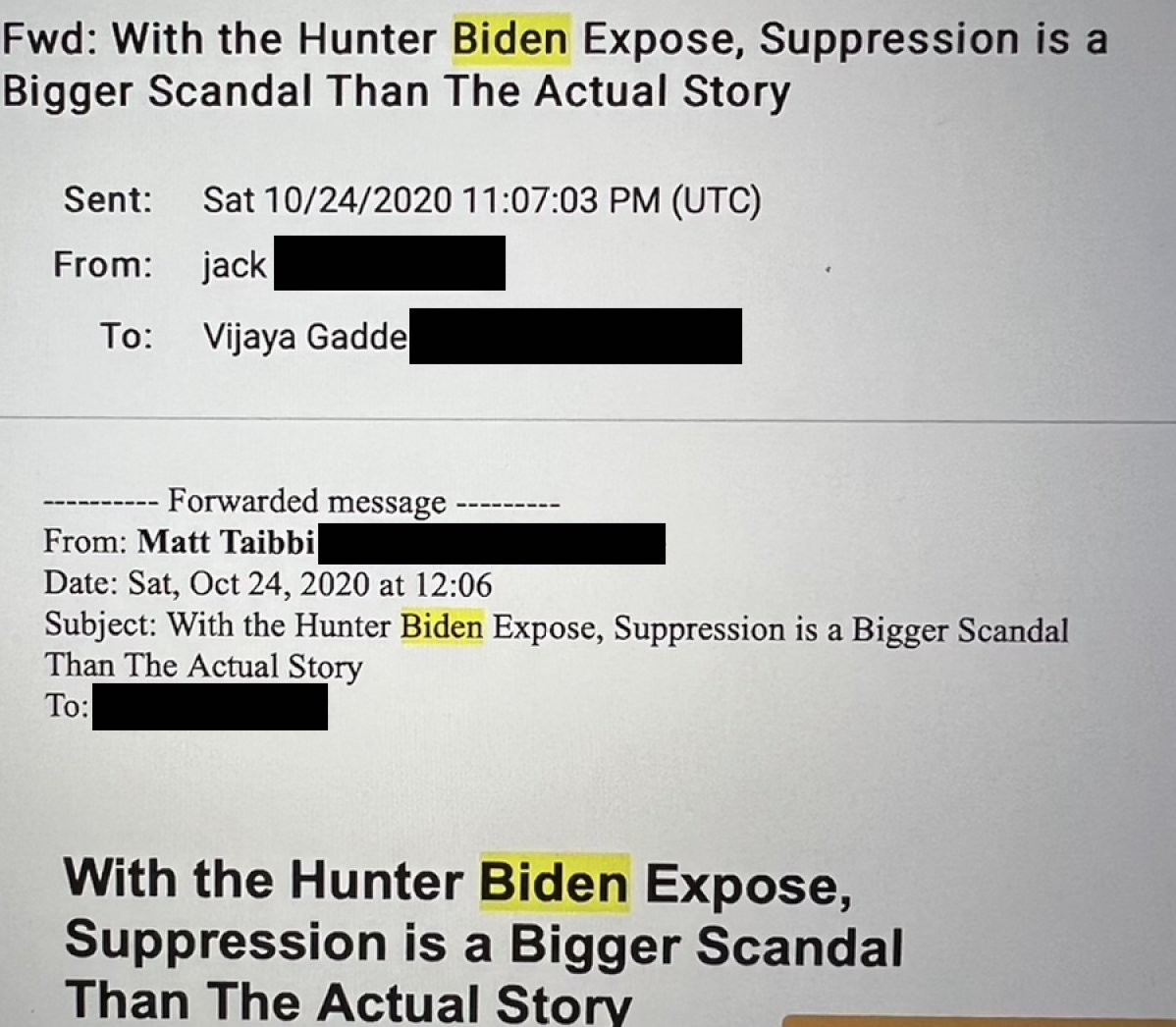 Taibbi noted that employees inside Twitter were "struggling to understand the policy basis" for censoring the story and that the justification executives used to censor the story (claiming that it violated Twitter's "hacked materials" policy) was just an "excuse."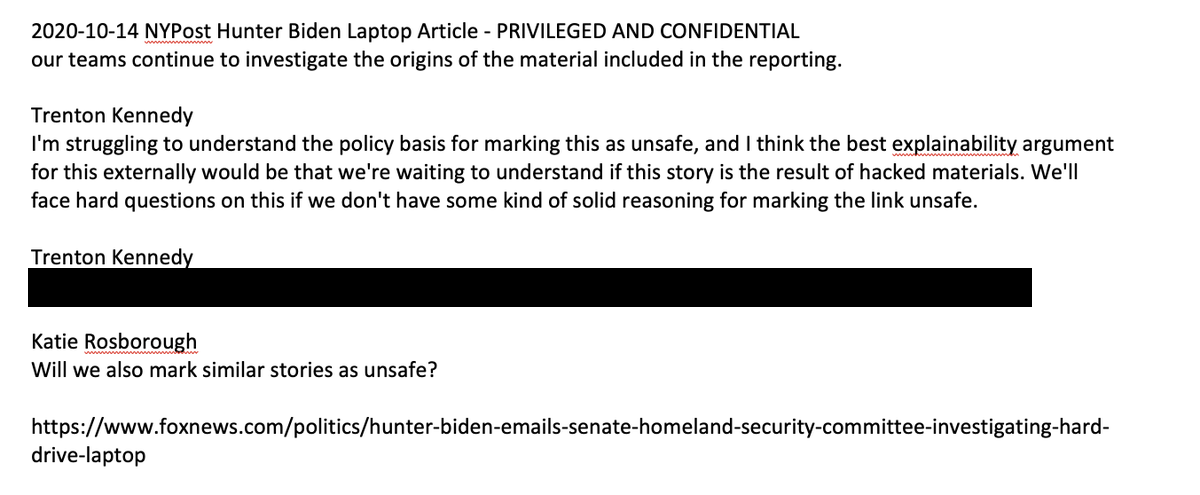 In one internal communication, Twitter's former Vice President of Global Communications, Brandon Borrman, asked: "Can we truthfully claim that this is part of the policy?"

One former Twitter employee told Taibbi that "everyone knew this was fucked" after Twitter started censoring the story.
In addition to playing a key role in the censorship of the Hunter Biden laptop story, Gadde also reportedly played a key role in banning former President Donald Trump from Twitter.