The sixth batch of Twitter Files, published on Twitter by journalist Matt Taibbi, has revealed that the Federal Bureau of Investigation (FBI) and Department of Homeland Security (DHS) were regularly flagging content to Twitter for censorship between January 2020 and November 2022 and that some of the flagged content contained jokes and satirical comments.
According to Taibbi, there were more than 150 emails between the FBI and former Head of Twitter Trust and Safety chief Yoel Roth and a "surprisingly high number" of these emails were FBI requests for Twitter to "take action on election misinformation, even involving joke tweets from low-follower accounts."
Taibi noted that the FBI's social media-focused task force is known as FTIF and was created in the wake of the 2016 election. Since its inception, this task force has grown to 80 agents and corresponded with Twitter to "identify alleged foreign influence and election tampering of all kinds."
Taibbi shared several examples of the FBI's censorship requests and said Twitter employees would often look for reasons to suspend accounts after receiving these requests.
These censorship request emails reveal that the FBI would target both large and small accounts and sometimes issue preservation letters and request location information for the flagged accounts. Some of the large accounts that were flagged include those of Right Side Broadcasting Network (RSBN) (which has over 873,000 followers) and actor Billy Baldwin (which has over 204,000 followers). However, accounts with as few as 15 followers were also flagged to Twitter by the FBI.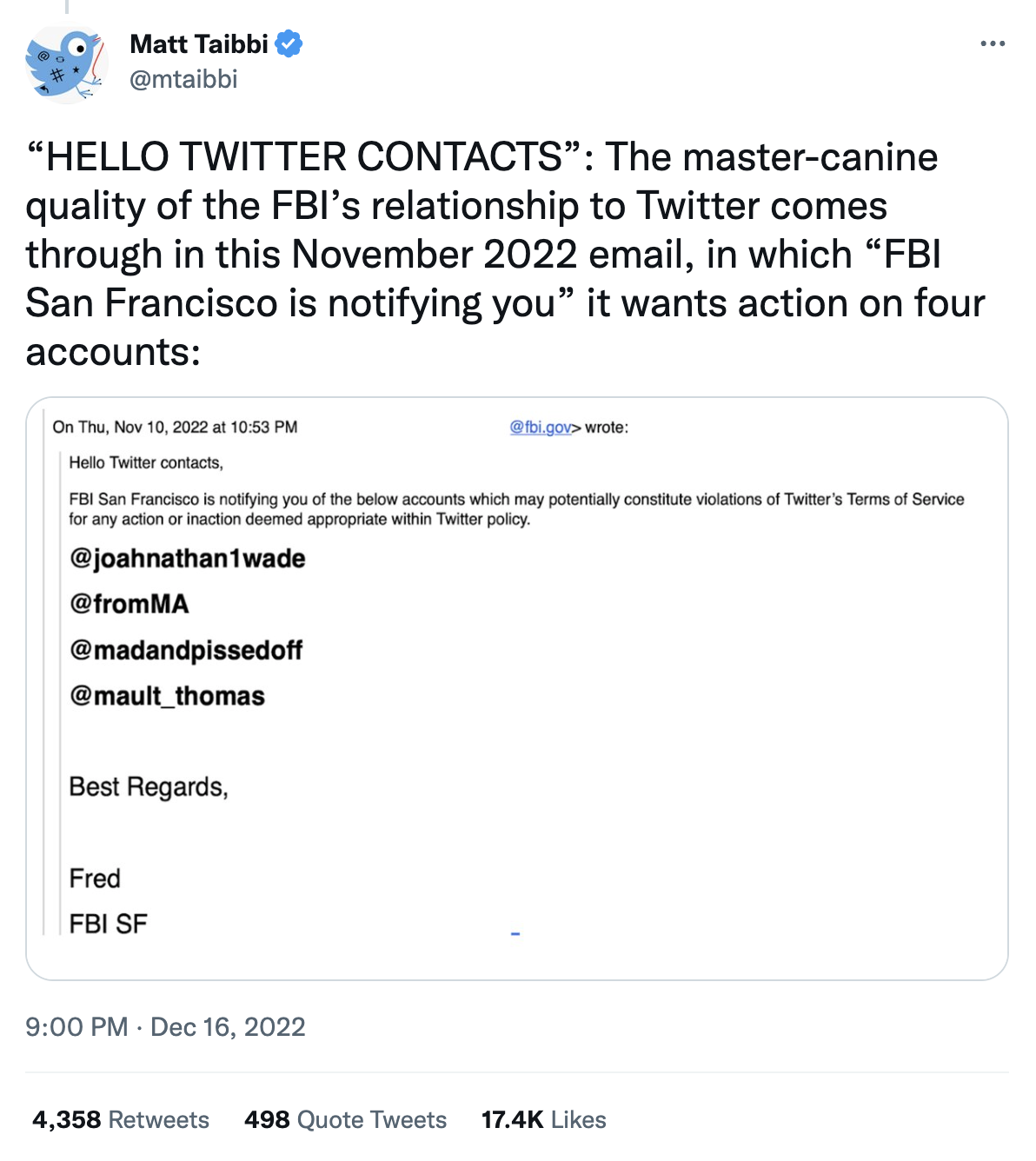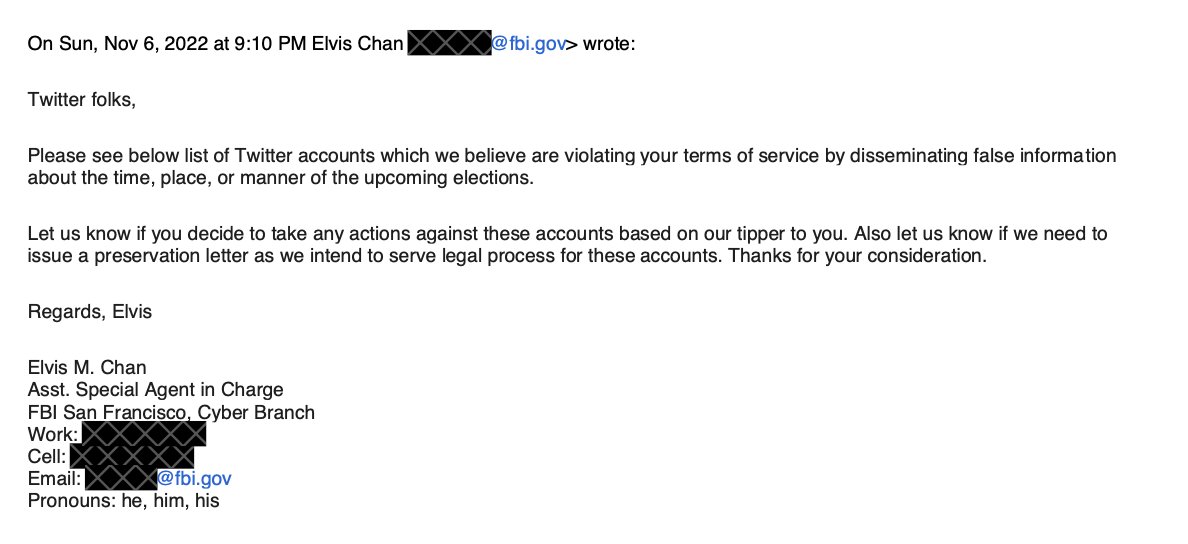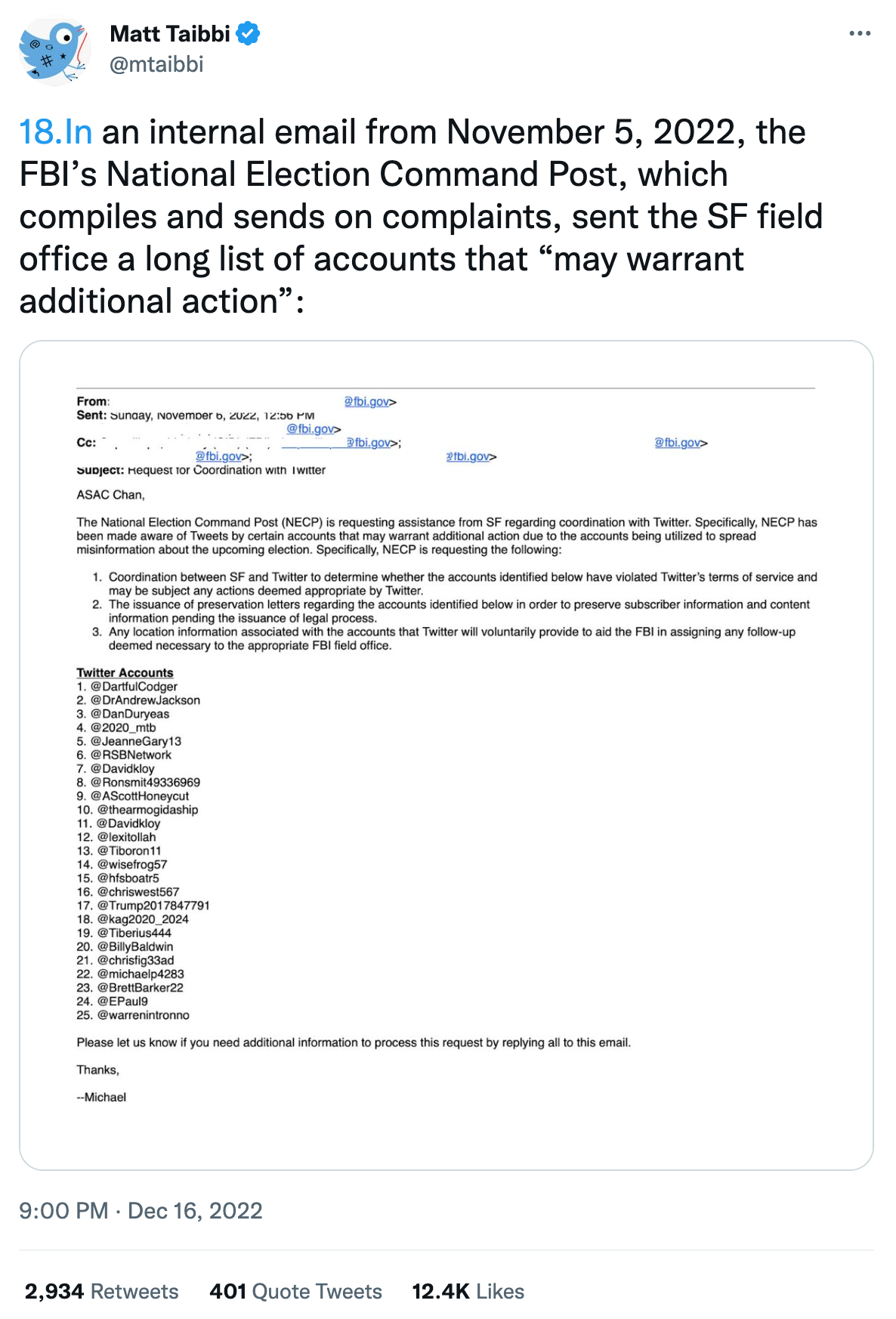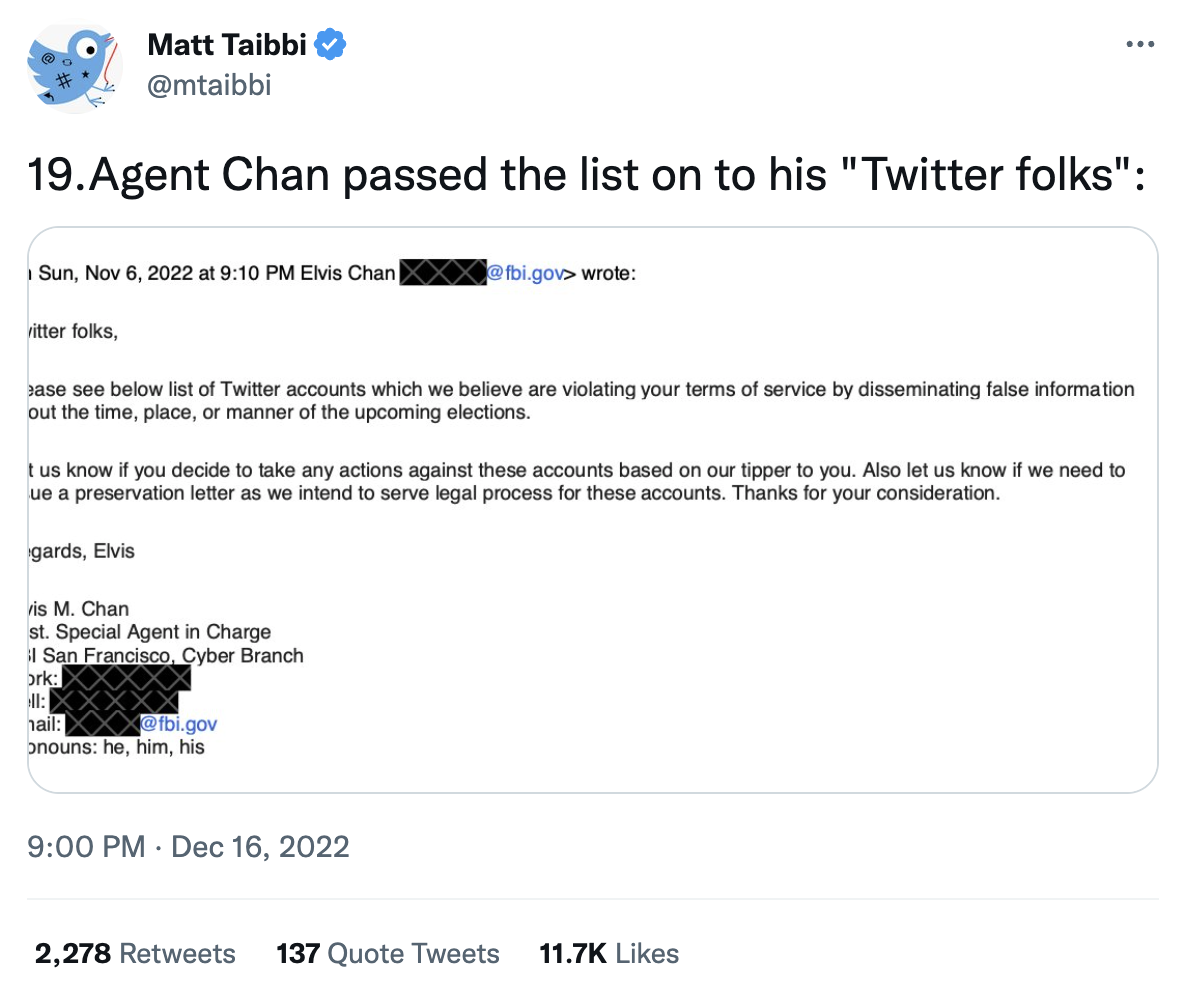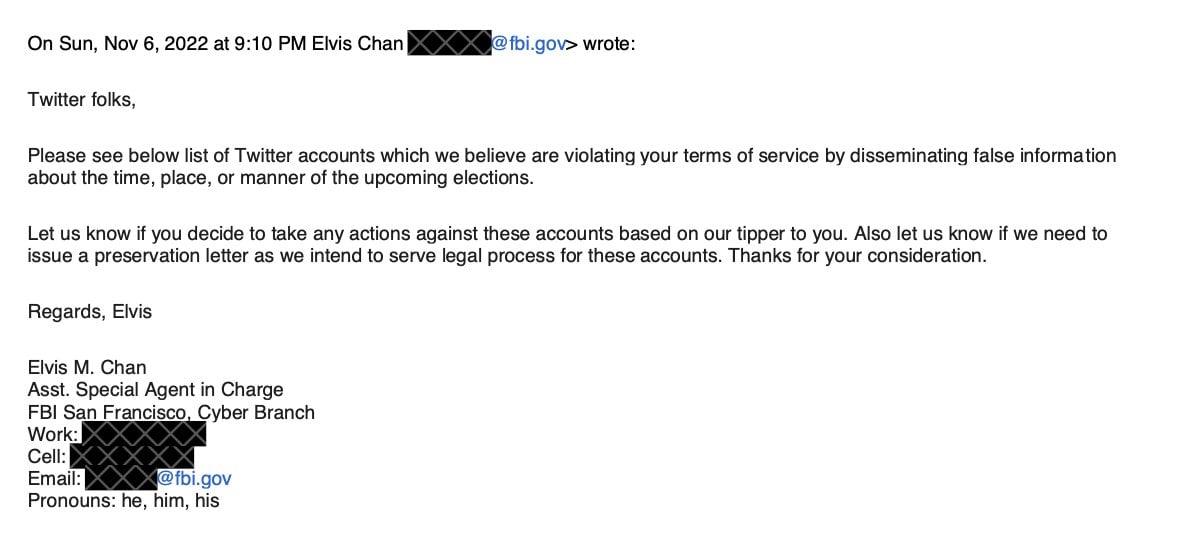 Some of the accounts that were flagged by the FBI mostly shared jokes and were satirical in nature.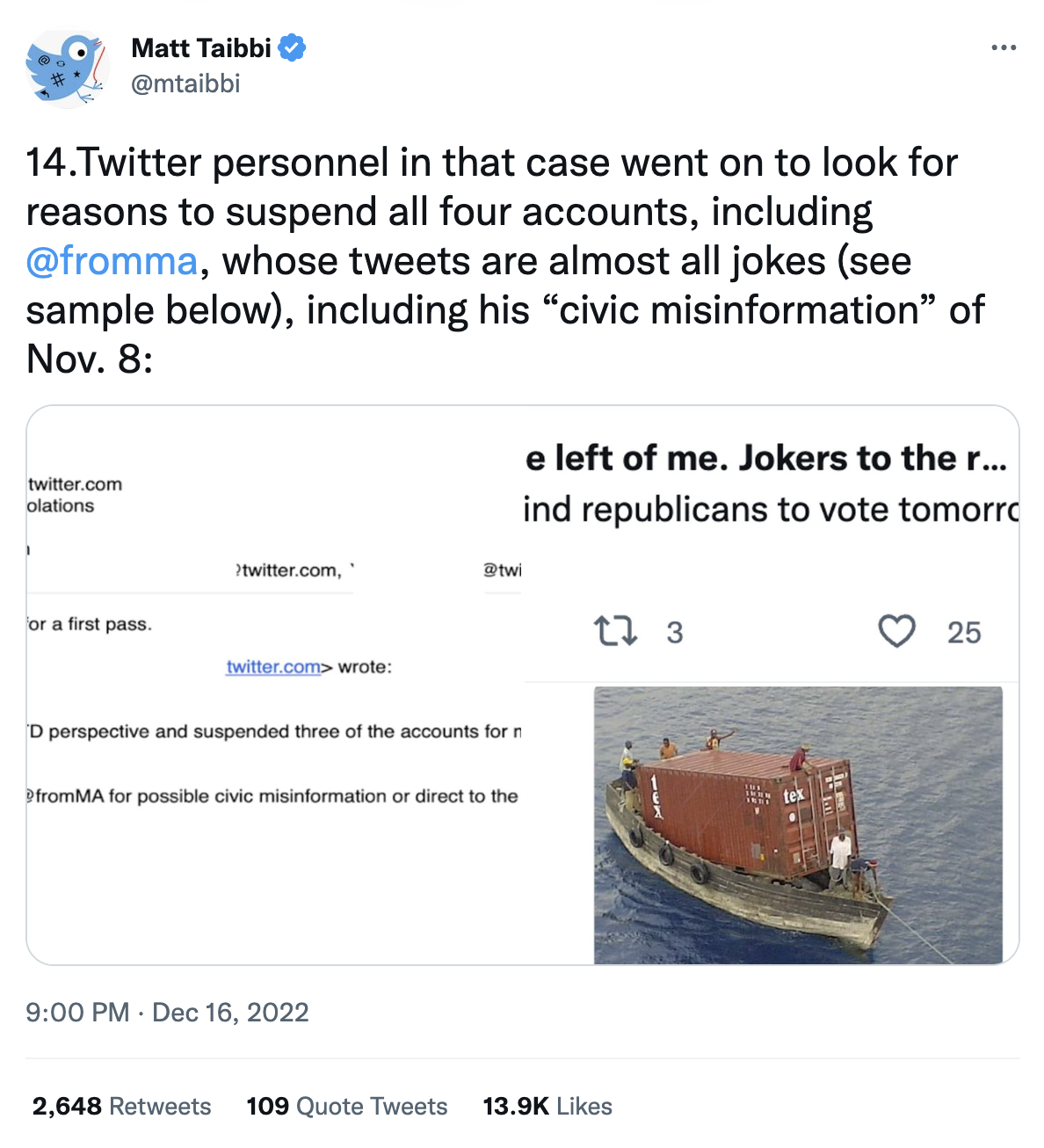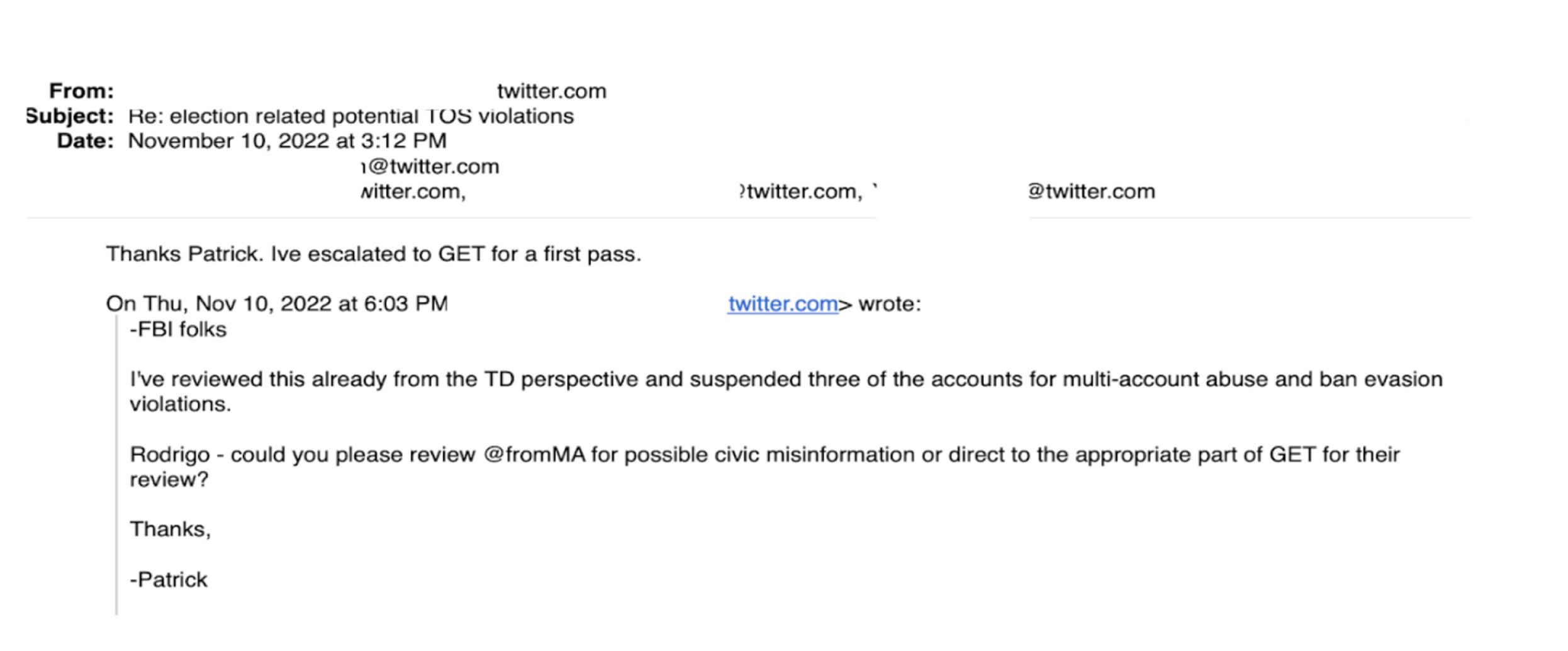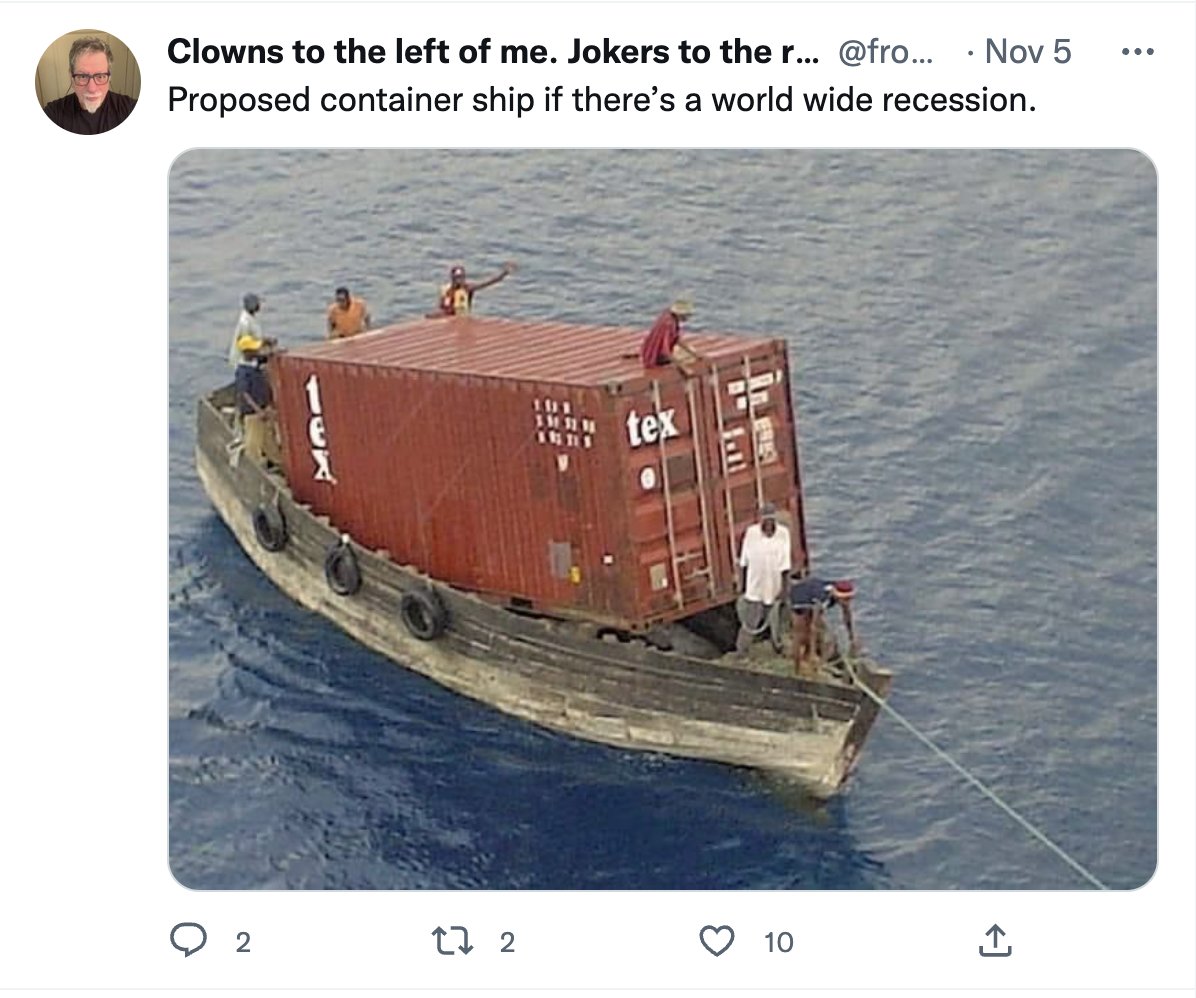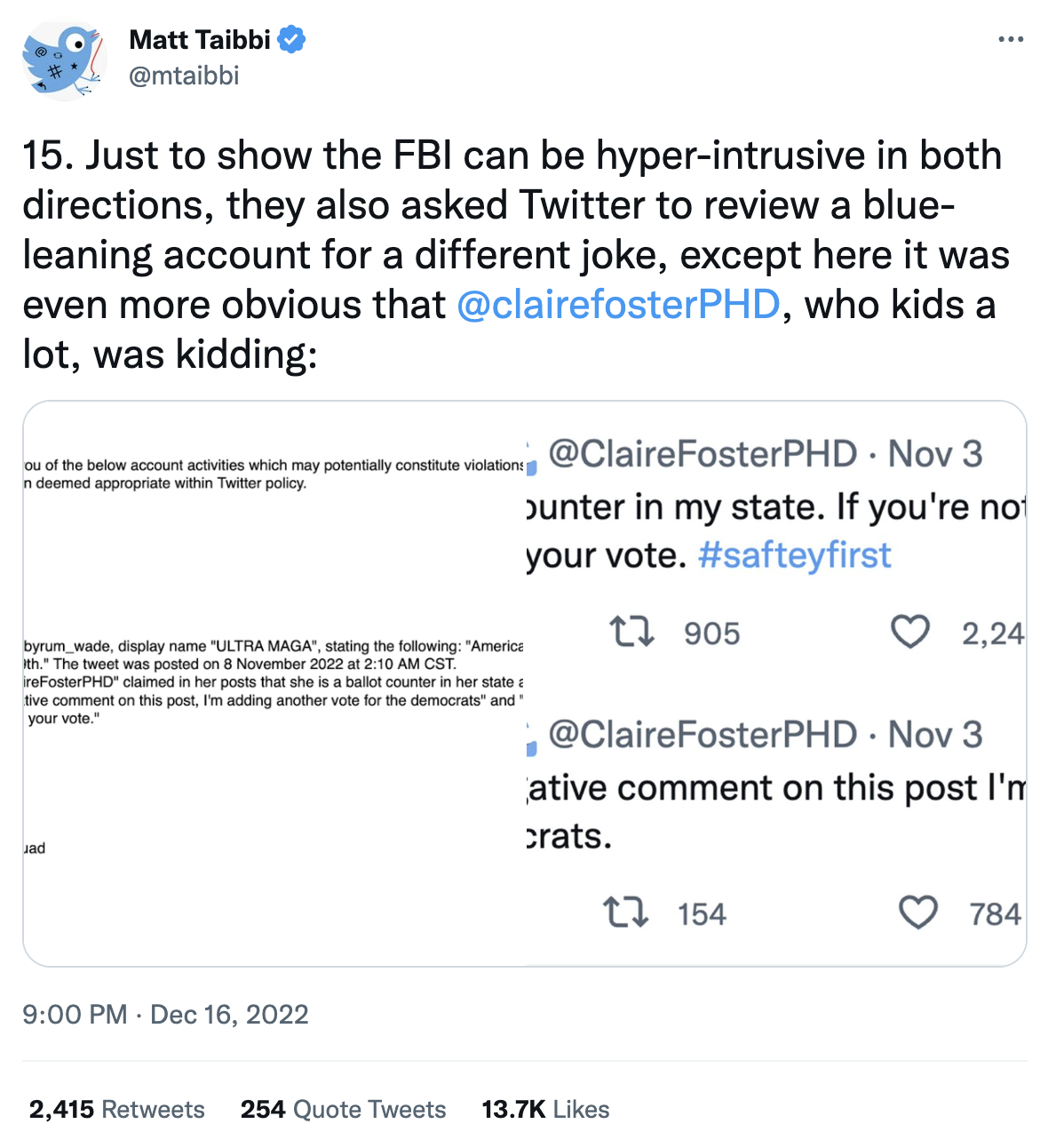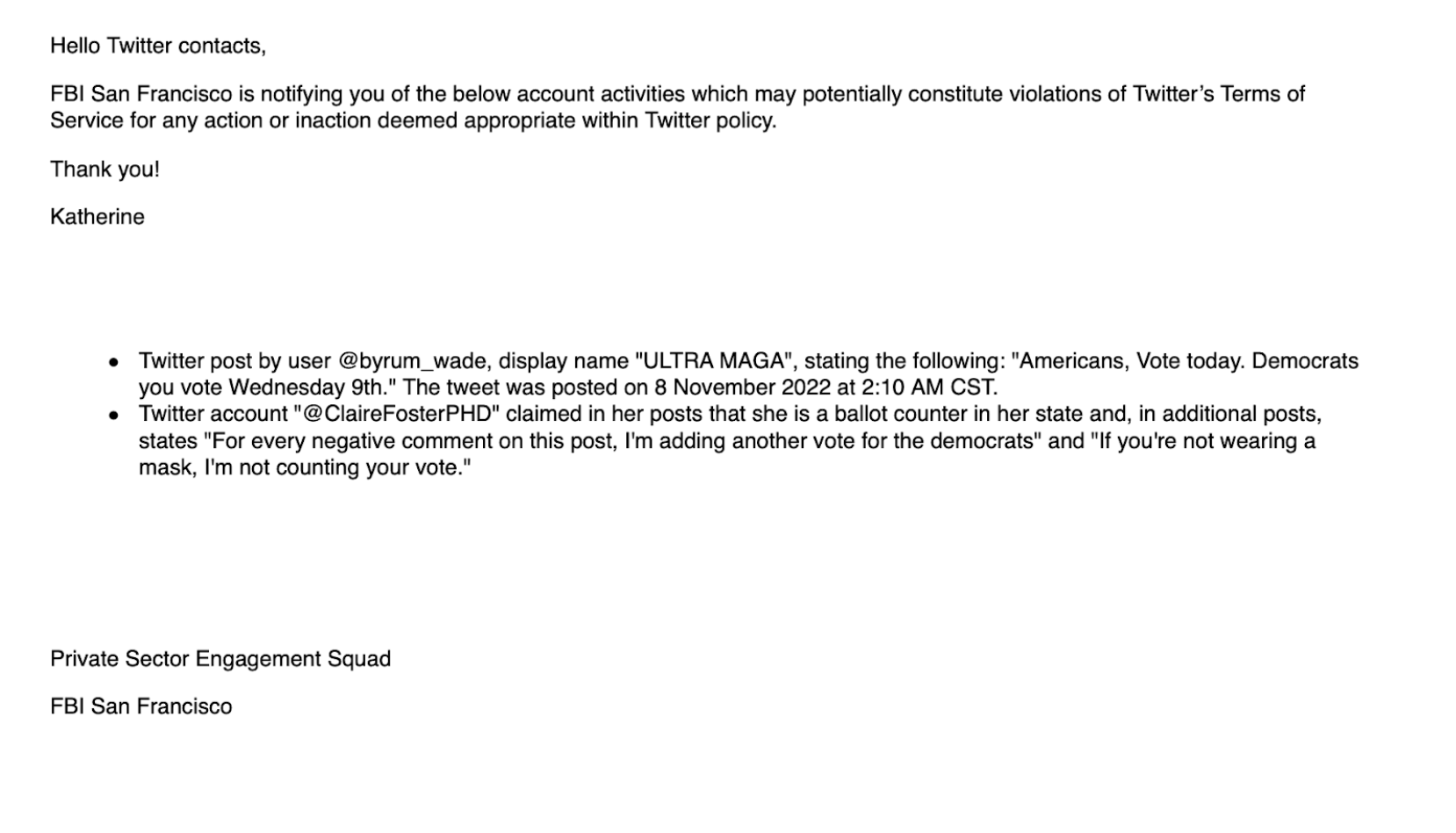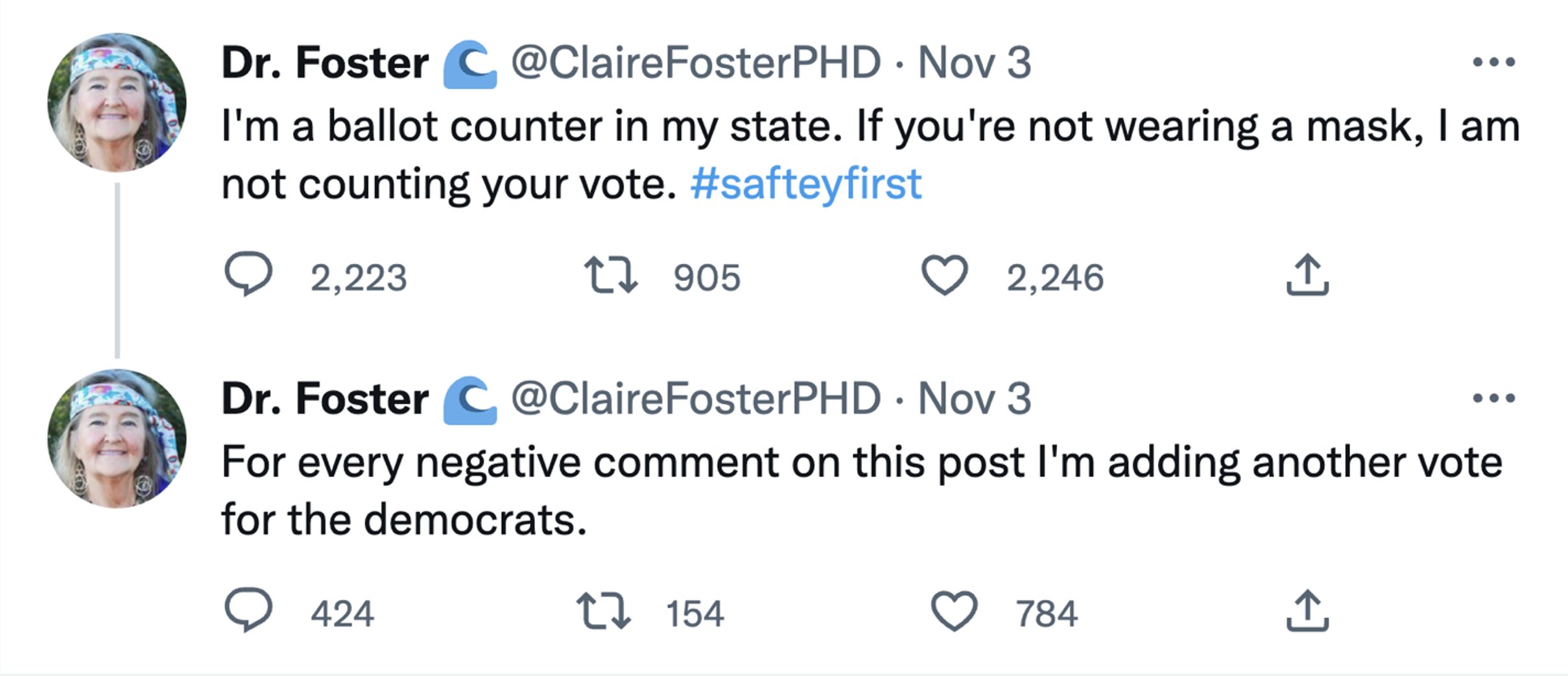 Most of the accounts that were flagged by the FBI in these emails subsequently had some action taken against them by Twitter.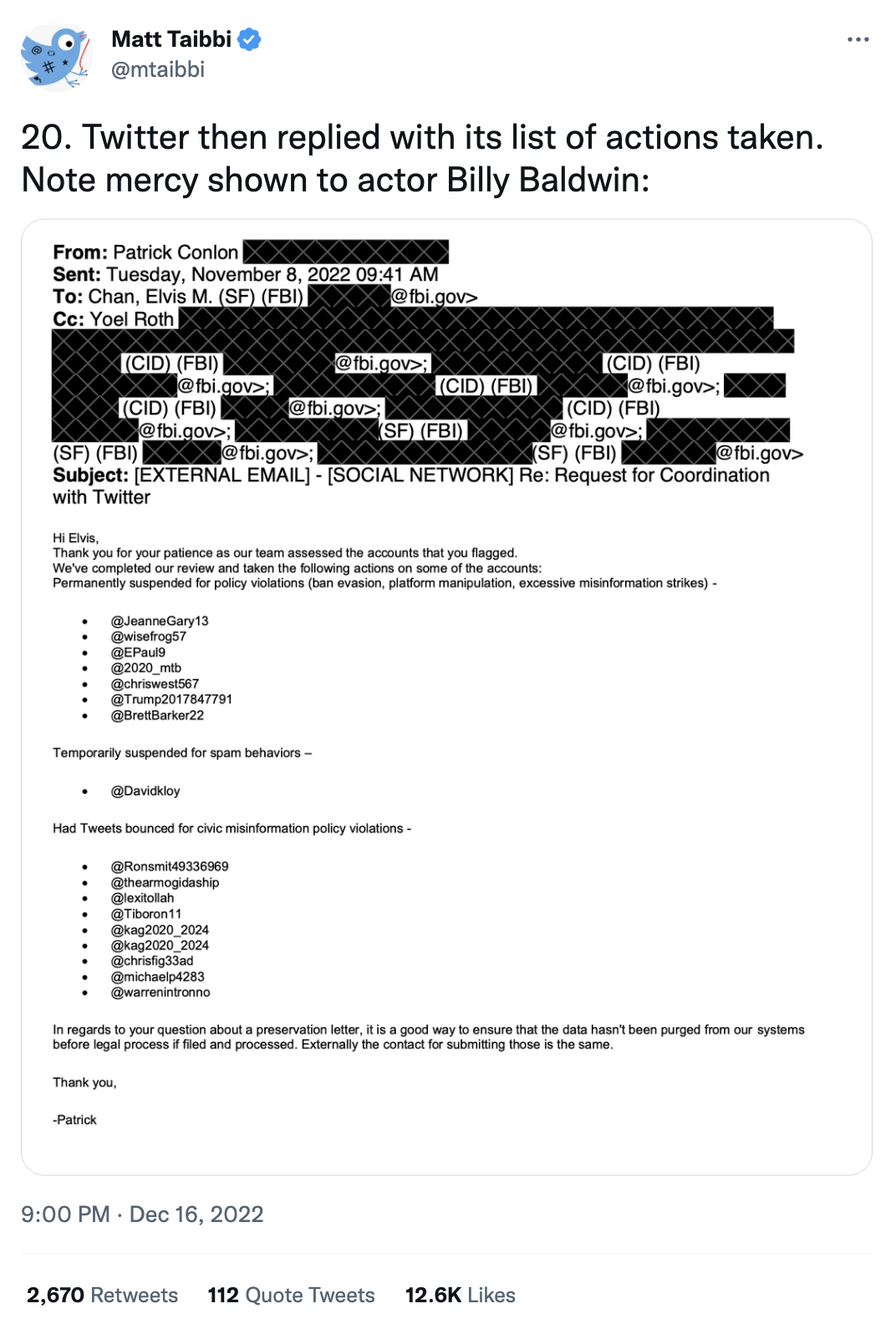 One email shared by Taibbi shows the FBI flagging tweets that told people to "Get out there and vote Wednesday!" when election day was Tuesday. According to Taibbi, these tweets had low engagement.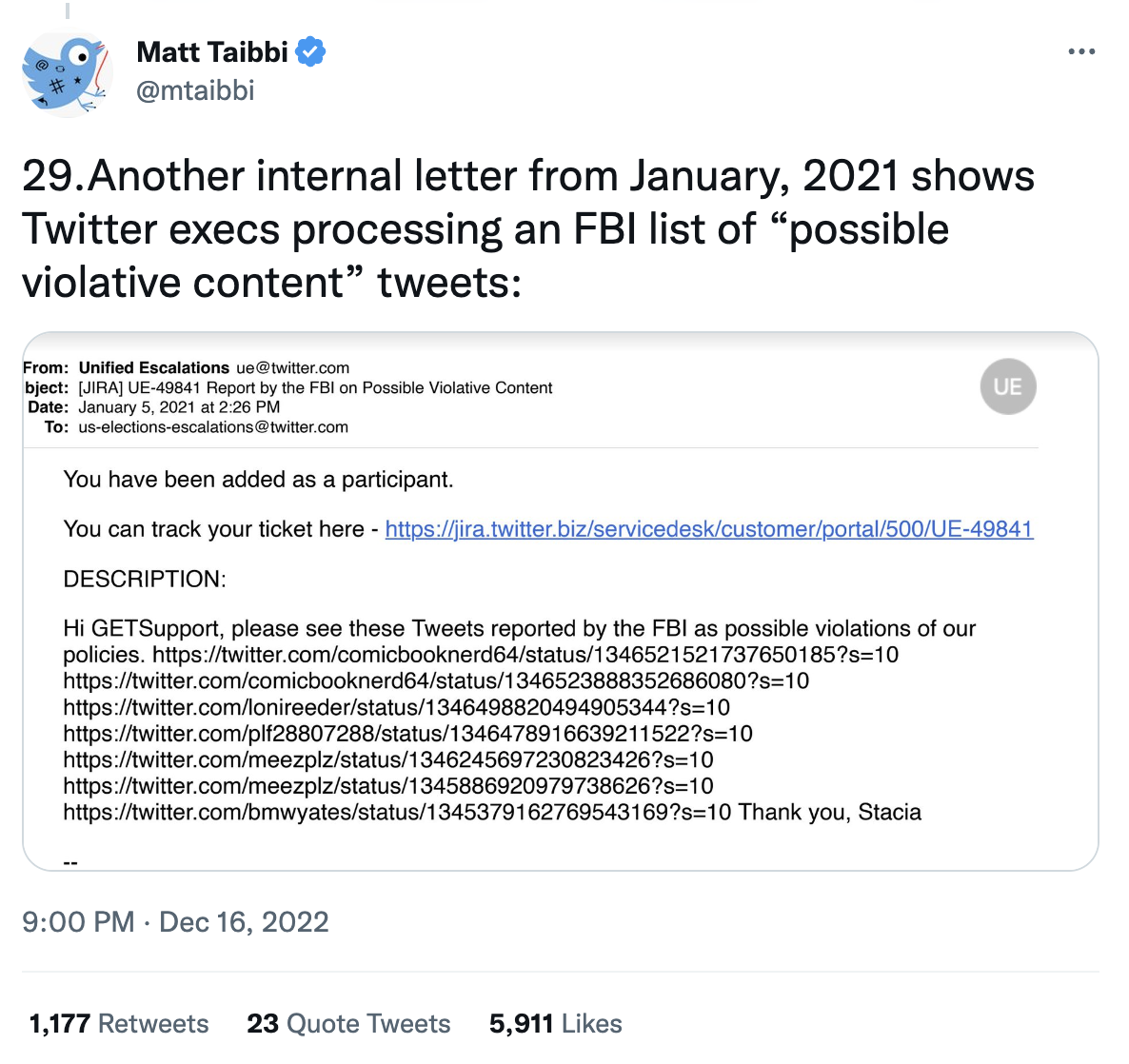 Screenshots of Twitter's internal Slack show that at one point, the FBI had sent so many "possible violative content reports" that employees described reviewing them as a "monumental undertaking."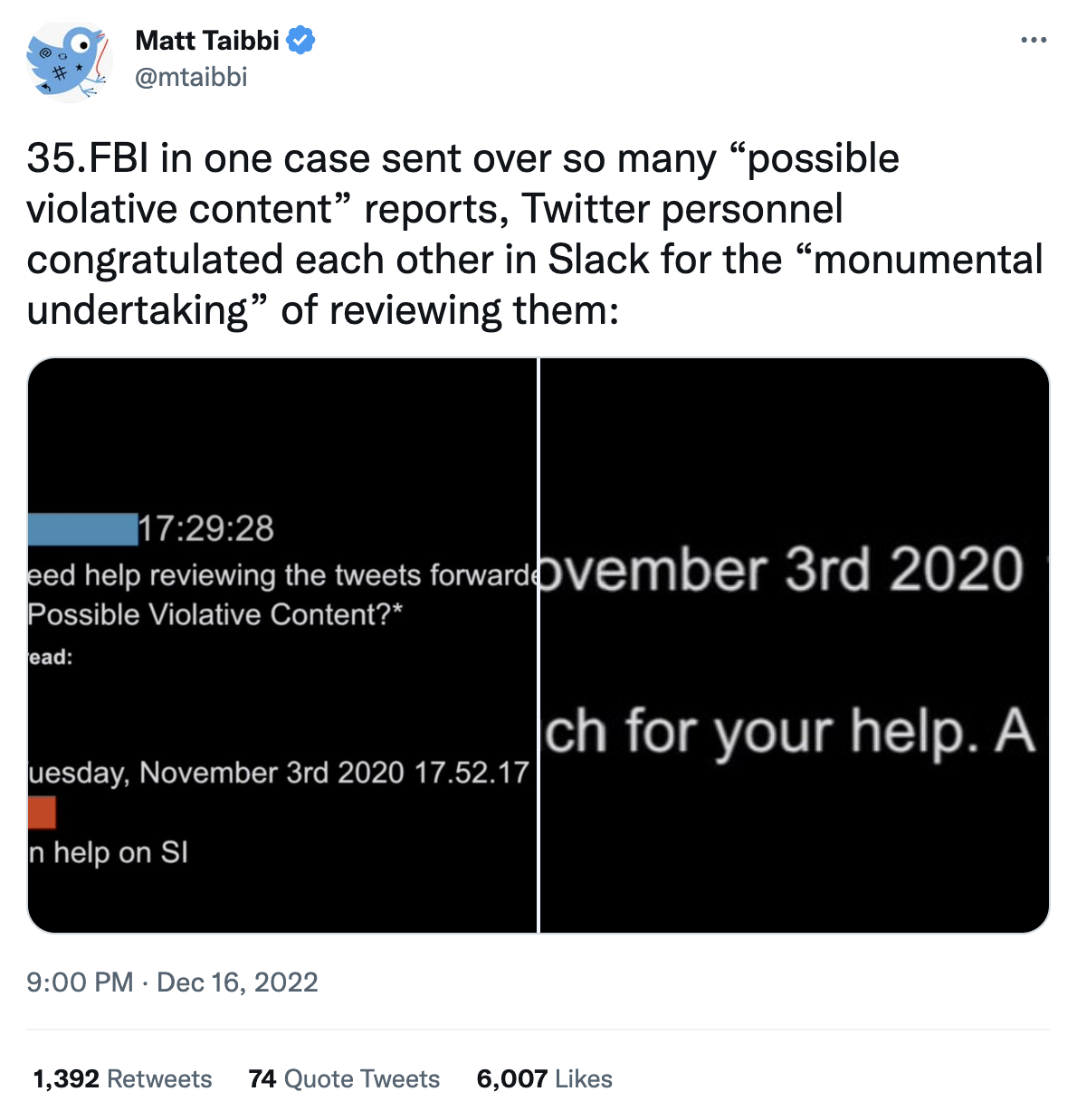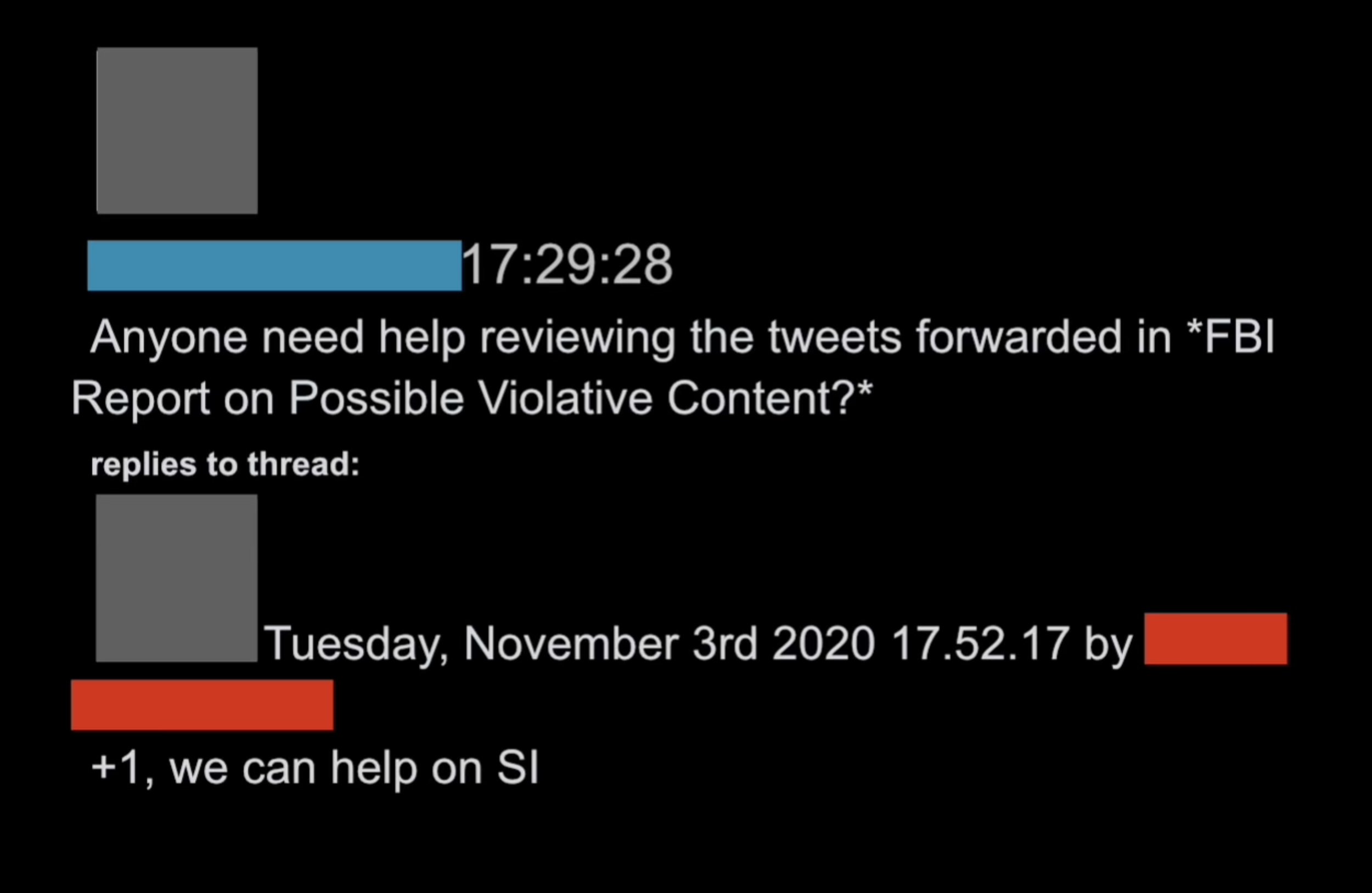 Another revelation from this batch of Twitter Files is that the FBI had a "Teleporter" platform which it could use to send direct censorship requests to Twitter.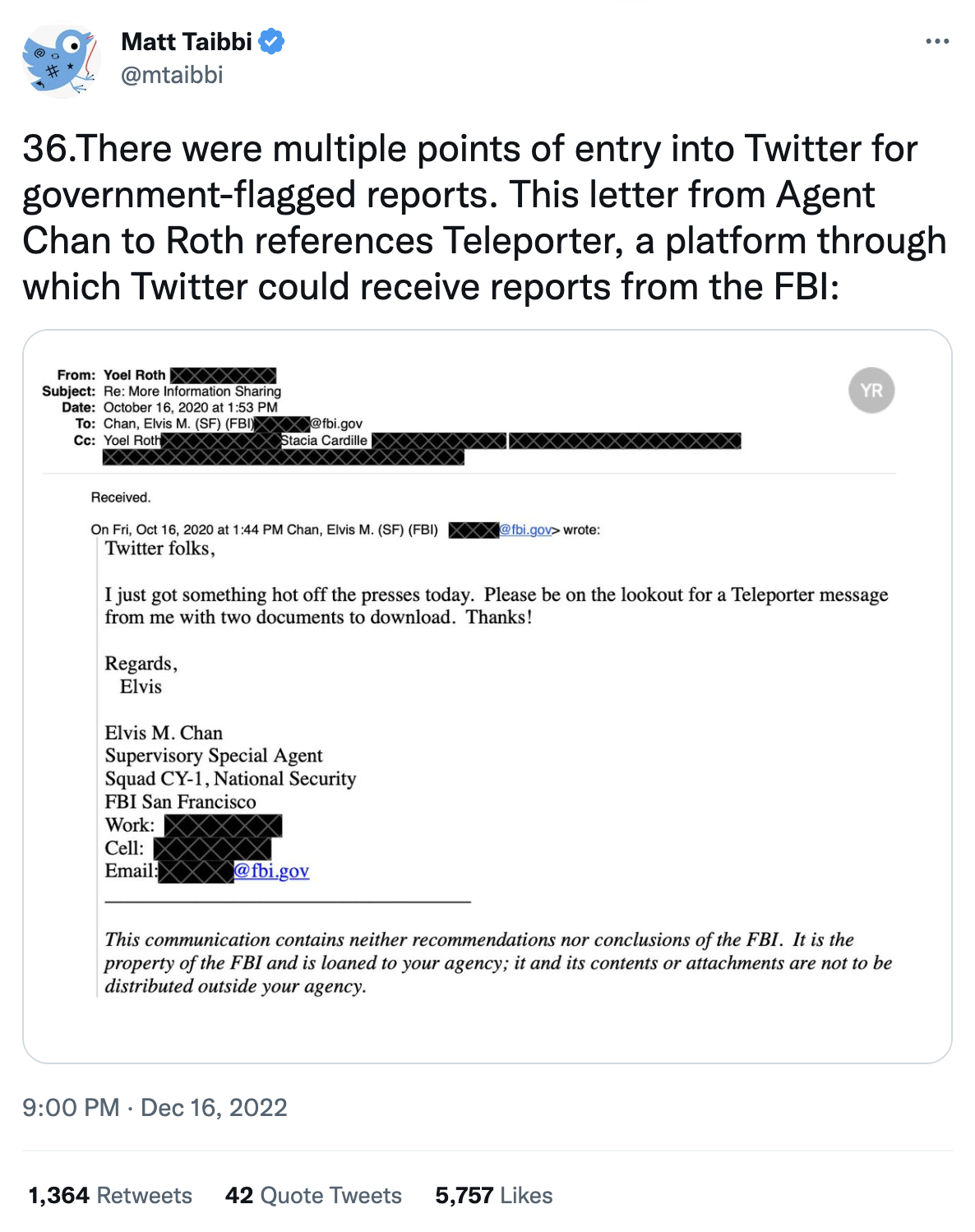 In addition to the FBI, the documents also show Twitter employees discussing censorship requests that they've received from the DHS and state governments. One document shows a Twitter employee recommending "bouncing" (suppressing) content based on "the evidence we received from DHS etc" while another shows Twitter executives discussing a censorship request from California officials that targeted a Trump tweet.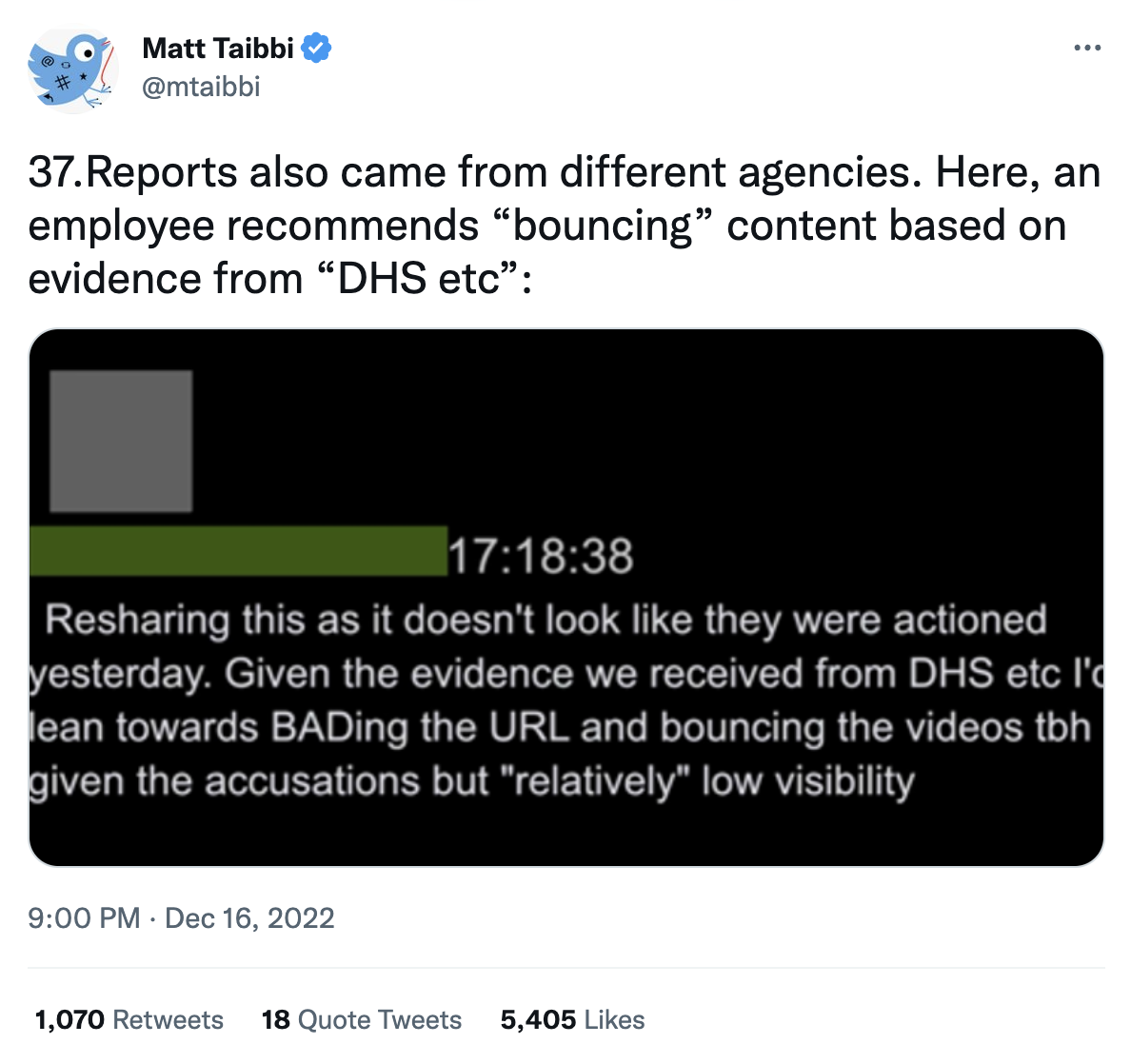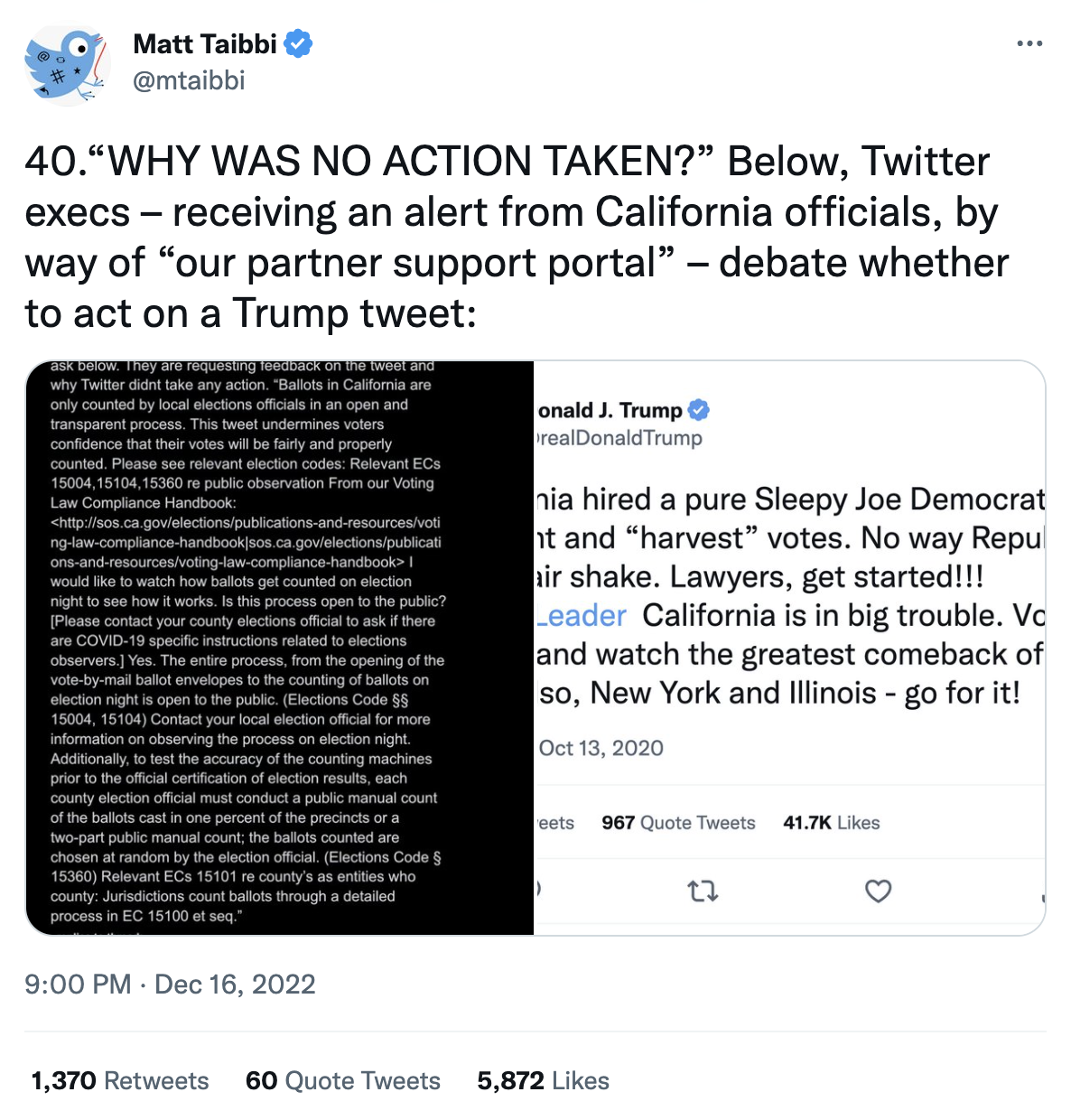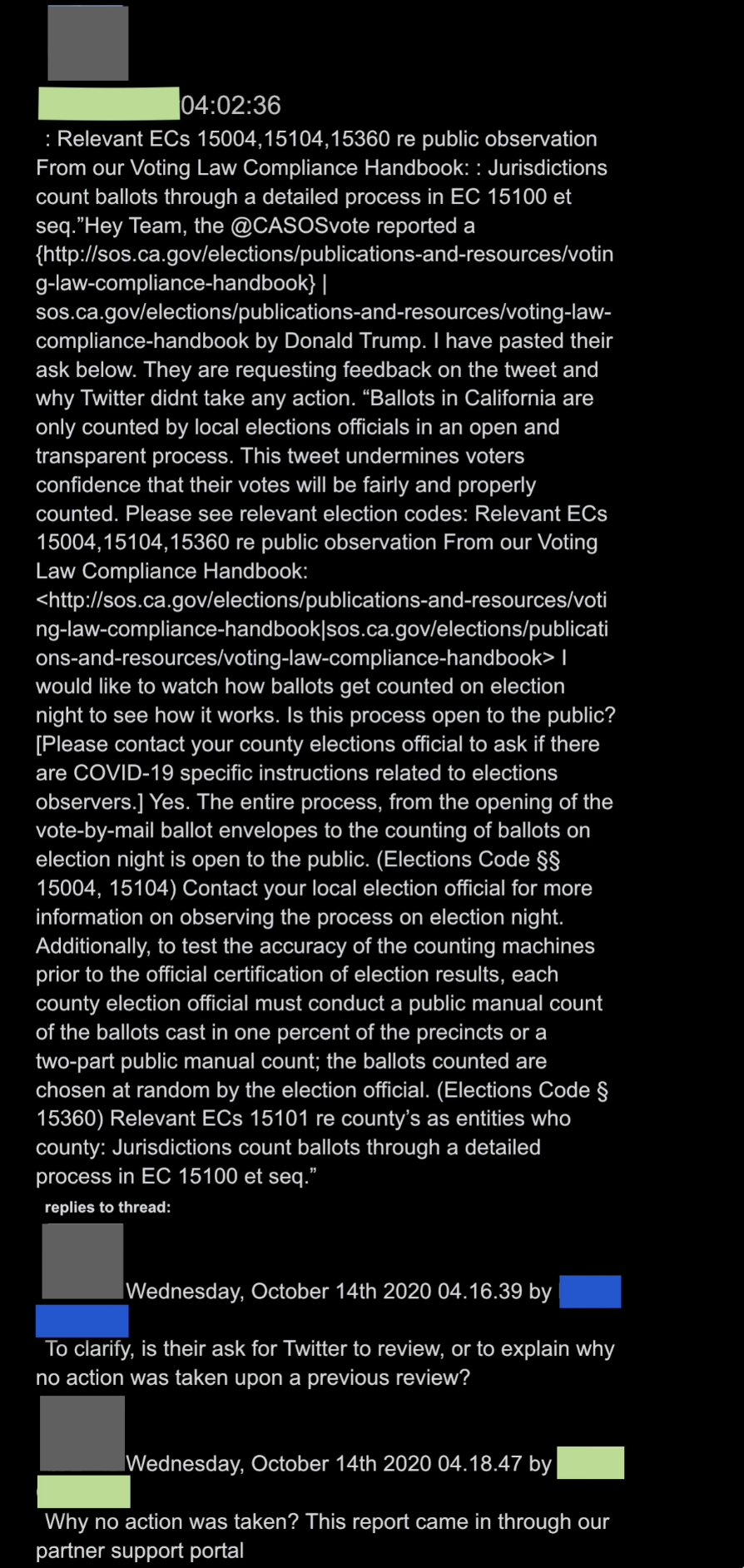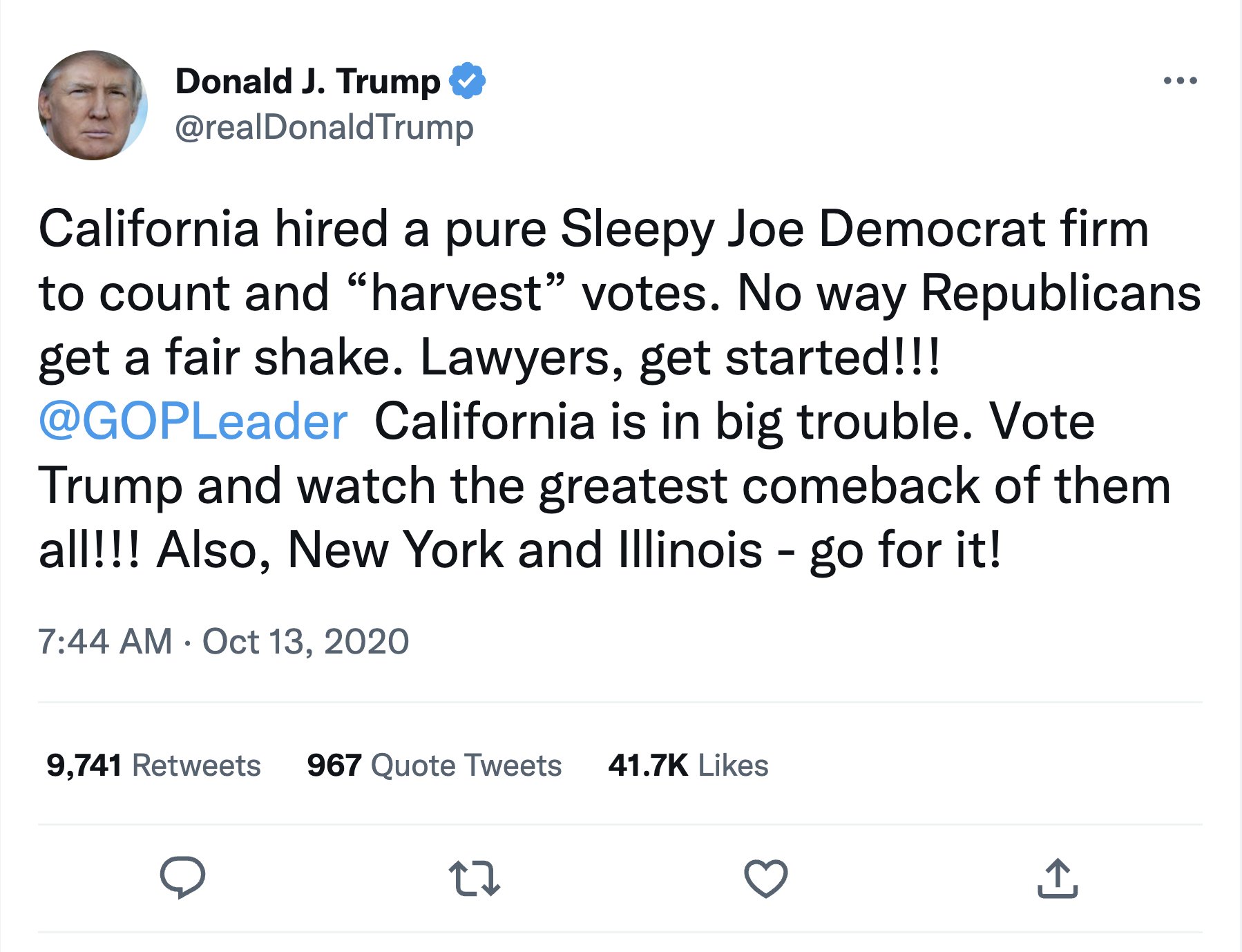 Outside of direct government censorship requests, one of the documents published by Taibbi shows the Election Integrity Project (EIP) at Stanford flagging a tweet from UncoverDC Editor-in-Chief Tracy Beanz. While this censorship request didn't come from the government, it did cite information from the Center for Internet Security (CIS) — a federal government contractor.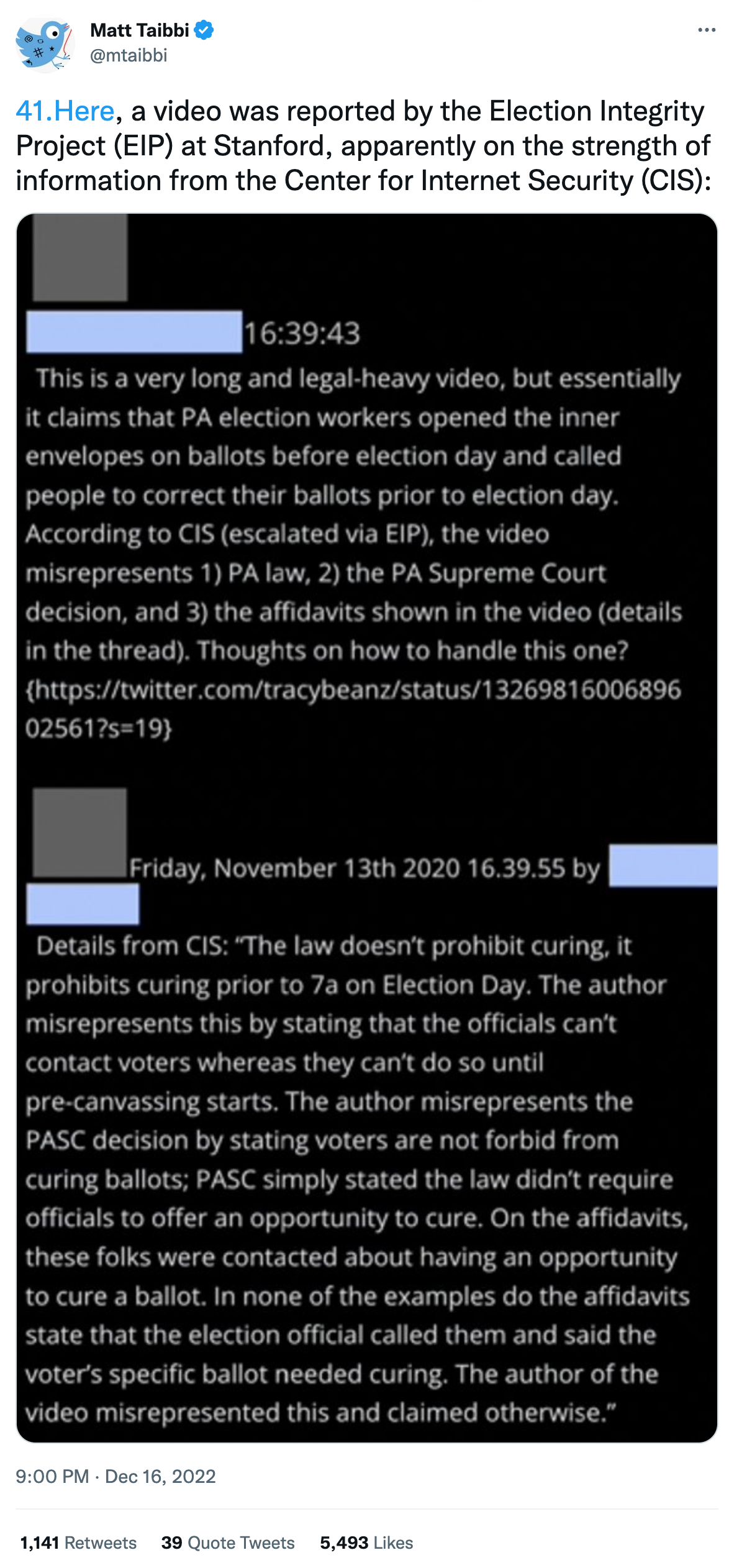 Not only did federal agencies consistently send accounts and tweets to Twitter for censorship between January 2020 and November 2022 but one email shows a Twitter executive stating that she had "explicitly asked if there were any impediments with the ability of the government to share classified information or other relevant information with industry." The executive continued that the "FBI was adamant that no impediments to information sharing exist."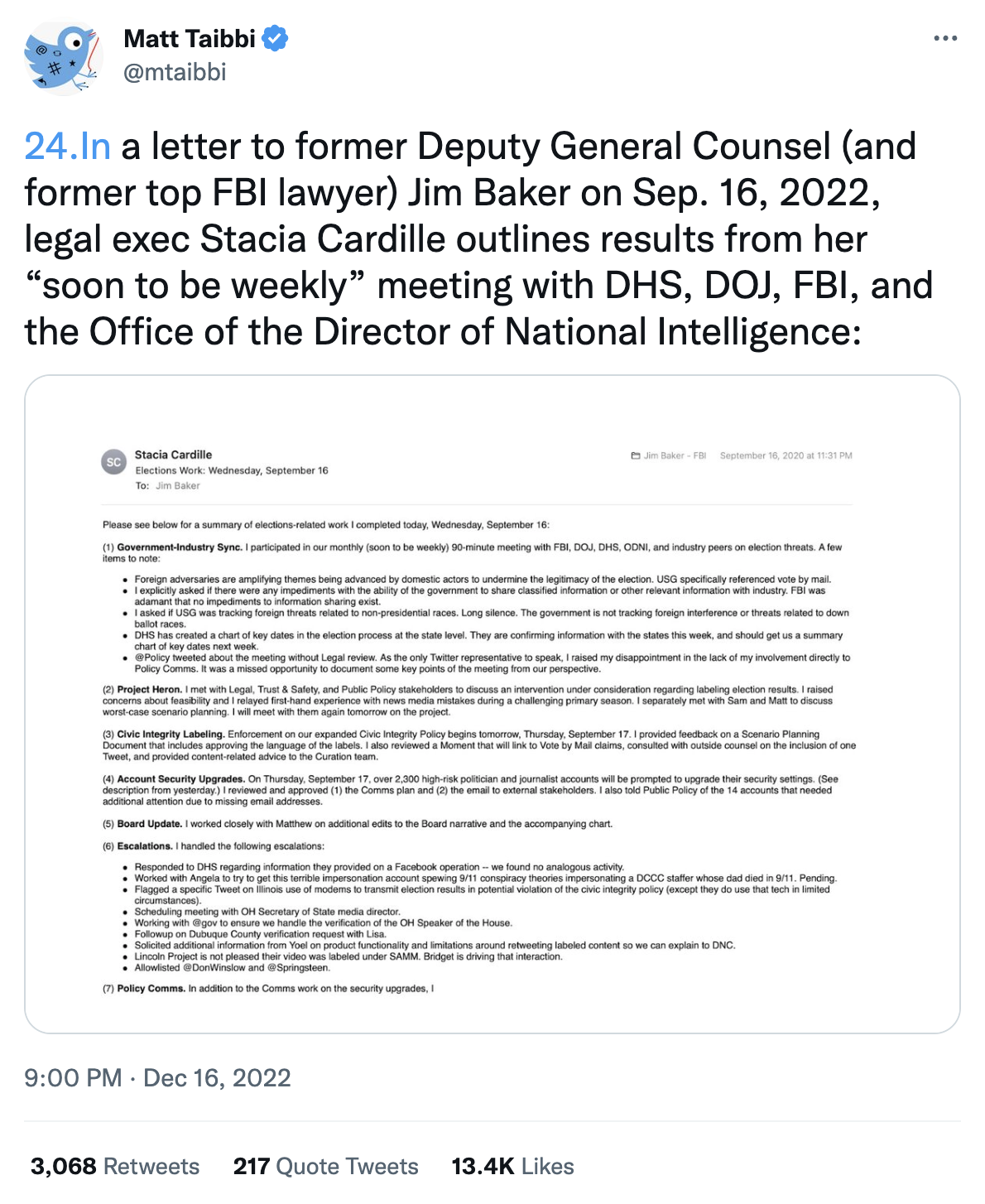 Alongside flagging tweets and accounts for censorship, the FBI also flagged its "products" to Twitter. These so-called products were DHS bulletins stressing the need for greater collaboration between law enforcement and "private sector partners."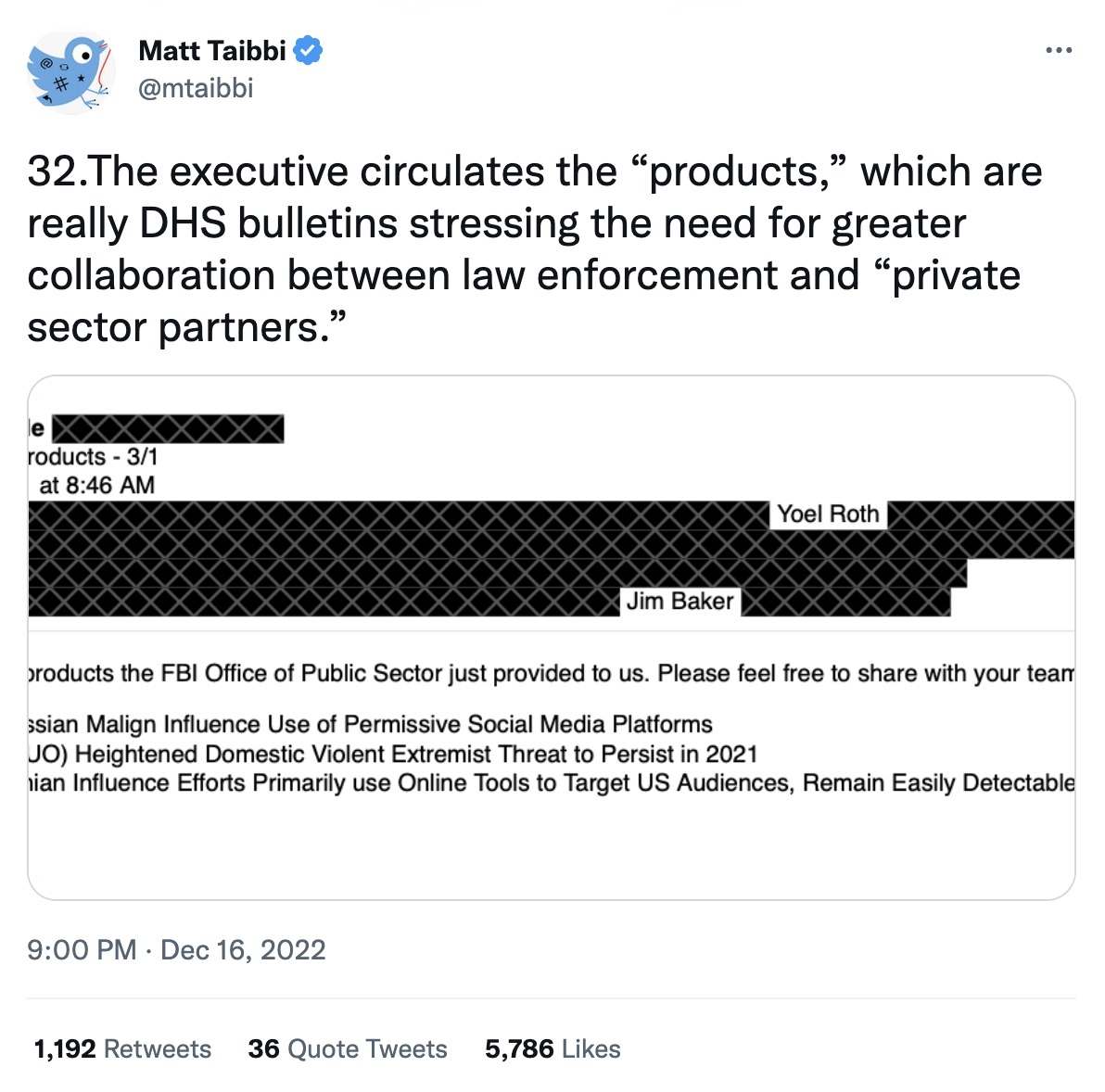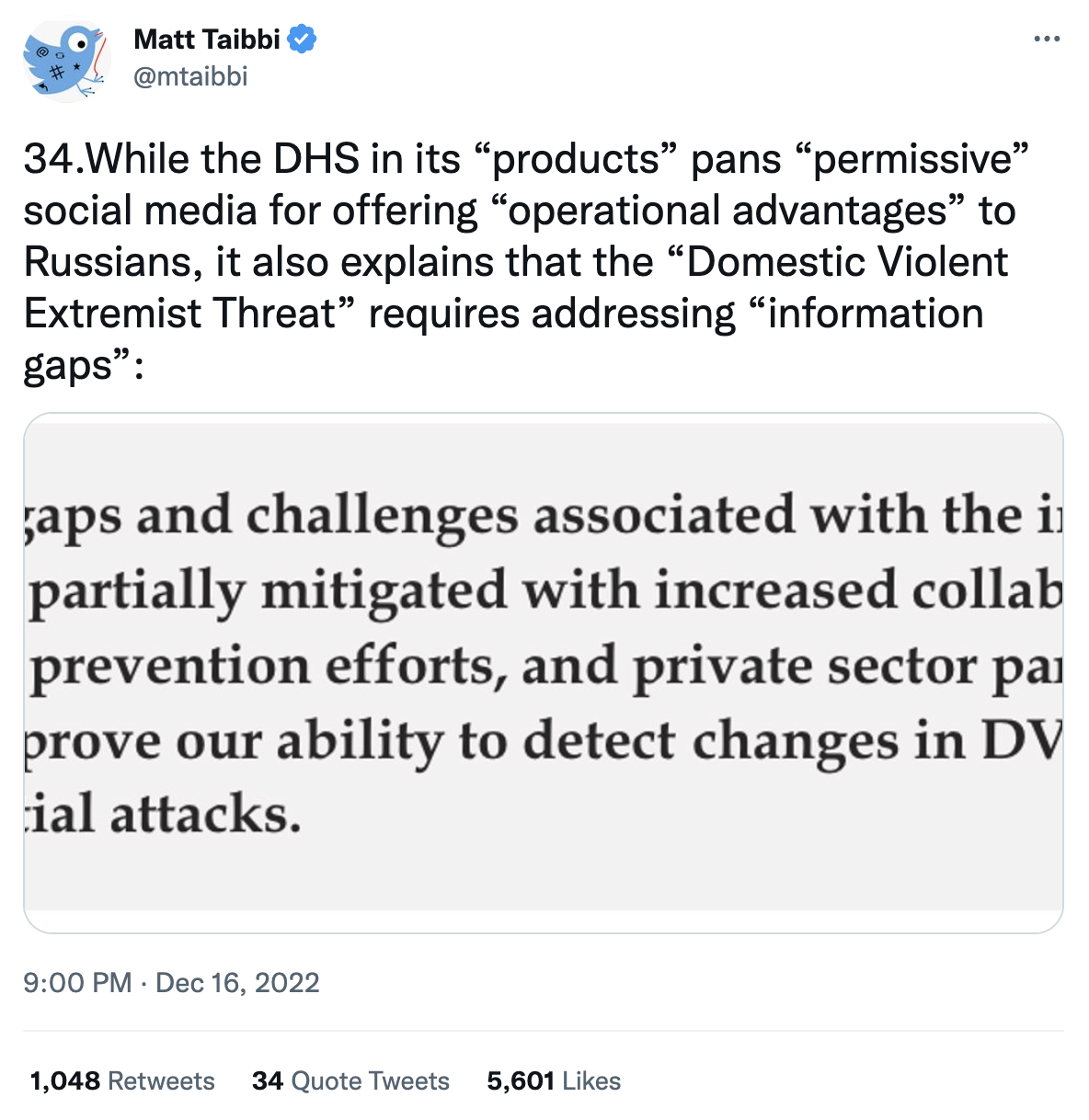 Several of the accounts that were targeted by the FBI expressed shock after discovering that their satirical tweets were being policed by the federal agency.
"Anyone who cannot discern obvious satire from reality has no place making decisions for others or working for the feds," @ClaireFosterPHD told Taibbi.
@lexitollah added: "My thoughts initially include 1. Seems like prima facie 1A violation 2. Holy cow, me, an account with the reach of an amoeba 3. What else are they looking at?"
@Tiberius444 said: "I can't believe the FBI is policing jokes on Twitter. That's crazy."