A United States (US) government department and a government-funded think tank collectively flagged tens of thousands of tweets to Twitter for censorship.
This secret censorship was exposed in the latest batch of "Twitter Files" (internal communications from the previous Twitter regime that reveal numerous examples of clandestine censorship) which was published by journalist Matt Taibbi.
One of the entities that compiled lists of accounts for Twitter to censor was the Global Engagement Center (GEC) — a State Department entity that was established through a President Barack Obama Executive Order in March 2016.
Taibbi said that the GEC flagged 5,500 accounts to Twitter because it believed they were Chinese accounts engaging in "state-backed coordinated manipulation and 499 accounts to Twitter because they had been branded as "foreign disinformation." Yet many of the accounts on the Chinese list were non-Chinese. Some were Western government accounts and three accounts were those of CNN employees based abroad.
Twitter also deduced that many of the accounts were not Chinese with then-Twitter Head of Trust and Safety Yoel Roth describing the list as "a total crock."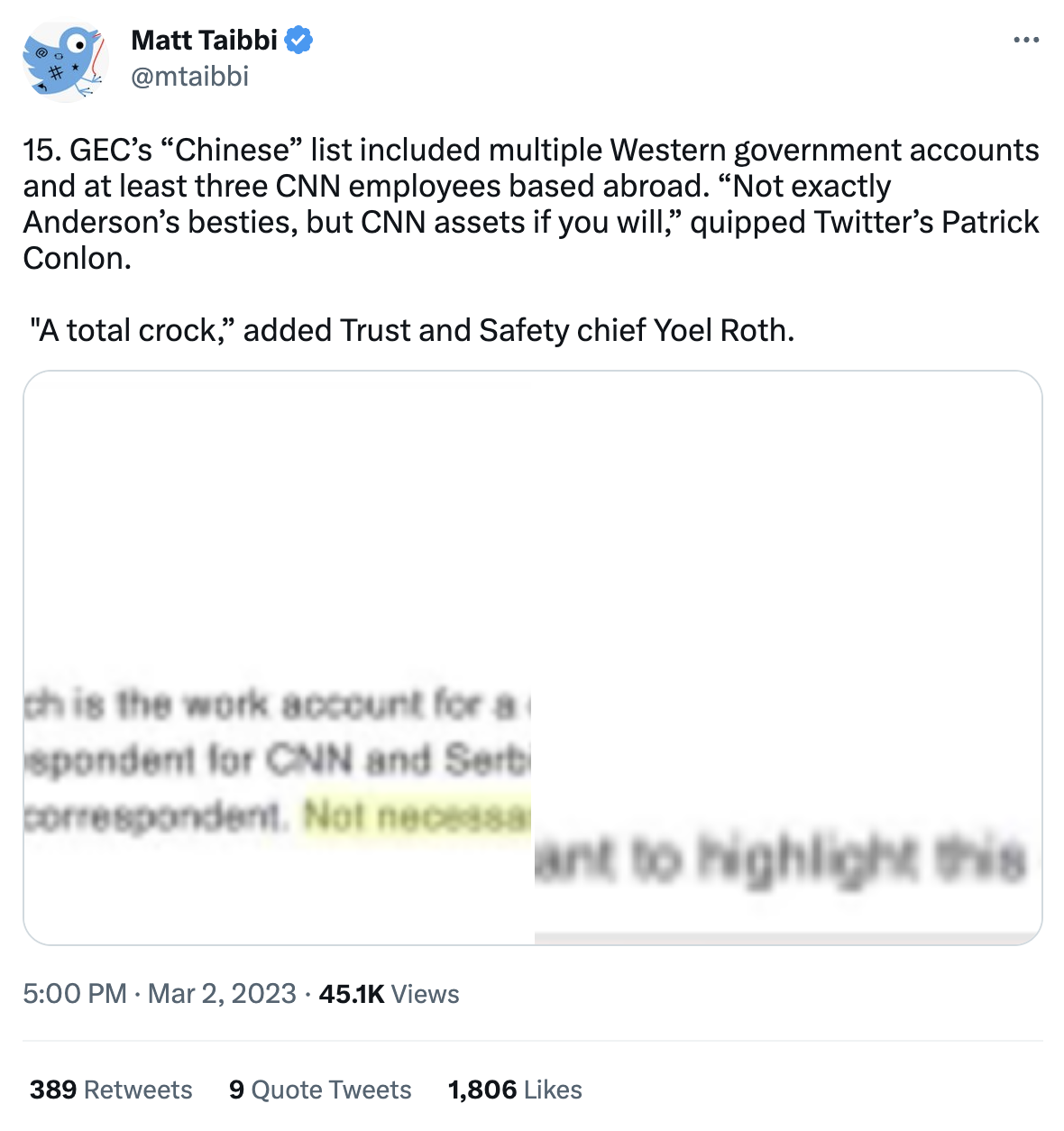 Another of the entities that engaged in this mass flagging was the Atlantic Council's Digital Forensic Research Lab (DFRLab) — a think tank that receives funding from numerous governments including US government departments.
In a June 8, 2021 email, a DFRLab analyst flagged 40,000 accounts to Twitter and said that its researchers "suspect" the accounts are "engaging in authentic behavior in support of the BJP [Bharatiya Janata Party] and Hindu nationalism more broadly." According to Taibbi, DFRLab also claimed that it suspected the accounts were "paid employees or possibly volunteers" of the BJP.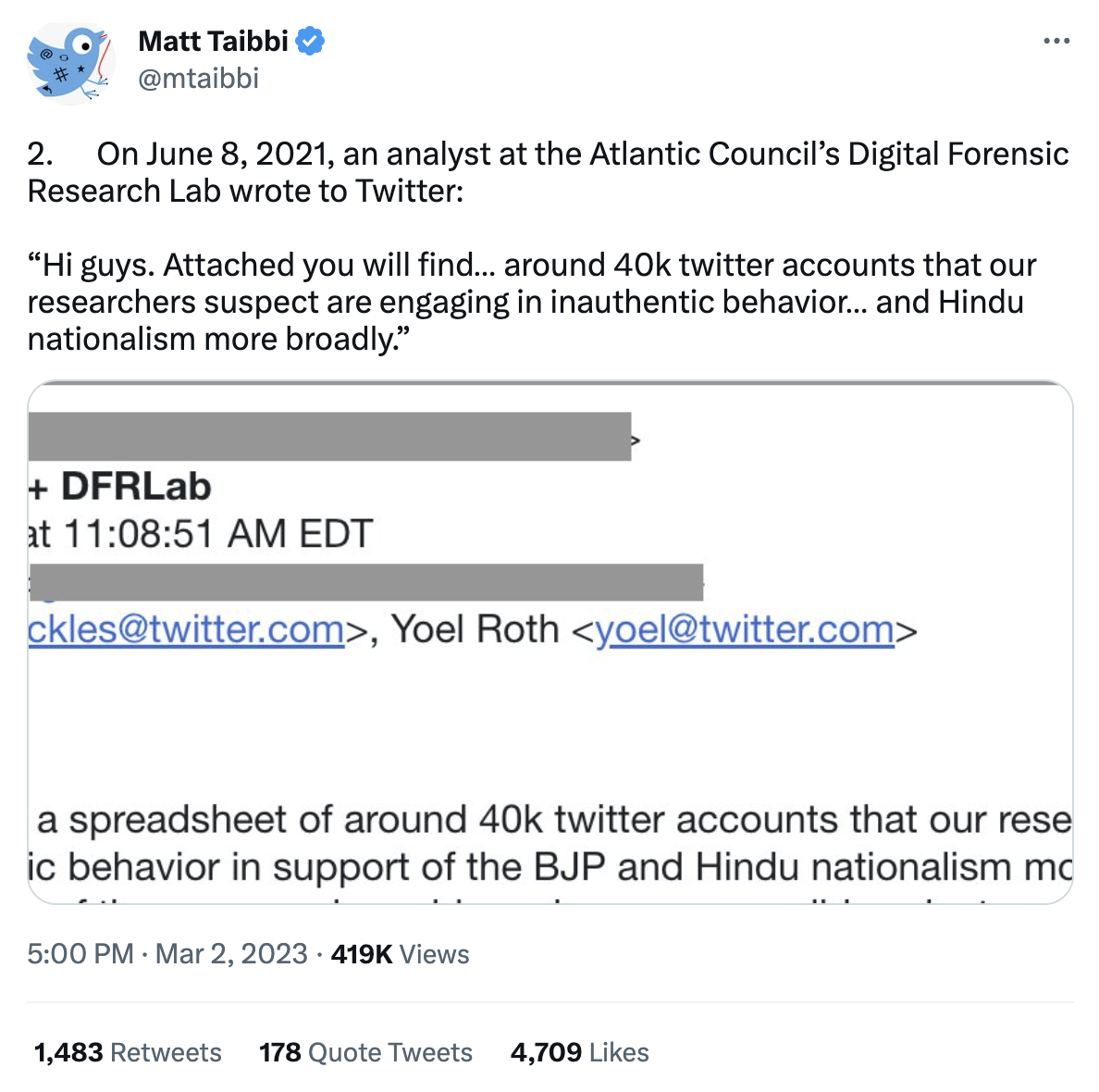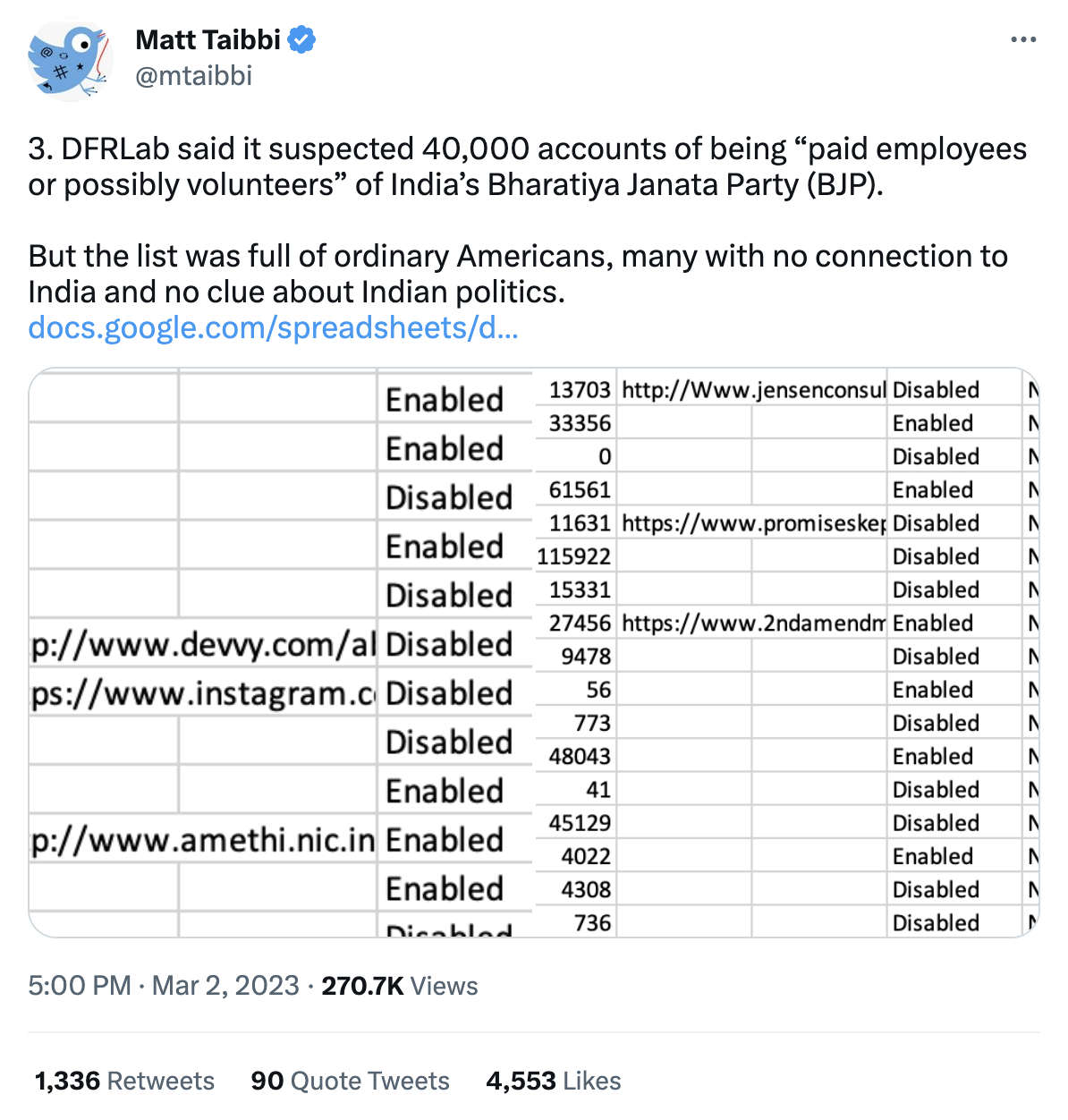 However, Taibbi said he found that the list was filled with US citizens. When he contacted several of the account owners from the list, they denied being Hindu nationalists or having any connection to it.
Twitter also came to the same conclusion. An internal email from Roth said that "virtually all" of the accounts appear to be real people.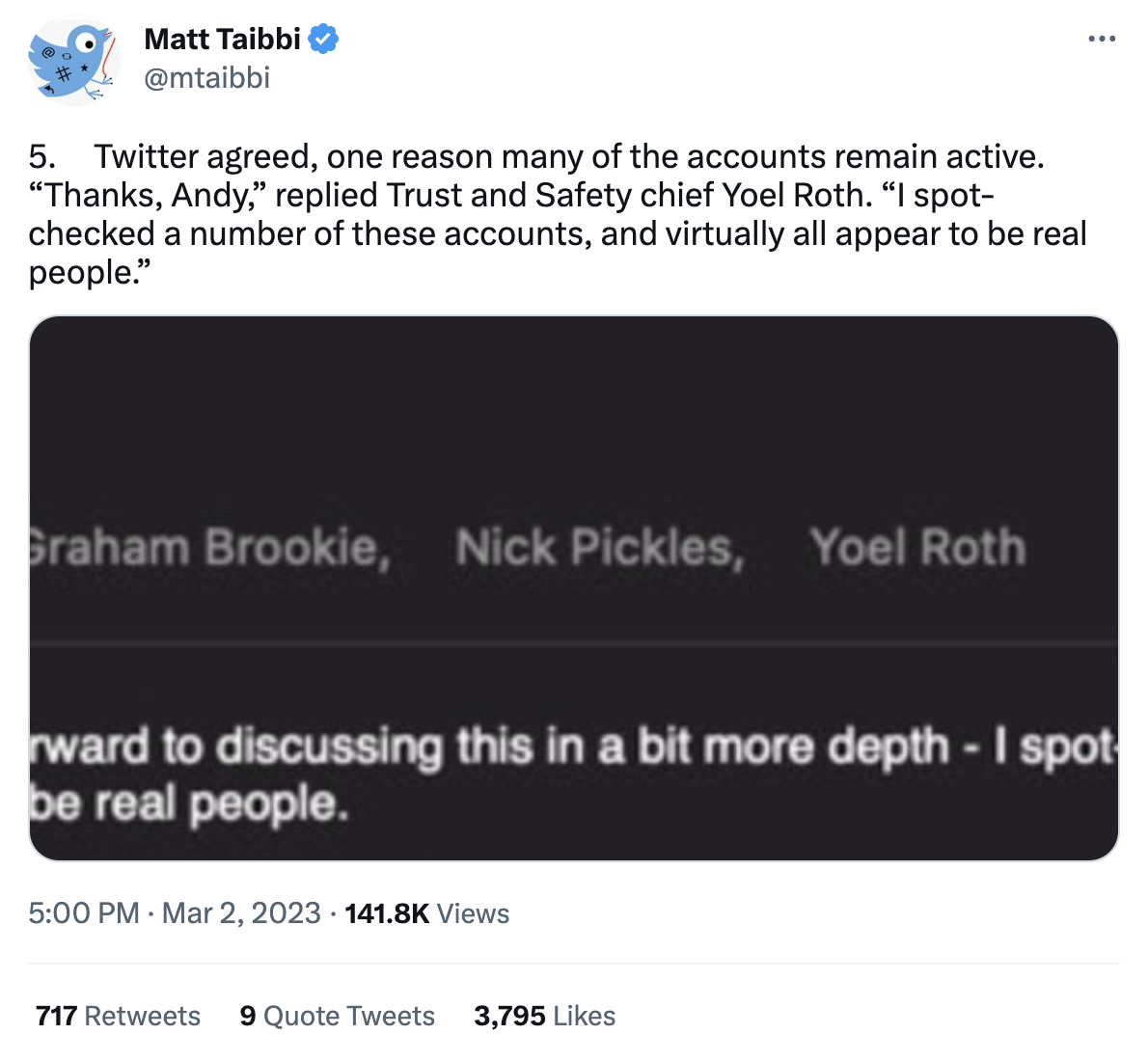 DRFLabs noted that it didn't end up publishing this list because "it lacked confidence in its findings" and that sharing the list with Twitter "helped us, in part, to confirm our concerns with the findings." However, a Reuters reporter did publish a story based on this list.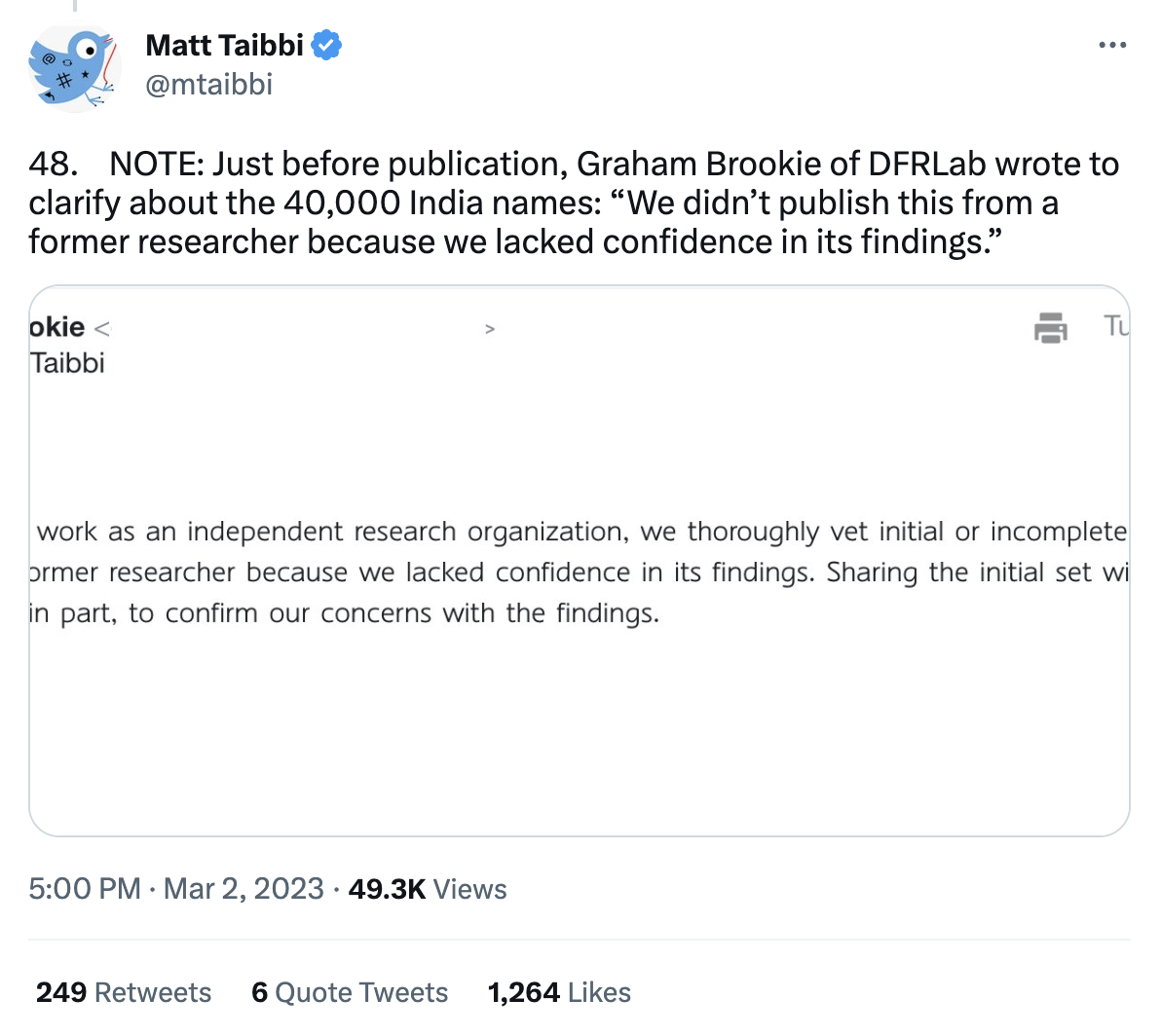 After Twitter pushed back against the GEC list, the GEC went to the legacy media which happily amplified the GEC's claims and pressured Twitter to take down the accounts.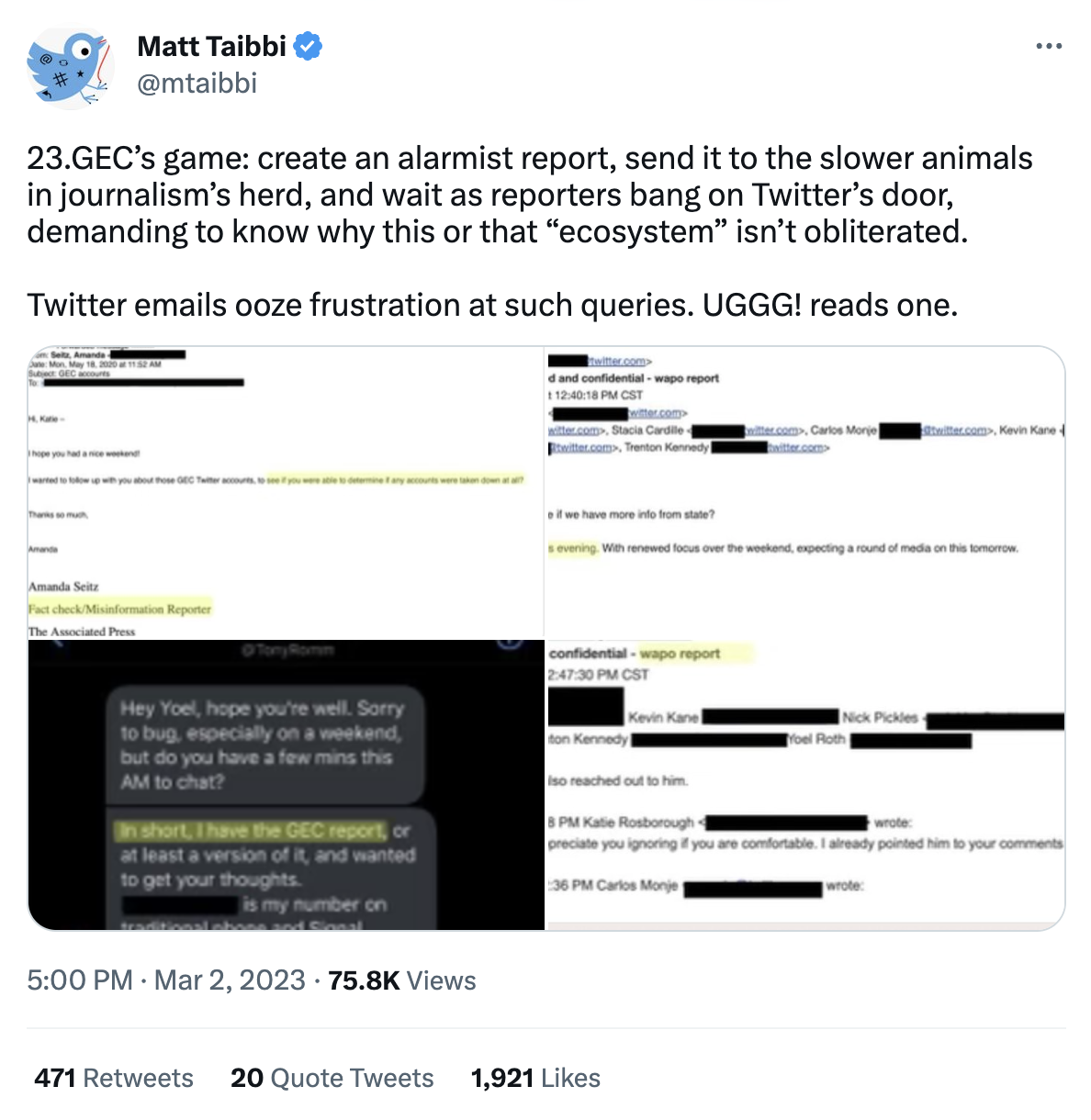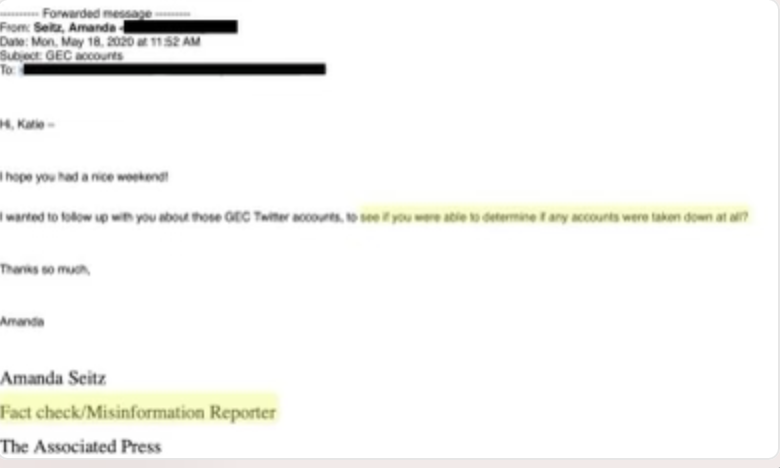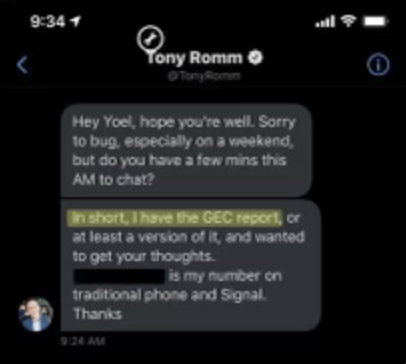 Related: 🛡 Big tech's little helpers: How the mainstream media enable and encourage big tech censorship
Twitter was aware of the GEC's tactics and in one internal email, a Twitter employee noted that the GEC was "aggressively overstating threats through unverified accusations that can't be replicated either by external academics or by Twitter."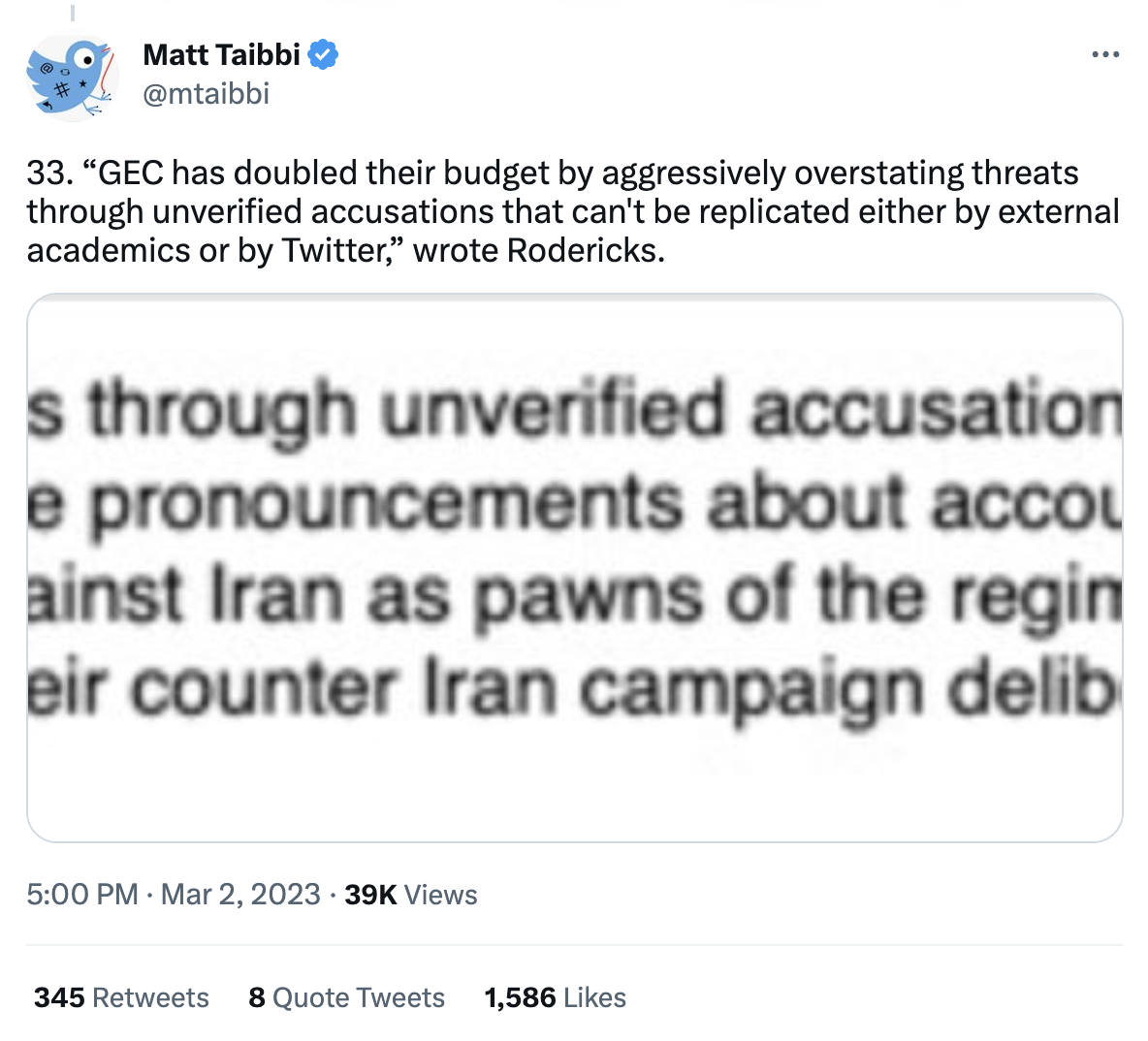 The GEC's flagging of Twitter accounts is just one example of this State Department entity pushing for censorship. It reportedly provides funding to a UK think tank that aids in the censorship of Americans and a think tank that publishes an ad network blacklist.