Toy manufacturer Mattel has issued copyright takedown notices against the toy review accounts Andy's Dinosaur Reviews, BestInSlot, and Collect Jurassic after they reviewed or featured toys from the upcoming movie Jurassic World: Dominion.
All of the toy reviewers who were targeted claim that their posts didn't feature any unreleased content and only featured either stock photos of basic figures that are already available to purchase in China and were recently sold through the online toy store ToyWiz in the US, unboxings and reviews of toys that had been purchased from ToyWiz, or website listings for upcoming Mattel figures.
Andy's Dinosaur Reviews was initially hit with one copyright takedown notice from Mattel. After receiving this copyright takedown notice, Andy said he instantly took down every video on his channel that mentioned Jurassic World: Dominion and was related to Mattel. However, he was then hit with two additional copyright takedown notices which resulted in his channel being given a total of three copyright strikes and scheduled for permanent deletion.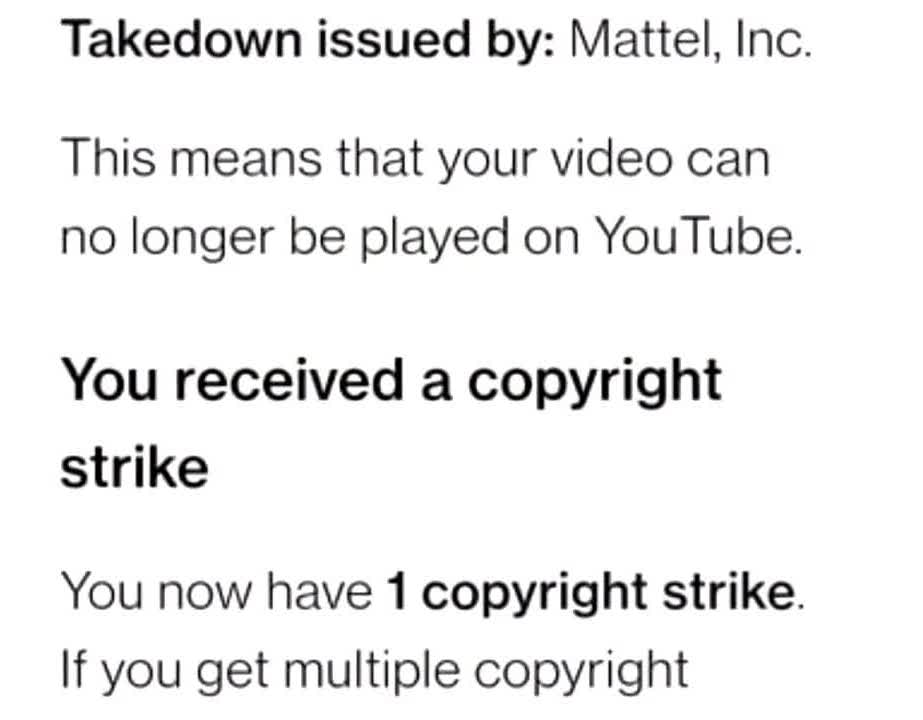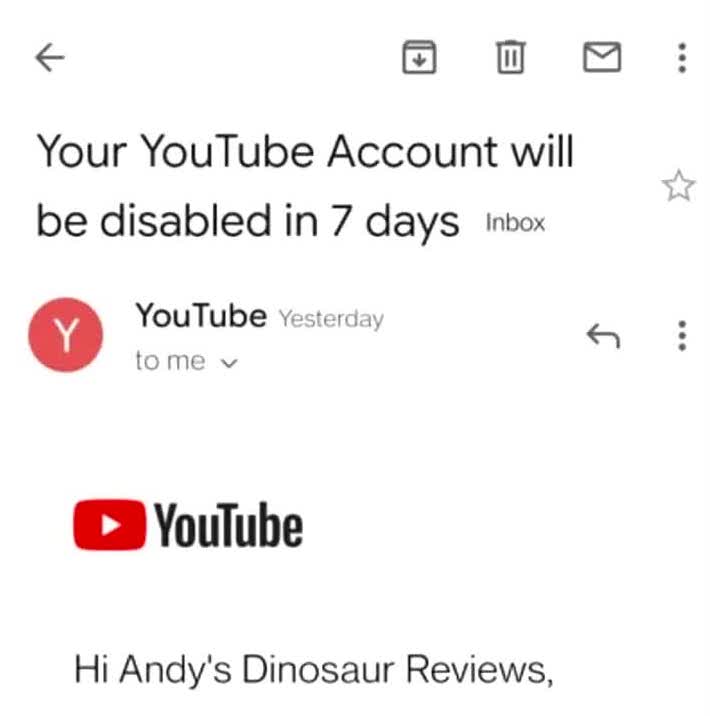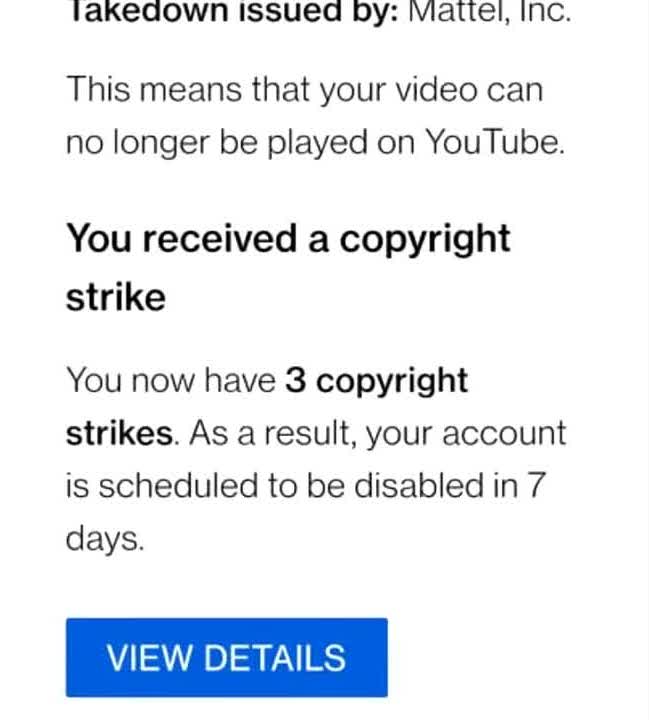 Collect Jurassic was hit with copyright takedown notices on one of his YouTube videos and also had his Instagram account suspended after being reported multiple times for copyright violations. He also said his Twitter account keeps getting locked over copyright warnings.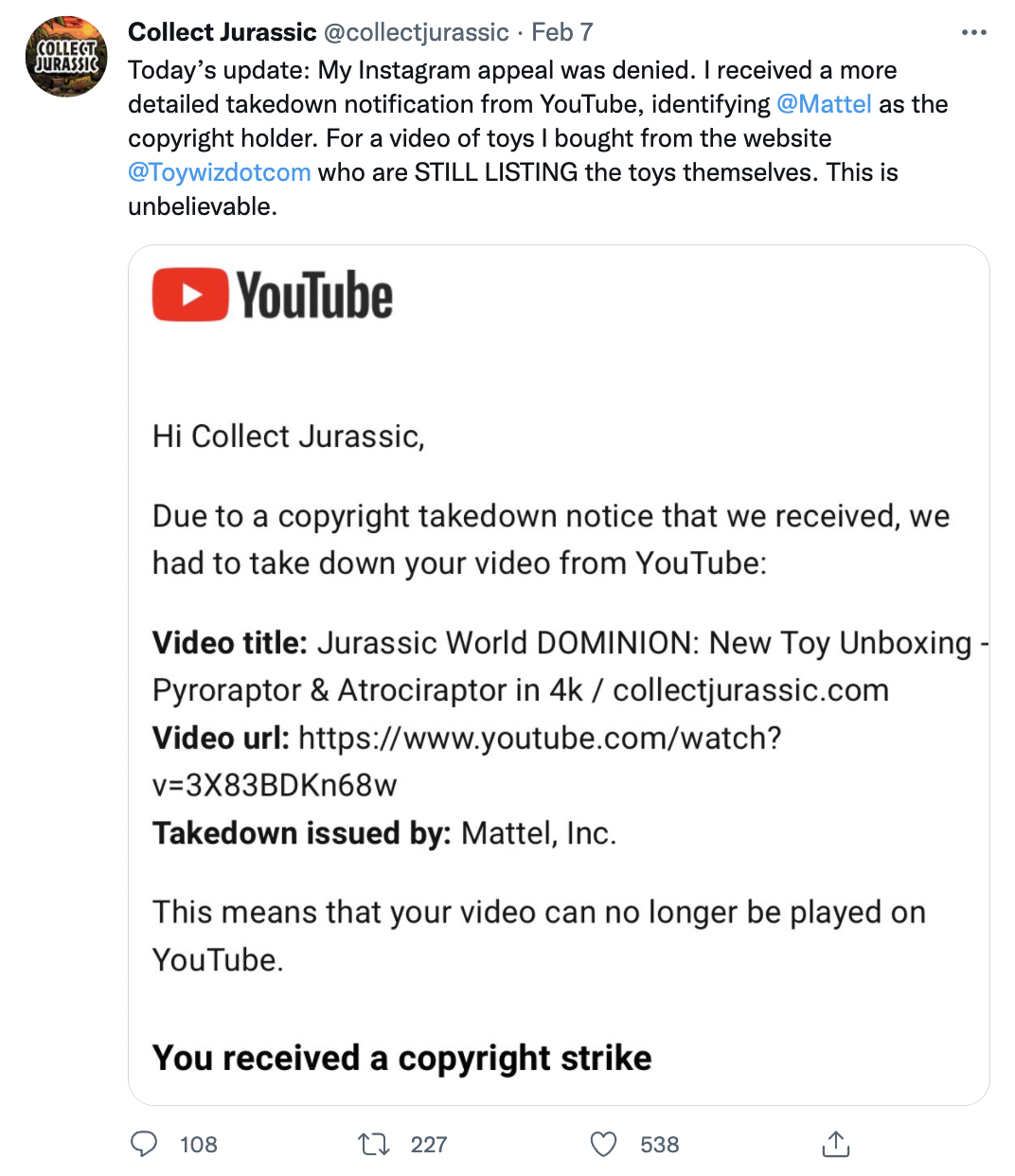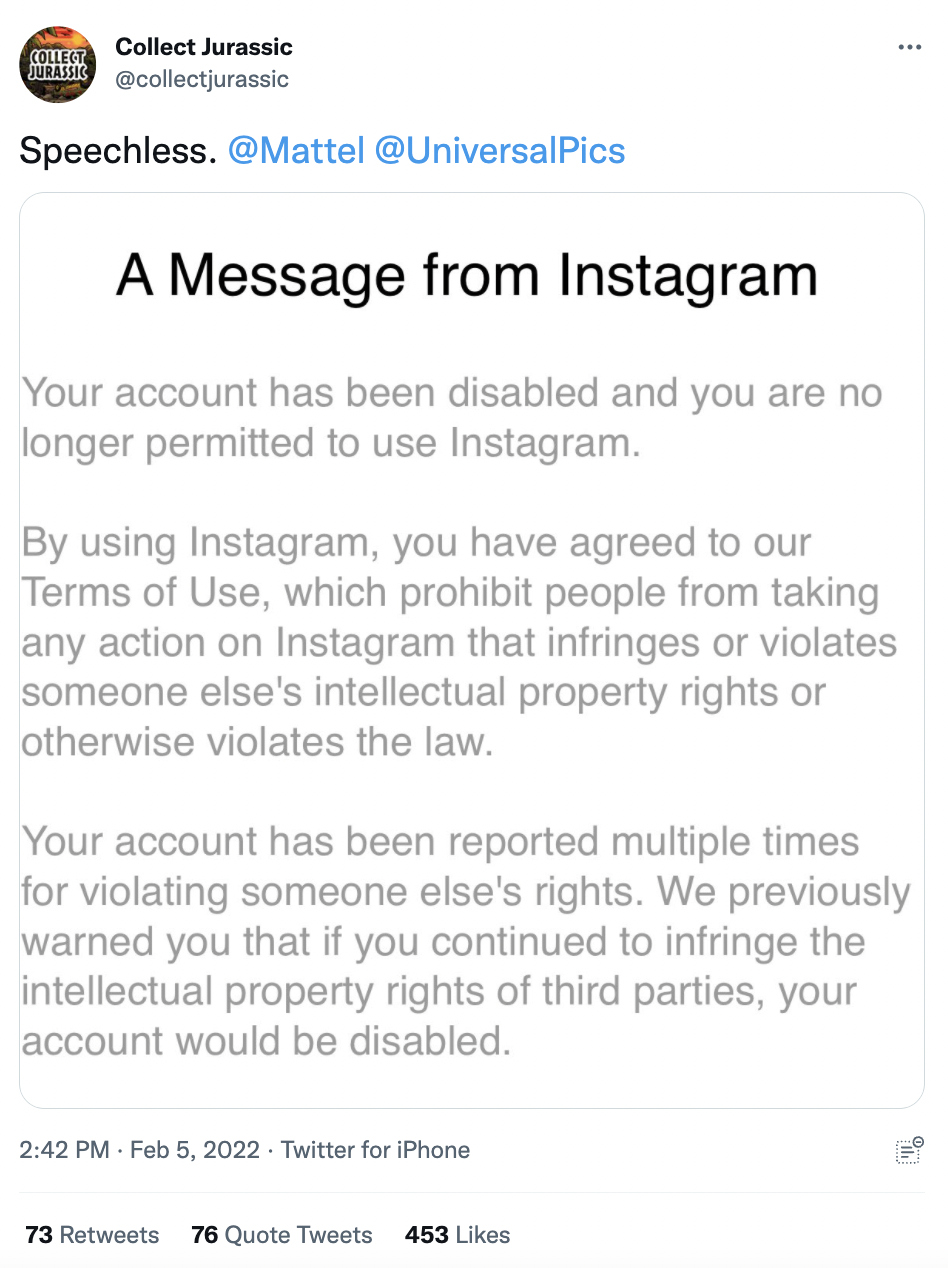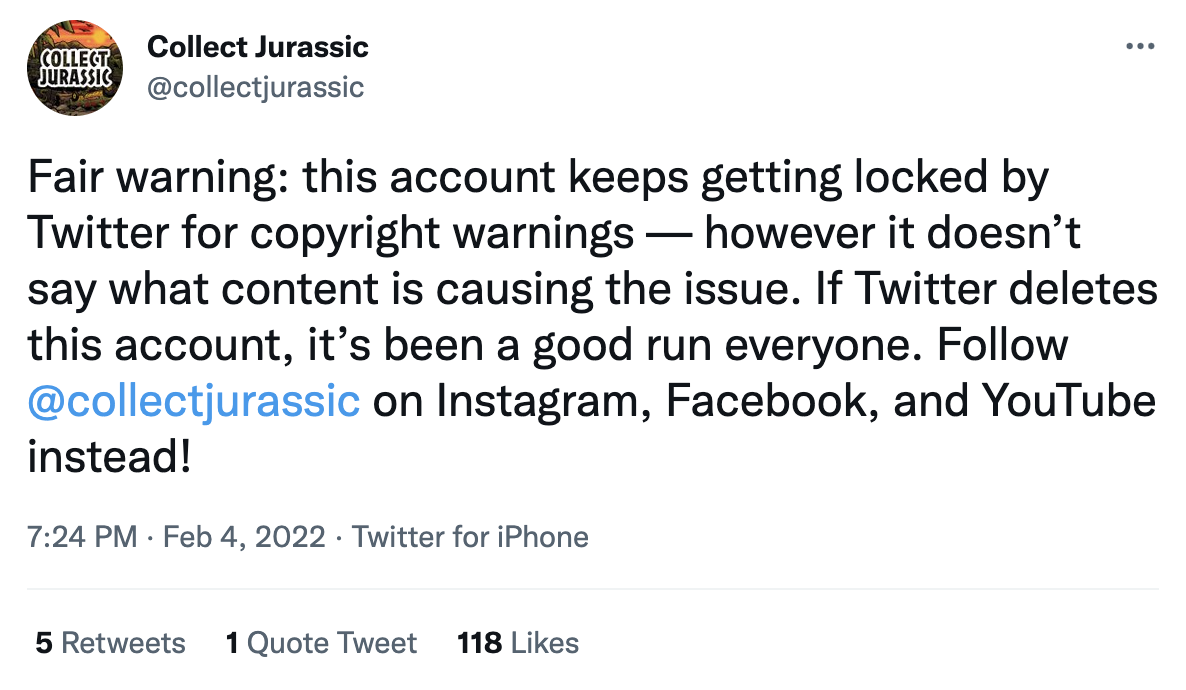 Conor Dalgarno, the host of BestInSlot, said that he was hit with a copyright strike on his YouTube channel after looking at a product that's available on the shelves.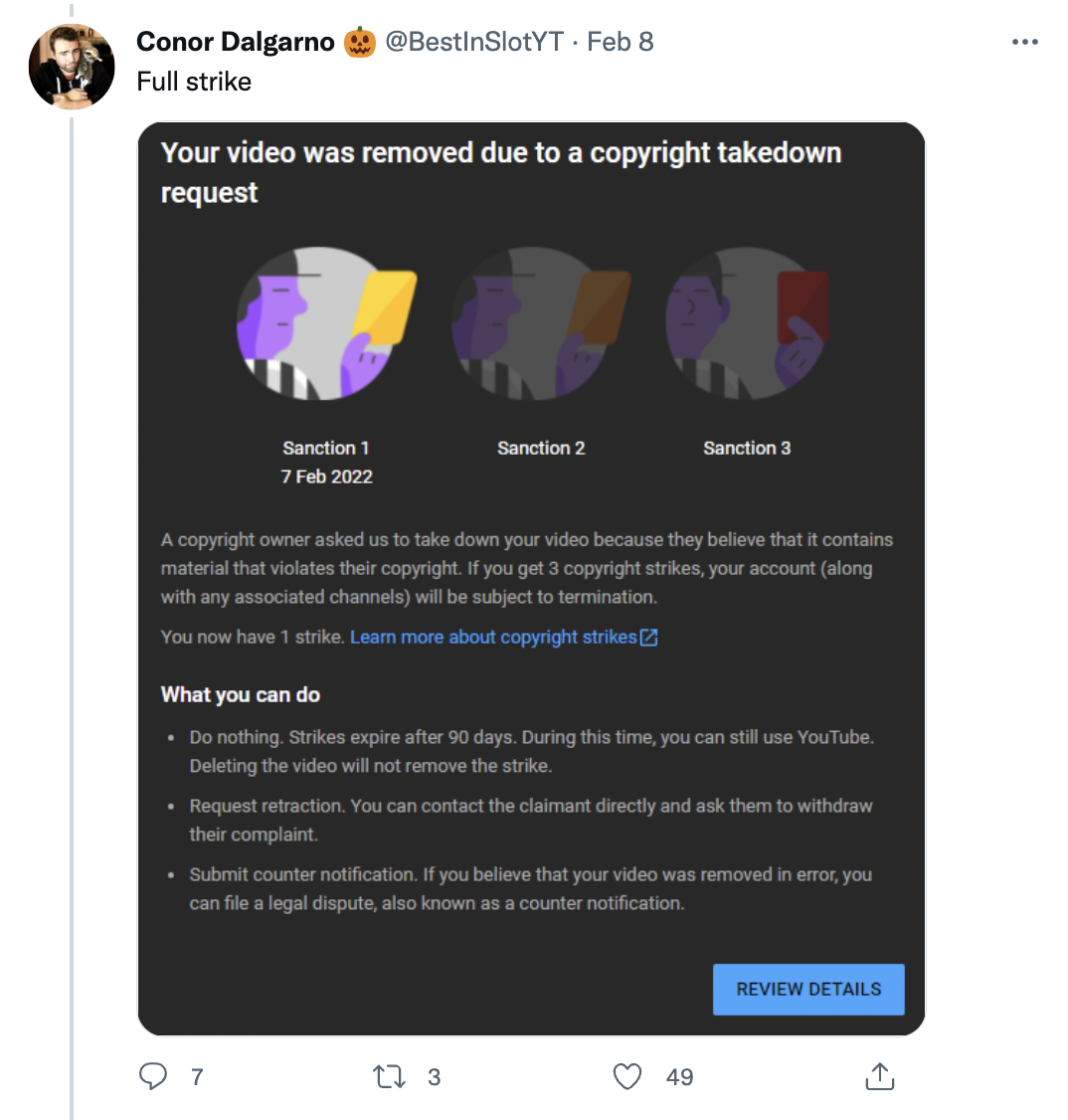 Collect Jurassic subsequently had his Instagram account restored and said "without getting into the nitty gritty details of it, a mistake was corrected and @CollectJurassic is back online." However, the strikes on the Andy's Dinosaur Reviews YouTube channel are still active and his channel is at risk of deletion if they aren't removed in the next few days.
Collect Jurassic added that the toys in his review "were street dated but the retailer sent them anyway" which led to some Twitter users suggesting that the copyright takedown notices may have been filed against these creators in response to an assumed violation of a review embargo.
However, copyright attorney Leonard French said that "violation of a review embargo would require the reviewer to have assented to the embargo agreement and would be a contract issue, not copyright."
French added: "Fair Use would be the applicable analysis. I'm having trouble understanding how a video review of a toy could not be Fair Use."
Fair use is a principle in copyright law that allows people to use copyrighted material without permission from the copyright holder. It generally applies to commentary and criticism and four factors are used to determine whether the use of copyrighted material is fair use.
"Unboxing videos really shouldn't be able to be taken down under copyright for any reason," French said in a video discussing these copyright takedown notices.
He also cited one of the four principles that are used to determine fair use, the effect of the use upon the potential market, and argued that there's "no usurping the market for the work by showing it."
Additionally, French suggested that the issuance of these copyright takedown notices "maybe even rises to the level of interference with economic relations."
"Using copyright to take down the review videos and possibly even these creators' channels and accounts, that seems to me like it's economic interference of the illegal kind, and if these channels were damaged, and if they wanted to pursue a claim, I think they have a claim under California state law, because that's where YouTube is located, or maybe where they're located," French said. "I think this is pretty egregious and pretty clear, in my opinion, that Mattel should not be using copyright to take down reviews that were outside of the embargo and the reviewers weren't even a party to the embargo."
Related: ? How the DMCA has become one of the biggest threats to online speech
This is the latest of several instances of copyright claims and takedown notices resulting in the censorship of independent creators. Anime YouTuber Totally Not Mark, investigative reporting outlet Project Veritas, news outlet TorrentFreak, and the book review blog Fantasy Book Critic are just some of the many independent creators and websites that have had their content removed or targeted for censorship after being hit with copyright claims.
YouTube recently revealed the impact of false copyright claims in its first-ever Copyright Transparency Report. The report noted that 2.2 million videos had been targeted with false copyright claims and that when creators appeal copyright claims, 60% are resolved in favor of the creators.
YouTube also implemented new rules that are more favorable to content creators after Totally Not Mark was targeted.