Microsoft's new mixed reality headset, the HoloLens 2, was featured in a commercial and campaign starring artist Marina Abramović, who is known for promoting and practicing arts such as Spirit Cooking.
73-year-old Abramović is one of the most important public figures in some circles, both political and in the entertainment world.
Although she originally dedicated herself to performance art for more than 40 years, in 2016 WikiLeaks revealed some emails between her and former Clinton campaign manager, John Podesta, where a new facet of the artist was revealed.
These emails revealed that Marina had performed rituals known as Spirit Cooking.
These "recipes" were meant to be "evocative instructions for actions or for thoughts". One of the recipes calls for "13,000 grams of jealousy," while another says to "mix fresh breast milk with fresh sperm milk."
Abramović defended herself, indicating that this was an artistic representation where she embodied Hermeticism's fundamental concept.
Supposedly, the act symbolized the union between man and the divine.
From Microsoft's marketing department's perspective, Ms. Abramović's art seems to have been the perfect theme for their new HoloLens 2 peripherals that mix virtual reality with augmented reality. However, the public did not agree with the artist's participation.
In a YouTube video and website page, the technology company showed a preview of the HoloLens 2 by presenting "The Life", Marina Abramović's newest work.
Viewers showed strong rejection of Abramović's presence, at first downvoting the video to the extent that Microsoft locked comments, then locked likes, then removed the video completely from YouTube.
Before its deletion, more than 25,000 negative votes could be counted, while the positive ones barely reached 626 at the time of screengrab.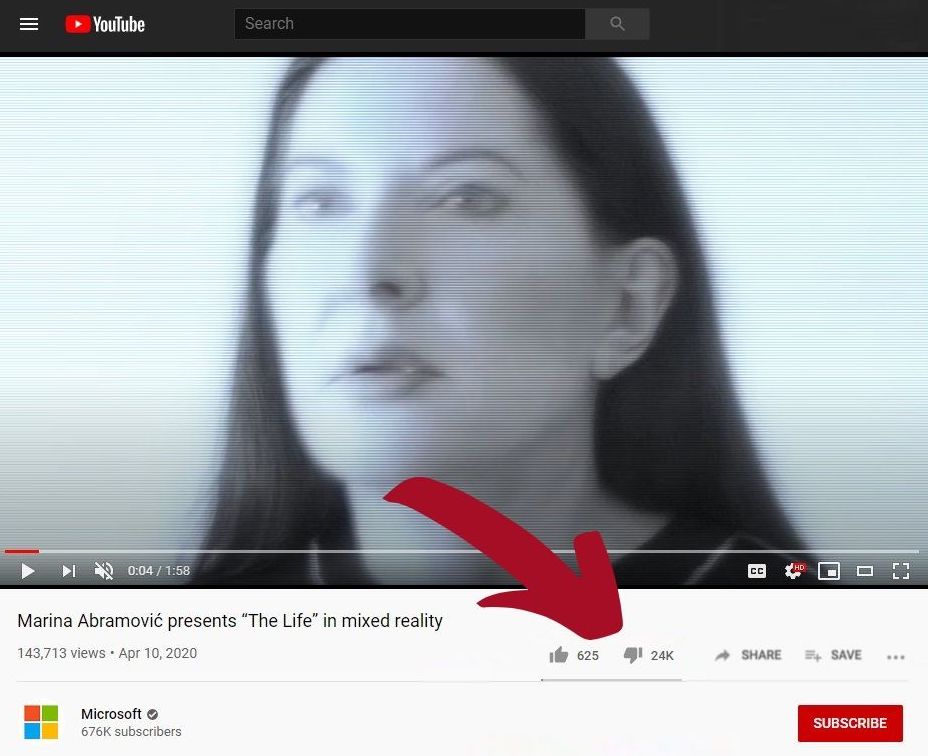 Microsoft has also deleted the entire campaign from their website, but not before we made a copy for our records. The URL currently redirects to Microsoft's culture page.
"Marina Abramović is likely the most acclaimed performance artist living today. Known for risky performances that push the limits of human endurance, it's difficult to overstate her importance within the art world and pop culture at large," the now-deleted page read.
Abramovic claims that Microsoft's mixed reality is the best way to preserve her art.
For her, the future of art lies in the transmission of energy between the viewer and the artist, and not in the perception of material objects. The artist hopes that once she is gone, her performances can still be appreciated thanks to the mixed reality.