Influential Brazilian podcaster Monark and Brazilian commentator Ferréz have announced that they'll be live streaming exclusively on the neutral video sharing platform Rumble and offering exclusive subscription-only benefits on the community generation platform Locals from April.
Monark is one of Brazil's most popular podcasters and has been described as "Brazil's version of Joe Rogan." He has over 3.3 million subscribers on YouTube and his previous podcast, "Flow," broadcast hours-long interviews with a range of guests. He says he's been "completely censored and demonetized" on YouTube.
His new show on Rumble, "Monarks Talks," will start streaming on Rumble and posting content to Locals on April 4.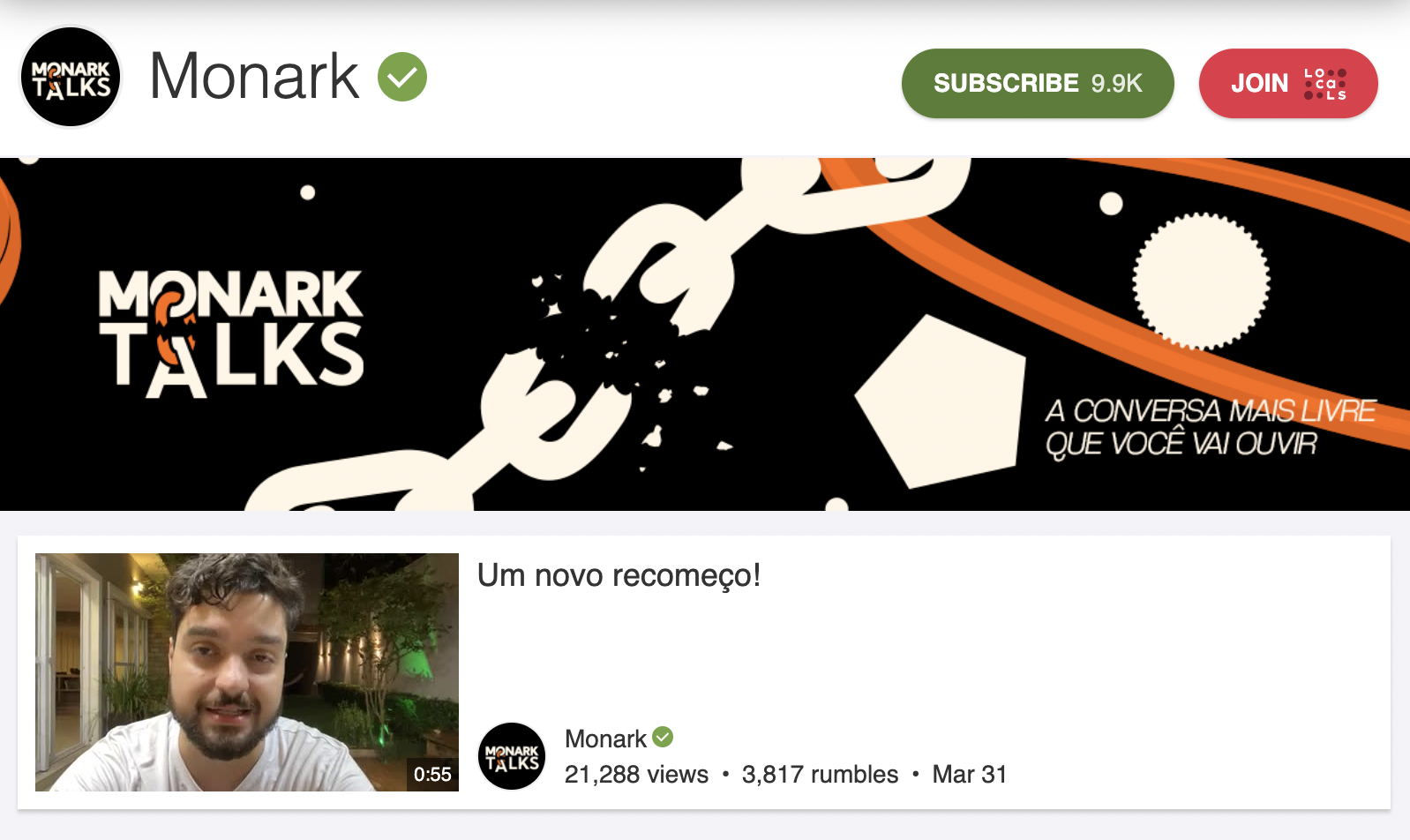 Ferréz has over 70,600 subscribers on YouTube and is the leader of Literatura Marginal, or Marginal Literature – a movement that depicts daily life in the favelas of Brazil and others living on the margins of society. Many of his YouTube videos have been demonetized for discussing problems in favelas.
His Rumble show, "Ferréz in Construction," will interview people outside their comfort zone on subjects they don't know about. The show will start streaming to Rumble and posting content to Locals on April 8.

The full versions of both shows will only be available on Rumble and Locals with YouTube and other platforms having just short clips.
"Rapidly growing Big Tech censorship – overseen by U.S.-based corporations – is not something that affects only the US," Monark said. "Online censorship is now pervasive in Brazil and is still gaining strength. Given that Brazil is one of the largest and most online countries in the world, the union of the state, the judiciary and Big Tech monopolies are eager to control speech. I'm very excited that a large and growing platform like Rumble is now ready to expand in Brazil, enabling journalists, commentators and content creators to speak freely and fight against censorship. As of now, Rumble will be the only platform in Brazil truly devoted to free discourse and free thought."
Ferréz said he's dissatisfied with YouTube and has had persistent problems with the platform. He also accused the tech giant of limiting the reach of his videos.
"Rumble's promise to me was total freedom," Ferréz added.
Rumble CEO Chris Pavlovksi said: "Adding Monark and Ferréz expands Rumble's reach into Brazil in an explosive and a neutral way. Monark is one of the most popular podcasters in Brazil, and his fans will now be able to access him uncensored on Rumble and Locals. Ferréz is an influential left-wing cultural figure who reaches a large, underserved audience."
A few hours after announcing that Monark and Ferréz were joining the platform, Rumble said Brazil had taken the number two position for users Rumble in the last 30 minutes.
This announcement follows Rumble bringing numerous other popular creators to the platform this year who are creating content in a wide range of categories including news, health, cryptocurrency, finance, DIY, true crime, homesteading, and body language.