Social app Parler has hit number one in the News Section of the App Store. The increase in social media censorship is partly responsible for the increase in downloads of the app, a social media platform that promises to uphold free speech.
In French, Parler means "to speak." It is a social networking service, and microblogging platform (like Twitter) launched in 2018 by John Matze. Matze could not contain his excitement on his app's achievement. He posted a screenshot of the charts and declared it a victory over "tech tyrants," obviously referring to Twitter and Facebook.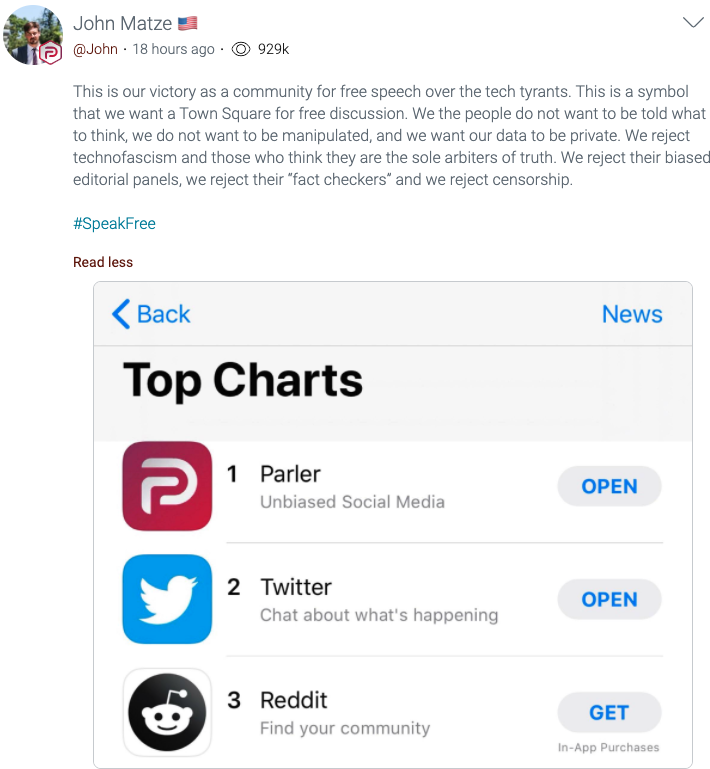 "This is a symbol that we want a Town Square for free discussion. We the people do not want to be told what to think, we do not want to be manipulated, and we want our data to be private. We reject technofascism and those who think they are the sole arbiters of truth. We reject their biased editorial panels, we reject their "fact-checkers," and we reject censorship," Matze wrote.
Links to download Parler have been dominating Twitter in the recent past. Its popularity is no big surprise considering the Trump re-election campaign has been looking for alternatives to reach more supporters as it is a few months to the November polls.
More than a few political figures have joined, including Rudy Giuliani, Laura Loomer, and Eric Trump. On June 25, Texas Senator Ted Cruz posted a video announcing he had joined Parler. "That's why I'm proud to join Parler. This platform gets what free speech is all about, and I'm excited to be part of it," he said in the video.
Currently, Parler has at least 1 million users in the US, which is small compared to Facebook's 174 million and Twitter's 50 million. However, rumors suggest that the President could be soon to join as he's facing censorship on other platforms.
If that happens, Parler will cease becoming a haven for conservatives only. Media houses and personalities will join, followed by advertisers looking to leverage the growing userbase.
That said, Parler is not exactly enjoying a free ride. Several news outlets have already started the smears. In articles on The Independent and Newsweek and Yahoo, Parler is accused of being a hub for neo-Nazis, and white supremacists. Not only do the media types want users to be banned from Twitter and Facebook, they don't want there to be any alternatives left to give them a platform.