A coalition of Republican members of Congress has sent a letter to Amazon demanding an explanation for the removal of a book critical of some aspects of transgender ideology.
GOP senators sent Amazon a similar letter last month.
The letter, which can be read below, is addressed to Amazon's founder and CEO Jeff Bezos.
The letter focuses on the removal of Ryan Anderson's "When Harry Became Sally: Responding to the Transgender Movement," a book that, according to the author of the letter, "offers the clearest, most thoroughly researched conservative perspective on the issue of transgenderism."
The letter argues that Amazon sells books that could be considered more controversial, such as Hitler's Mein Kampf, Little Red Book by Mao Zedong, the founder of the CCP and the Maoism ideology, and William Powell's Anarchist Cook Book, a book on how to make bombs.
The authors of the letter "wonder what principles, protocols, or rules are being violated by Mr. Anderson's work that were not also violated by Hitler, Mao, or others."
The letter recognizes Amazon's right, as a private company, to "do business with whomever and however" they like.
The letter points out Amazon's dominance in the print and e-book market, arguing that its censorship decision could influence public opinion on important issues.
"Amazom.com currently controls a majority of the print book market in the United States, and a supermajority of e-book sales. In other words, your censorship decisions affect the dissemination of facts, opinion, and culture on an incalculable scale. As such, we believe that Congressional interest in promoting open and fair market practices is justified," the letter reads.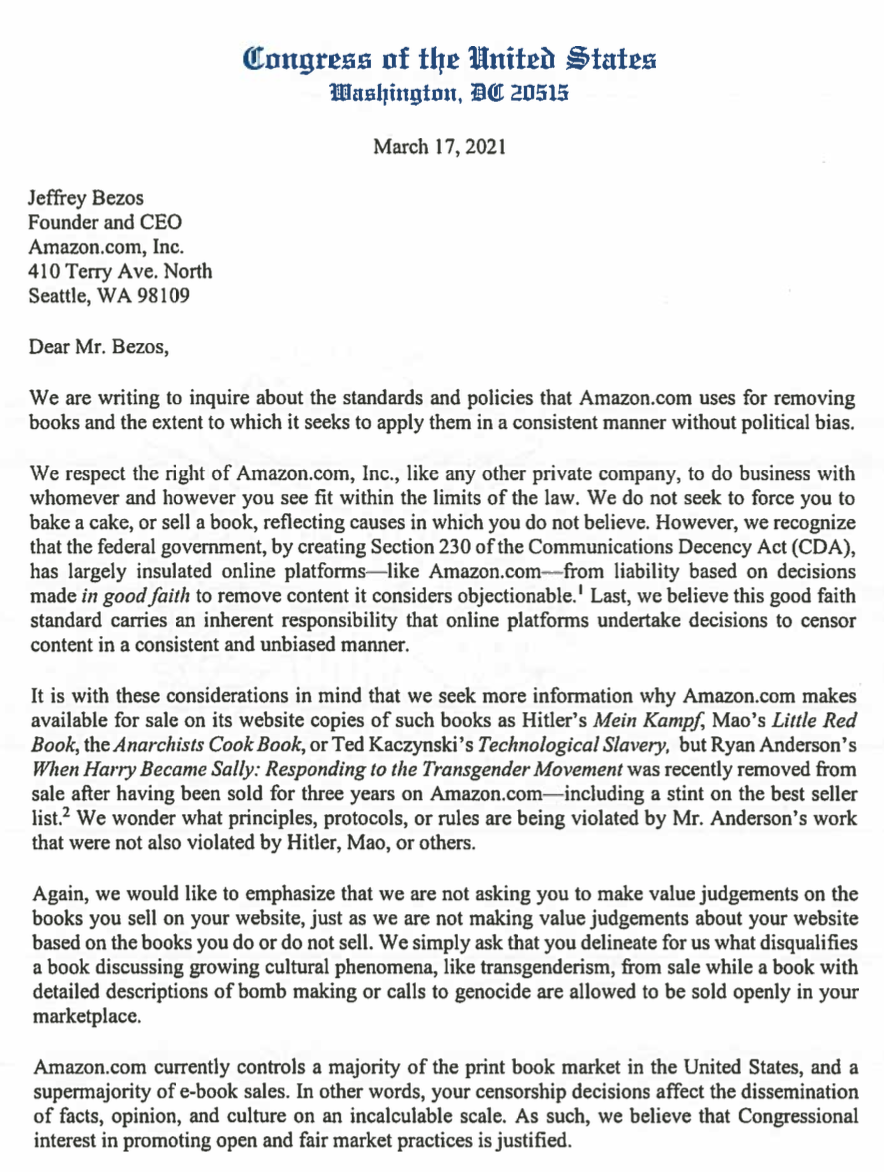 The letter not only demands an explanation for the removal of Anderson's book but also a copy of Amazon's policies on what books are acceptable, a terms of service copy for book sellers, an explanation on why the Hitler and Mao books are acceptable, a list of books that have been removed in the past five years and the justification for their removal, an explanation on whether Amazon believes Section 230 requires it to implement content moderation in an unbiased manner, among other things.
In a statement to Fox, the head of the Republican Study Committee, the group that sent the letter, Rep. Jim Banks (R-IN), said the removal of the book is more proof of Big Tech's silencing of conservative voices.
"Amazon's treatment of Ryan Anderson perfectly demonstrates the authoritarianism and insidiousness of Big Tech censorship. Ryan isn't a Twitter troll, he's an academic," Rep. Banks said. "His book offers the clearest, most thoroughly researched conservative perspective on the issue of transgenderism that I'm aware of. And that political issue is extremely relevant because Congress is debating it right now. That is why Amazon is desperate to shut him up."
Responding to a similar letter by four GOP senators, including Josh Hawley, Amazon said that it no longer sells books "that frame LGBTQ+ identity as a mental illness" even though Anderson and his publisher says the book does no such thing.