Robert F. Kennedy Jr., Democratic presidential hopeful, will testify before the Weaponization of the Federal Government Select Subcommittee on July 20, according to a well-placed source who spoke to Ashley Oliver, reporting for Breitbart News. Expect discussions on censorship and free speech during the public hearing.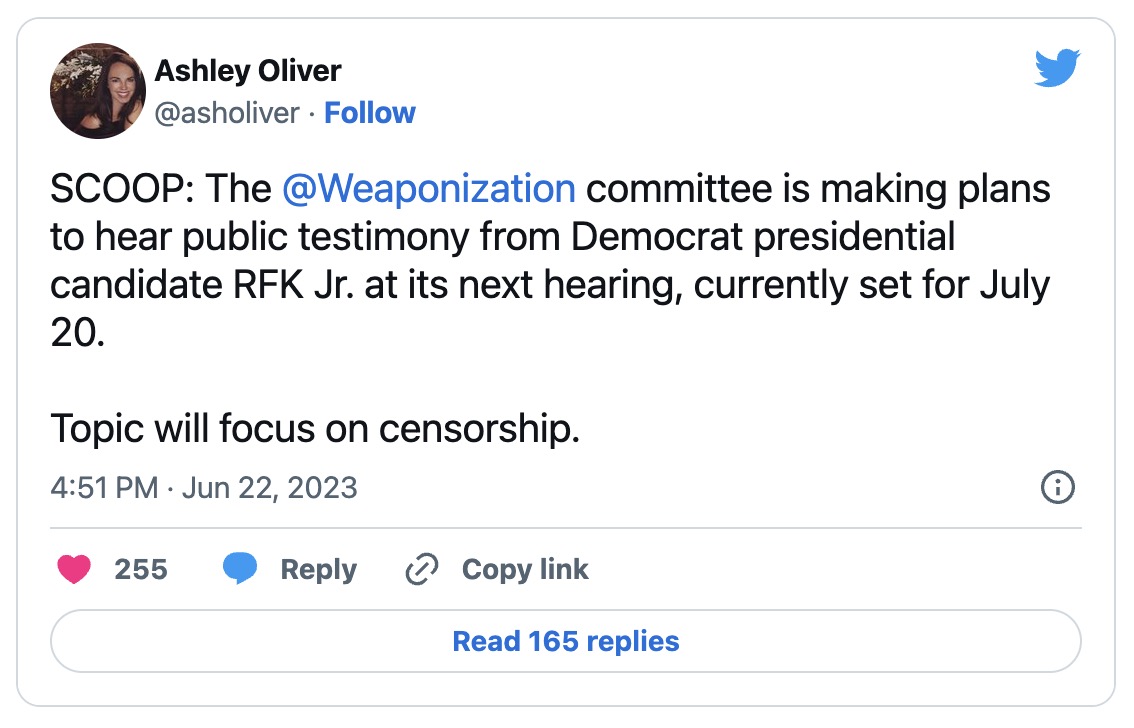 As an environmental lawyer, Kennedy has been a notable voice, but his comments on health topics like coronavirus vaccines, which deviate from mainstream messaging, have made him the target of online censorship, with several calls from media outlets for his appearances online to be censored.
Kennedy is no stranger to the heavy hand of social media censorship. His organization, Children's Health Defense, faced content removal on Facebook and Instagram. The organization sued Facebook owner Meta over the censorship. The lawsuit was dismissed.
Plus, YouTube pulled a video featuring Kennedy from Dr. Jordan Peterson's channel. Its reason? A YouTube spokesperson weighed in, saying the video broke the rules against vaccine misinformation.
YouTube also censored an older video of an interview between Mike Tyson and Kennedy that took place before Kennedy ran for president, but was censored after his announcement to run.
Kennedy didn't hold back after his video was yanked from YouTube. He took to Twitter to throw some shade at big tech's role in content management. "Do you really need Big Tech censors to decide what you should hear?" he asked. He added, "It may be that @YouTube has broken no laws in this blatant interference in the electoral process. In that case, change will come only through public pressure. That's democracy in action!"
Commenting on his recent censorship issues, Kennedy said: "I think it's wrong. I think we're living in [a] new era where these big social media sites have now replaced the public square."
Kennedy made the comments on Tuesday in an interview with Fox News Digital. "I think they really ought to have a sense of obligation to be the forums for open debate on issues – even if the issues are complex or difficult."
The Weaponization Committee was set up to investigate censorship related to government collusion that has been rampant in recent years. In particular, it has focussed on how the FBI and DHS pressured social media platforms to censor Covid and election-related "misinformation."