Comedian Steven Crowder has signed a deal with the video platform Rumble and its sister platform Locals to create exclusive content.
Rumble and Locals will be the new home to what Crowder calls "Mug Club," a subscription service where fans can support the Louder With Crowder show.
Steven Crowder is a conservative political commentator and comedian who gained popularity through his YouTube channel "Louder with Crowder," where he shares his views on politics, current events, and cultural issues through a mix of humor and satire.
Crowder has been censored by YouTube multiple times over the years and his switch to the free speech platform Rumble should allow more creative freedom.
Crowder has been demonetized on YouTube several times due to alleged violations of the platform's strict speech policies. In June 2019, Crowder was demonetized after journalist Carlos Maza complained that Crowder's jokes and criticism amounted to harassment.
This led to a backlash, by some, against Crowder, with mainstream outlets pushing for his removal from the platform.
After a review, YouTube reinstated Crowder's channel monetization in August 2019 but announced changes to its policies to prohibit explicit or "implied" "hate speech" and any content that promotes harmful stereotypes based on race, gender, and other characteristics.
In 2020, Crowder was censored again for allegedly spreading "misinformation" about COVID-19, which goes against YouTube's policies on contradicting the World Health Organization.
"This video violates our COVID-19 misinformation policy, which prohibits content claiming that the death rates of COVID-19 are less severe or equally as severe as the common cold or seasonal flu," YouTube said at the time.
YouTube's censorship of Crowder is such that it has even been discussed in Congress and it was YouTube's censorship that drove Crowder to sign up for Rumble back in 2021.
Crowder announced bringing Mug Club to Rumble and Locals with an interview with comedian and commentator Russell Brand.
Rumble's Twitter account posted the moment Crowder and Rumble CEO Chris Pavlovski signed the contract for the deal.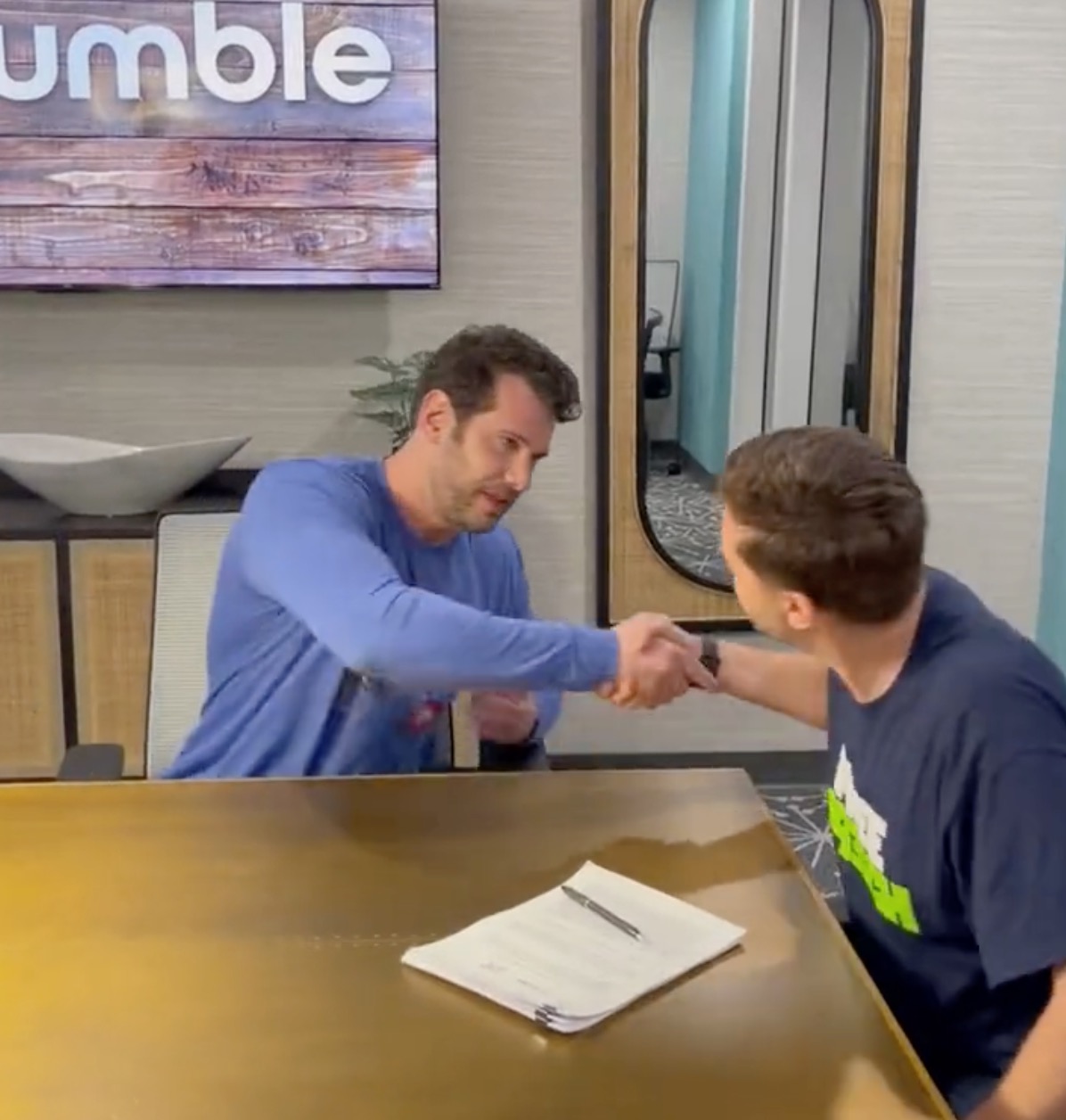 The official launch of Mug Club on the platform is March 20, 2022, and Crowder says he will be doubling the content output and including an exclusive Friday show for members.
In a statement, Crowder said, "What I'm most excited about in partnering (key word being 'partnering') with Rumble is that for the first time, a company with the capabilities to do so, truly has all of our backs in the fight for free speech against BigTech," Crowder said, adding that, "our goal has never been to be suspended from YouTube or any other like-minded, leftist platforms… but we can't be beholden to them.
"YouTube is making some mistakes, and I think places like Rumble are picking it up, and they're not forcing me any more than they are forcing you to fit into a box. They're just saying hey, here's a playground and let us have your back and at least be wind in your sails," Crowder continued. "This is the first time I've signed a contract, I will say this, and I'm really excited – really excited because every single conversation that we had with Rumble was how to make it better for the user; how to make it better for the viewer, and that for me is true North."
"Steven Crowder is one of the biggest and most talented podcasters in the world, period," said Rumble Chairman and CEO Chris Pavlovski. "Not only does Crowder bring amazing content to the table, but he also brings a huge audience and a large number of subscribers with his Mug Club community," he continued. "Crowder played a huge role in driving our growth in viewership during the U.S. midterm election in November 2022. We are excited to capitalize on our opportunity in news and political commentary content as we lead up to the U.S. Presidential Election in 2024."