Once again YouTube has taken to making lives of independent creators and media who choose it as their distribution platform quite difficult, by removing content and threatening further restrictive action.
This time the policy of non-transparent removals hit Jordan Chariton, a progressive journalist, and an outlet he helped co-found, Status Coup.
In a tweet, Chariton said that between seven and 10 videos reporting about Trump supporters' election rigging claims had been deleted from the YouTube channel.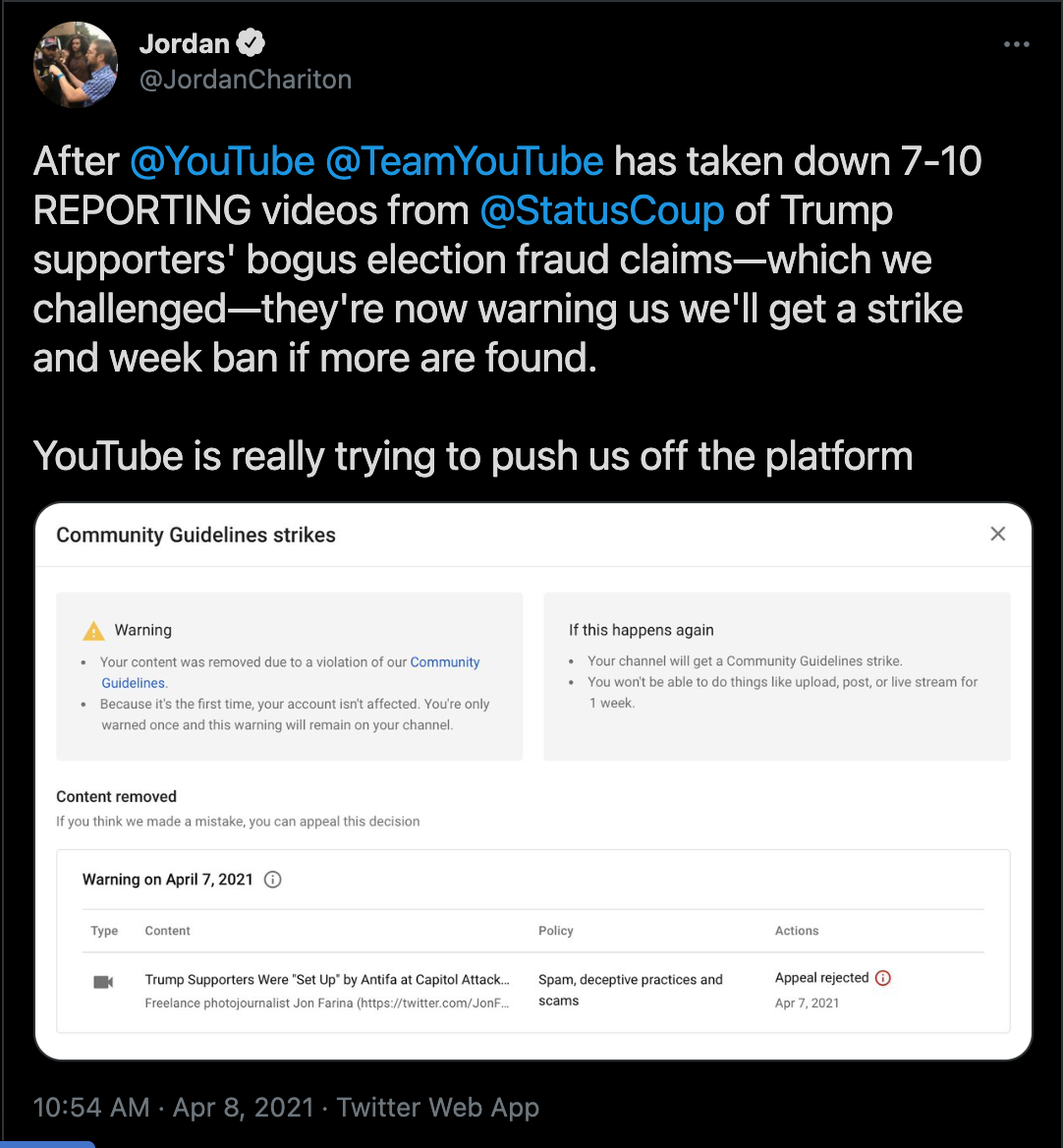 The original notice said that community guidelines had been violated, and that the channel would receive a strike and lock the creator out for one week if the violation is repeated.
The video cited was titled, "Trump Supporters were 'Set Up' by Antifa at Capitol Attack," and the ban may have been the work of algorithms programmed to recognize and remove any challenge to the integrity of US presidential elections.
But on the same April 7, YouTube rejected the appeal against the original decision, citing spam, scam, and deceptive practices as policy violations that had taken place.
Chariton, who is said to have been a staunch supporter of Bernie Sanders, now believes that YouTube is trying to push Status Coup away from the platform altogether, as allegedly the outlet's content is being suppressed overall, causing the channel to experience serious losses in subscriber growth and views.
"I genuinely don't know how much longer Status Coup can survive," he wrote on Twitter.
The problem is such, it would appear, that revenues from YouTube are no longer enough to sustain this media outlet.
Some see this as yet another instance of YouTube suppressing independent creators in general, in order to promote corporate media, such as large and established mainstream outlets and cable channels. And this is done with the help of algorithm rigging, Chariton states.
"This is no longer a left vs right wing issue. YouTube, owned by Google, is trying to purge independent journalists that corporate advertisers don't approve of," he said.
Creators of independent provenance are now rallying behind Chariton and his outlet, with video journalist Ford Fischer, who also had numerous run-ins with YouTube's algorithms and policies, speaking about the giant's "dense disinformation policies."
"Documenting false claims to repudiate them is disallowed," he said, adding that this should, "at the very least, be enforced in a collaborative and open way rather than a punitive one."