Less than two months after receiving four false copyright claims against his Anti-Oscars Party live stream, conservative comedian Steven Crowder is once again having to deal with YouTube's broken copyright system. This time he's facing three fake copyright strikes for an original parody music video that was created from scratch and he believes these strikes could lead to his YouTube channel being deleted.
Crowder's music video is a parody of "Calling Dr. Love" by Kiss with the title "Dr. Trump." Crowder says all the music and the footage in his "Dr. Trump" music video was created from scratch and has shown B-roll footage of the track being created from the ground up. He pointed out that his video should be protected from copyright strikes under fair use laws and that there are many channels on YouTube that subsist on parodies alone.
However, this didn't stop three false strikes being filed against this "Dr. Trump" parody music video by Warner/Chappell Music, the global music publishing company of Warner Music Group.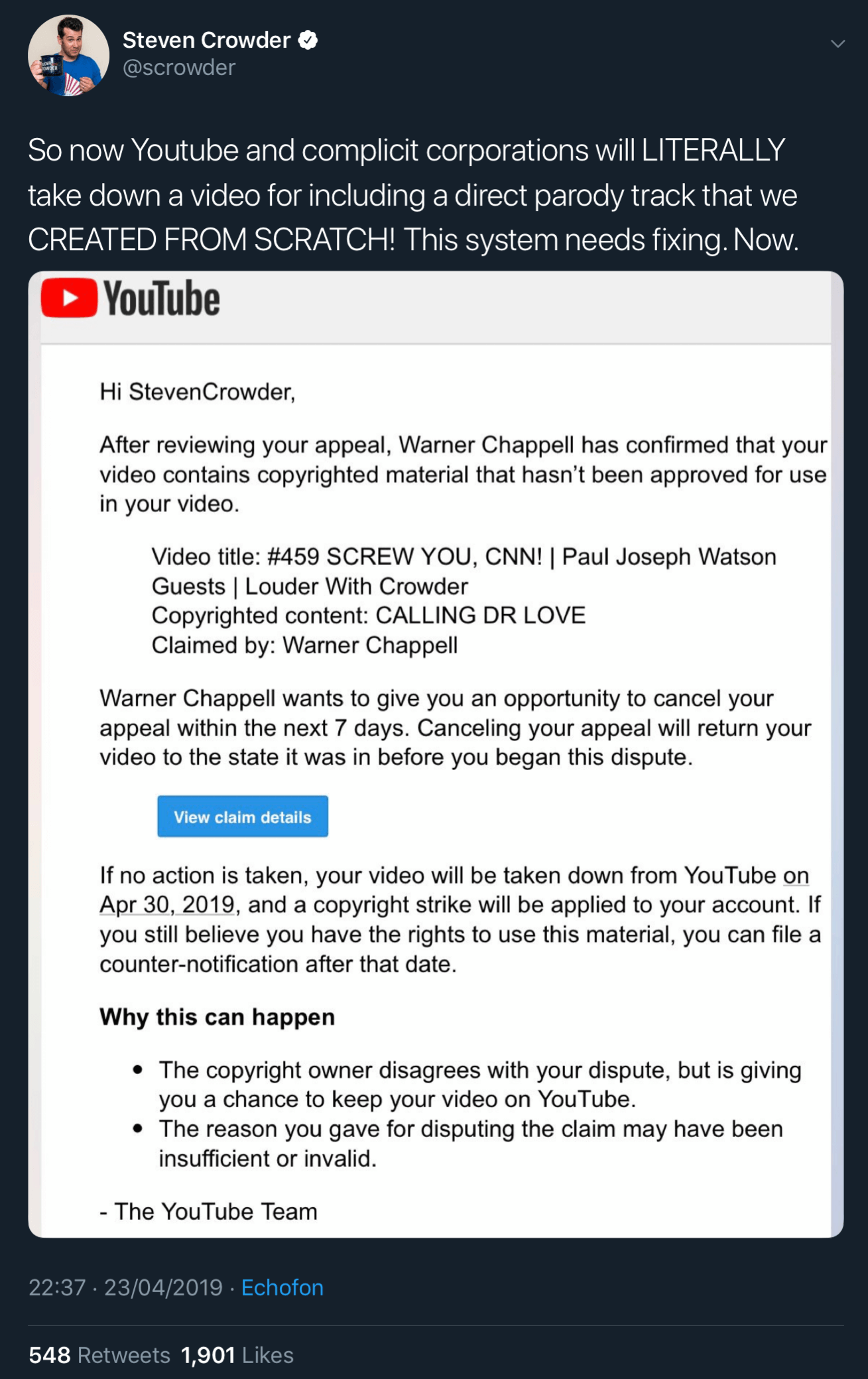 Crowder says that he's not sure whether this counts as three separate copyright strikes or just one since all of the strikes were filed against the same video clip which was used three times in a commercial break. His lawyer, Bill Richmond, is attempting to establish communication with YouTube to clarify the situation.
However, under YouTube's current rules, three strikes leads to account termination so Crowder's channel could be deleted if YouTube decides that these are three separate strikes and none of them are successfully appealed by April 30. If his channel is terminated, Crowder would lose more than 3.7 million YouTube subscribers and over 800 YouTube videos.
Crowder added that his YouTube content is being disproportionately targeted and demonetized, his subscribers aren't getting notifications, and the algorithm is throttling his organic search and related content views. He says that this has accelerated since his Anti-Oscars Party live stream.
Update – May 19, 2019: Crowder says the false copyright strikes against his "Dr. Trump" parody music video have now been removed.