Much has been uncovered regarding TikTok's censorship since it took the world by storm a couple of years ago. As it turns out, they've been censoring more than just unattractive, overweight people and LGBT content (yes, that happened). According to Twitter user and social media communications strategist Zankrut Oza, they have a political agenda as well.
Oza shared on Twitter a screenshot of an internal memo sent via email from TikTok's management to India's content moderation team. The memo highlights "updates to their standards" that are to be implemented immediately.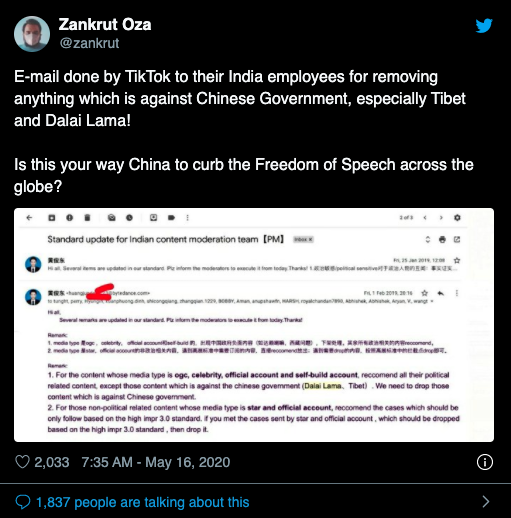 Most notably, it allows recommending political content from "ogc, celebrity, official and self-build" accounts, except content "which is against the chinese government (Dalai Lama, Tibet). We need to drop those content which is against Chinese government."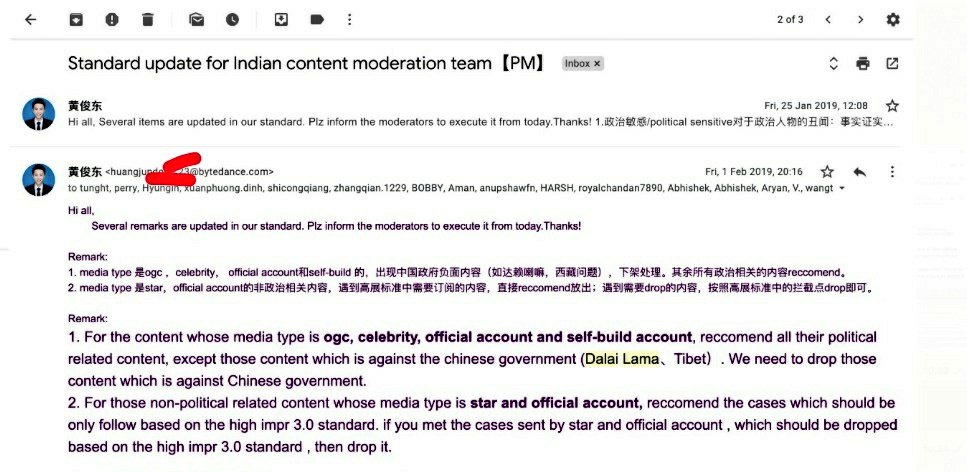 Responders to the Tweet mentioned India's Minister of Communication, Law and Justice, Electronics and Information Technology Ravi Shanker Prasad attacking him for not taking action against the Chinese app and asking him to.
The Minister did not respond to any of these tweets.
Hashtags like #BanTikTokIndia, #UninstallTikTok and #TikTokExposed are all over the replies.
Back in September 2019, there were reports about the utter lack of TikTok content covering the Hong Kong protests. When digging into TikTok's guidelines, researchers discovered a relevant clause in the "hate speech and religion" section.
Among the content that is not allowed on the platform is "criticism/attack towards policies, social rules of any country, such as constitutional monarchy, parliamentary system, separation of powers, socialism system, etc".
Another relevant rule covered "highly controversial topics, such as separatism, religion sects conflicts, conflicts between ethnic groups, for instance exaggerating the Islamic sects conflicts, inciting the independence of Northern Ireland, Republic of Chechnya, Tibet and Taiwan and exaggerating the ethnic conflict between black and white".
Any content that violates these standards is pushed down in circulation and set to "visible to self", which means the author wouldn't know they were censored as the content remained visible to them, albeit with fewer views. In other words, a shadowban.
The email shared in Oza's Screenshot is dated February 1, 2019, meaning these new regulations were in effect when the Hong Kong protests first started.