An employment tribunal has ruled that a woman was discriminated against by an employer over her views.
In March 2019, after a series of tweets critical of gender ideology, Maya Forstater's contract at the Center for Global Development was not renewed. In 2019, a tribunal judge ruled that her remarks were not "worthy of respect in a democratic society."
She appealed the decision, and in 2021, another judge ruled that "gender-critical" views are protected by the Equality Act of 2010.
The judge ordered a new employment tribunal. In a July 6 ruling, the judge of the new tribunal said that the decision to not renew Forstater's contract over her gender-critical views was discrimination.
We obtained a copy of the ruling for you here.
Forstarter believes biological gender is fixed and should not be mixed up with gender identity.
Related: Maya Forstater wins appeal after losing her job over tweets but the ruling is a mixed bag for free speech
In a statement after the ruling, Forstater said: "My case matters for everyone who believes in the importance of truth and free speech.
"We are all free to believe whatever we wish. What we are not free to do is compel others to believe the same thing, to silence those who disagree with us or to force others to deny reality."
CEO of Center for Global Development Amanda Glassman said the organization was reviewing the ruling. She said that the organization's "primary aim has always been to uphold our values and maintain a workplace and an environment that is welcoming, safe, and inclusive to all, including trans people."
Forstater's case has previously gained attention including high-profile people like Harry Potter writer JK Rowling, who has also faced backlash for criticizing the transgender ideology.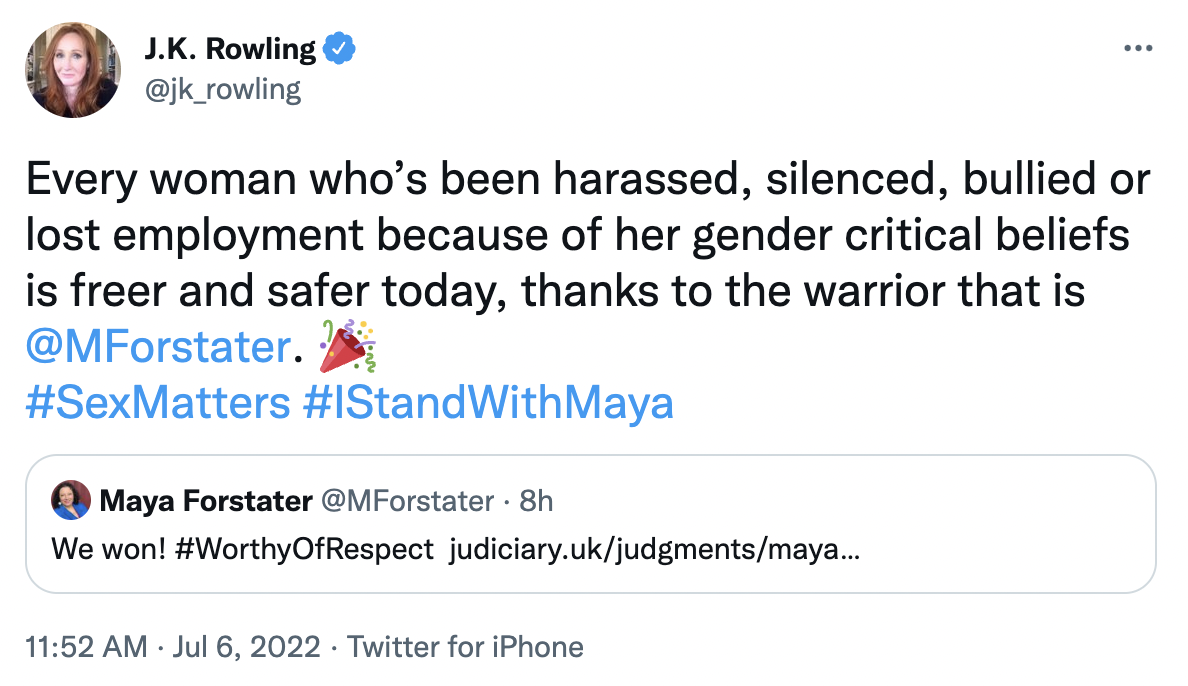 After the ruling, Rowling posted on Twitter: "Every woman who's been harassed, silenced, bullied or lost employment because of her gender critical beliefs is freer and safer today, thanks to the warrior that is [Maya Forstater]."

Defend free speech and individual liberty online.
Push back against big tech and media gatekeepers…