The encrypted email service provider Tutanota has released its latest product Secure Connect which allows whistleblowers to connect with journalists in a secure and confidential way.
Secure Connect is an open source contact form which can be easily added to any news site for free. It can be used to facilitate encrypted back-and-forth communication with website representatives and automatically end-to-end encrypts both the text that is entered into the Secure Connect form and any files that are dropped into the form.
Tutanota is launching Secure Connect on Press Freedom Day and donating Secure Connect to news sites and journalists to support freedom of speech and press freedom.
Matthias Pfau, co-founder and developer of Tutanota, says:
"To support the crucial work of journalists and whistleblowers, Tutanota's Secure Connect will be free for journalists to place on their websites. We believe in the Human Right to Privacy and Freedom of Speech – a secure and private form to communicate online is critical to achieve free speech. With Secure Connect we want to support journalists, activists and whistleblowers for the important work they are doing for all of us."
Using Secure Connect as a whistleblower
Secure Connect is a great tool for whistleblowers and individuals who want to contact website representatives in a secure and anonymous way. Since all data that is sent through Secure Connect is encrypted locally on the device, the service provider Tutanota and any other third parties cannot access the information.
For maximum anonymity and to protect your identity, Secure Connect should be accessed via the Tor browser which hides your IP address from the websites you visit.
Once you've navigated to a website's Secure Connect page via the Tor browser, you have two options – "Create request," which allows you to securely communicate with website representatives and send files, and "Read response," which allows you to securely read any responses to the communications you have sent via Secure Connect.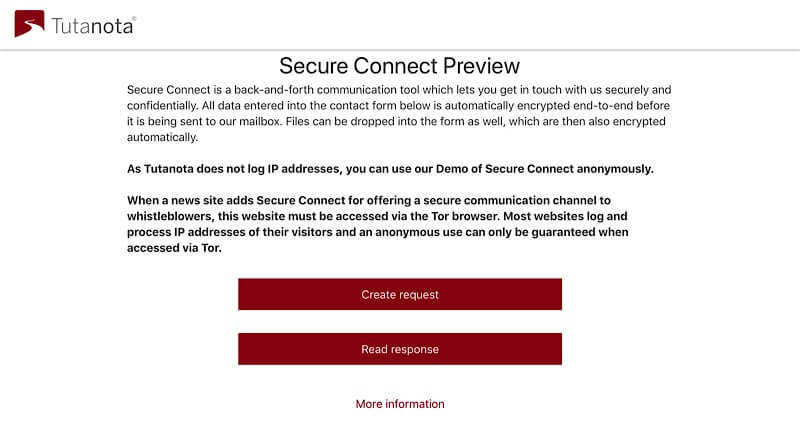 Selecting "Create request" brings up a form where you write your subject, message, and attach files. Once your message is ready to send, you create a custom password which allows you to read responses to your message in a secure and anonymous way.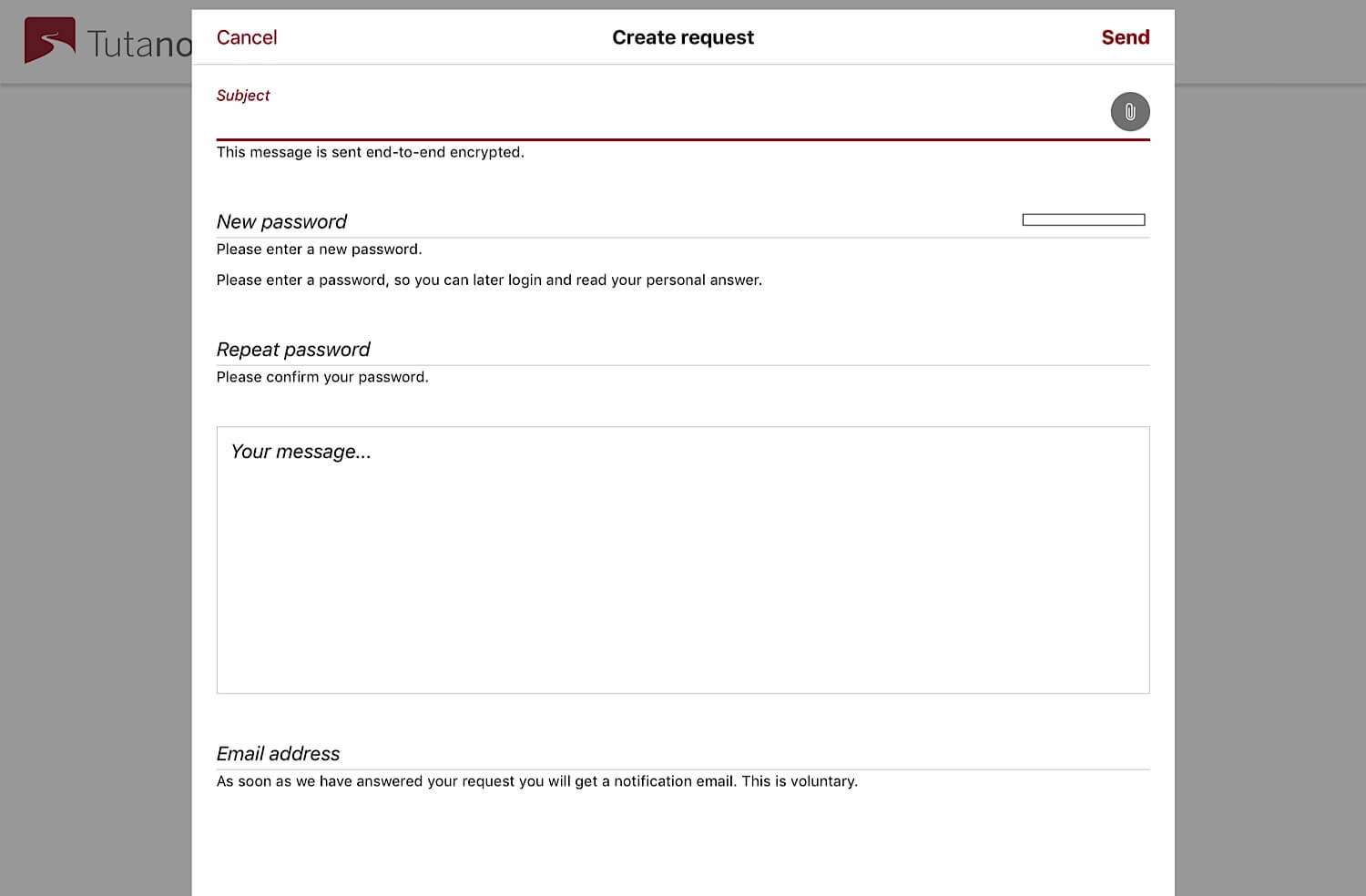 You can also optionally provide an email address and be notified by email when you have received a response to your message. Tutanota recommends not entering an email address if you want to stay anonymous.
Once you've sent your message, Secure Connect will generate a random, anonymous email address which you can use in conjunction with your custom password to read responses to your message.
You will need to remember or keep a secure note of your random, anonymous email address and custom password to read responses to your message.
To check for responses to your message on a website's Secure Connect page, select "Read response." This will bring up a form which asks you to enter the random, anonymous email address that was generated when you sent your message and the custom password you created when sending the message. Fill out the form with these details and then select "Log in" to view any responses to your message.

Adding Secure Connect to your website
Secure Connect is a fantastic asset for any website that wants to offer an encrypted communication channel for activists, whistleblowers, or anyone else who may want to contact the website anonymously. It allows any website owner to set up this secure communication channel without having to worry about managing their own server.
Secure Connect is free for news sites and journalists. Tutanota is also offering five months of Secure Connect for free to other website owners. After the free five-month period, Secure connect is €24 per month.
Not only is Secure Connect a great tool for news websites but it can also be used by other institutions where confidentiality is important such as educational institutions, financial institutions, law firms, and medical institutions.
If you're a journalist and would like to request Secure Connect for free, contact [email protected] and supply a link to your website in the email.