Twitter temporarily suspended Dr David Samadi's account on Wednesday. The famed medical doctor landed in Twitter jail for the crime of promoting hydroxychloroquine (HCQ) as a treatment for COVID-19.
The doctor logged into his account on Wednesday and realized he couldn't tweet. He then noticed an email from Twitter saying his account had been "locked for violating Twitter rules."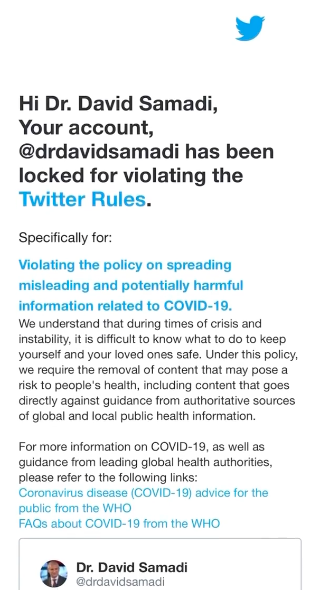 The 24-hour suspension was as a result of "spreading misleading and potentially harmful information related to COVID-19." But Dr Samadi is a medical expert and one of New York's "top doctors" according to New York Magazine.
Over the past few weeks, he has been providing his professional opinion about HCQ as a treatment for coronavirus. In one of the tweets flagged by Twitter, he wrote: "Hydroxychloroquine works and has worked."
However, other medical experts, news outlets, and health organizations such as the CDC insist HCQ is not an effective COVID-19 treatment. But, according to Dr Samadi, there are studies now that show that HCQ, which is typically used to treat malaria and lupus, is effective.
In another tweet, Samadi wrote: "If this medication can help one person, then I am all for it." In another tweet, he bashed mainstream media for not promoting HCQ. "Hydroxychloroquine works. This should be worldwide breaking news met with celebration!" Dr. Samadi said, "It's major censorship. I have been in the media for 12 or 13 years, and this is the first time I have been shut down."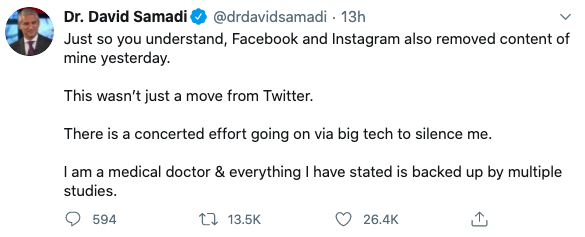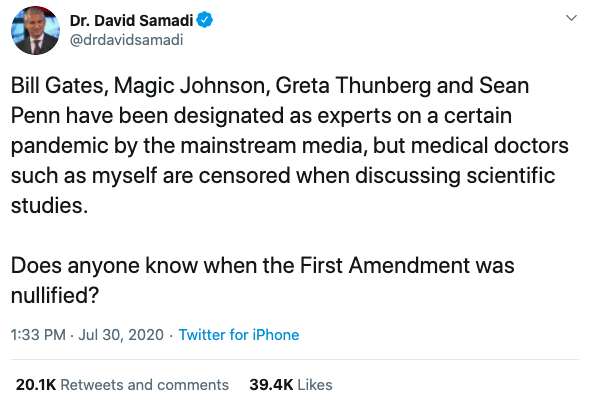 In the opinion of political expert Anthony Angelini, Twitter's move is "extremely dangerous."
"Why are they so afraid of this news getting out?" Angelini wondered. "What do they have to fear?"