With the US presidential election just days away, Twitter has censored President Trump again, this time for making what the platform has branded as a "disputed" claim about mail-in ballots.
In the tweet, Trump wrote: "Big problems and discrepancies with Mail In Ballots all over the USA. Must have final total on November 3rd."
The first part of the President's statement seems to be referring to the flurry of stories about mail-in voting discrepancies that have been published this month.
The second part is his opinion.
Yet Twitter decided that Trump's statement is disputed and hid it behind a label that warns it "might be misleading about how to participate in an election or another civic process."

Twitter users have to confirm that they want to view the tweet and even after it's made visible, a warning and disclaimer appear above and below the tweet.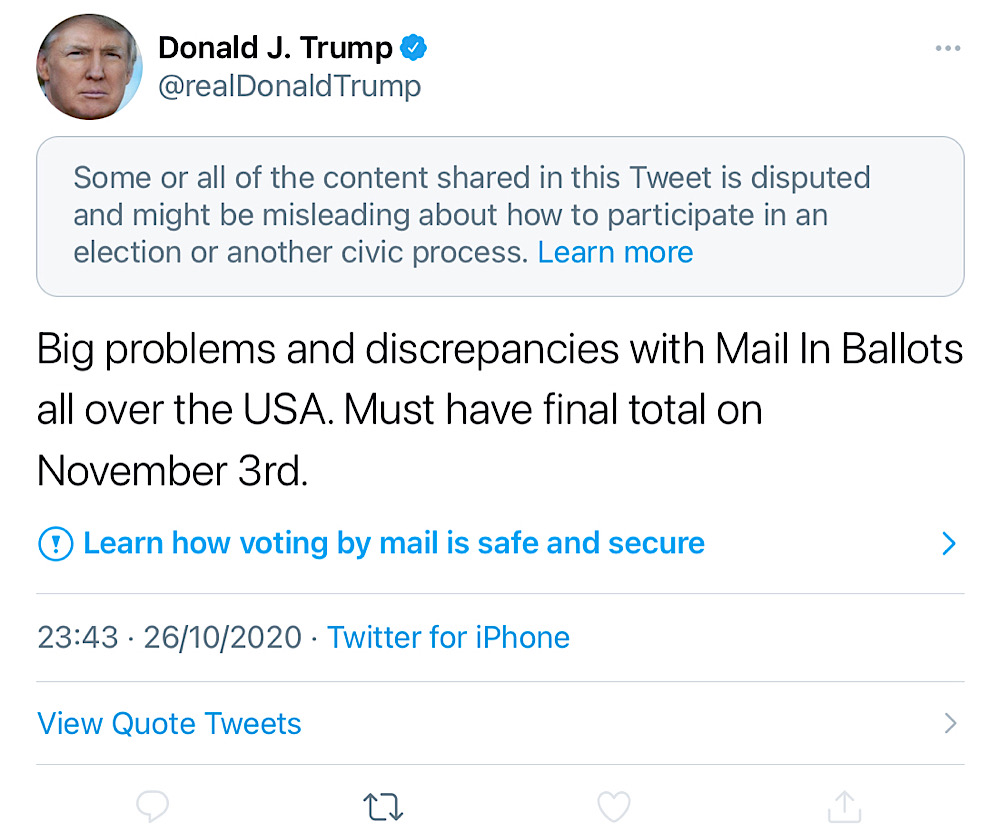 Twitter users are also prevented from liking, retweeting, or commenting on the tweet.
Under Twitter's rules, the tweet may also be removed from Twitter search and recommendations.
Related: ? How Big Tech normalized censoring the President
Twitter's latest act of censorship against the President follows a report published earlier this month revealing that Trump was censored by social media 65 times between May 2018 and October 16, 2020. Meanwhile, Democratic presidential candidate Joe Biden was censored a grand total of zero times during the same period.
It's also the latest of many examples of Twitter censoring statements that challenge Big Tech's election talking points about mail-in voting and potential delays in the announcement of election results.
Not only is Twitter increasingly censoring these statements but it's also amplifying the narrative that "mail-in voting is safe and secure" and that "there might be a delay in the announcement of election results" via new election "misinformation" warning prompts that appear at the top of all US user's Home and Search tabs.