Twitter has forced one of its user to delete a tweet containing a video compilation of 2020 Democratic presidential nominee Joe Biden touching several young girls in 2015 during their parents' congressional swear-in ceremony.
The infamous video compilation features public domain footage from C-SPAN 2 and is often referenced by Biden's critics.
But when Twitter user Jake Koenig tried to post the video, Twitter locked his account and told him to delete the tweet.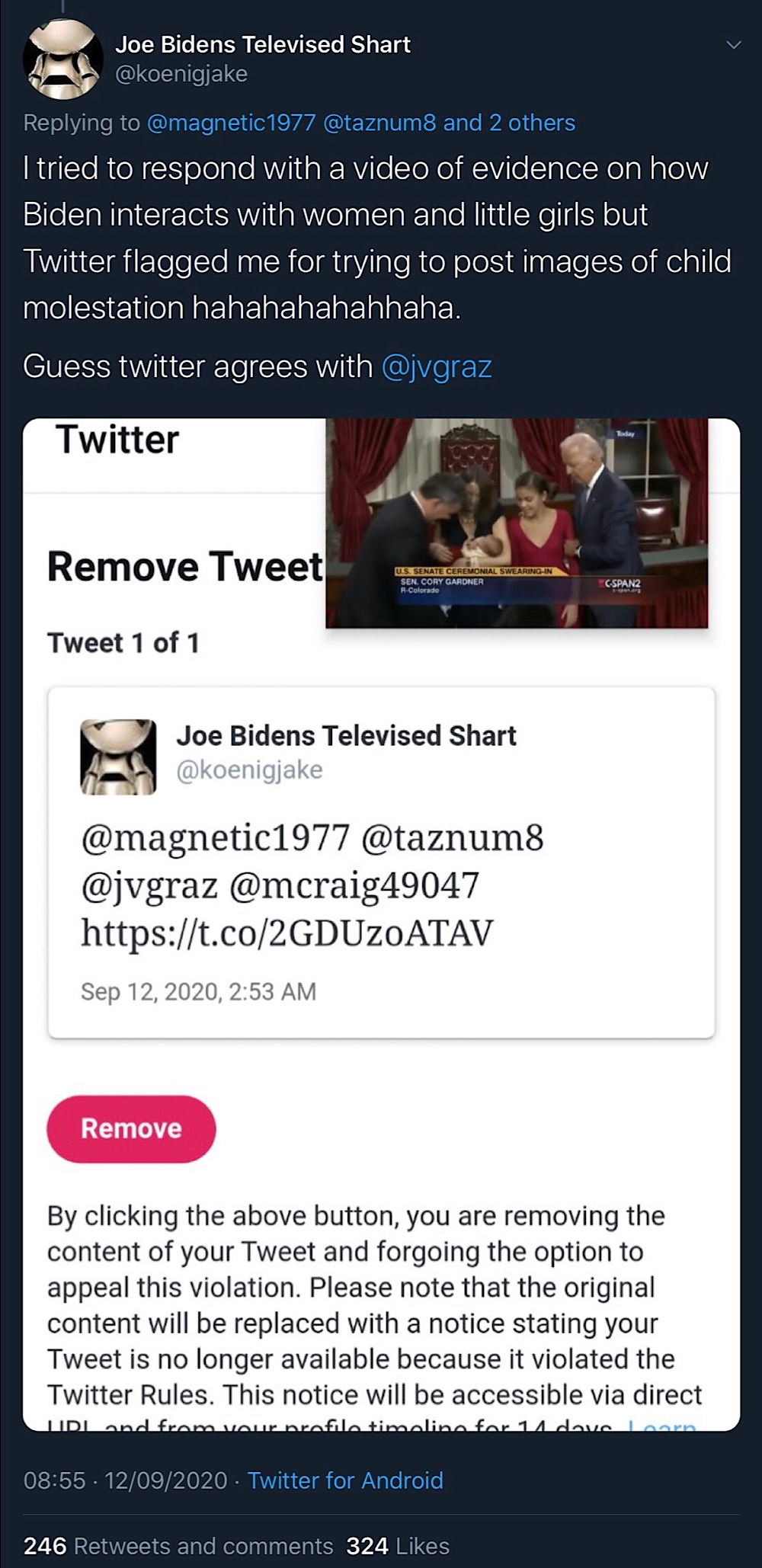 The blocking of the tweet has led to more accusations of Big Tech companies censoring posts, memes, and websites that criticize Biden and his running mate Kamala Harris.
In April, a meme making fun of Biden's propensity for gaffe's during interviews and speeches was mass censored on Twitter for violating the platform's rules against "posting misleading information about voting."
Turning Point USA ambassador @Alx also had his Twitter account suspended after posting a meme that was generated using the Biden campaign's avatar tool.
On Facebook, parody websites for Biden and Harris have also been censored with Facebook blocking links to the sites and claiming that they go against its community standards.
The Biden parody site contains some of the same video clips that were featured in Koenig's tweets and also references other controversial moments that are often cited by his critics.
The Harris parody site follows the same theme as the Biden site and references several of her past controversies including some of her past decisions as a prosecutor and her past statements that she believes women who accused Biden of inappropriate touching.
Social media is one of the main forums people use to discuss and highlight politicians and with the election less than two months away, the frequency with which Biden's critics point to this video and his other past controversies is likely to intensify.
Yet Big Tech's crackdowns means that this process of criticizing certain politicians or highlighting their past behavior in the run-up to an election is becoming increasingly difficult.