A new batch of internal Twitter Files released by journalist Matt Taibbi shows that in 2018, Democrats and the legacy media continued to claim that Russian "bots" and "trolls" were amplifying hashtags on the platform, despite Twitter officials warning politicians and the media that they'd found no evidence to support the claims.
One of the main targets of the Democrats' claims about Russia artificially boosting Twitter hashtags was "#ReleaseTheMemo" — a hashtag that gained prominence on Twitter in January 2018 and called for the release of a classified memo submitted by then-Ranking Member of the House Intelligence Committee Devin Nunes.
This memo detailed abuses by the Department of Justice (DOJ) and Federal Bureau of Investigation (FBI) when obtaining Foreign Intelligence Surveillance Act (FISA) warrants to spy on consultant Carter Page in October 2016 shortly after he left his role as a foreign-policy adviser to the 2016 Trump presidential campaign.
After #ReleaseTheMemo started to trend, numerous legacy media outlets claimed that the hashtag was a "top-trending hashtag among Russian bots and trolls" and "accounts linked to Russian influence operations."
A few days later, several Democratic politicians, including Senator Dianne Feinstein (D-CA), Congressman Adam Schiff (D-CA), Senator Richard Blumenthal (D-CT), and Senator Sheldon Whitehouse (D-RI) published letters echoing these claims and alleged that Russian agents had influenced the hashtag.
The Democrats and media all cited "Hamilton 68" — a dashboard that claimed to track Russian influence campaigns and was created by former FBI counterintelligence official Clint Watts under the umbrella of the Alliance for Securing Democracy — as the source for their claims of Russian influence.
But internally, Twitter staff were skeptical of this dashboard and found no evidence to support the alleged Russian influence on #ReleaseTheMemo.
Twitter's then-Global Policy Communications Chief, Emily Horne, wrote "I encourage you to be skeptical of Hamilton 68's take on this, which as far as I can tell is the only source for these stories" and described it as "a comms play for ASD [Alliance for Securing Democracy]."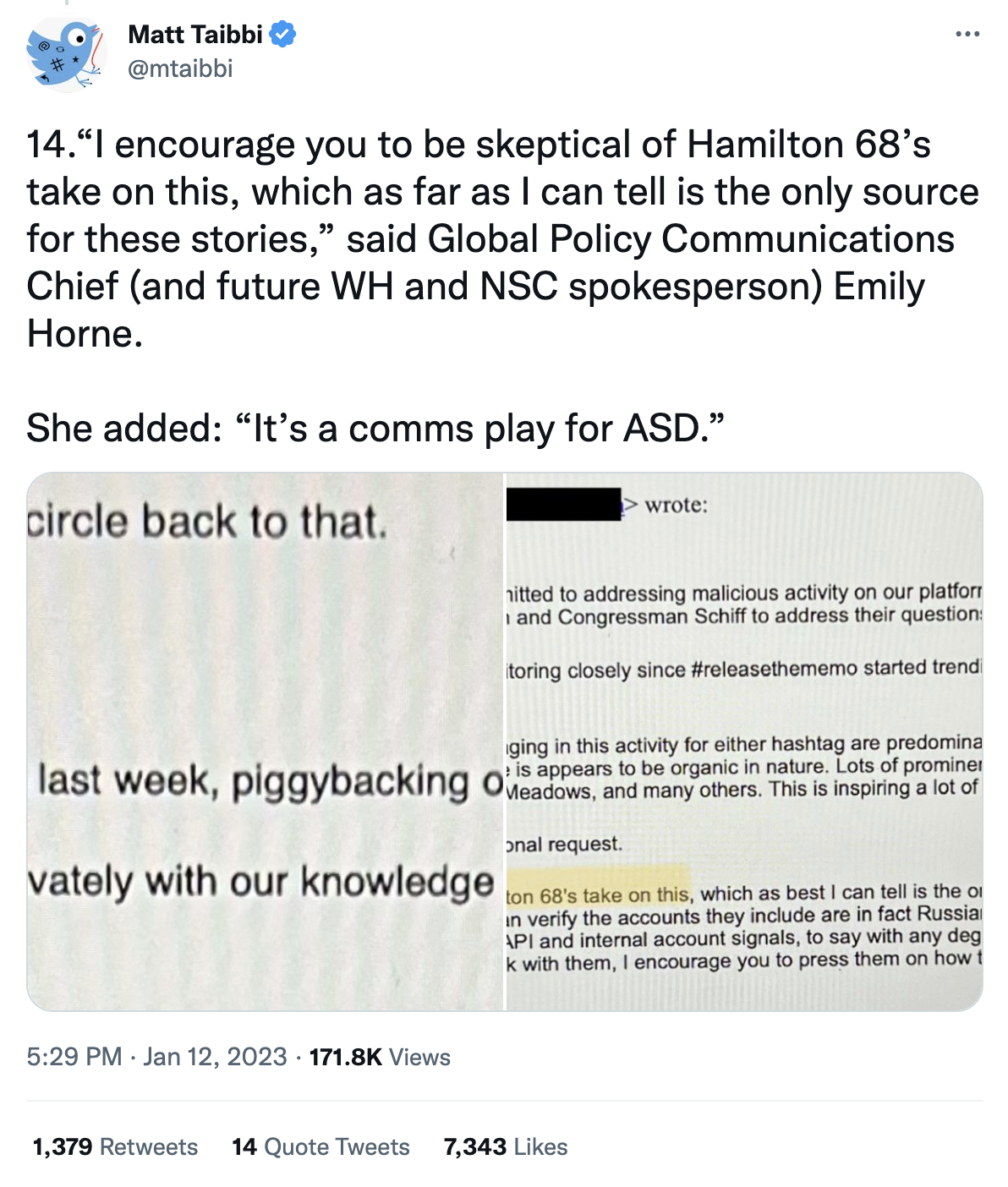 Twitter's then-Head of Trust and Safety, Yoel Roth, added "all the swirl around #releasethememo is based on Hamilton" and that Twitter would be able to "broadly refute it."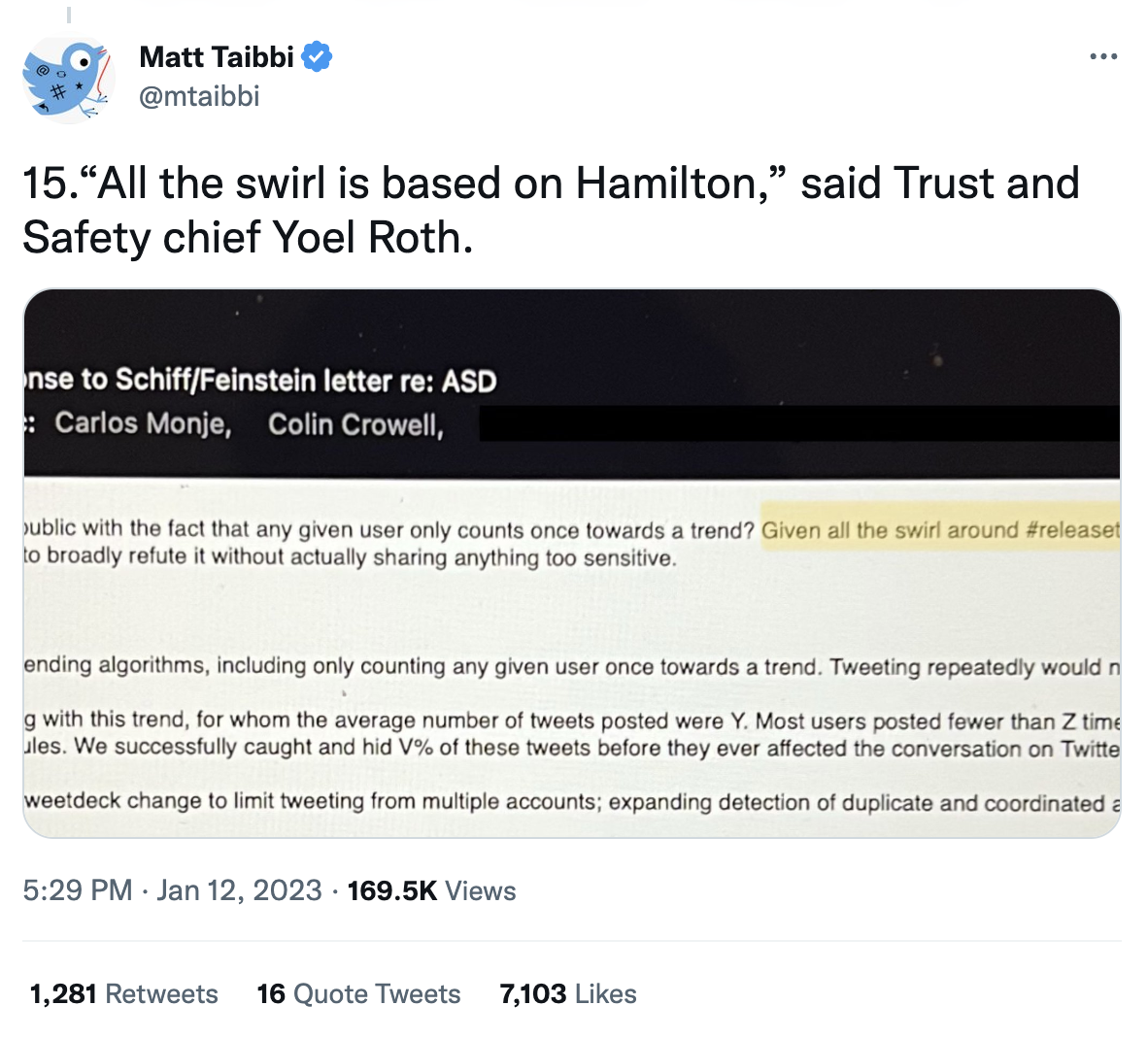 Roth also reviewed numerous accounts that posted tweets with the hashtag and said: "None of them have any signs of being tied to Russia."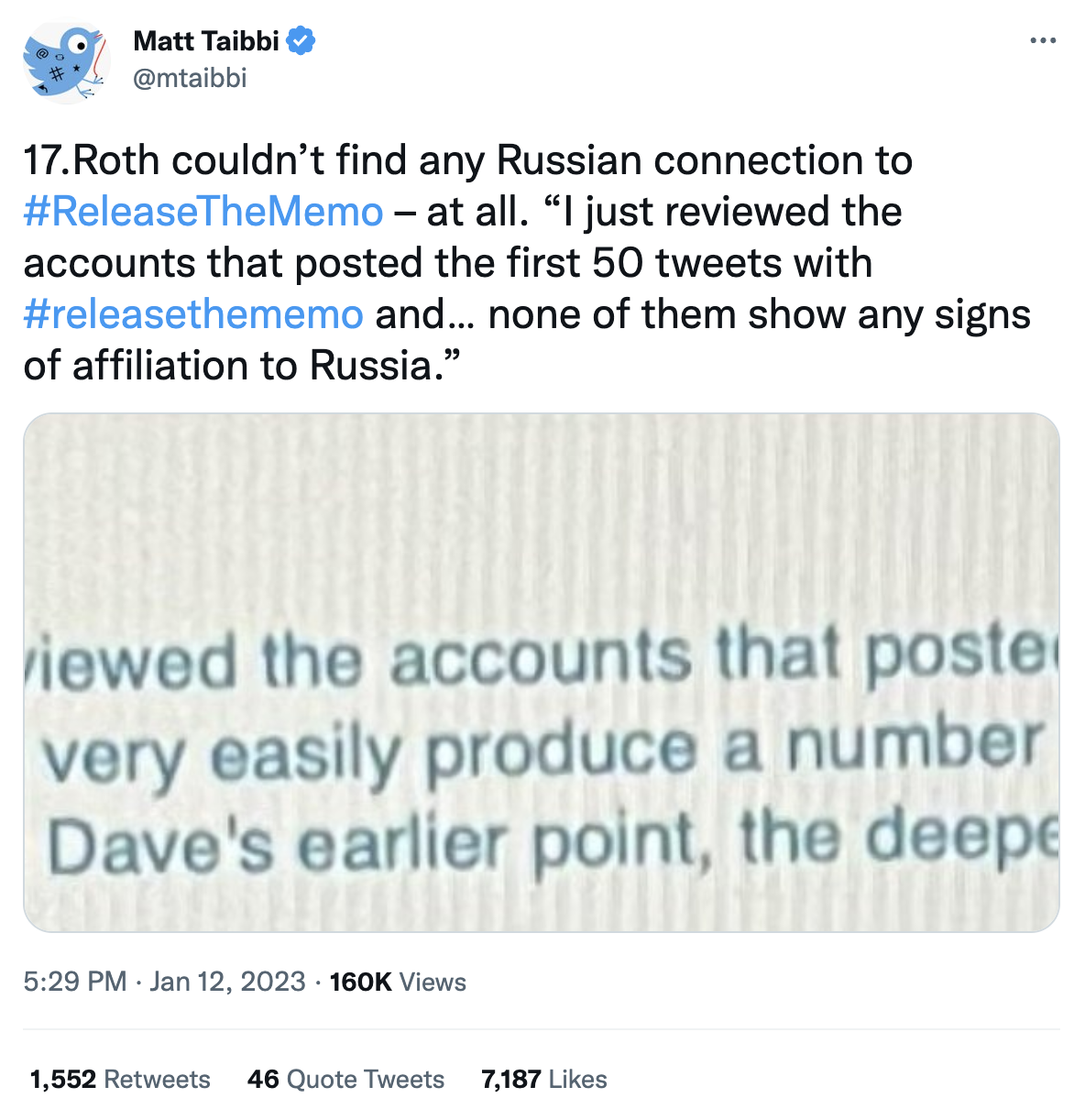 Twitter staff concluded that the engagement on the hashtag was "overwhelmingly organic" and "driven by VITs [very important tweeters]" including nonprofit Wikileaks, political commentator and author Donald Trump Jr., and Congressman Steve King.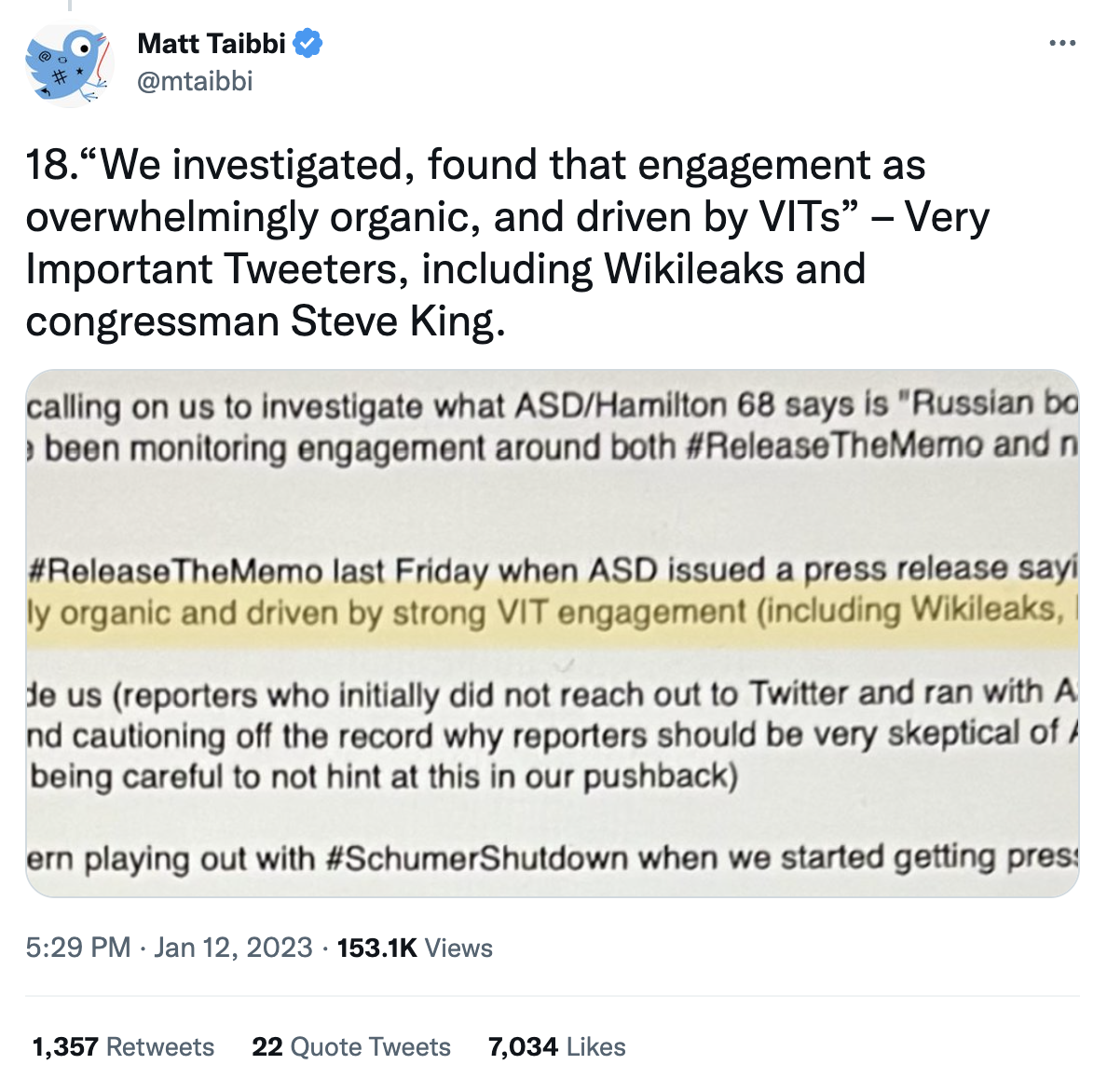 Twitter staff also described conversations with staffers for Feinstein and Blumenthal.
Feinstein reportedly "agreed that it would be helpful to know" how Hamilton 69 decides whether an account is Russian but only after Feinstein had published her open letter.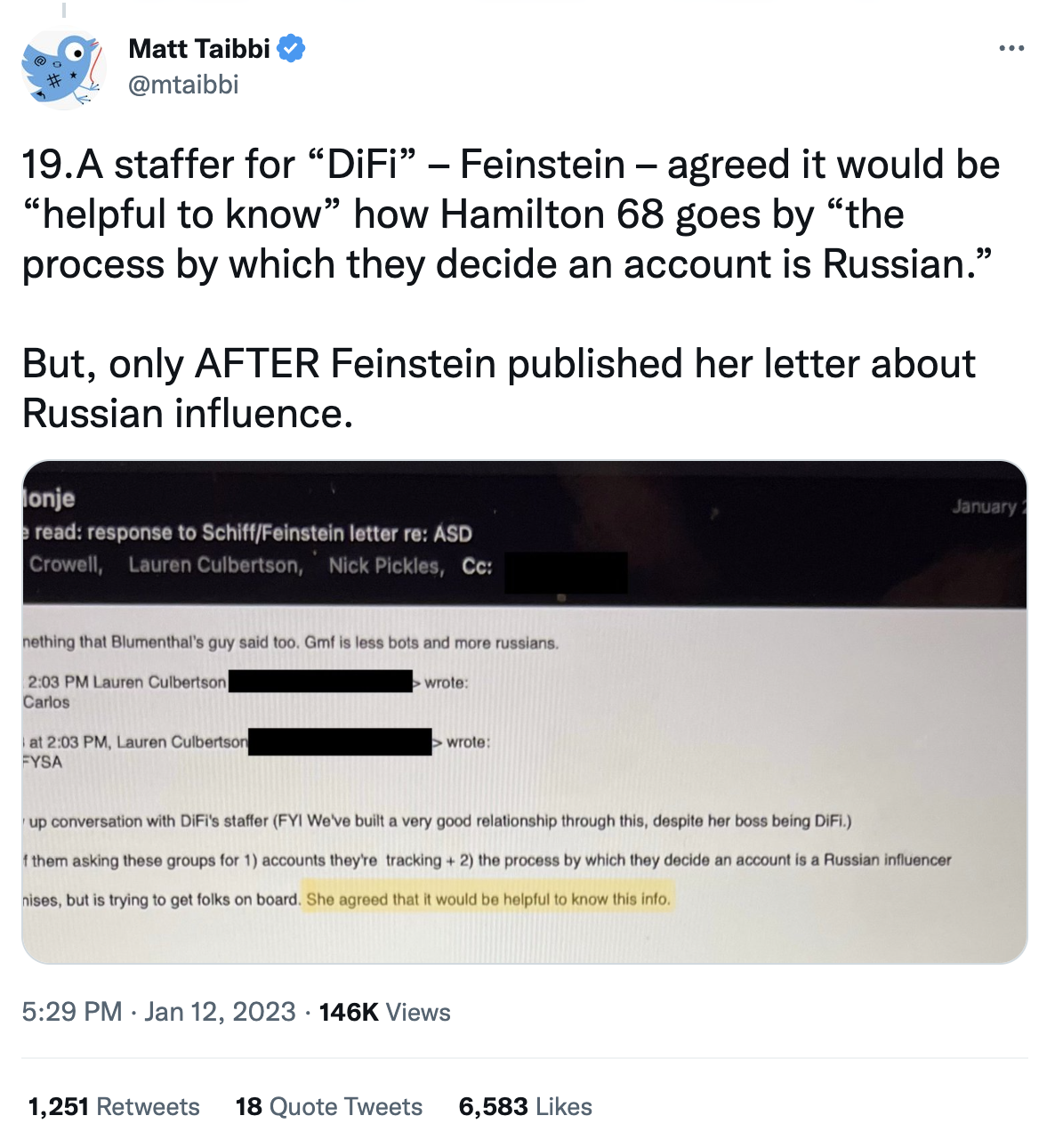 Twitter's then-Head of US Public Policy, Lauren Culbertson, encouraged "nudging Blumenthal's staffer that since we have been monitoring this from the get-go and have little reason to believe its a big Russian propaganda movement, that it could be in his boss' best interest to not go out there on this because it could come back to make him look silly."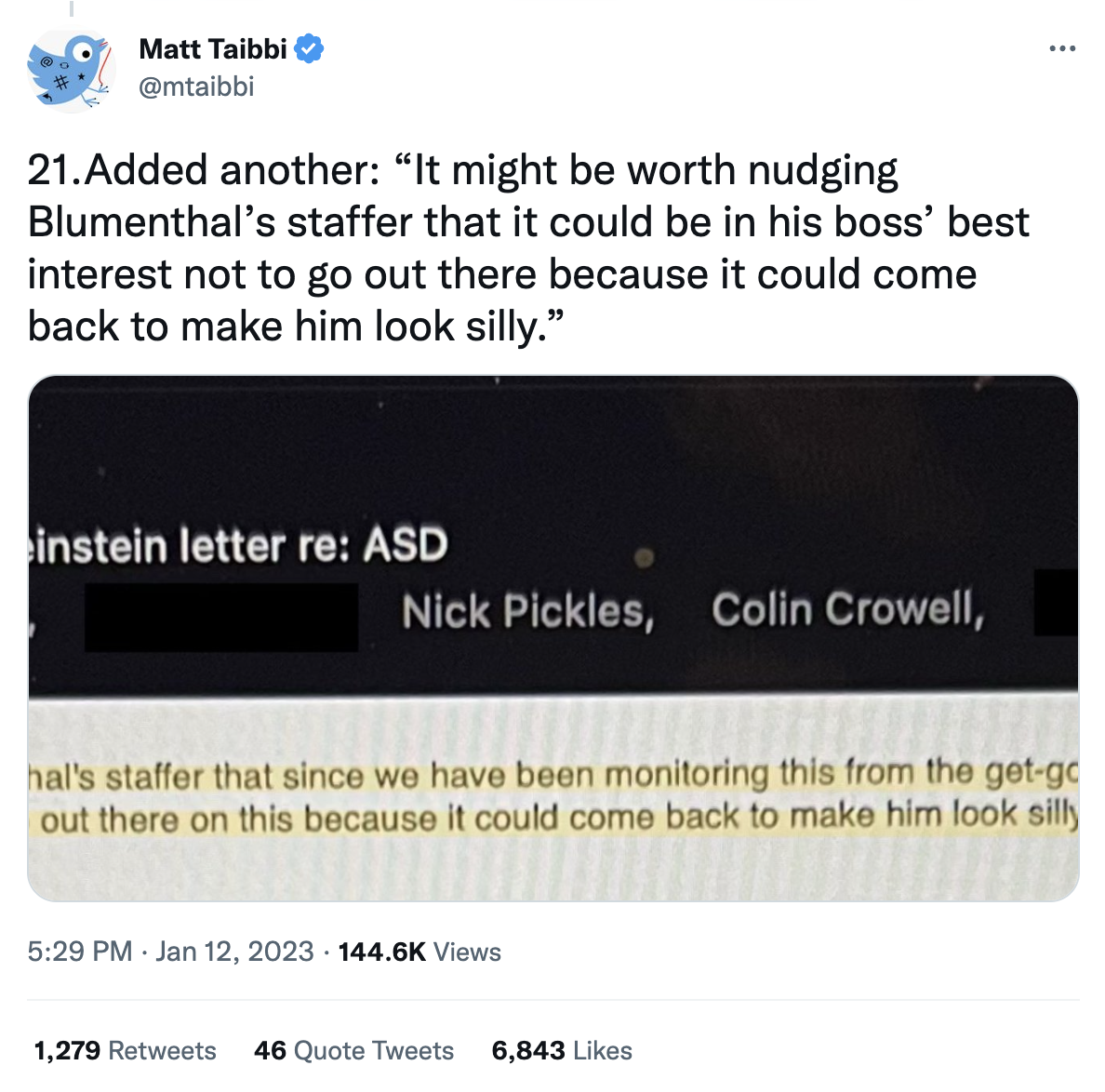 Another Twitter exec suggested that "there are other wins we can offer him" before the Blumenthal letter was published.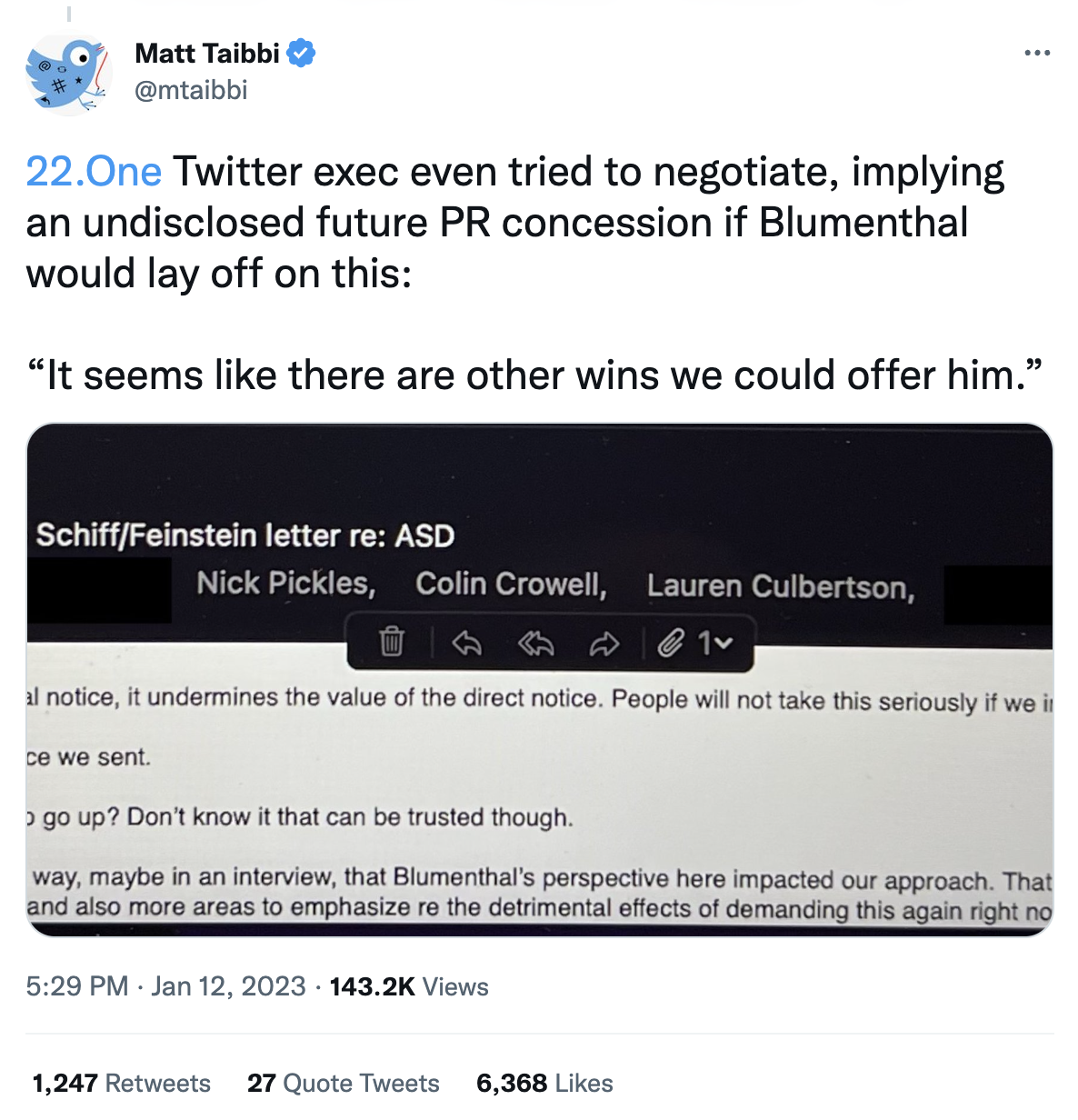 However, Blumenthal published the letter anyway.
Twitter execs expressed frustration at the way Democrats were making "round after round of requests."
"We can't do a user notice each time this happens, or people think it happens," Twitter's then-Vice President of Public Policy, Colin Crowell, said.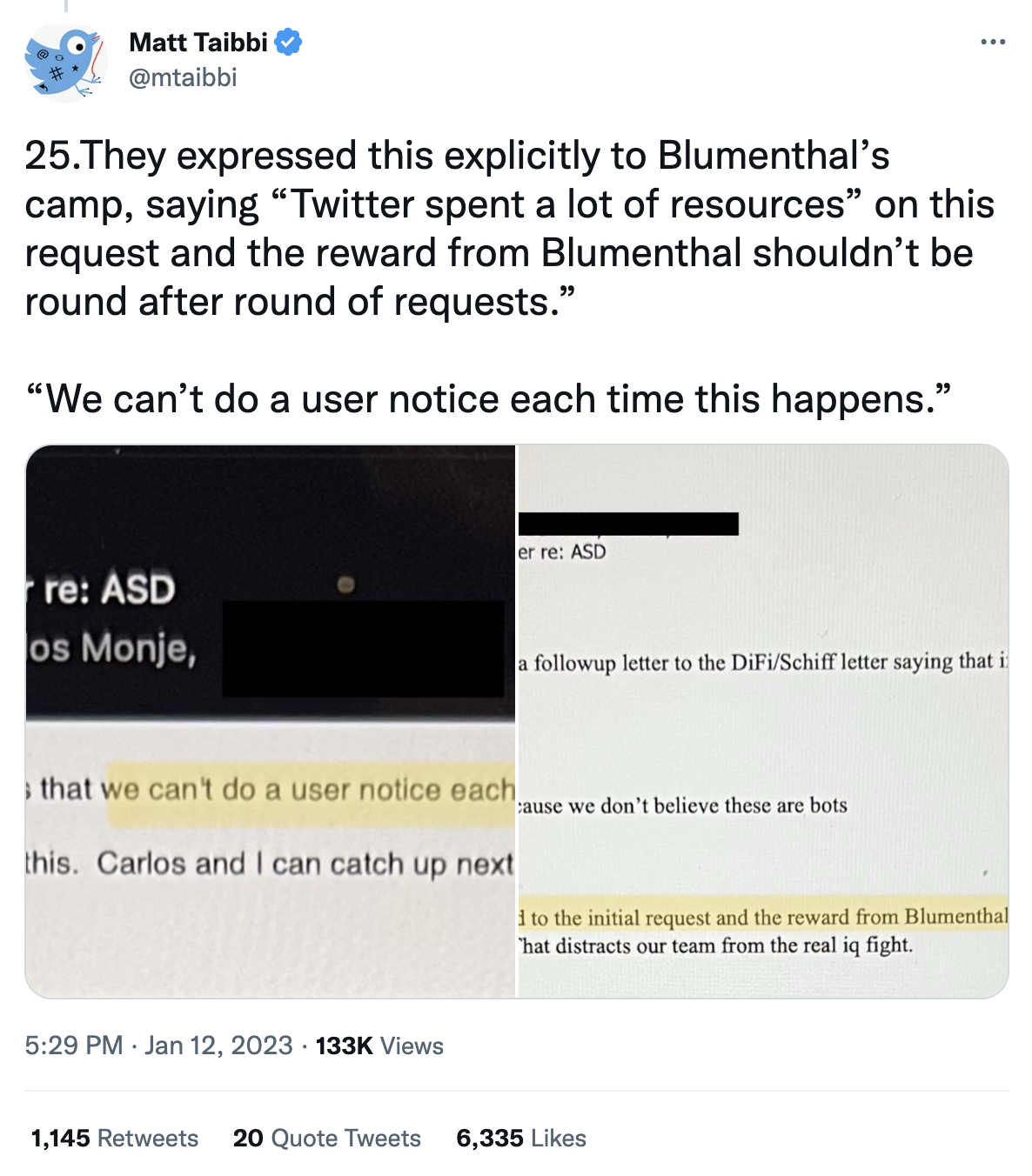 Ultimately, Twitter execs decided that "Blumenthal isn't looking for real and nuanced solutions" and "just wants to get credit for pushing us further."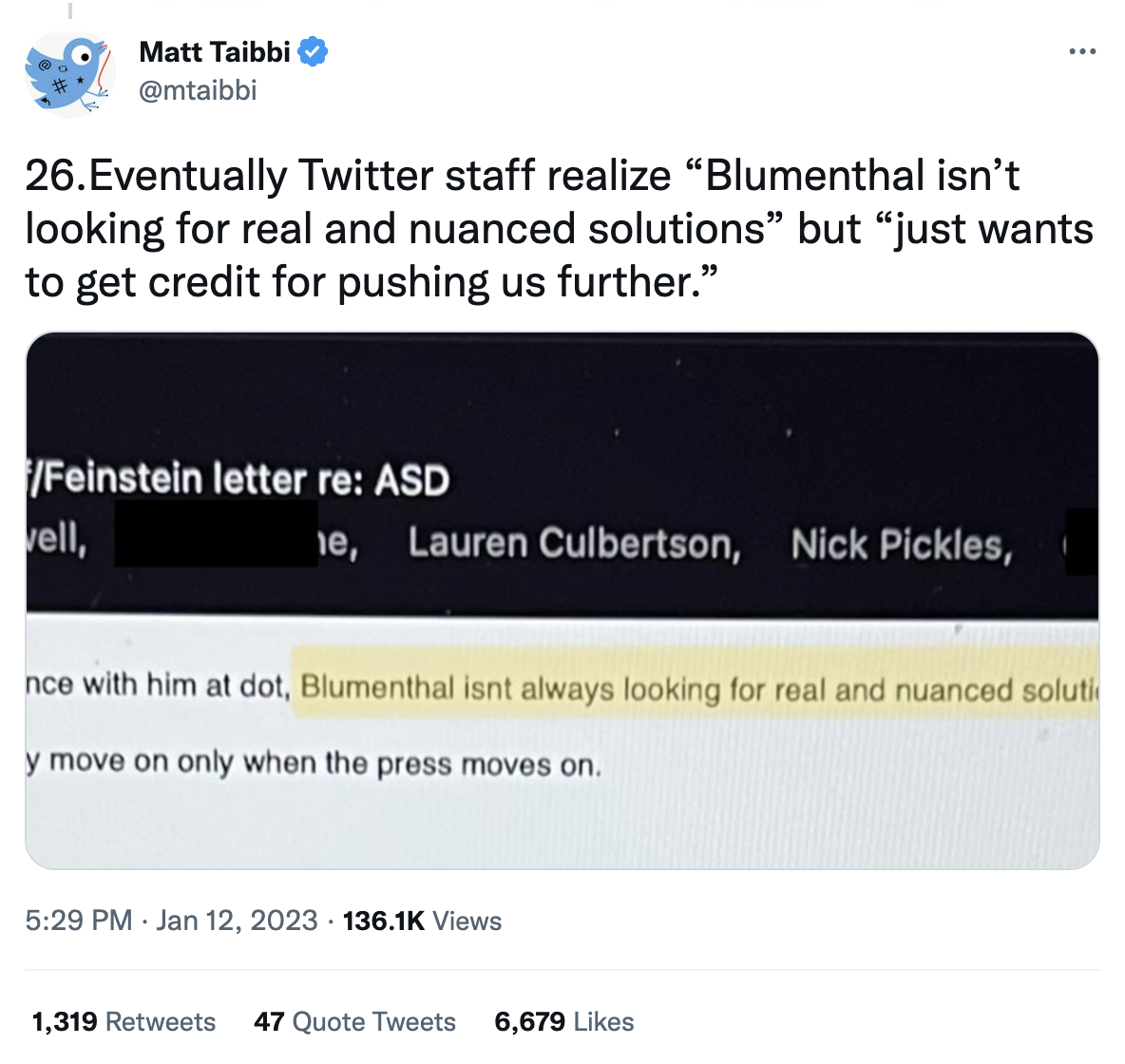 When discussing the response to the Feinstein and Schiff letter, Twitter staff also expressed frustration, describing the process as "feeding congressional trolls" and writing "he is putting the cart before the horse assuming this is propaganda/bots."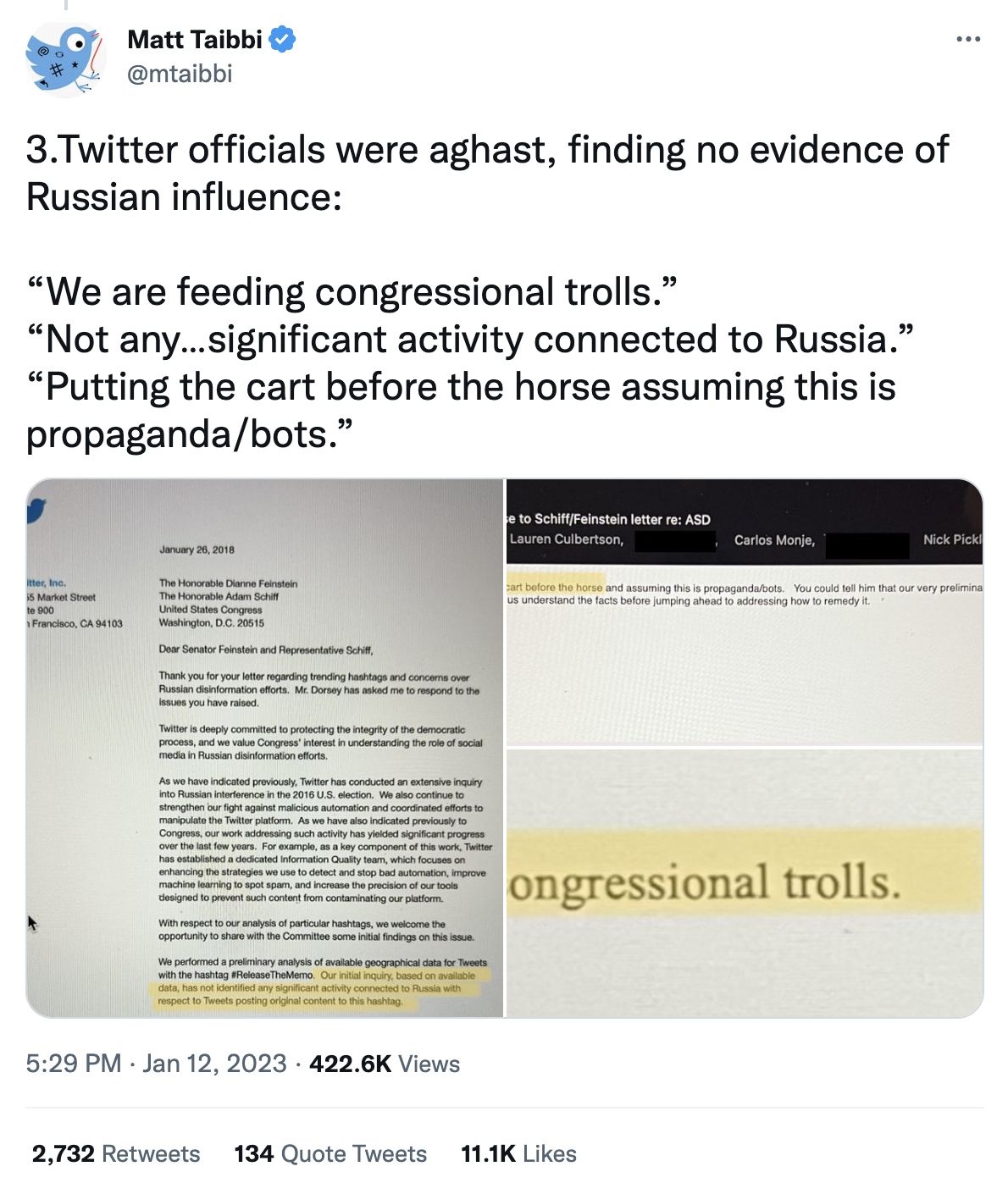 Twitter ultimately responded to Feinstein and Schiff's letter on January 26. The company stated it had found "no significant activity connected to Russia."
Yet despite the internal frustrations about the way Democrats were pushing Twitter, even when it found no evidence to support their Russian influence claims, Twitter adopted a policy of not directly challenging these claims on the record and was advised to use more general language such as, "With respect to particular hashtags, we take seriously any activity that may represent an abuse of our platform."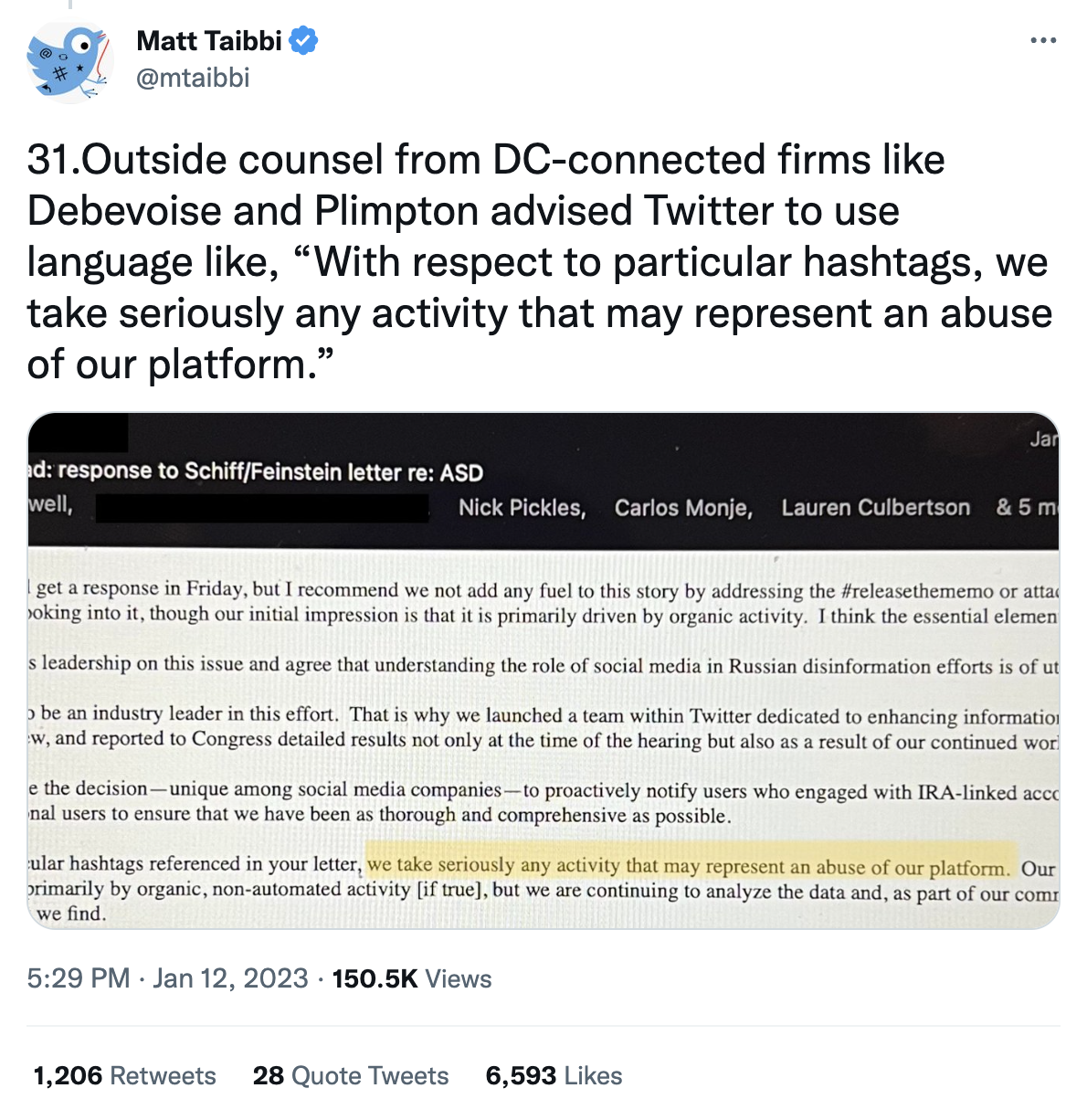 According to Taibbi, this failure to not challenge Russia claims on the record resulted in legacy media reporters blaming Russian bots for manipulating subsequent hashtags such as "#ParklandShooting" and "#GunControlNow."
Nunes told Taibbi: "Schiff and the Democrats falsely claimed Russians were behind the Release the Memo hashtag, all my investigative work… By spreading the Russia collusion hoax, they instigated one of the greatest outbreaks of mass delusion in U.S. history."
Taibbi said that several legacy media outlets that had pushed the "Russian bots" stories and the staffs of Feinstein, Schiff, and Blumenthal all declined to comment.
This revelation that Democrats and legacy media outlets continued to push claims that Russian agents or bots were manipulating several Twitter hashtags in 2018, despite a lack of evidence and Twitter refuting these claims, comes days after The Washington Post finally admitted that Russian trolls had little influence on 2016 voters.
It also follows previous Twitter Files demonstrating that Twitter faced similar pressure in 2017 when Democrats continued to accuse Twitter and other social media platforms of not doing enough to address alleged Russian interference in the 2016 United States (US) presidential election, despite Twitter finding little evidence to support these claims of Russian influence. This pressure was amplified by the legacy media and Twitter ultimately bowed to the pressure and let the US intelligence community start to influence its polices.