With just a few hours to go until the first 2020 US presidential debate, Twitter has locked the account of Leinad (@inversedaniel) for tweeting about the health of 2020 Democratic presidential nominee Joe Biden – a move that will prevent Leinad from tweeting until after the debate.
Biden's health has become a primary concern for many people due to his age and frequent gaffes during interviews. Over the last few days alone, Biden has claimed that he got to the Senate 180 years ago and had to be helped by MSNBC anchor Stephanie Ruhle after losing his train of thought during an interview.
Yet despite the newsworthiness and relevance of discussions related to Biden's health in the run-up to tonight's debate, Twitter censored Leinad and forced him to delete the tweet.
YouTuber John Swan (@JohnSwanYT) provided a screenshot of the tweet that led to Twitter locking Leinad's account. The screenshot shows Leinhad responding to a tweet about Biden requesting breaks during tonight's debate with: "biden needs those breaks bro he will have a heart attack on live tv."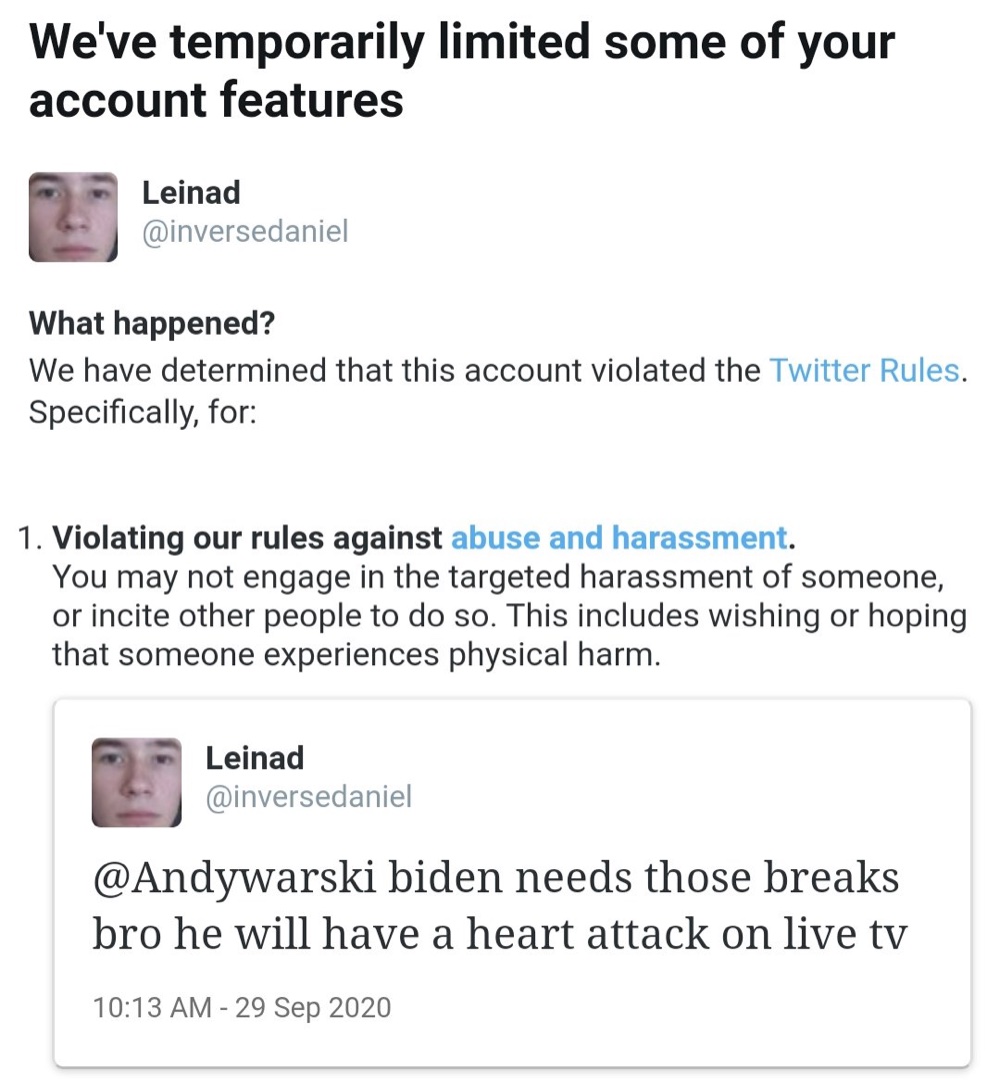 According to Twitter, the tweet violated its rules against "abuse and harassment."
The locking of Leinad's account for commenting on Biden's health is the latest of several Twitter enforcement actions this year that have led to the censorship of content that criticizes Biden or highlights his past controversies.
Earlier this month, Twitter forced a user to delete a compilation video showing Biden around kids. The video used public domain footage from C-SPAN 2 from a 2015 congressional swear-in ceremony yet it was censored.
Over the last 24 hours, multiple Twitter users have had their accounts locked and their tweets removed when attempting to post this video compilation.
And in April, Twitter mass censored a Biden meme that made fun of his constant gaffes. Twitter claimed the meme was sharing "misleading information about voting."
Twitter's censorship of content criticizing Biden or drawing attention to his controversial moments is in stark contrast to the way it treats his debate opponent – President Trump.
Not only is criticisms of Trump readily available on Twitter but Trump's tweets are routinely fact-checked and hidden behind warning labels.
Beyond the disparity with how Twitter treats Trump and Biden, the censorship of Biden criticism also highlights a double standard in how Twitter applies its rules.
Somehow tweets calling for burning and endorsing violence as a protest tool don't violate any of Twitter's rules.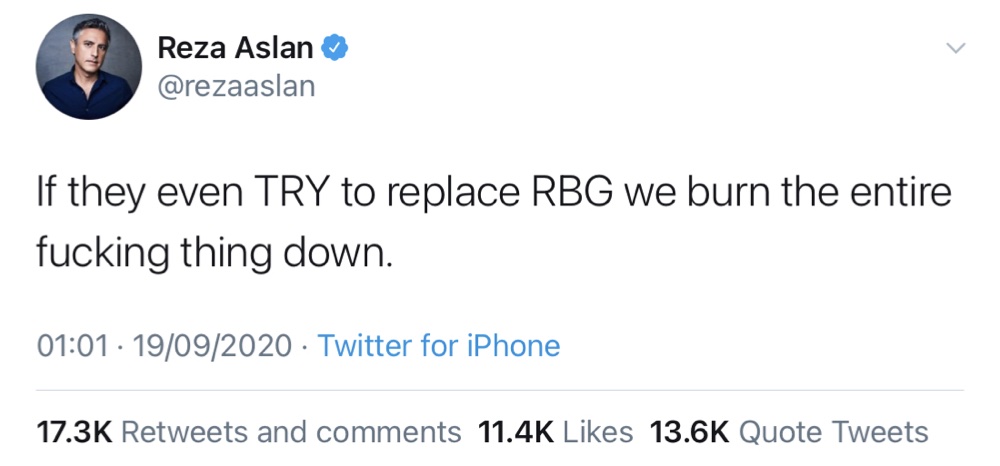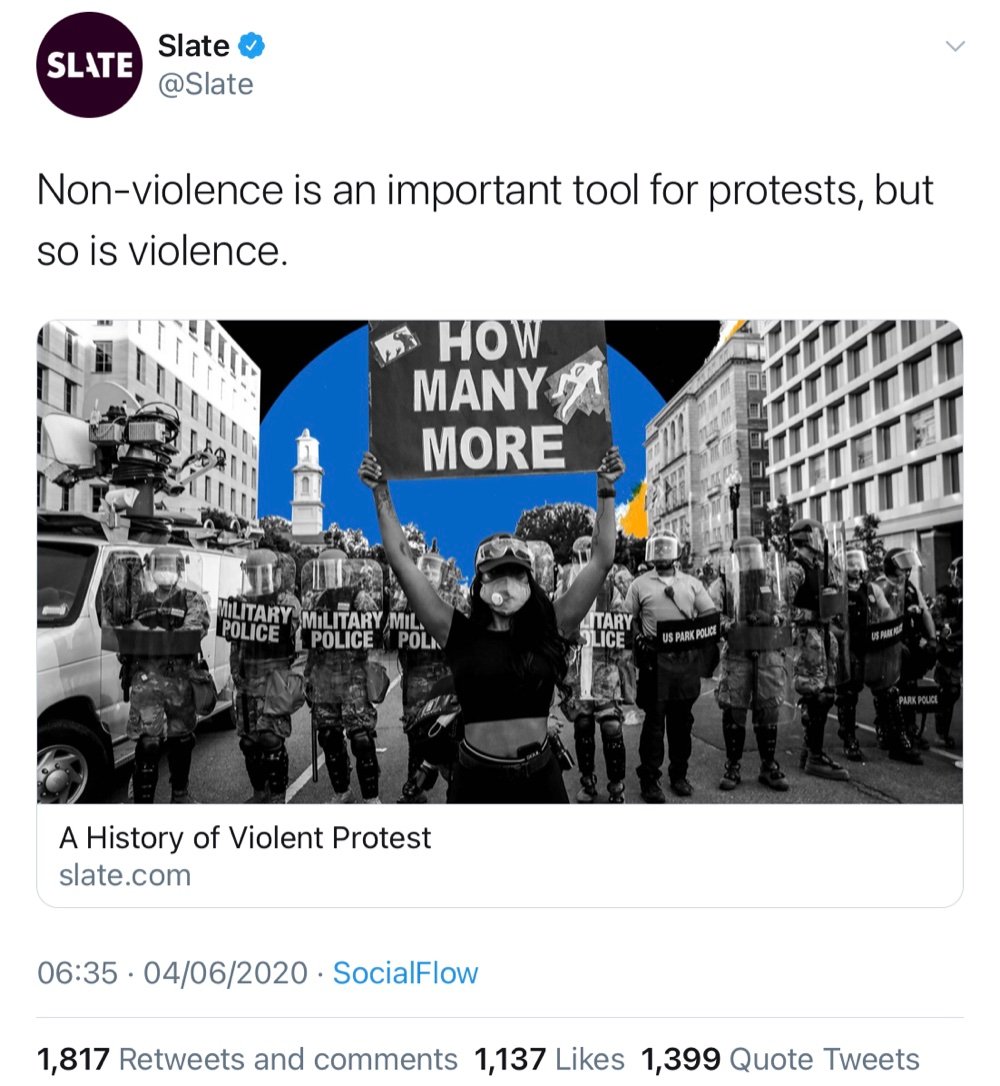 Yet Biden memes and questions about his health are met with strong enforcement action and often censored by Twitter within hours of being posted.